In this Article, we will show you how to build an inexpensive whole house audio system by Arylic multiroom amplifier. First, we will explain how a multi-room sound system works. If you are already familiar with how the multi zone audio controller works, you can jump to the Paragraph"How to choose an inexpensive multiroom amplifier but keep the quality?" below.
Article Map
What is a multiroom amplifier?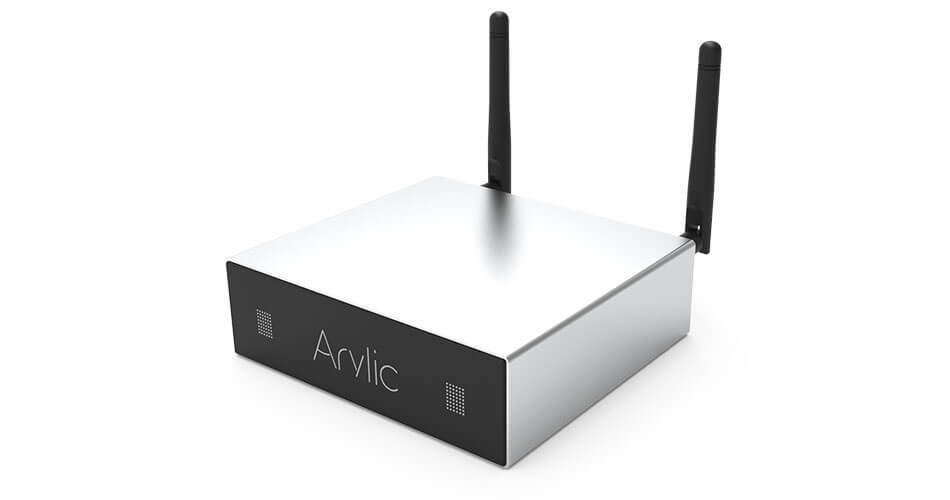 Nowadays, music is an essential entertainment in our life. We usually set up multiple stereo systems in our home or office in every room. Otherwise, the most annoying thing is to wire up all the speakers, audio amplifiers or audio receivers. And every device has a different controller that makes the listening experience not convenient. So a multi zone control concept is borned and trending in recent years. Now with multiroom amplifiers or multiroom receivers, you can have full control on a device to control music plays throughout the entire home by wire them to your speakers or other audio equipment.
How do multi-room audio systems work?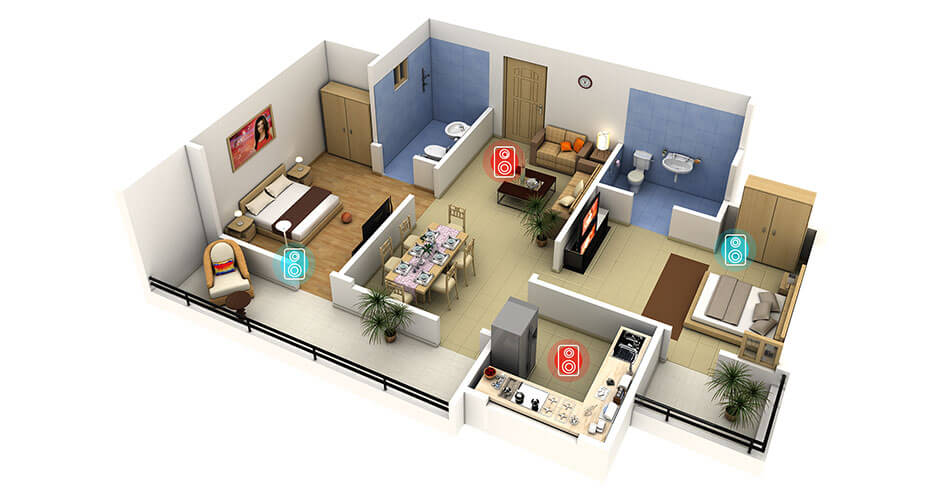 Multiroom audio systems are based on network technology. Usually after you wire multiroom amplifiers or multiroom receivers to your speakers, then you need to set up the multiroom receiver or multiroom amplifiers with an app to your home wi-fi. Once you finish setting up the units, you are able to stream and control music with every unit in the app.
Let's take Arylic multi-room audio system as example, after the setup you can see the units in the app. The app is called "4stream." By clicking the units you want to stream music in the 4stream, you can find that there are many audio sources you can choose. Include Online music which we use most often like Spotify, Tidal, Amazon Music, Deezer, Qobuz and Napster. Either some famous online radio like TuneIn, Internet Radio etc.
 If you already collected your favorite songs as a playlist by local files, you can put it in NAS which is in my music section.
What's more, not only online audio sources can be streamed, but also can stream from Bluetooth, audio input or USB storage audio sources. That is, no matter what home audio type you have, you can stream all by multi-room sound system. Like play TV audio in the living room, Listen to the radio in your workshop and play Spotify in the bedroom. All can be played simultaneously. Or you can sync the music to your all zones by just sliding in the 4stream, which makes your weekend party more fun! 
This is work based on some wireless protocols: Wi-fi, Airplay, DLNA and Upnp. They are the most common wireless technology we meet nowadays, which could be compatible with most audio equipment.

The misunderstanding of multi-room audio systems
Now I believe you already feel the convenience with the multi zone control and want to try it as soon as possible. Before that, I need to explain an issue that we found our new customers usually misunderstand with the multi-room audio systems. We receive the question often" Could I connect my wireless speakers to your multiroom receiver or multiroom amplifiers?" Then I will check the spec of his/her speakers. And I found that there is no interface with input. Actually, although the multi-room sound system advantage is wireless control of the sound from every zone. That does not mean you don't need to wire between the multiroom amplifier/multiroom receiver and your speaker.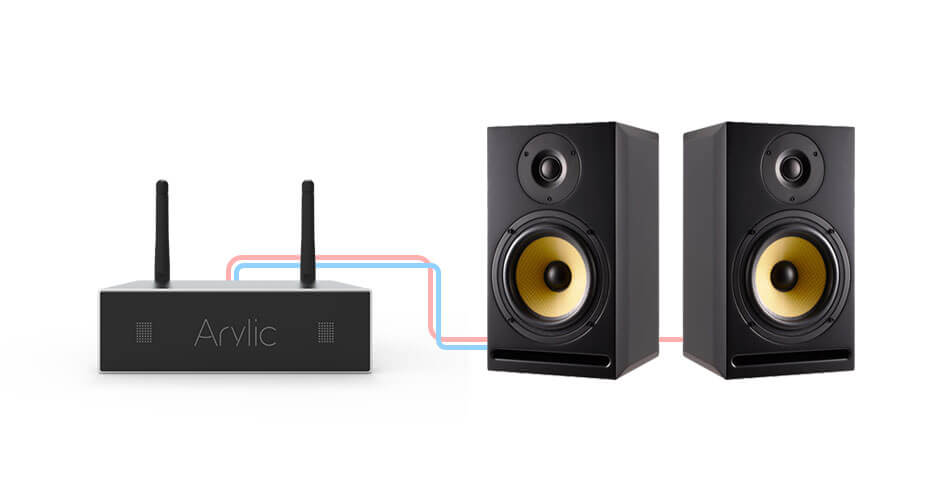 The wireless signal on the multiroom amplifiers and multiroom receivers is receiving feature not transmit feature. You may ask but there are some multiroom speaker systems which have no cable needed. That is because they already build the multiroom amplifier or multiroom receiver module inside the speaker. By this way, it is not good if you have other vintage speakers that want to hook up into the multi-room audio systems. We will state in the next topic.
How to select muliroom amplifier for multizone setup?
Before you build a multi-room audio system, you need to take something into account firstly.
How many zones(units) are you going to set?

How many compatible speakers do you have?

What is the application for every zone?
For currently house design, we usually have multiple rooms in our house. Such as living room, bedroom, kitchen, bathroom, basement, workshop, garage and office. These spaces are allowed to be set up with an audio system. Let's make a sample plan so we can understand faster. Now I am going to set up my living room, bedroom, wokshop and garden.Totally 4 zones, so I need 4 group speakers. My plan is to have a pair of bookshelf speakers in the living room for streaming music and TV audio, a pair of ceiling speakers in the bedroom for online radio and music, a pair of on-wall speakers in the garden for music streaming. Finally a pair of desktop speakers for my PC audio. Now we have the complete plan that can start to select the multiroom amplifiers. Let's sum up the plan: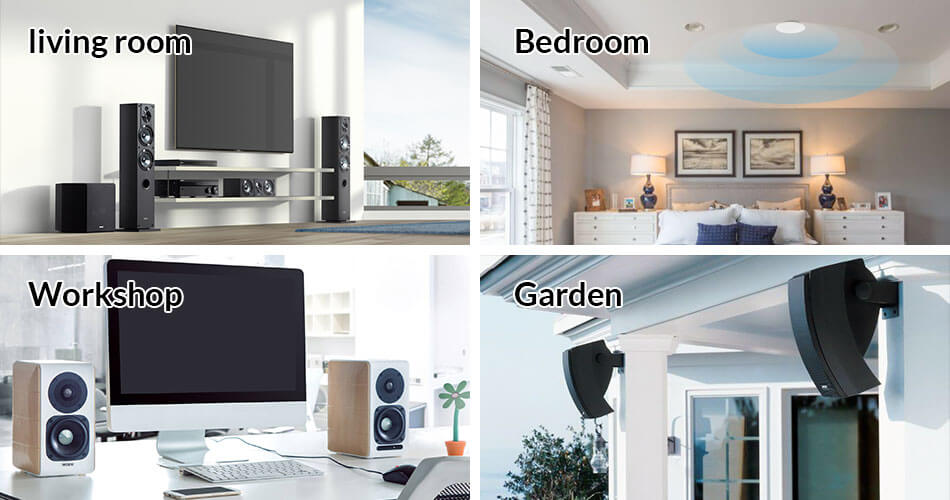 1. How many zones(units) are you going to set?
            4 zones, bedroom,living room, workshop, garden.
2. How many compatible speakers do you have?
            4 passive speakers, ceiling speaker, bookshelf speaker, desktop speaker, on wall speaker.
3.What is the application for every zone?
             Living room: TV, Music
             Bedroom: Online Music, Radio
             Garden: Online Music
             Workshop: PC audio
Now you have a clear logic plan with your multi-room audio setup, the next step is to select compatible multiroom amplifiers. There are no specific things needed to check with bedroom and garden set up, I just need to make sure if my speaker meets the spec requirements. Like the impedance and power output. For the living room, I should check what audio output method I may use first. The common options are RCA line out and spdif out. So I need to select the multiroom amplifier that has the interface of RCA line in or spdif in.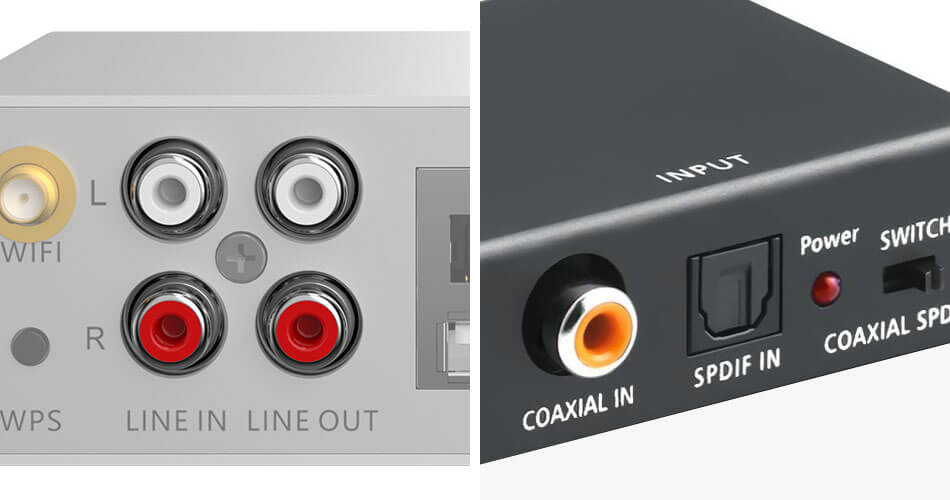 About the workshop, I may need a system that supports PC streaming. Arylic multiroom system support Musicbee, Foobar and iTunes for PC streaming by Airplay, DLNA, Upnp. For better sound I would like to stream music by USB sound card, so you can select a multiroom amplifier that supports Micro USB sound card for outputting the PC sound digitally.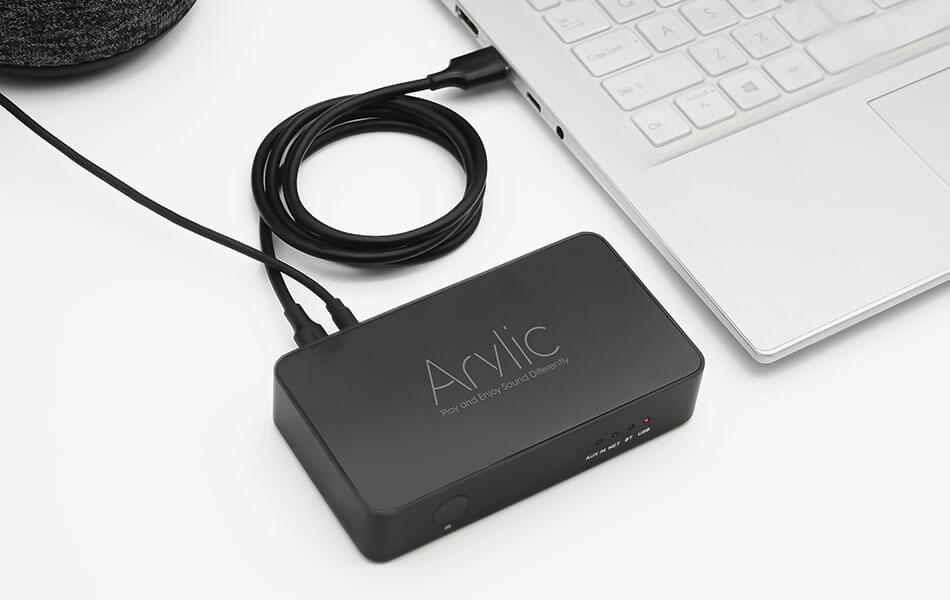 The examples above are set passive speakers as default, so if your own speakers are active speakers, you can look for multi zone receivers or multiroom preamp. The method and logic are the same.
How to choose an inexpensive multiroom amplifier but keep the quality?
Once mentioned in multi-room audio, you will come up with some famous brand like Sonos. But for building up a whole house of audio, it will break your bank for setting up multiple units. Based on our plan mentioned above, we need 4 multiroom amplifiers for each zone. A sonos amp may cost $639, so the total budget is $2556 or even more. Actually with the same setup, I find a way only $316 costs: diy multiroom audio boards.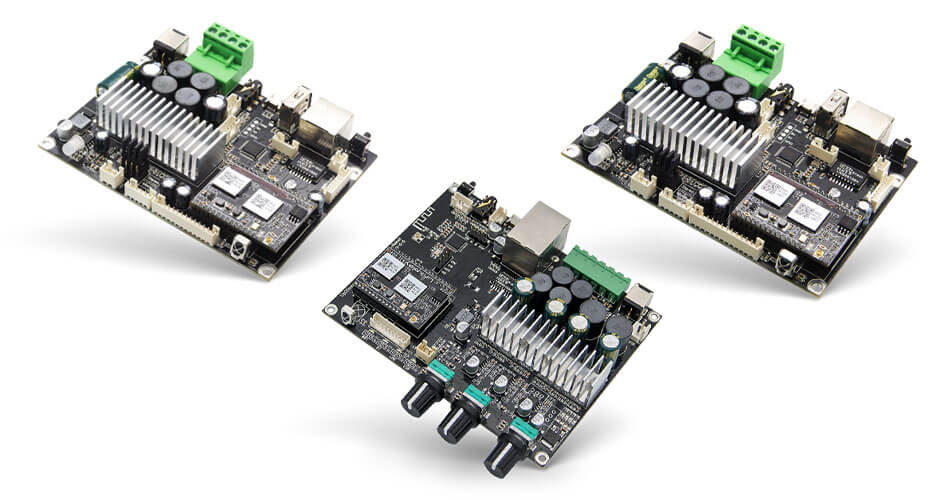 Have you ever thought about it? This will really save your budget a lot and remain your listening experience. The big advantage is that, once you connect multiroom amplifier boards to your vintage speakers or audio receivers. Your old premium equipment will regenerate their lives again. Just connected and they become a new wireless audio system, but keep the quality features. 
Some of the set up even won't see the multiroom amplifier board like ceiling speaker and in wall speaker setup. These usually hide the multiroom amplifier board in the ceiling or the wall.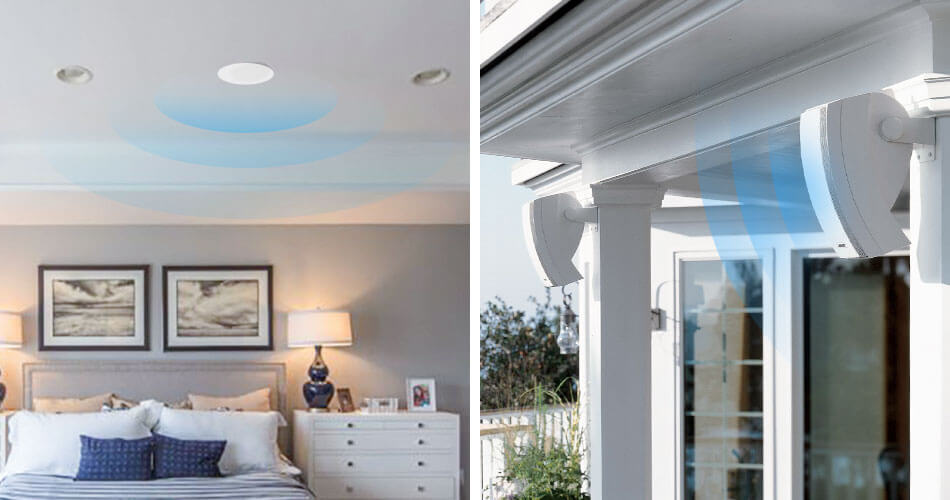 If you really mind the design, don't worry. Arylic Muliroom amplifiers offer a good price ratio and simple design for your whole house audio system.
Frequently Questions with Multiroom Amplifier
In the end let me sum up some questions that we often get from our customers.
How many Arylic Multiroom amplifiers can I set up at once?
      Actually, there is no limitation, but I recommend you connect 10 units at once. For wi-fi products, there must be some factors that interfere with the signal. So if you are going to group exceed 10 units, I recommend you set up by lan cable. This will keep the signal very stable.

2. How is the music quality and the network stability
      In order to be more convinced, I think I am not the best one to answer this issue. Let me give you some true feedback from our customers for reference.
ReagansDad from US
I extensively researched all the streaming amps. I ended up getting seven of these for a complete home streaming audio experience. They were extremely easy to set up. The ethernet ones are automatically recognized by the 4stream app. The wireless ones took 2 minutes to set up. The volume is fine and plenty loud even for rocking' out. I have them each pushing two 8 ohm speakers of 100 watts each through a 100 watt volume control locally in each zone. But the 4stream can control volume just as well. So I have the local volume switches on full and adjust via the 4stream unless my phone is not close by. One of these is connected to my Sony Bravia TV and pushes two speakers in stereo as well as an active subwoofer via the audio out. I was worried it would not work but it works like a charm and switches from streaming to line in just fine. So for almost the cost of a single Sonos Amp I got seven of these driving seven unique zones that can be played in any combination via drag and drop in the 4stream. I could not be happier. You will not regret getting this.
Manjunatha S Rao from US
I bought this for converting existing ceiling speakers into wireless controlled speakers. I couldn't be happier than the end result. I bought three of these units along with the cases. All my visitors ask me what these units are. When I demo what this can do, my family and friends are wowed! Let me just say our kitchen is a very lively place now especially during cooking dinner time - thanks to the combination of these amps + Spotify.I have used every feature of this - Bluetooth (to connect to phone for YouTube audio), Wi-fi (Spotify, iheartradio), line in audio. Everything works just perfectly, audio quality is just totally awesome including bass. I now have master, kitchen and outside speakers all on connected and can truly do all home audio. Arylic customer service is pretty good. Despite Covid slowness, the product was shipped quite fast. In summary, let me just say - instead of purchasing super expensive sonos systems, if you are looking to reuse existing ceiling speakers and convert them into wireless controlled ones, look no further. Arylic has solved that use case in a simple, very effective way with this product.
Thanks for reading. Hope after the reading, you will be more aware with the multi-room audio system and start to plan for your whole house audio. We'd like to hear from your ideas or experience with multi-room audio below. Feel free to share your plans and setup. If you already have a plan and want to ask for our advice, you can send a mail to us. See you in the next Topic!