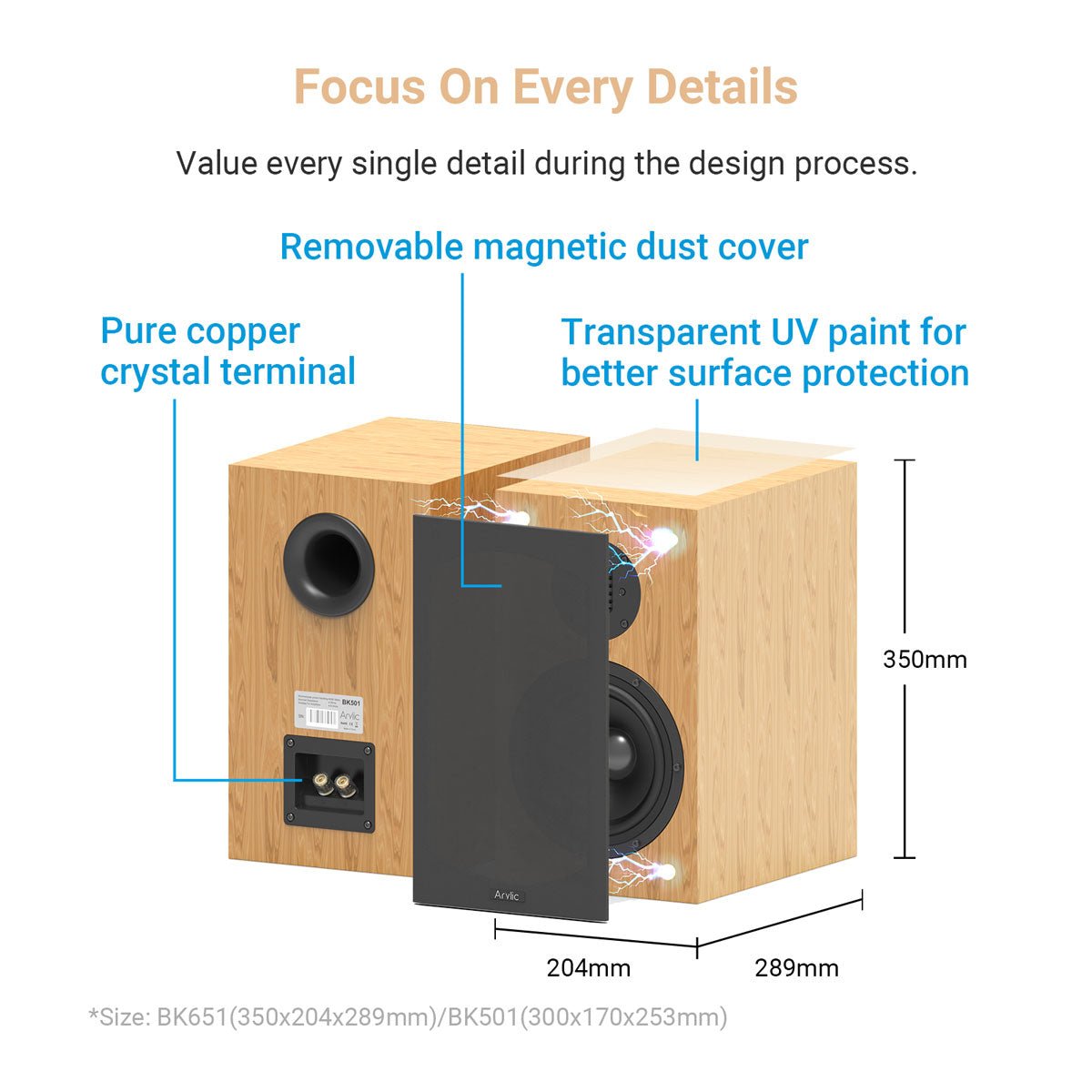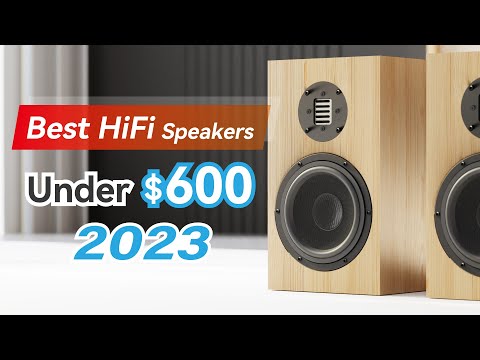 BK501/651 2 Way Bookshelf Speakers
---
-100W, HiFi sound.
- High-end Heil AMT Tweeter.
- Treble up to 40khz, feel detailed treble clarity and brightness.
- 180° Wide soundstage, enjoy high quality pure vocals and instruments in every corner.
-Innovative design of 5"/6.5" Fiber glass Mid-woofer with outstanding heat dissipation and no distortion.
-FSC Environmental Certification
- 15mm (BK501) - 18mm (BK651) super thick MDF cabinet design.
We will donate $1 USD dollar of your every order to help the refugees in Turkey-Syria earthquake. Thank you for doing charity with us!
Shipping Fee:

Standard Shipping is $9.9.
Free Shipping Over $90 Whole Store.
Free Express Shipping Over $150 Whole Store.
Express Shipping may varies of different regions.
(Please check at the checkout)

Delivery Time:
Local Delivery From Local Warehouse - 2-7 Days
Standard Shipping - 7-25 Days
Express Shipping - 3-10 Days
Delivery time may varies of different regions
(Please check at the checkout)

Shipping From:
US warehouse support shipping to Canada & United States.
EU warehouse support shipping to Europe regions.
AU warehouse support shipping to Australia.
RU warehouse support shipping to Russia.
Asia warehouse support shipping to Global.


If you have other questions, contact us.
✔Fast & Free Shipping
✔We pay sales tax, if applicable
✔FREE & Easy 30 Days Return
✔Solid 1 Year Warranty
✔Official Website Promise
✔Online Expert Support
✔Fast & 3D Secure Payments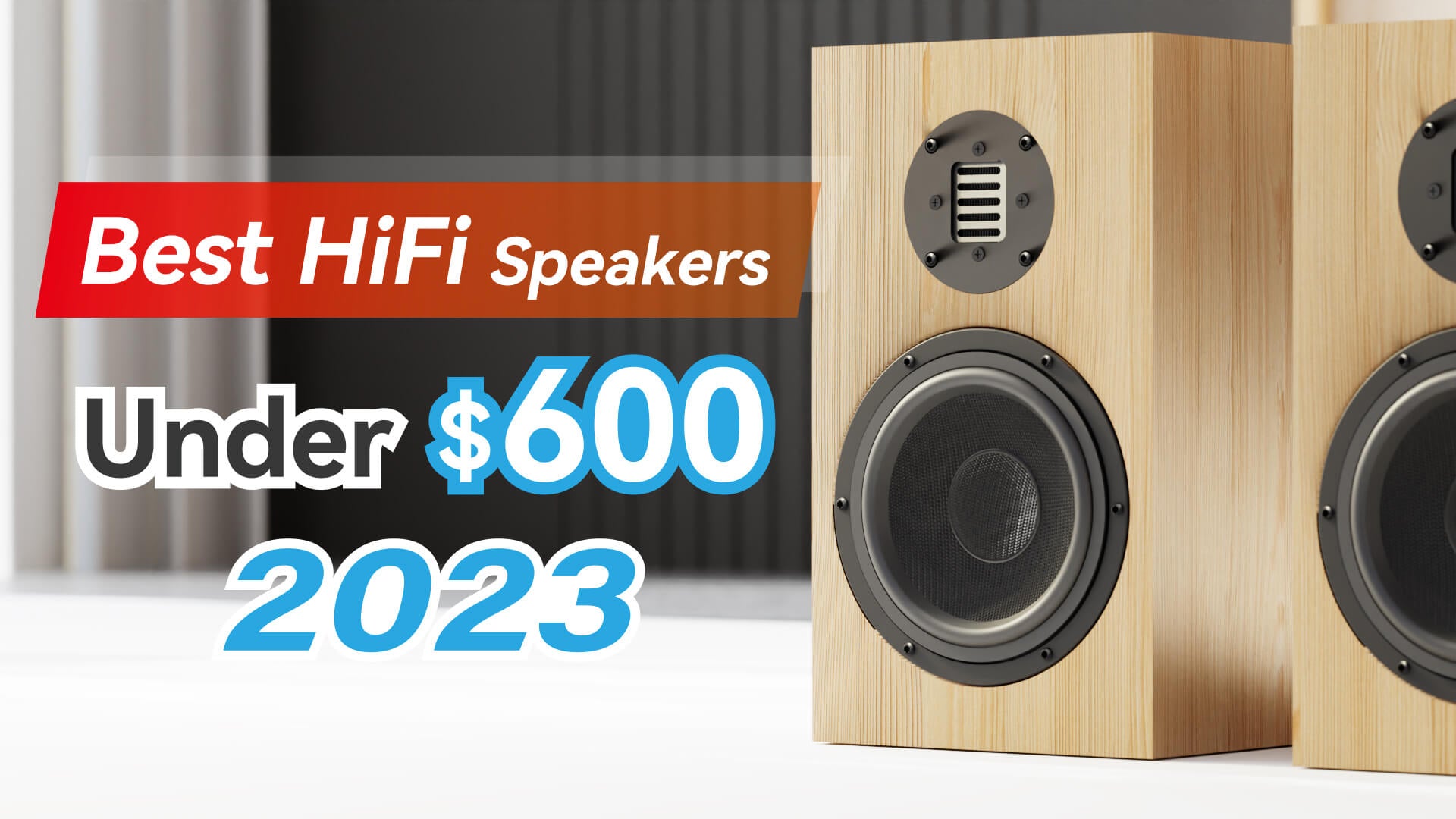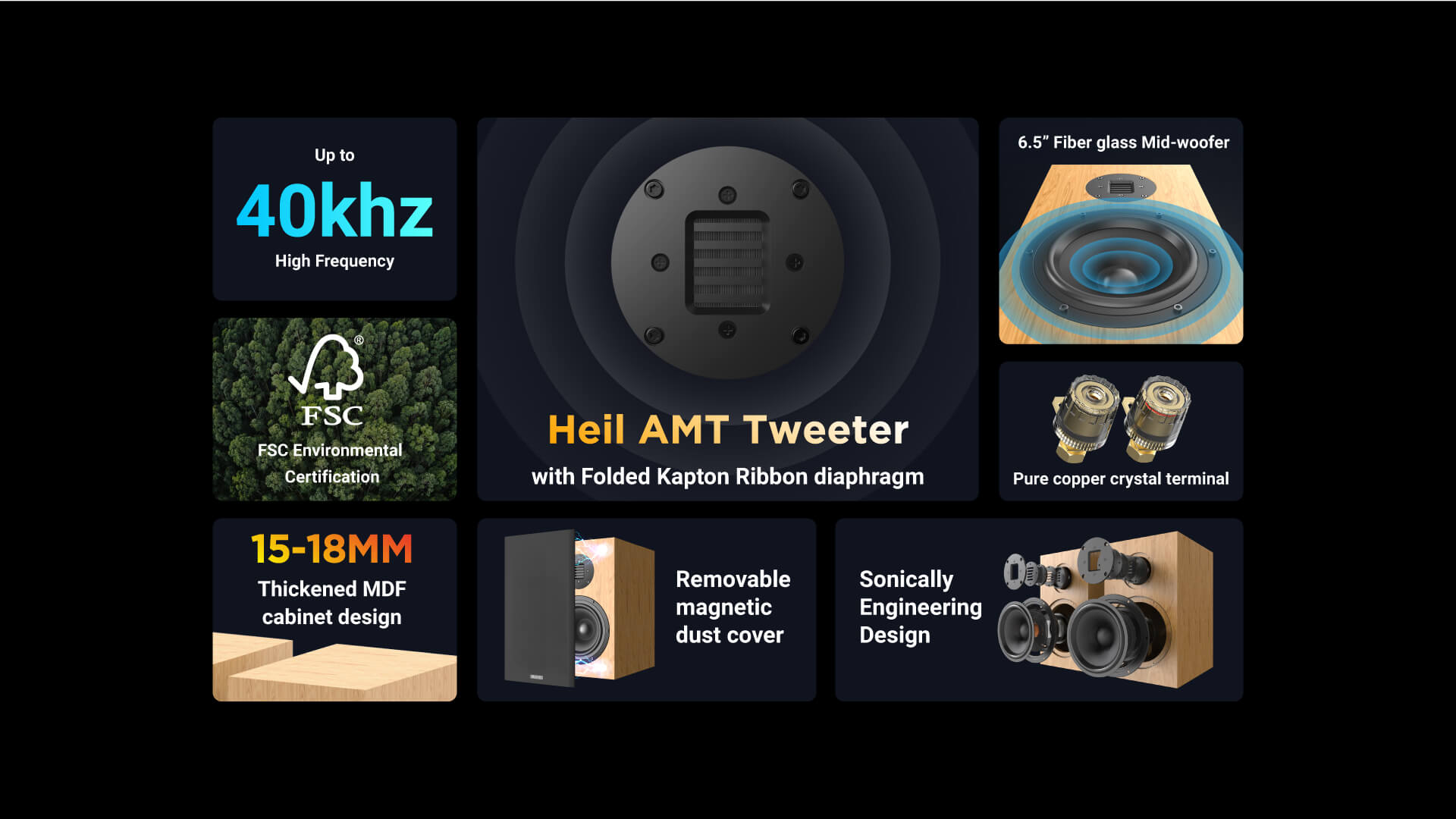 Your Brilliant HiFi Bookshelf Speakers at Home
BK501/651 is a passive speaker that built for HiFi stereo sound system. You can feel the surprising crystal clear and bright treble, full midrange, fantastic deep bass and dynamic sound.
With our sonically engineering construction design, you can hear every details from the original sound.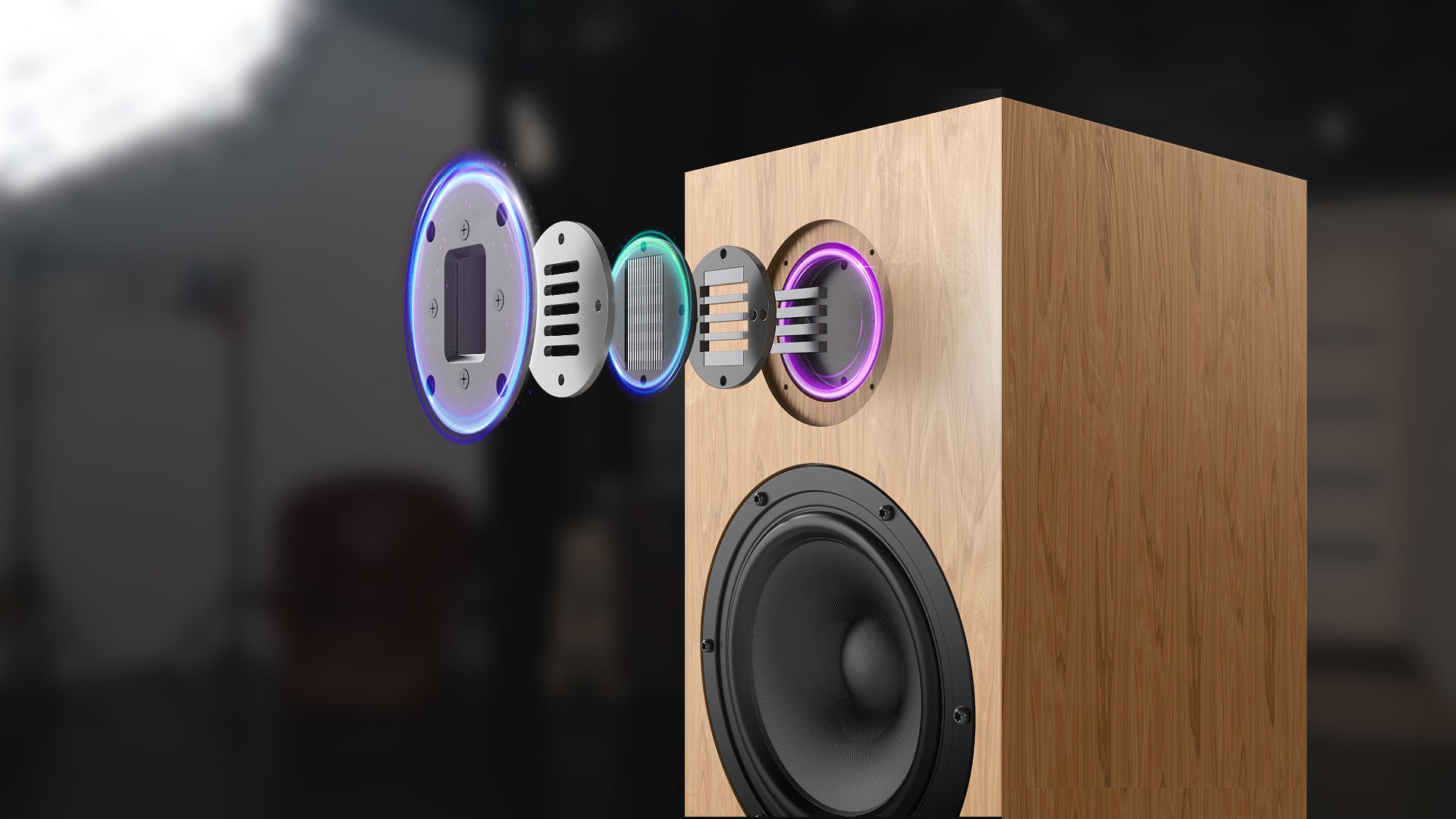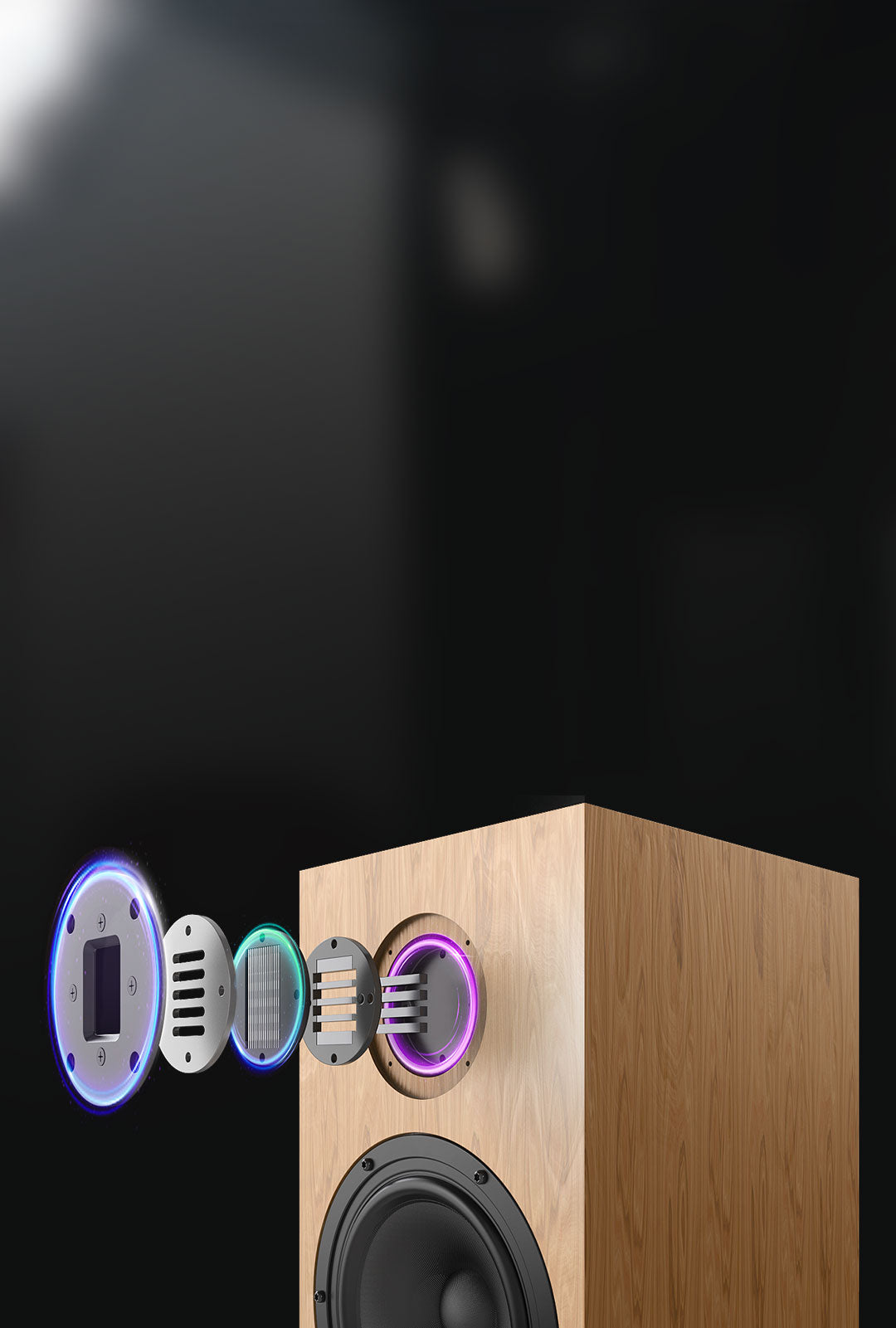 Compared to other tweeters, Arylic bookshelf speakers Heil AMT tweeter uses a folded Kapton ribbon diaphragm in addition to a high-grade black diaphragm. Due to the advanced craftsmanship that makes the vibration area is larger, appearance is better and makes the sound clearer and brighter.
High-end Heil AMT Tweeter
Enjoy Pure Sound Of Vocals and Instruments
The treble high-frequency can go up to 40Khz, which delivers clean, detailed, and highly dynamic output.
It also can wider treble soundstage to 180°, makes you listening to high quality music in any corner. Enjoy immersive concert in your rooms.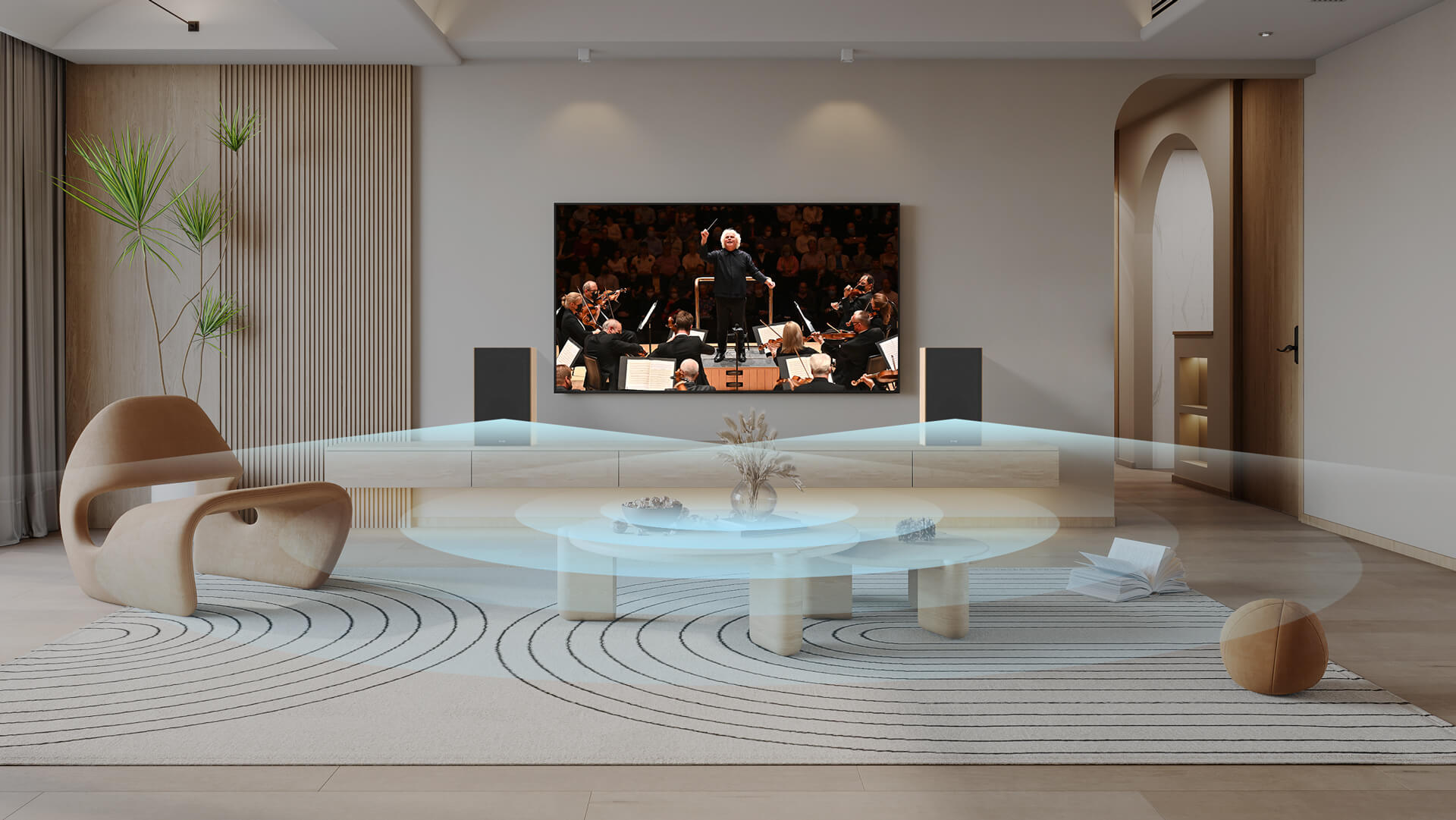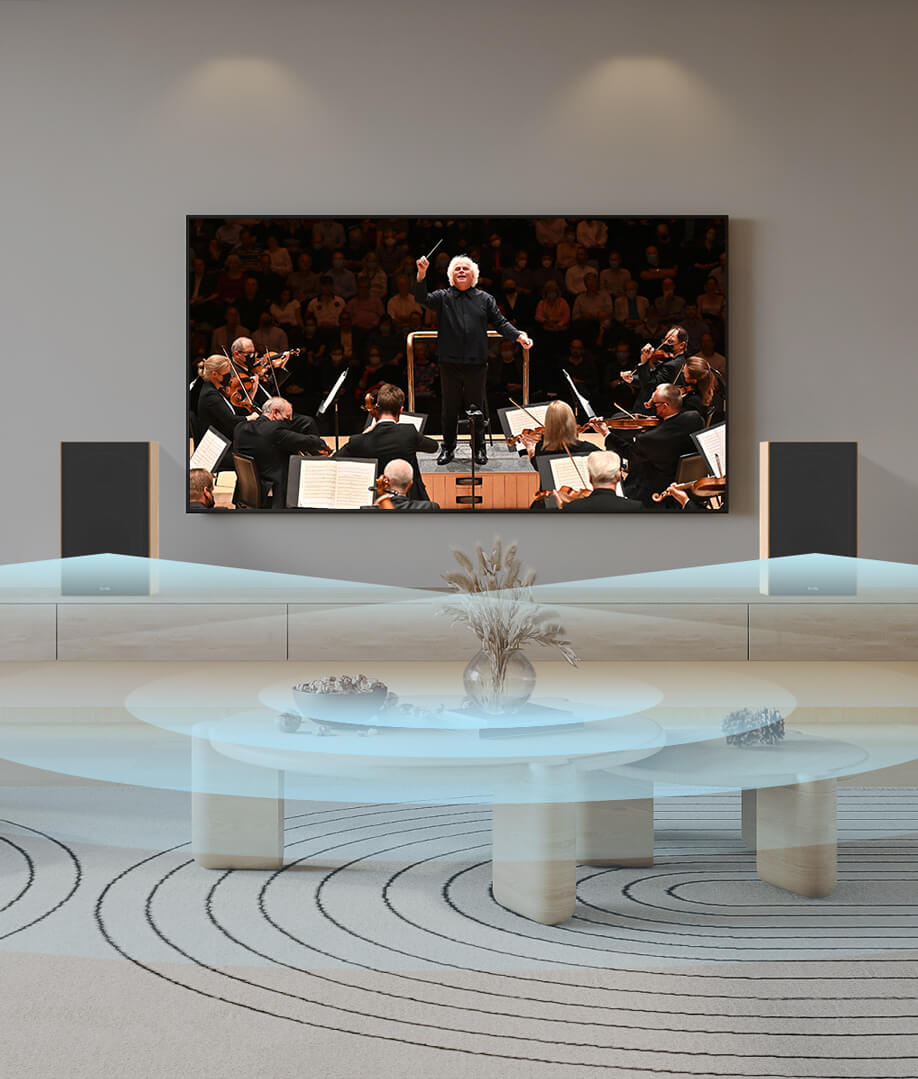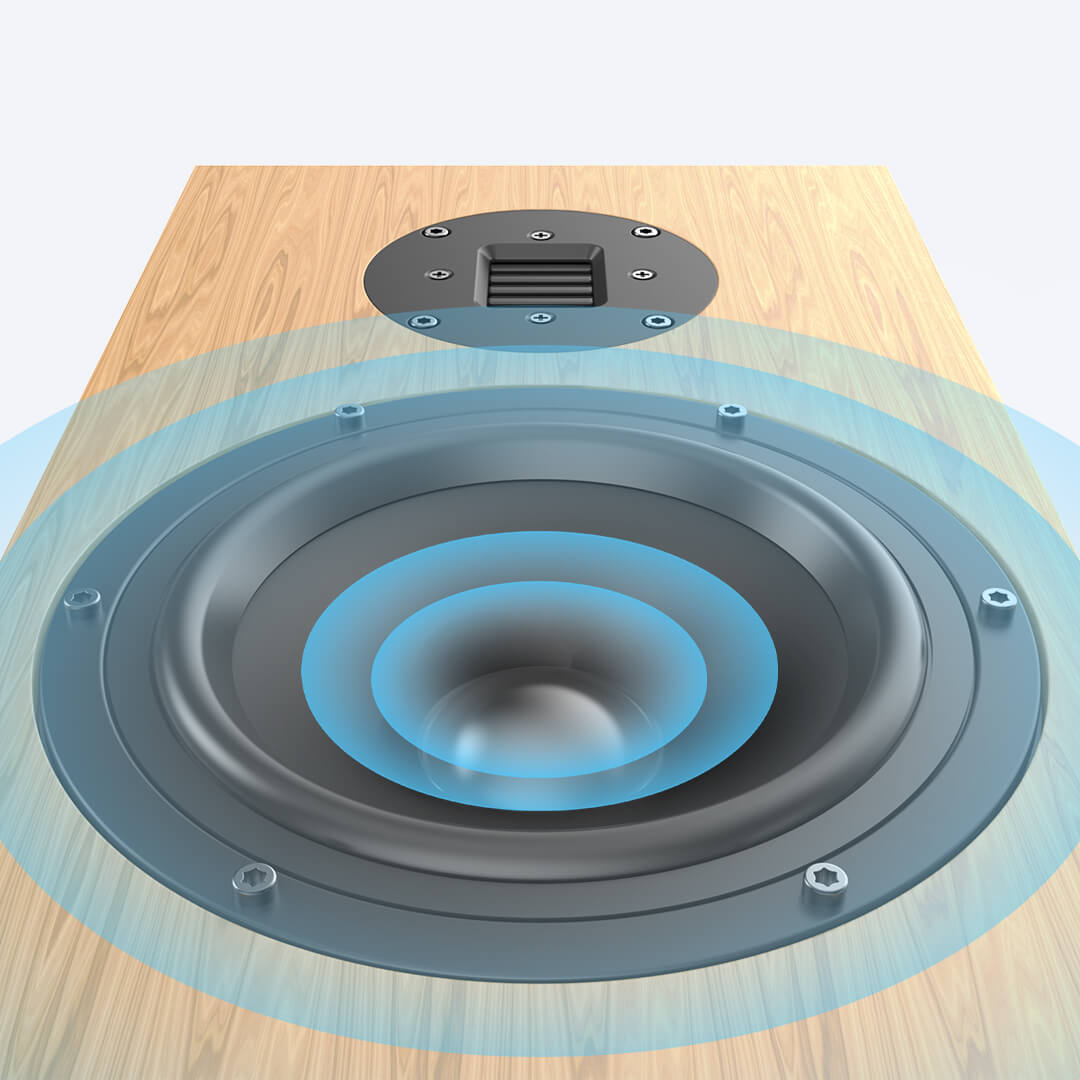 Powerful HiFi Mid-Woofer
The 6.5" mid-woofer of BK501/651 bookshelf speaker uses glass fibre cone, S-type paper cone and air permeability design. Which can enhance the sound transmission much longer, lower the attenuation and have better heat dissipation.

Let you enjoy the full and revealing midrange and powerful bass in your home theater system. No longer have to worry about putting too loud bass will have the problem of distortion.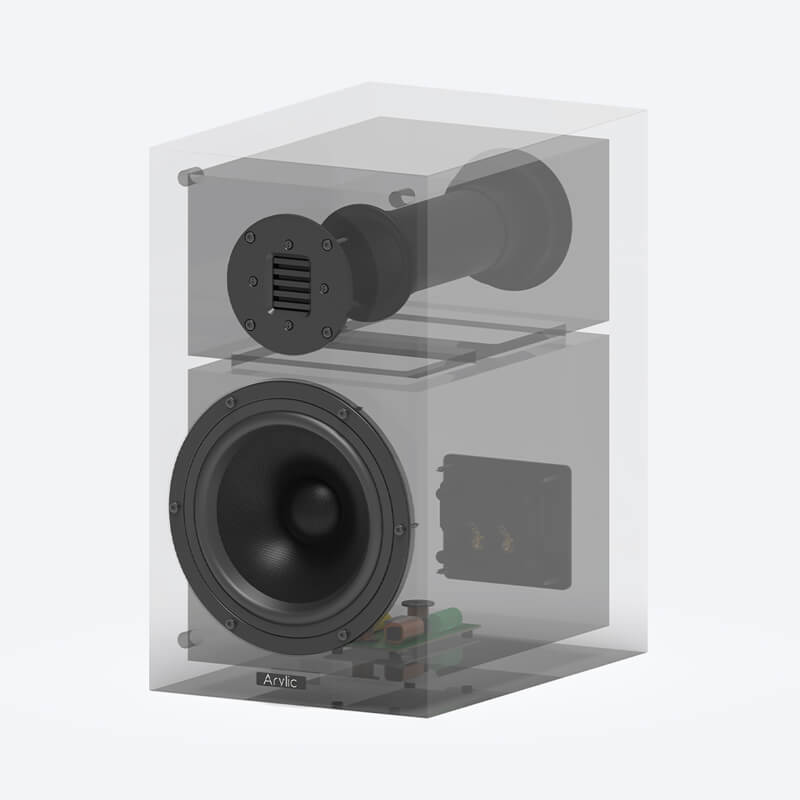 Scientific Speaker Cabinet Design
BK501/651's cabinet is made of thickened15-18mmMDF and scientific inverted phase tube, which is developed by experienced acoustic engineers after more than 900 days of research and development with professional acoustic tools.

Precisely calculated volume and cabinet design can reduce resonance and slant vibration noise, brings you incredible sound enjoyments.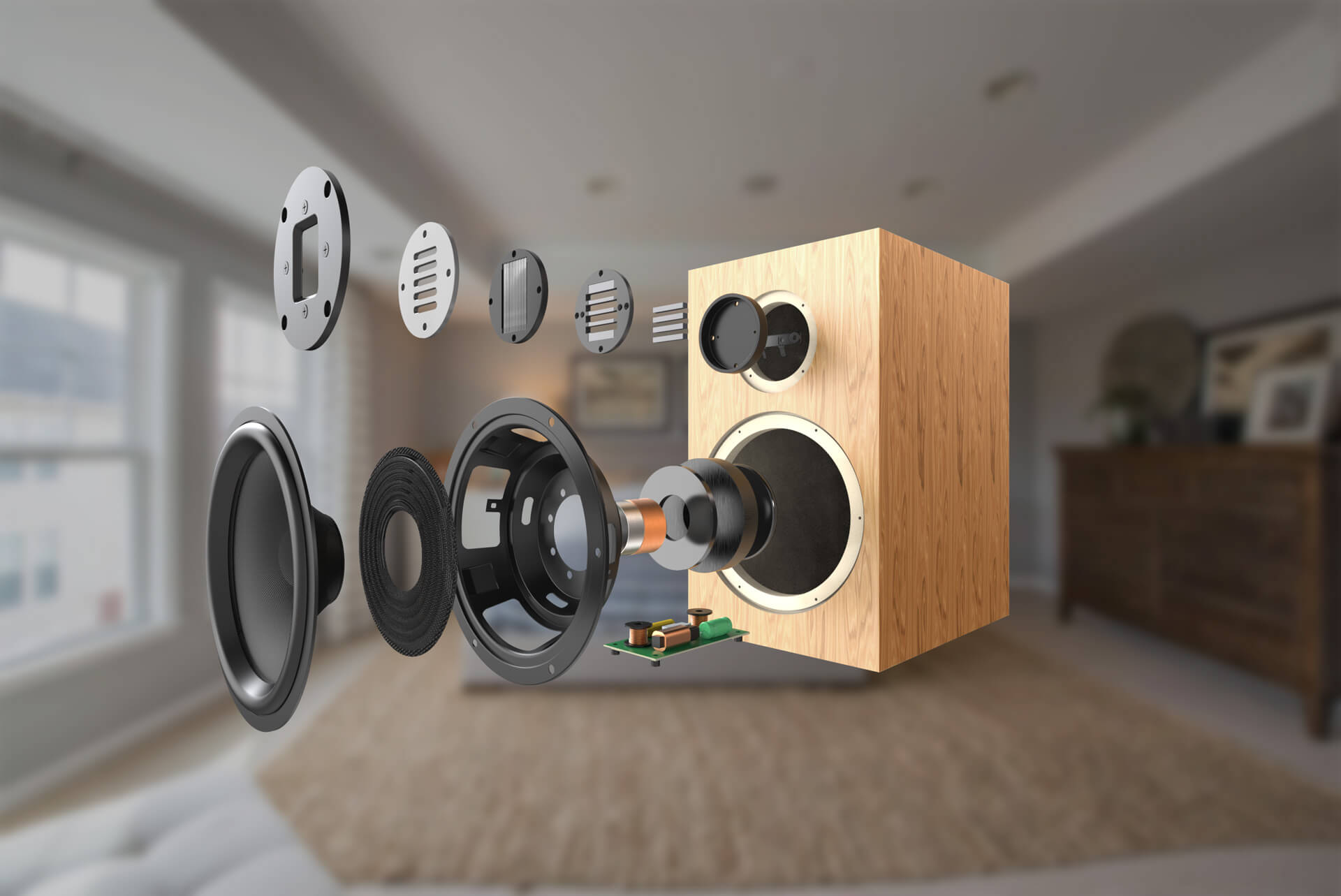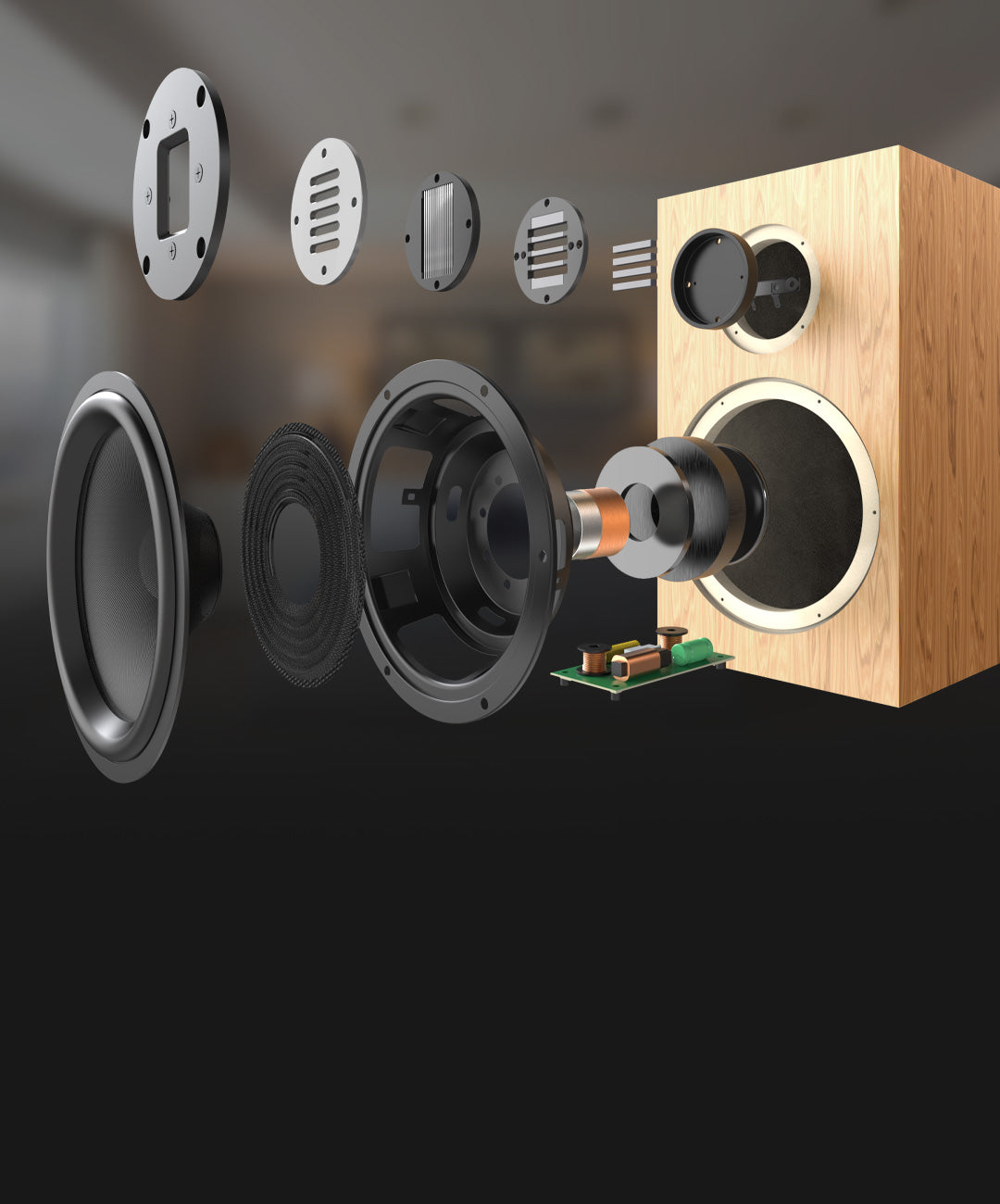 Sonically Engineering Design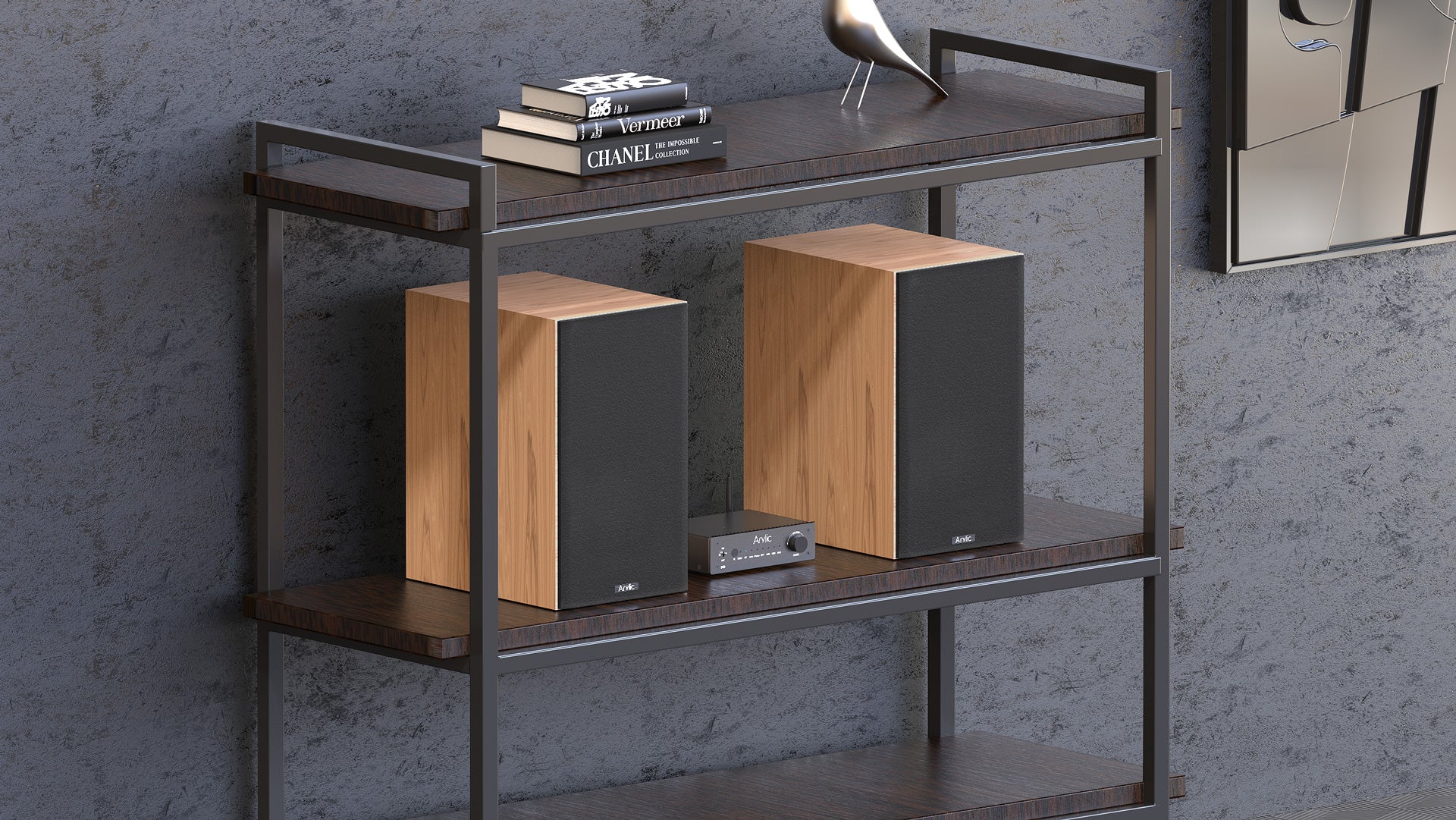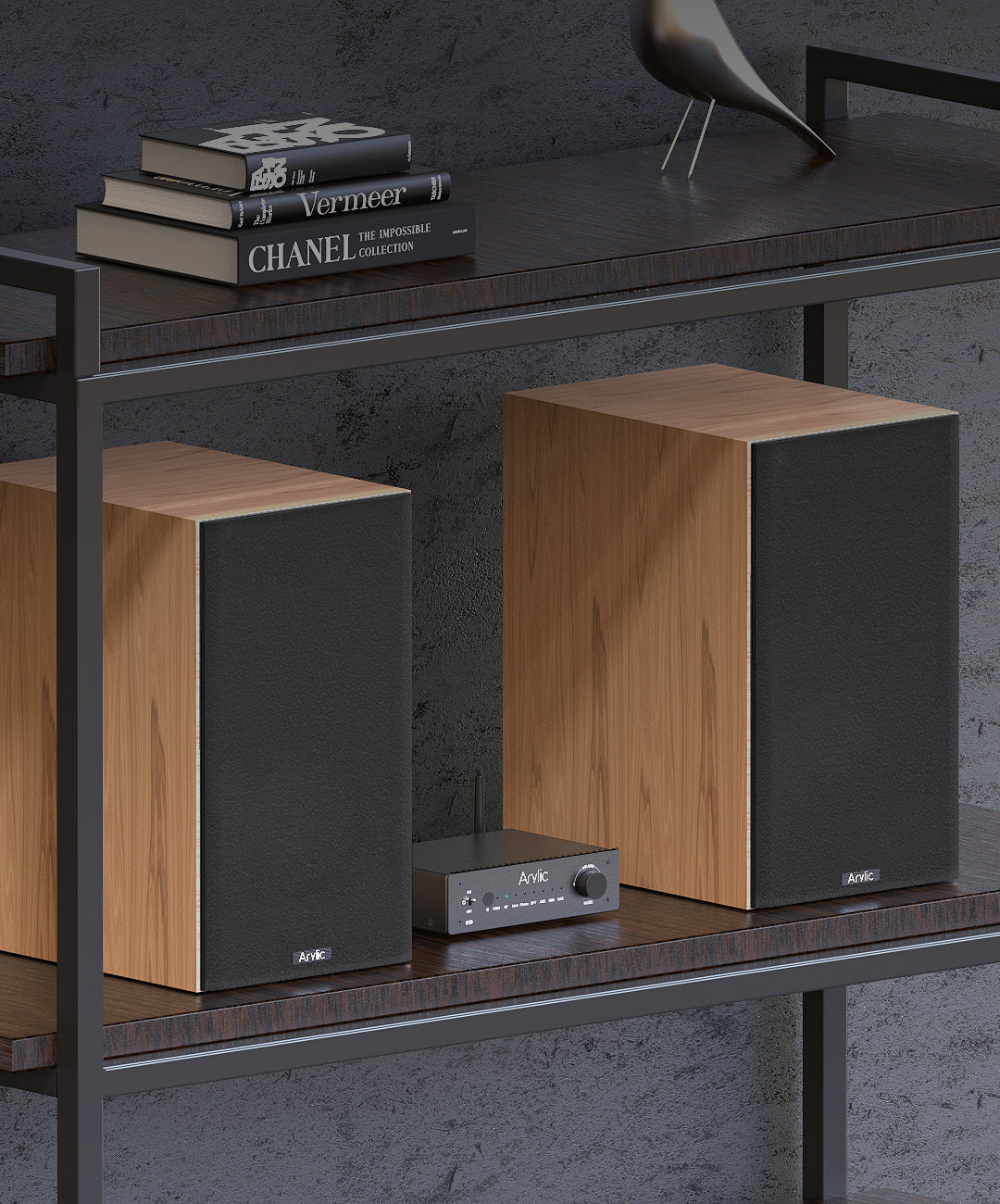 Classic Never Goes Out Of Style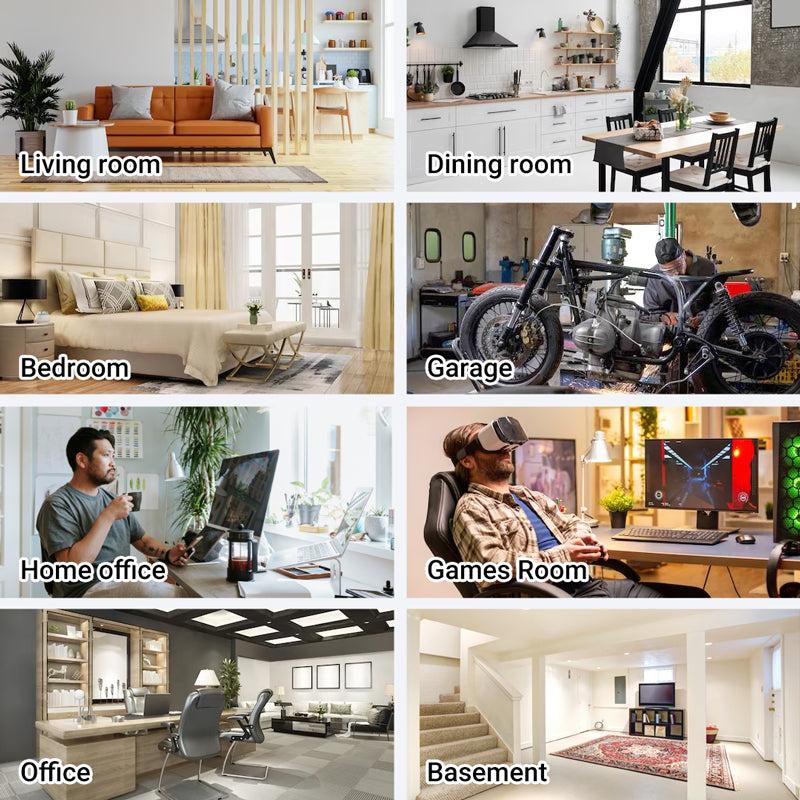 Perfect Match In Your Rooms
The compact size and design make it easy to drive and perfect to put in any rooms at your home. Like living room, dining room, bedroom, garage etc.
Focus On Every Details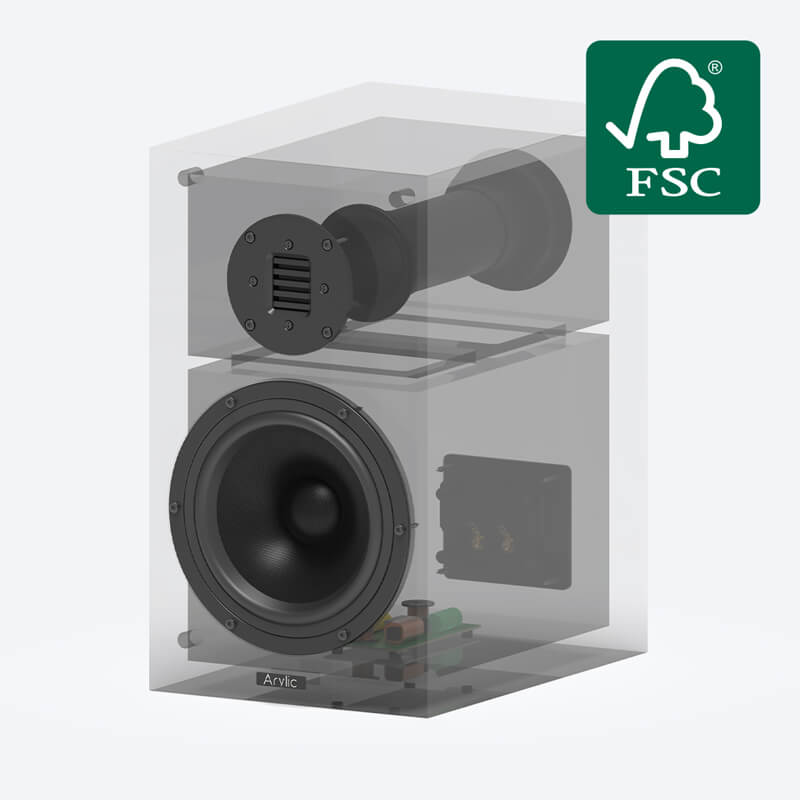 FSC Eco-friendly Certification
Handcrafted eco-friendly wood veneer.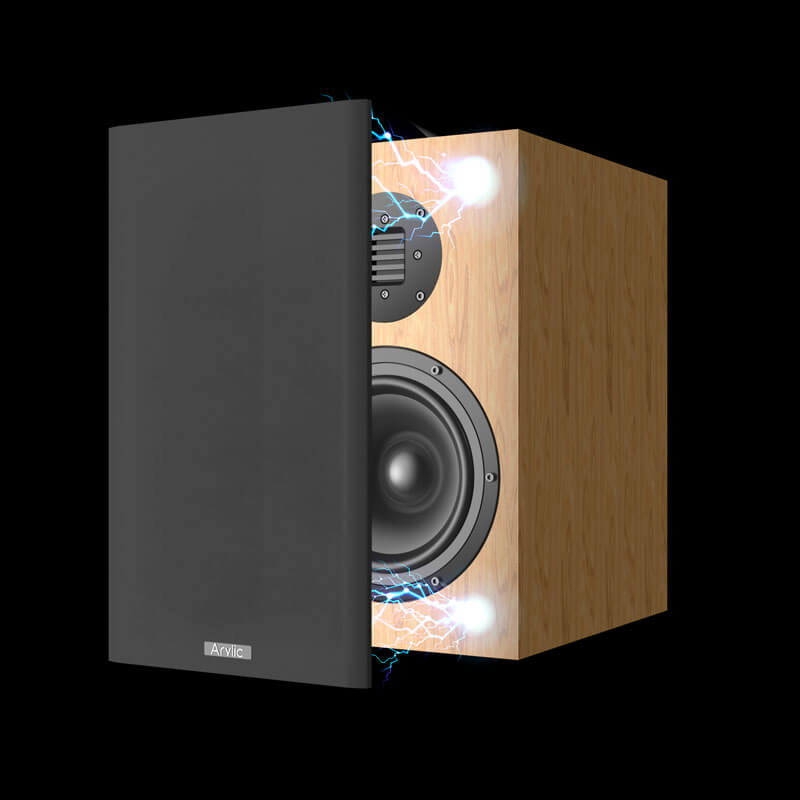 Removable Magnetic Dust Cover
Classic aesthetic look and protective.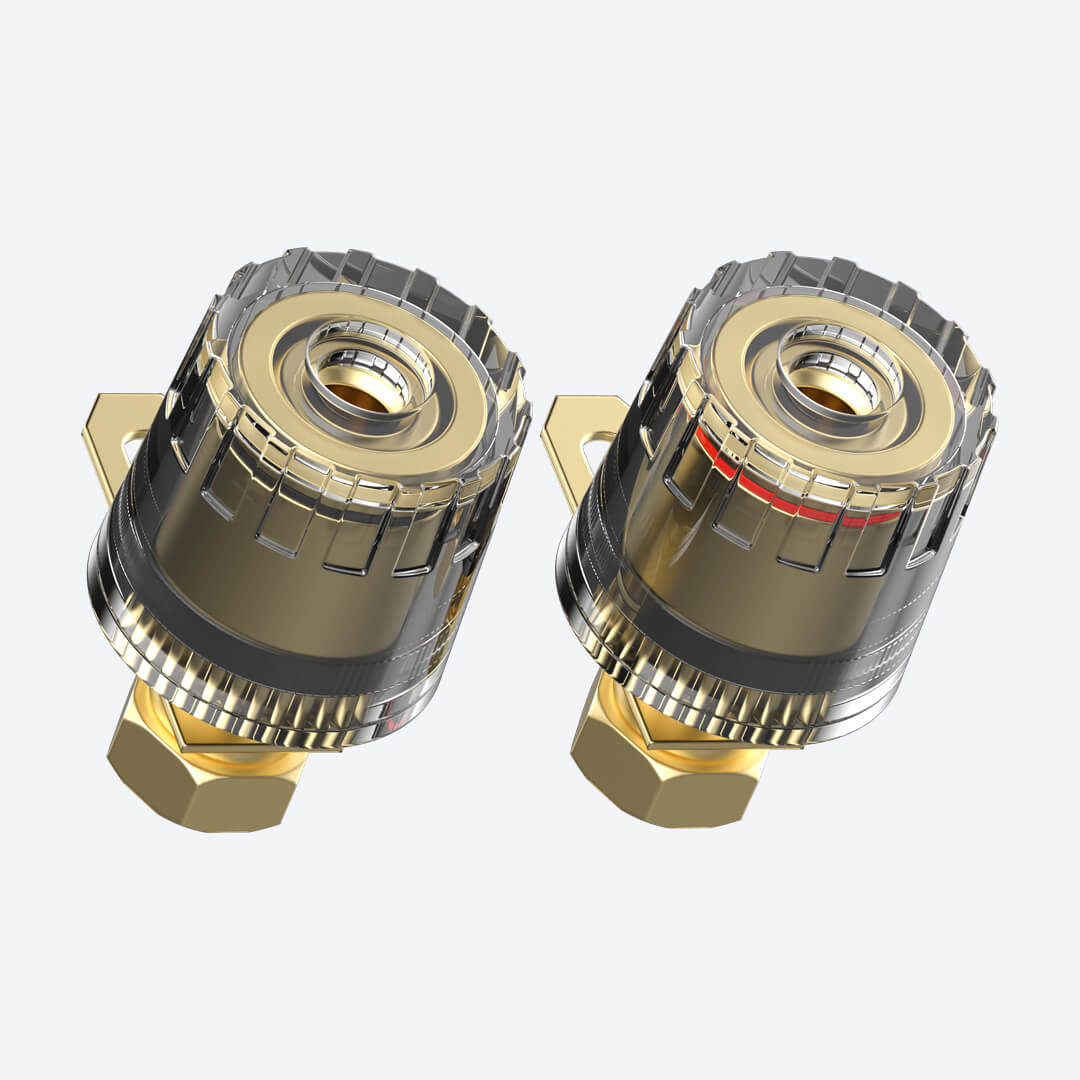 Pure Copper Crystal Terminal
Anti-oxidation, easy to install.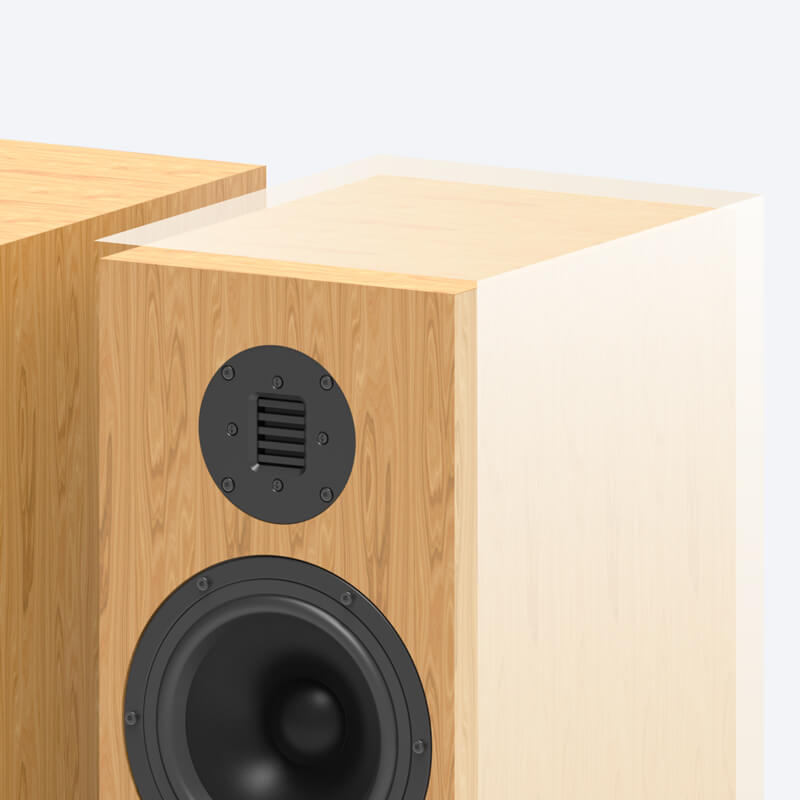 Transparent UV paint
Drop-proof, moisture-proof, moth-proof
Specification
* Subject to technical change.
Nominal/peak power Handling
Recommended amplifier output
Accessory
Silicone pads & Drying agent
Silicone pads & Drying agent
FAQ
Can't find your question? Contact us with the button below.

Our customer support is available Monday to Friday: 9am-6:00pm.(HKT)
Average answer time: 24h
Contact Us
Will the bookshelf speakers fit in my bedroom?

Arylic bookshelf speakers can handle maximum 100W power, which can satisfy a room of 15 square meters. Please use it to meet your needs fully.
What kind of music are the bookshelf speakers suitable for listening to?

The bookshelf speakers have a three-band balance, the treble is transparent and not harsh, the midrange is full, and the bass is deep and powerful. For most music, there are good results. Suitable for the following types of music: Classical, Pop, Jazz, Hip-Hop&Rap, Country, Folk, R&B, Rock, Soul, Gospel, New Age, Electronic Dance, Musical, etc.
Can I use the Arylic bookshelf speakers as an external speakers for my TV and computer?

The Arylic bookshelf speakers can dramatically improve sound quality of your computer and TV. However, these bookshelf speakers are passive and must be used with a separate stereo amplifier. Arylic A30+ and A50+ are good choices.
Which is better, the bookshelf speaker or the sound bar?

Soundbars tend to be more feature-rich than bookshelf speakers, especially regarding connectivity and surround sound capabilities. Bookshelf speakers cost more and sound better than soundbars.
Can this bookshelf speaker connect to Bluetooth and wifi?

This bookshelf speaker is passive; it does not have Bluetooth or wifi functions. However, you can buy a stereo amplifier with Bluetooth and wifi functions to connect via Bluetooth or even SPDIF interface, network cable, and u disk. Arylic A50+ and A30+ stereo amplifiers can fit your needs.
Are bookshelf speakers worth buying?

A great pair of bookshelf speakers is one of the best investments a music lover can make. With proper use and storage, it should last for many years. And it has better performance than the popular all-in-one Bluetooth, wifi speakers, and soundbars.
Do I need to buy an extra subwoofer for the bookshelf speakers?

Arylic's bookshelf speakers include a 6.5-inch mid-wooder with great bass. Which is enough for usuall playing, but if you are looking for a more striking feeling like party music. Buying an additional subwoofer is a option for better entertainment.
Can this bookshelf speaker be used to listen to vocals?

Yes, very suitable. We have made a special optimization for the high frequency of the human voice. The bookshelf speakers use Heil AMT Tweeter. The treble high-frequency can go up to 40Khz, which delivers clean, detailed, and highly dynamic output.
It also can wider treble soundstage to 180°, making you listen to high-quality music in any corner. Enjoy an immersive concert in your rooms.

Our customer support is available Monday to Friday: 9am-6:00pm.(HKT)
Average answer time: 24h
Contact Us
This product is rated 5.0 of 5.0 stars.
It has received 2 reviews.
BK651 tear down and review
I received a delivery of the new Arylic BK651 loudspeakers, they were very well packaged and would need seriously bad freight handling to damage the contents.
Upon opening and on first inspection I see that the cabinet design is very minimalistic in its approach an in my view I think that speaker's physical dimensions fall toward the larger side of what I'd consider as bookshelf-sized speakers.
The light oak timber veneer finished enclosures appear to be well constructed and the magnetically attached fascia grille is nice.
The two drivers are recessed flush with the veneer, upon removal of these and looking inside the cabinet the only internal stiffening is a small single MDF cross brace. As the Arylic documentation shows the MDF is 18mm thick and there are 20mm thick 'polyfil' type synthetic dampening material pads on the side walls of the enclosure.
The woofer/mid driver has a pressed steel chassis, the air motion transformer tweeter has cast alloy frame, the full driver specs are published in the DIY section of the Arylic website. There are no signs of a OEM on either driver.
The crossover is mounted to the base of the enclosure, it's a basic crossover with air core inductors, wire wound resistor, a ceramic, a polyester film and a bipolar capacitor.
Looking at the rear of the enclosure there are the speaker connectors and a port. The plated brass binding posts are similar to ones that I have used previously with no issues, weird though, the ones in these speakers had steel nuts.
The port is 50mm diameter, it is a cardboard tube with flared moulded plastic ends, I can only assume that the cardboard tube has been trimmed for bass tuning upon assembly. Using a port length calculator it appears that this port is tuned to appropriately 48hz
Listening. After extensively sampling numerous and varied music genres, my impression is that these speakers are enjoyable, but like most fairly compact speakers they have limited bass depth, a somewhat exaggerated midrange and in this particular model, lively, bright and slightly piercing high frequencies. This is my first time listening with this type of air motion transformer tweeters so I can only compare with more conventional units.
They were very easy speakers to drive to loud listening levels with low apparent distortion, the low end frequency appears to drop off a little under about, I'd say around 70hz, so combining with a subwoofer would improve the listening experience.
The listening (or dispersion) area appears to be fairly narrow, although as the speakers are not really suitable for critical listening, I wasn't overly concerned with this.
As the ports are rear facing, I would suggest that the speakers are placed at least 150mm away from a wall behind them for the ports to function properly extending the bass response.
There are a few giveaways that the speakers have been built to a budget or price point, a cast alloy frame on the woofer/mid range would have been nice and the use of a bipolar cap when a film cap could have been used for very little more.
So, are they considered reference quality? No, but I would recommend them as excellent "everyday speakers" for playing background music on a regular basis and they do offer very good value for the price.
Arylic BK501 Bookshelf Speakers Unveiled
The Arylic BK501 bookshelf speakers offer clear, detailed sound at an affordable price. While not the most stylish or powerful, they deliver solid bass through a 5.25-inch woofer and crisp highs from a 1-inch silk dome tweeter. Versatile connectivity options include turntables, CD players, and streaming devices. They come with a remote control for convenient adjustments. Overall, these speakers provide excellent value and sound quality, suitable for budget-conscious buyers seeking quality sound.