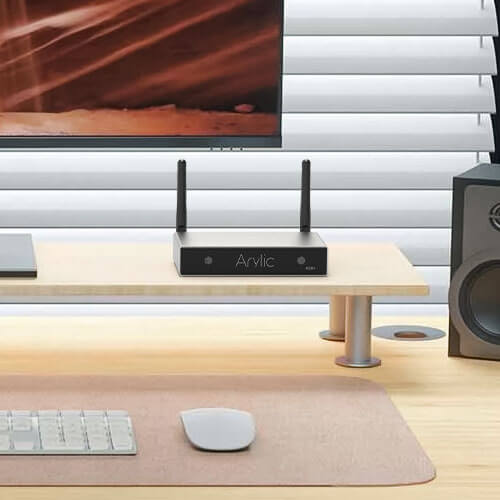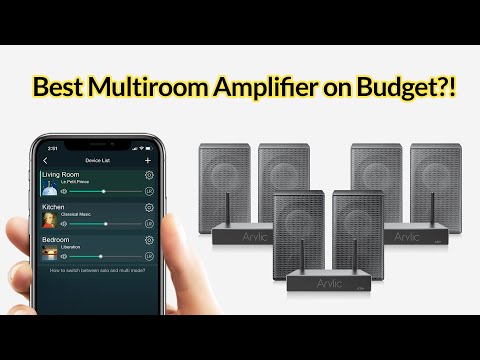 A30+ 30W x 2 WiFi Mini Stereo Amplifier
---
A30+ WiFi mini stereo amplifier perfectly suited for your passive desktop stereo system and smaller space. The compact stereo amplifier and easy to use design makes it easy for everyone to get started quickly.
Play online music service, online radio, local music files to your passive speakers by WiFi, AirPlay, Spotify Connect, anytime in every rooms. 
We will donate $1 USD dollar of your every order to help the refugees in Turkey-Syria earthquake. Thank you for doing charity with us!
Shipping Fee:

Standard Shipping is $9.9.
Free Shipping Over $90 Whole Store.
Free Express Shipping Over $150 Whole Store.
Express Shipping may varies of different regions.
(Please check at the checkout)

Delivery Time:
Local Delivery From Local Warehouse - 2-7 Days
Standard Shipping - 7-25 Days
Express Shipping - 3-10 Days
Delivery time may varies of different regions
(Please check at the checkout)

Shipping From:
US warehouse support shipping to Canada & United States.
EU warehouse support shipping to Europe regions.
AU warehouse support shipping to Australia.
RU warehouse support shipping to Russia.
Asia warehouse support shipping to Global.


If you have other questions, contact us.
✔Fast & Free Shipping
✔We pay sales tax, if applicable
✔FREE & Easy 30 Days Return
✔Solid 1 Year Warranty
✔Official Website Promise
✔Online Expert Support
✔Fast & 3D Secure Payments

Mini Stereo Amplifier
Small But Complete In Every Detail
A30+ mini stereo amplifier packs 30 watts per channel which is perfect to your desktop stereo system.

Enjoy the full functionality with wireless streaming: WiFi, AirPlay, Spotify Connect, Qplay, DLNA, UPnP, Bluetooth 5.0 and full features of our 4STREAM App: Online music, Online Radio, EQ Settings, alarm clock and more.

So does includes the ACPWokbench tuning tool features. The compact stereo amplifier and sliver surface makes your desktop looks more clear and premium.
Amplifier For Desktop
Best For Your First WiFi Stereo Amplifier
Our wireless streaming system is designed to be very simple, even for people who are not familiar with the electronics can quickly get started. There is clear step by step instructions in the app.

After the first setup of A30+ small stereo amplifier, you can stream directly from iPhone, iPad or Mac by Airplay or stream directly from Spotify both without app. The whole family can easily get started.
Play High Quality Audio Without The Hassle
Streaming by WiFi has stronger range signal and high quality audio transmission.

With A30+ mini speaker amp, you can stream anytime, anywhere with far distance from the device. Upgrade your listening experience far from Bluetooth streaming before.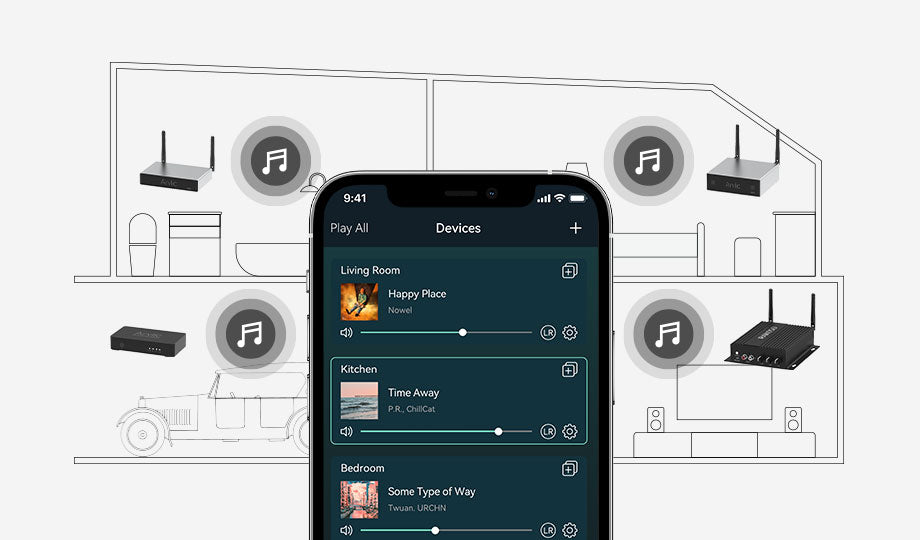 Hook Up Whole House Audio
A30+ mini audio amplifier can play a different song in different rooms, or the same track in every room, or play some rocky music for whole house party!

Bring Hi-end music to every rooms and controlled by one single device.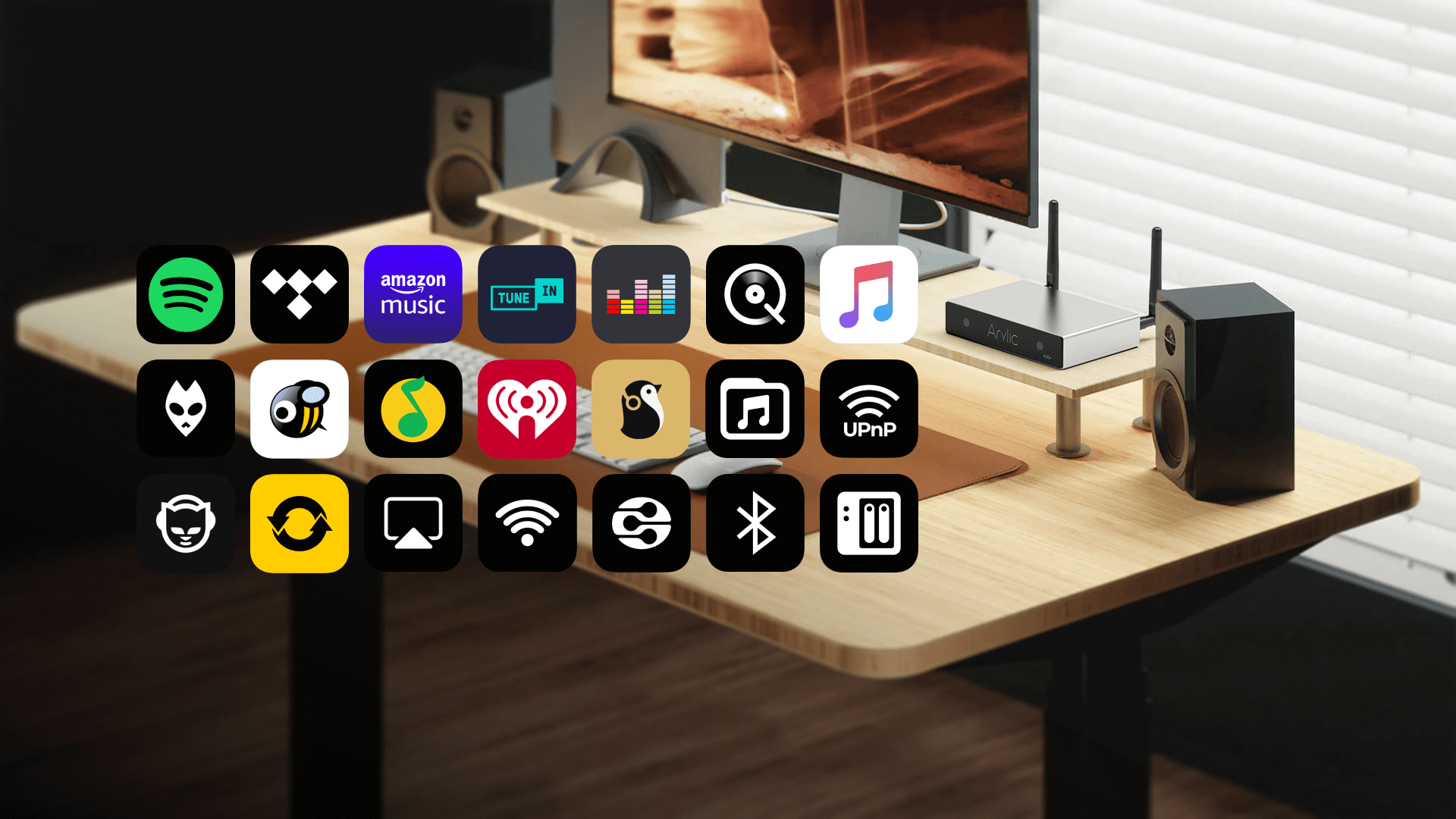 Versatile Playing
Play from Amazon Music, Spotify, TIDAL, Qobuz, iHeartRadio, TuneIn, Napster, phone storage, NAS, USB stick,line in source, bluetooth source and more.

Stream any audio you want all in one A30+ small audio amplifier.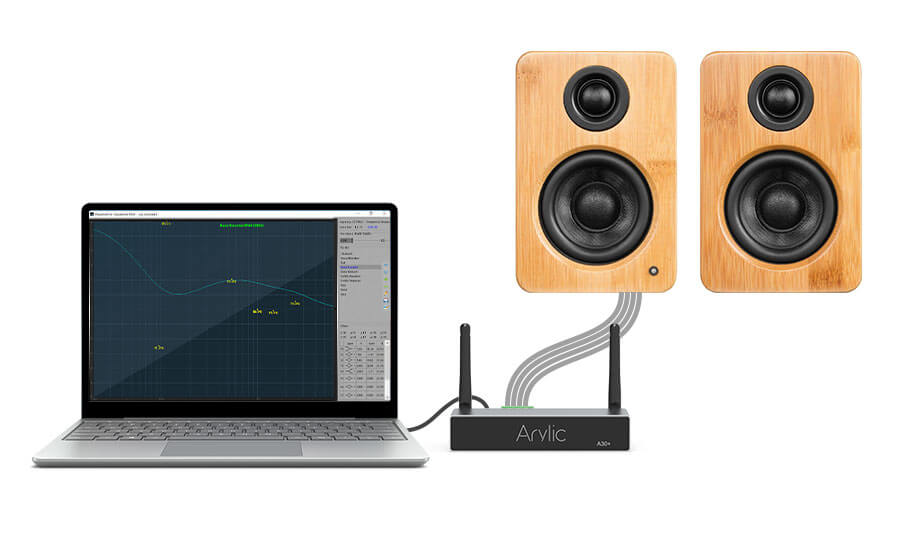 Personalize Your Sounds
A30+ mini stereo amplifier supports ACPWorkbench tuning tool which allows you do specific EQ adjustment, L/R balance, dynamic range and more.
Set your favorite tune with different type of music.
Package Includes
A30+ WiFi Audio Amplifier, User Manual, Remote, 18V 4A DC Power Adapter, External Antennas (Bluetooth & WiFi), 2-1 RCA Cable, Screw Driver, 4 Pin Phoenix Connector (for speakers).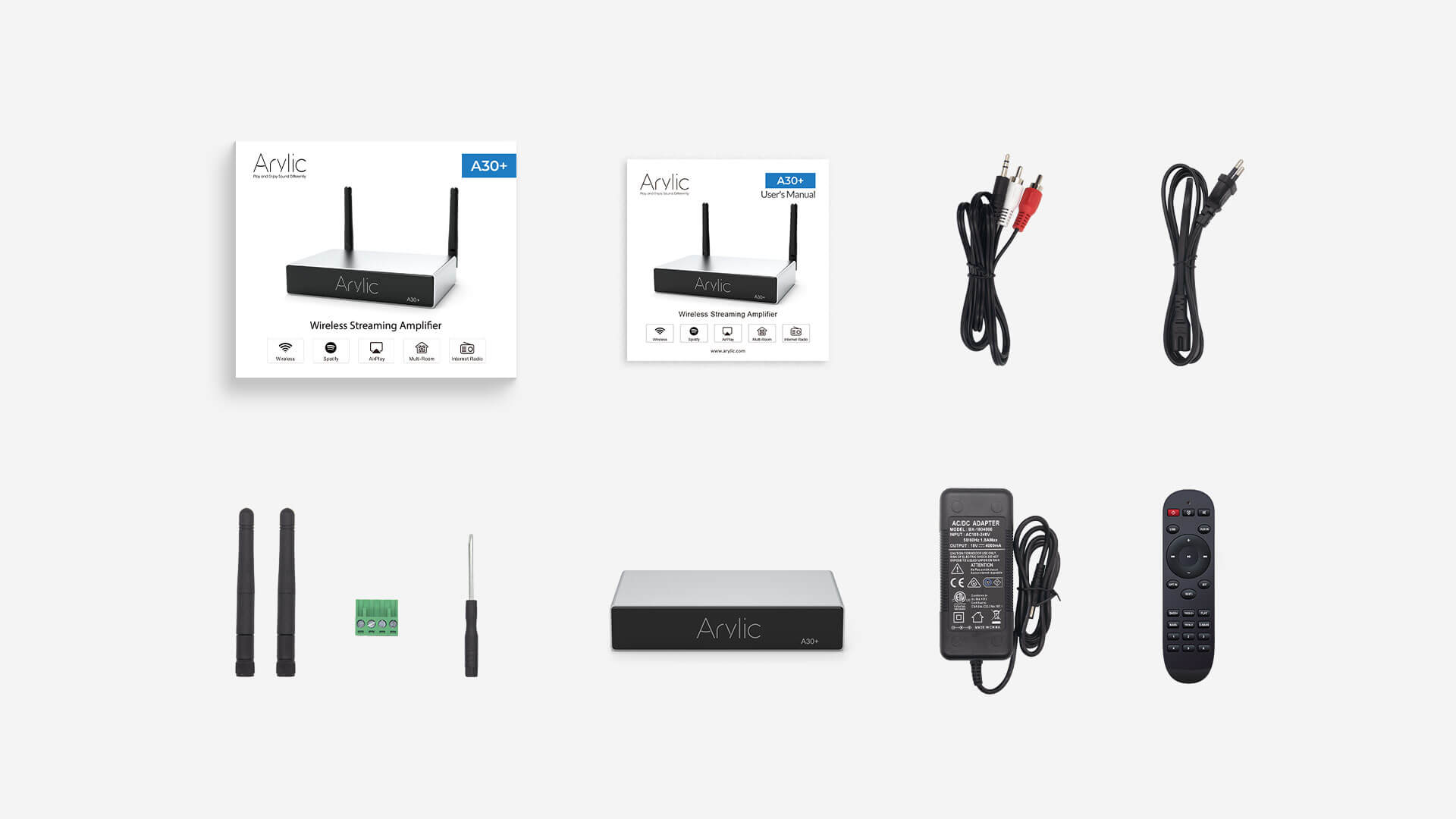 Connectivity
WiFi:
IEEE802.11 b/g/n 2.4G

Bluetooth:
5.0 SBC/AAC, 15M, BT Receiver
Wired Network:
Ethernet Single 10/100M RJ45
Audio Input
Analog:
AUX (1Vrms)

Digital:
Micro USB Input
Audio Output
Analog:
AUX (1Vrms)
Speaker Out
Speaker Power
2 x 35W @ 4Ω load at 18V
2 x 18W @ 8Ω load at 18V
USB Host
For USB pen drive/stick, 1000 songs limited
Music Format
FLAC/MP3/AAC/AAC+/ALAC/APE/WAV
Audio Format
Decoding up to 192kHz/24bits
Output up to 44.1kHz/16bits CD quality
Protocols
AirPlay, DLNA, UPnP, Spotify Connect, Qplay
NAS
Support NAS with DLNA support
General
Dimensions:
131.8mm*85.5mm*27mm (5.18in*3.37in*1.06in)

Weight:
500g

Working temperature:
0~40℃
Accessory
Power Supply
Screw Driver
RCA Cable
Remote
4Pin phoenix connector
External Antenna x2
User Manual
Power Button
Power Button
Device on:
Short press once: Switch input mode
Long press once: Switch off
Short press twice: Disconnect current WiFi connection and enter pairing mode (WiFi mode);
Disconnect current connected Bluetooth device (Bluetooth mode)
Short press three times: Restore the factory settings

Device off:
Short press: Switch on
LED Indicators
⚪White-WiFi & network mode:
Flashing fast- device is booting
Flashing slow- waiting for WiFi connection
Solid- WiFi is connected

🔵Blue- Bluetooth mode:
Flashing slow- waiting for Bluetooth connection
Solid- Bluetooth is connected

🟢Green- Line in mode
🔴Red- USB mode
🟡Yellow- connect to PC
Compare
Which Wireless Amplifier Are Made For You ?
Not sure which one to choose? We selected our most popular wireless stereo amplifiers. Compare them and choose the best version for your needs.
Click Learn More Below To Check All Products Comparation Table.
Learn More
Wireless Capability
WiFi, AirPlay, Spotify Connect, Bluetooth 5.0
WiFi, AirPlay, Spotify Connect, Bluetooth 5.0
FAQ
Can't find your question? Contact us with the button below.

Our customer support is available Monday to Friday: 9am-6:00pm.(HKT)
Average answer time: 24h
Contact Us
Can you do mono bridge on this amp?

Sorry this is not available, for mono amp you can refer to Up2stream Amp Mono.
Can I connect A30+ to Bluetooth Speaker?

About connect to speakers, you need to wiring to your passive speakers. The Bluetooth chip inside is a receiver not a sender.
Does it supports AirPlay 2 ?
How many A30+ I can connect to my network for multiroom at once?

Actually there is no limitation, as long as your WiFi router is strong enough. By normal home use, we suggeat up to 10 unis under a WiFi.
What Speakers I can connect to A30+?

You can connect any kinds of passive speakers to A30+.
Can I connect my computer to speaker amplifier?

If you want to connect A30 speaker amplifier to your computer, you will need to use a 3.5mm audio cable.

First, plug the cable into the headphone jack on your computer.

Next, plug the other end of the cable into the input on your speaker amplifier.

Finally, turn on your speaker amplifier and enjoy the increased sound!
How to connect mac to stereo amplifier?

The easiest way to connect the audio output of your Mac is to use the "line" output of your stereo amplifier.

We recommend a stereo 3.5mm mini phone plug to dual RCA cable or mini plug to dual RCA jack adapter with a RCA jack stereo cable to go to the audio input of your stereo amplifier sound system, such as the "aux" input.

Our customer support is available Monday to Friday: 9am-6:00pm.(HKT)
Average answer time: 24h
Contact Us
This product is rated 4.8 of 5.0 stars.
It has received 45 reviews.
Wifi a must
Wifi connection makes it much easier to move around as opposed to Bluetooth connection. So far no issues with the amp
Great box with wide range of features
This is a great little box that provides a wide range of streaming options. The setup was a breeze and most surprising was a great app used to control the streaming (it has a quick UI response).
Good value, but…
Many tasks in a little box, very satisfied.
But:
- not so powerful (30watt?)
- I really miss the possibility to have song title & author shown while listening to an internet radio
A30+ 30W x 2 WiFi Mini Stereo Amplifier
Spotify Windows app problem
On waking up from sleep mode in Windows 11 sometimes the A30+ will not reconnect with the Spotify app despite the fact that the link is displayed as connected in the app - otherwise it'd be a 5 star.
A30+ 30W x 2 WiFi Mini Stereo Amplifier