We Could stream your multiple audio sources over Wi-Fi and other wireless connectivity all in one system. Easy full manage the sound everywhere in your house with 4stream APP.
Let's get started!
First, you may need to prepare something….

Wireless Streaming
Streaming your audio not only by WIFI, but also by Airplay and Bluetooth. Meet all your utilities.

*Now only support Airplay 1, but we are trying to get the Airplay 2 access now. We hope the feature will available before 2021 Q2.
*The difference between Airplay 2 and 1 is Airplay 2 can control multiple at once. By this feature, our 4stream App can easily done this feature. And have more capability like multizone control every units for sync and separate playing different or same audio.
Comparation Table 
*Actually, WIFI streaming can stream over your whole whose as long as your home WIFI network range covered enough. Some people will setup mesh to boost their wireless range of the router. And their must be interference if you have multiple WIFI streaming devices, then you can connect your units by Lan to solve the interference issue.
What's More with Network Connection

4stream App
Easy to stream and manage all your favorite music and sounds in every zones. Play in sync/separate, adjust EQ/Volume, set alarm/L-R channel, Group zones and more all in a app. To Know More

What you can Stream?
Any your favorite playlist, radio, file storage, TV, Vinyl or other vintage stereo devices. Any correspond audio input that you can control and stream wirelessly by 4 stream App.
Multizone Control
Manage your whole house audio with one system.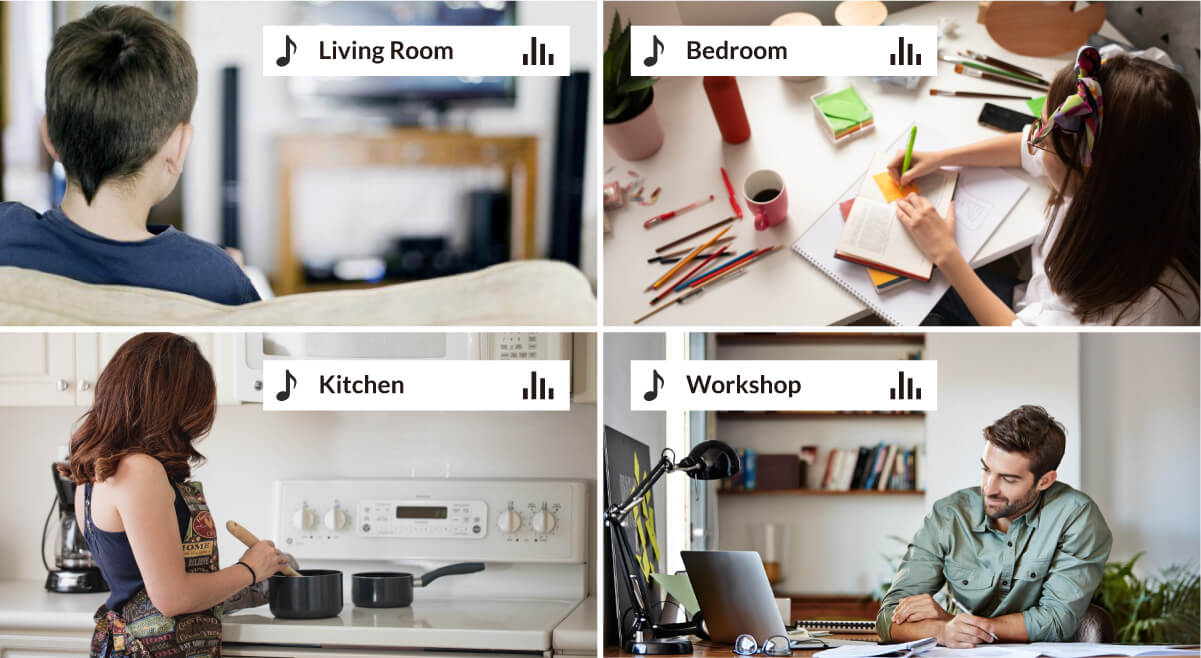 You can setup multiple Arylic devices in your home and control all the units by 4stream app or PC software anywhere in your house. You can play different audio to different rooms, for example, your son can stream TV audio of NBA in the living room. Your wife is playing pop songs in the kitchen, your daughter is listening to podcast in her room and you are listening SiriusXM Satellite Radio in your workshop. This can be done at the same time and controlled by everyone.
Synchronize Music
By dragging a device over another device in the 4stream app, you can group multiple units to the main device to form a group. You can then sync the music to every device you group, your whole house will immersive with the same music. This is perfect for your family party or weekend party! To separate the device again you just simply drag the device to the bottom of the app.

Multi-room with Different Audio Sources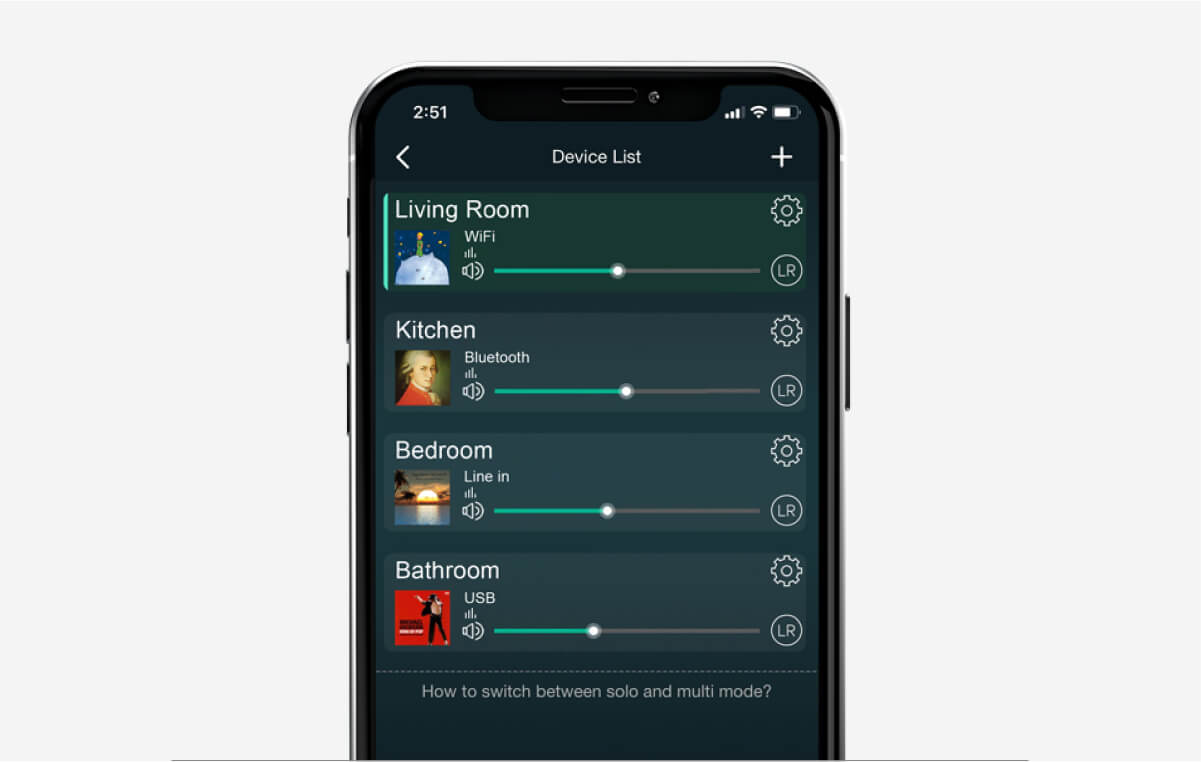 Output your Audio Wirelessly
By adding Arylic products to your old stereo equipment, you can bring them a new life to streaming audio wirelessly. This includes your bookshelf speakers, ceiling speakers, In-wall speakers, on-wall speakers, desktop speakers, audio amplifiers, audio receivers and subwoofers. You can group different audio output devices, and manage them in one system and stream wirelessly.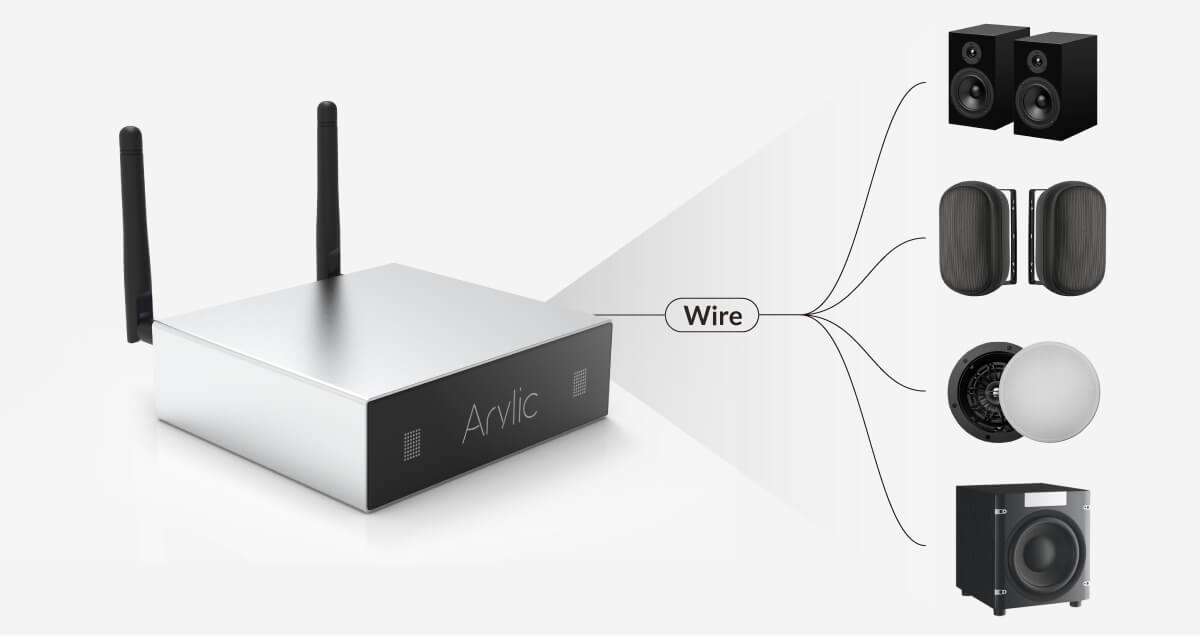 *When apply to wireless speakers like Bluetooth speakers or WIFI speakers, you will need to connect our device to the input interface of the speakers. Our device in Bluetooth mode can only receive transmission and in WiFi mode, we are not compatible with other wireless system like Sonos. Similar to Sonos, we only support devices of our own system.
More Fun with DIY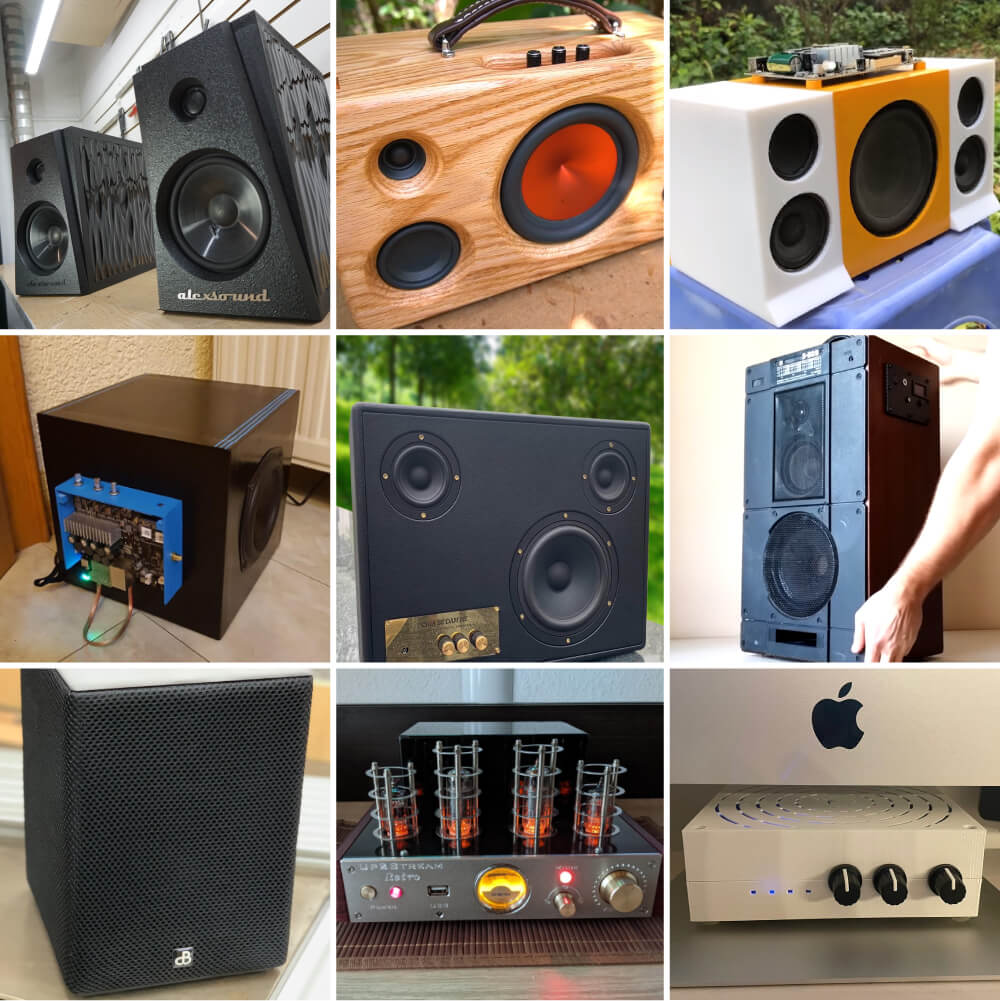 If you have technical background with audio, we really recommend you to try out our DIY products to make your own unique DIY equipment or upgrade your vintage stereo into wireless system. Our DIY products could have more flexibility to add features that meet your needs and save more budget. If you are not pro for DIY but is tight in budget and don't mind the product without casing, you can also choose DIY products. We design the device with common interface which is simple to realize and use. You can setup 10 zones for your whole house audio which only needs budget under $400!