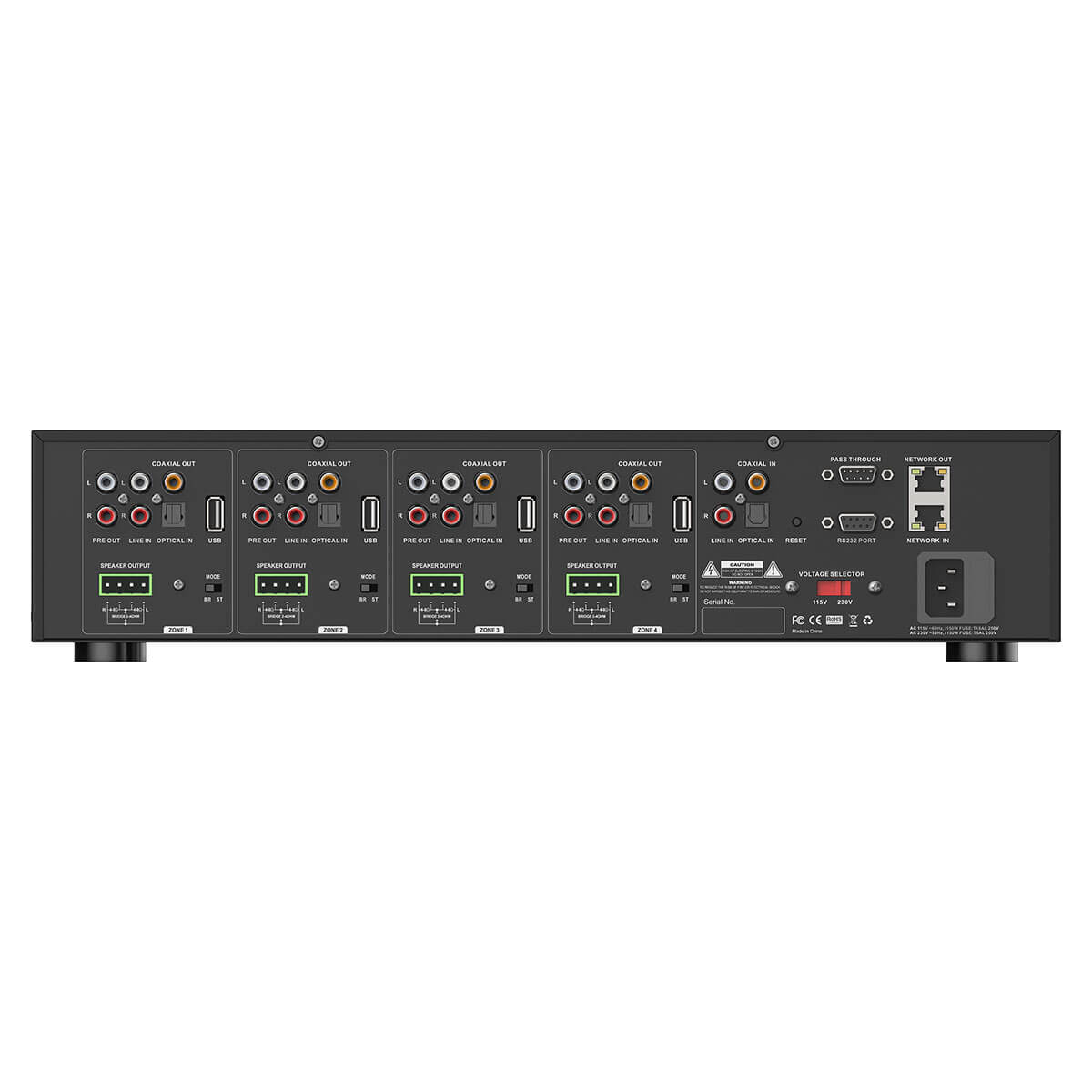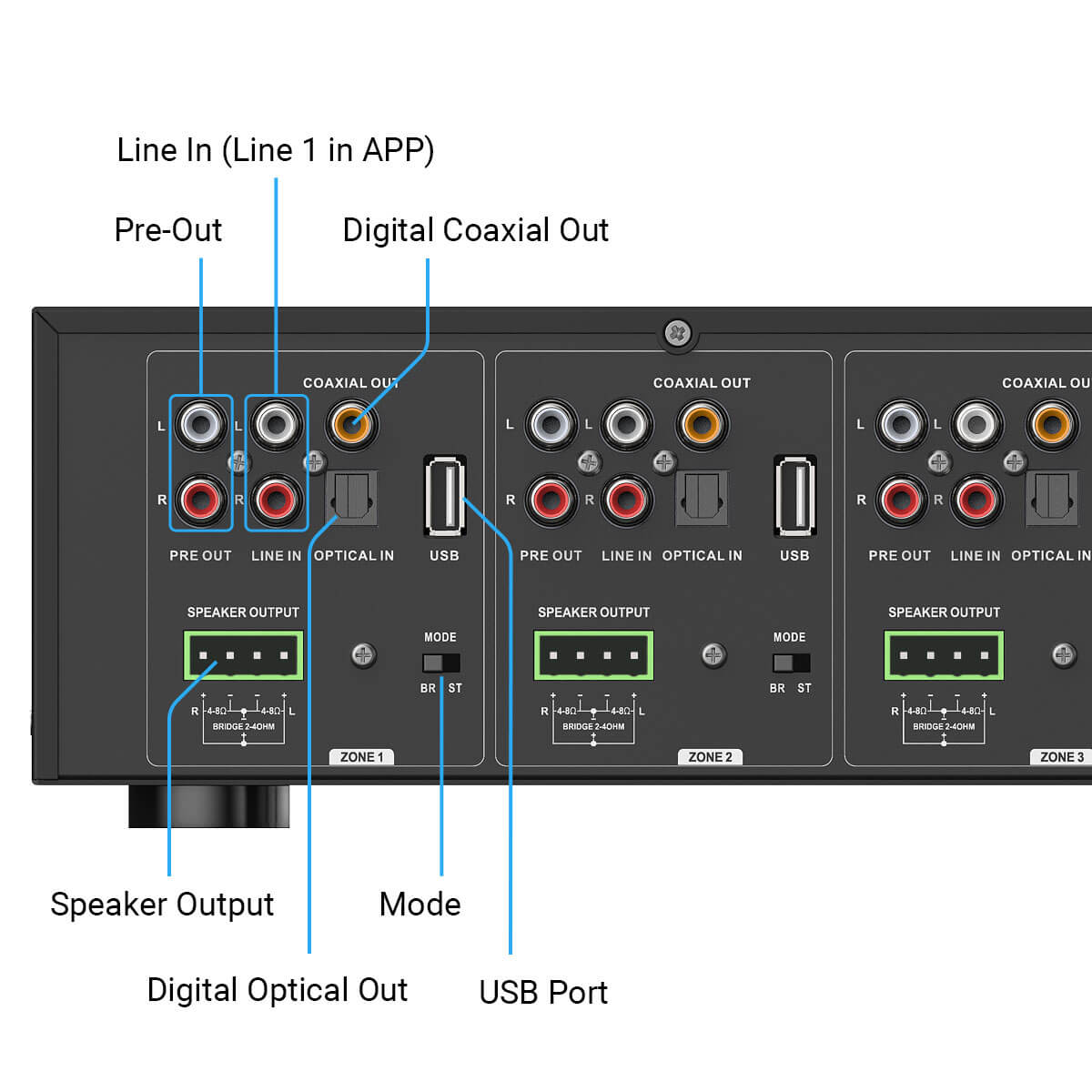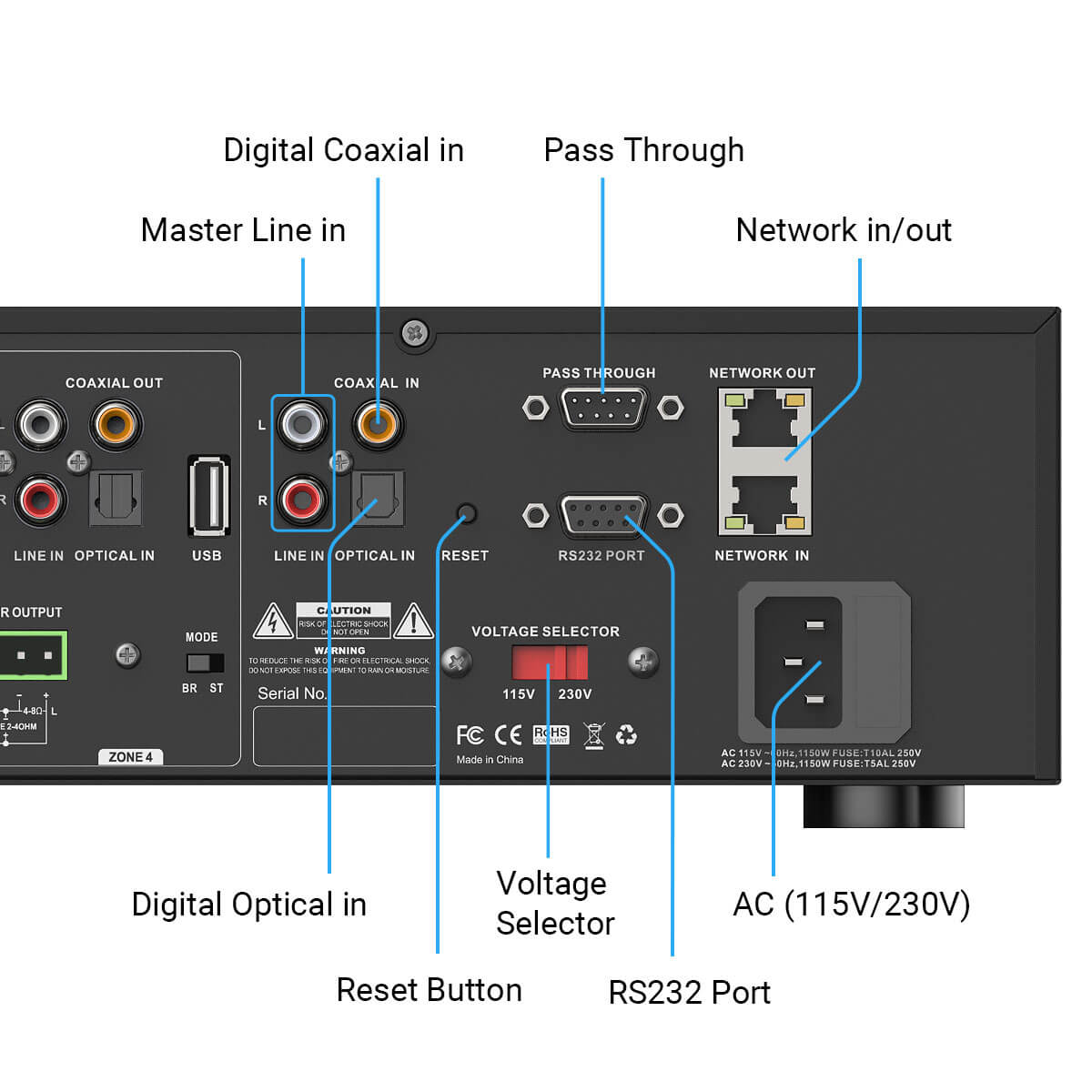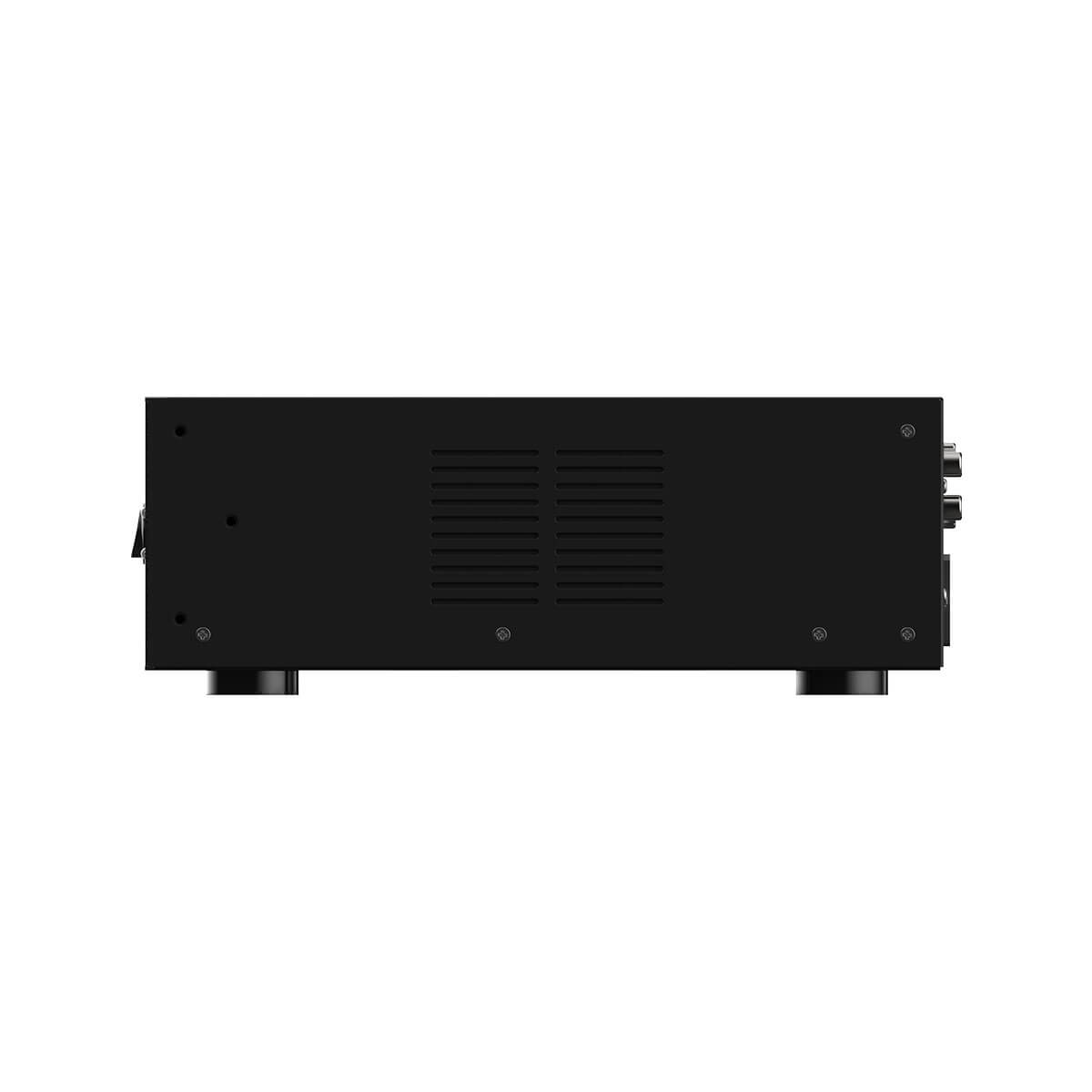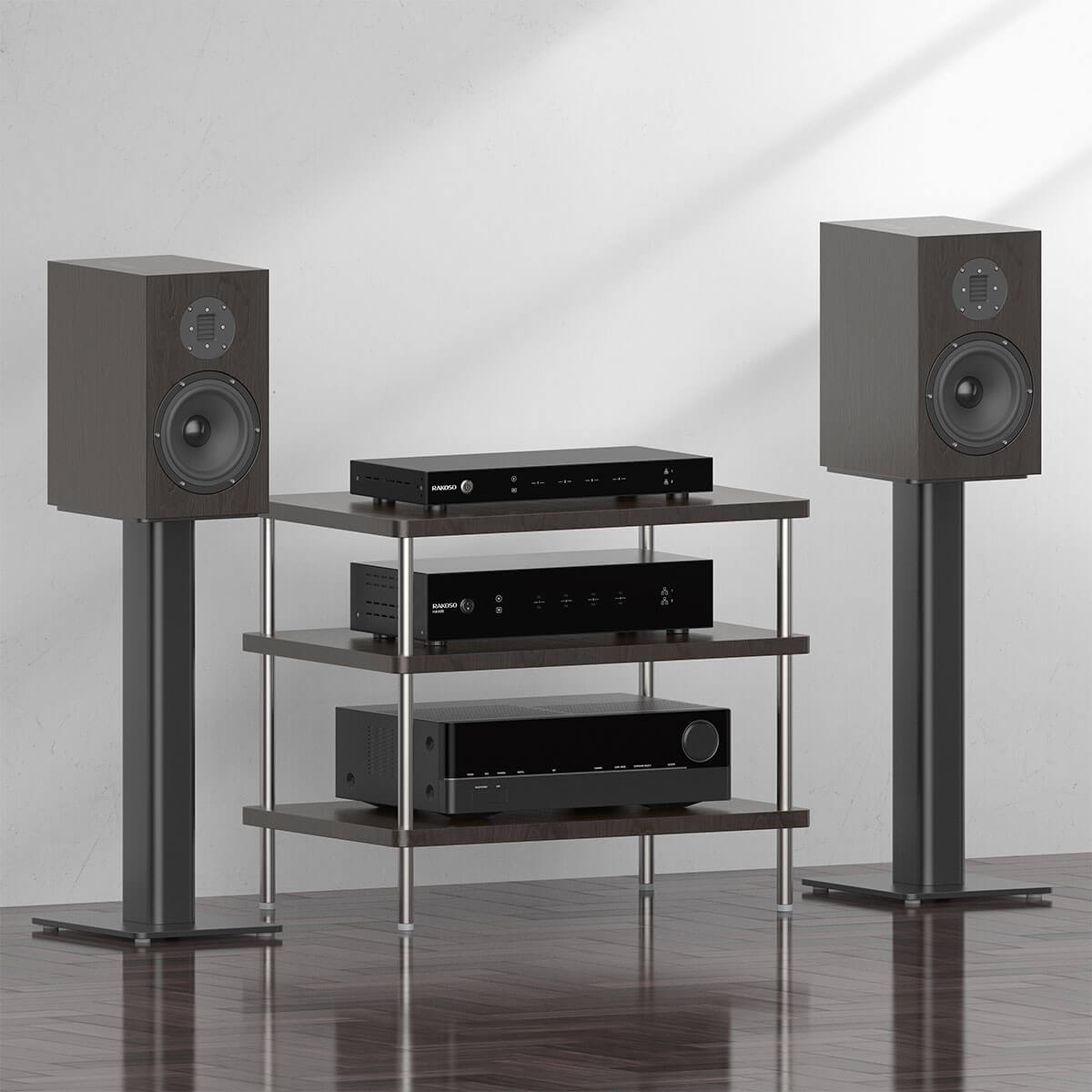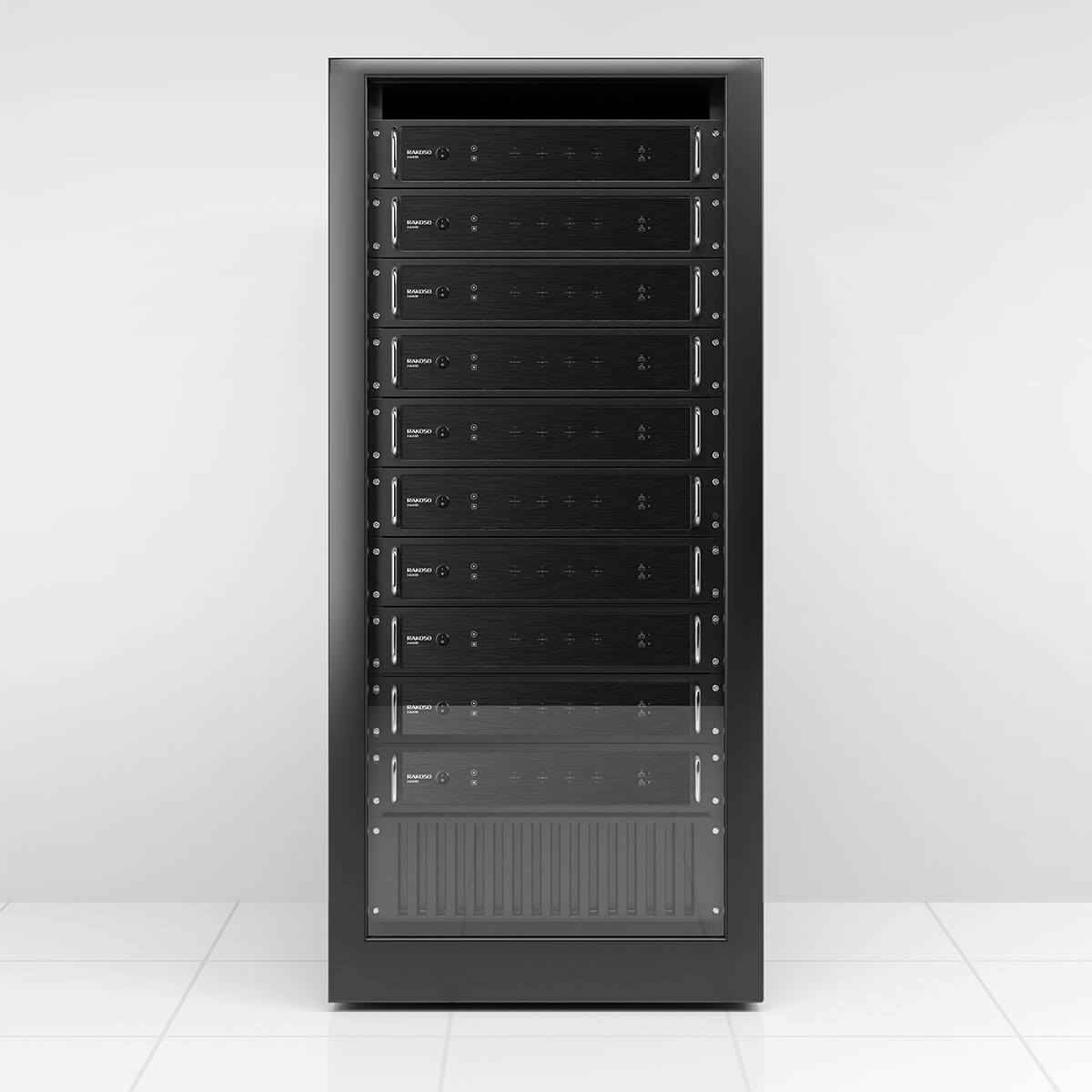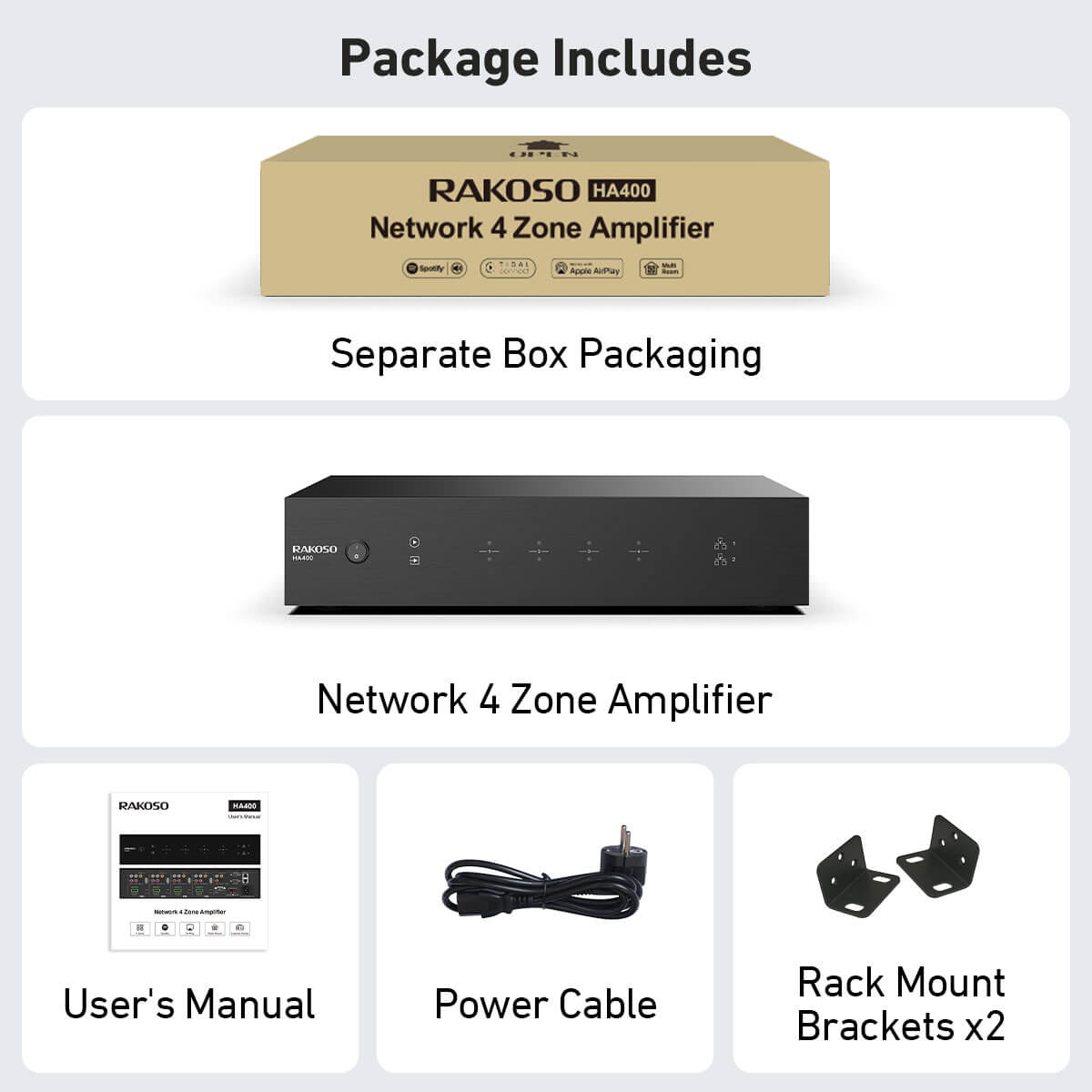 HA400 4 Zone Amplifier with AirPlay 2 and Network
---
The HA400 is a 400 watts 4 zone network streaming amplifier that integrates Hi-res amplification, a network player with AirPlay 2, Spotify Connect, Tidal Connect, and advanced preamplifier technologies.
Power up and connect to your home network by Ethernet, wire each zona to your passive speakers, and you are ready to go. This amplifier lets you play any audio sources in different rooms and provides convenient wireless control of all zones in one 4STREAM APP.

We will donate $1 USD dollar of your every order to help the refugees in Turkey-Syria earthquake. Thank you for doing charity with us!
Shipping Fee:

Standard Shipping is $9.9.
Free Shipping Over $90 Whole Store.
Free Express Shipping Over $150 Whole Store.
Express Shipping may varies of different regions.
(Please check at the checkout)

Delivery Time:
Local Delivery From Local Warehouse - 2-7 Days
Standard Shipping - 7-25 Days
Express Shipping - 3-10 Days
Delivery time may varies of different regions
(Please check at the checkout)

Shipping From:
US warehouse support shipping to Canada & United States.
EU warehouse support shipping to Europe regions.
AU warehouse support shipping to Australia.
RU warehouse support shipping to Russia.
Asia warehouse support shipping to Global.


If you have other questions, contact us.
✔Fast & Free Shipping
✔We pay sales tax, if applicable
✔FREE & Easy 30 Days Return
✔Solid 5 Year Warranty
✔Official Website Promise
✔Online Expert Support
✔Fast & 3D Secure Payments

Whole House Audio System
The HA400 allows you to stream audio to up to 4 different zones or rooms simultaneously.
Synchronized Playback
Play different songs in different rooms or same song in every room, offering versatile audio distribution for whole-home or commercial setups.
Individual Control
HA400 allows precise control over each zone's name, audio sources, EQ, and volume levels, granting the flexibility to personalize the audio experience for each area according to your preferences.
Expandable Zone Configuration
The HA400 4 Zone network Amplifier is expandable, allowing to add more zones beyond the initial 4 zones.

Group each HA400 with connecting network in/out ports, providing scalability for future expansions or larger installations.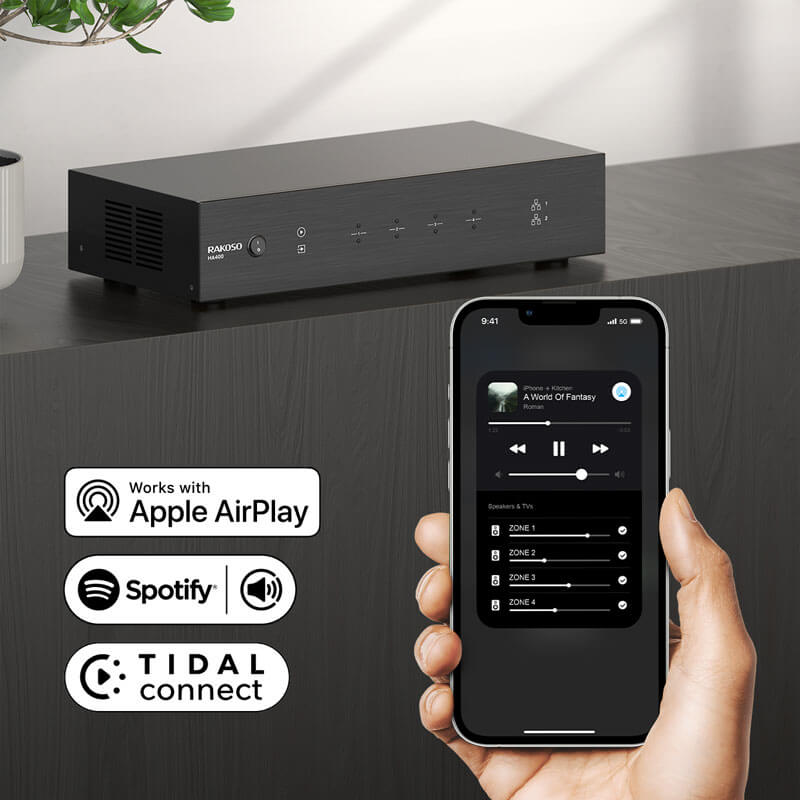 Convenient Wireless Control
Built-in AirPlay 2, Spotify Connect, and Tidal Connect, HA400 allows easy wireless audio streaming from your phone, tablet, and laptop.
Convenient wireless control in any corner with your favorite APP, even when you are away from the installation site.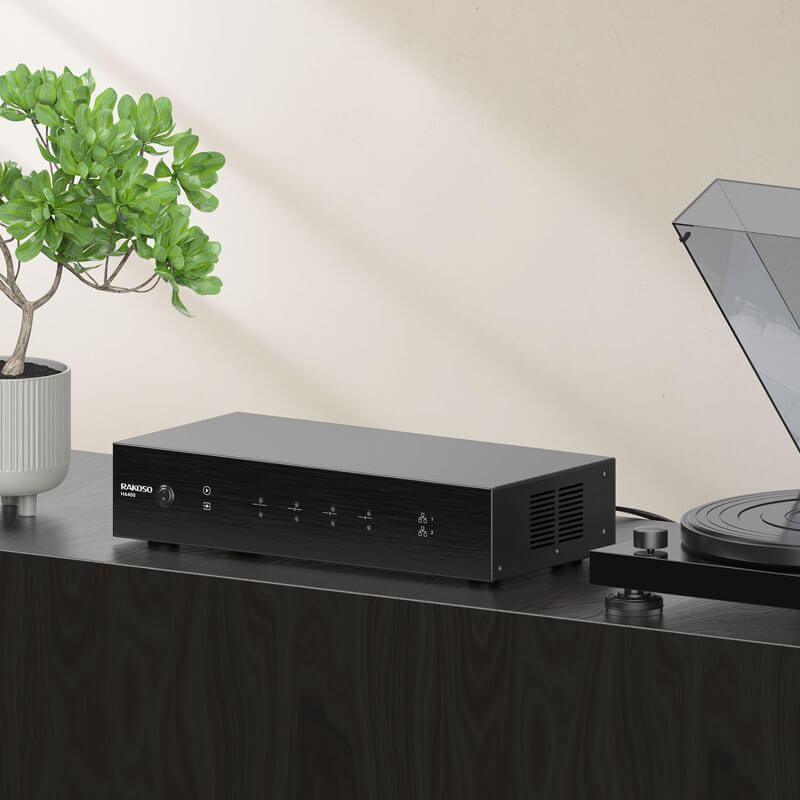 High-fidelity Sound Quality
The amplifier is designed to deliver outstanding audio performance with high-quality 4 pics ESS ES9023P DAC built inside, ensuring clear, rich, and immersive sound reproduction in each zone.

Upgrading your home entertainment experience with music, movie, dance, workout, and party time.
400Watts 8-channel Amplifier
HA400 build with 8 channels class d digital amplification with 50 watts per channel under the stereo mode and can switch to Bridged mode for 100 watts per channel.

Which can power 4 pairs of passive stereo speakers or 4 mono passive speakers at the same time.
Connect All Audio Gears In One System
Stream From Your Favorite Music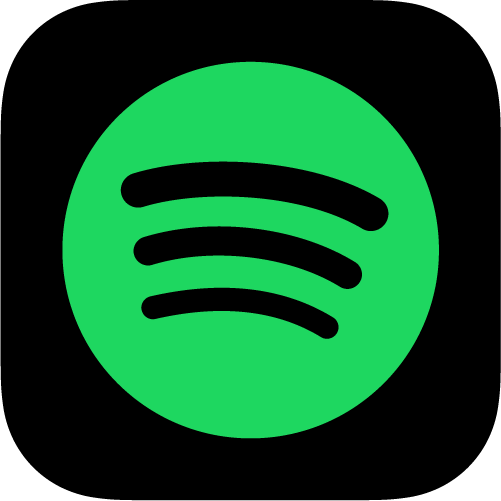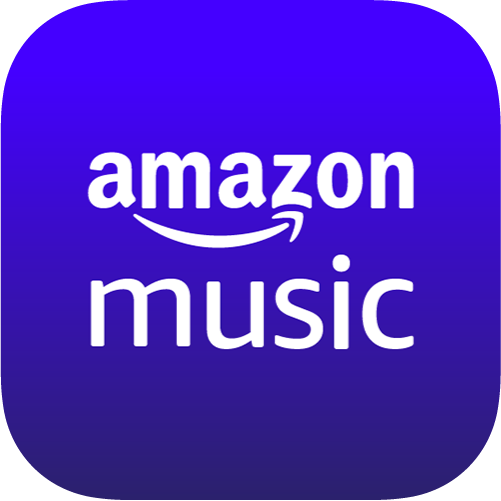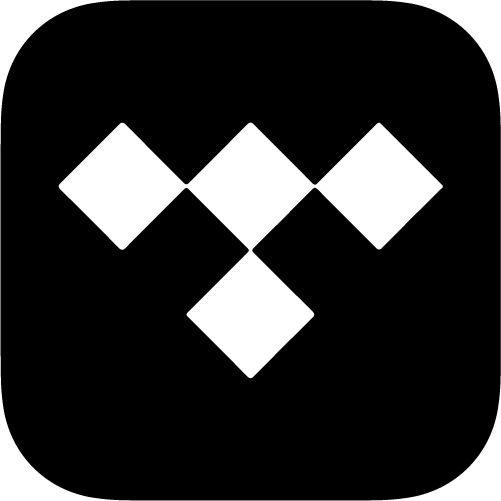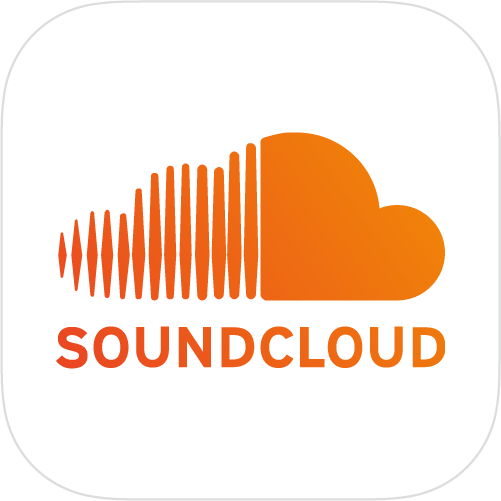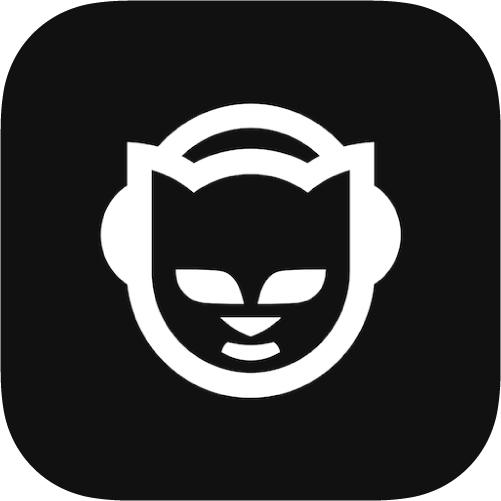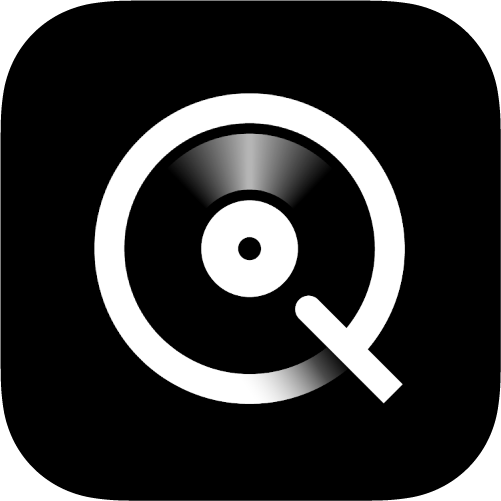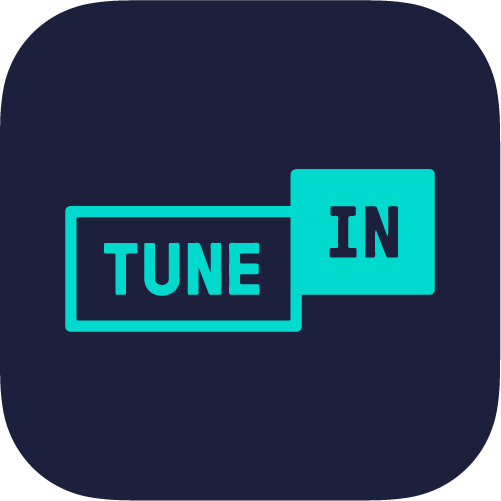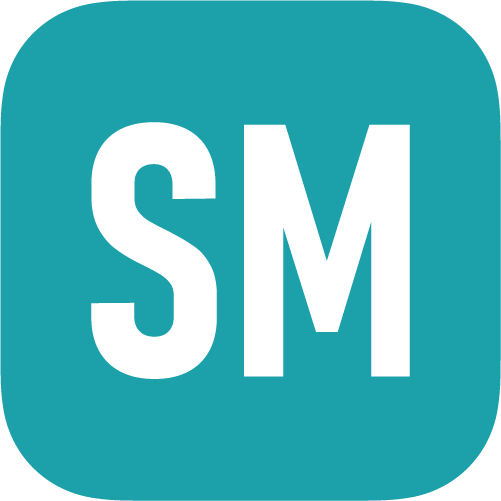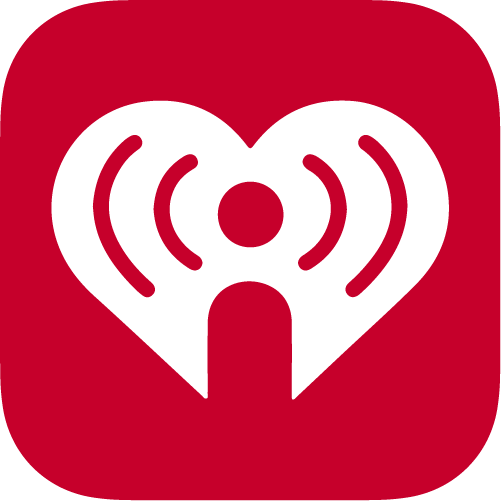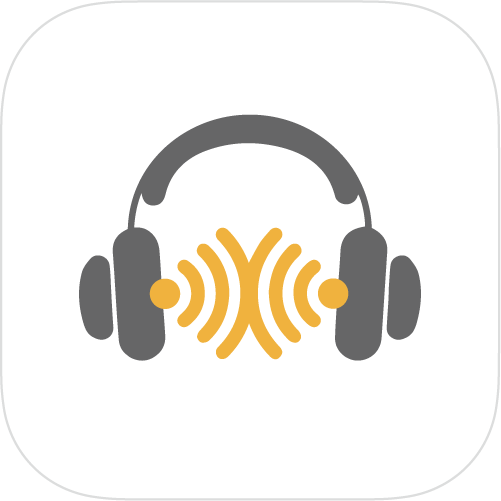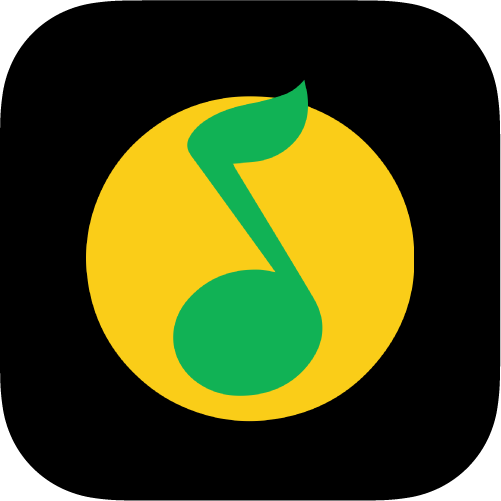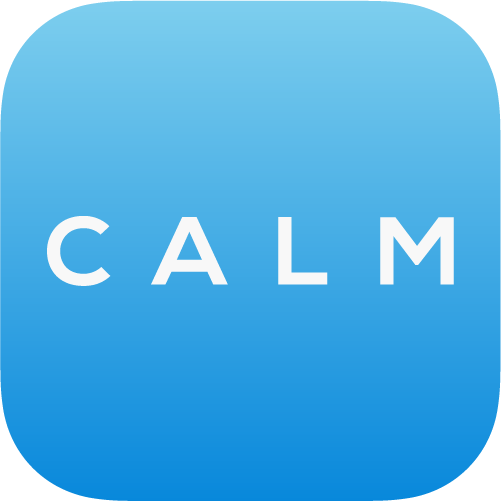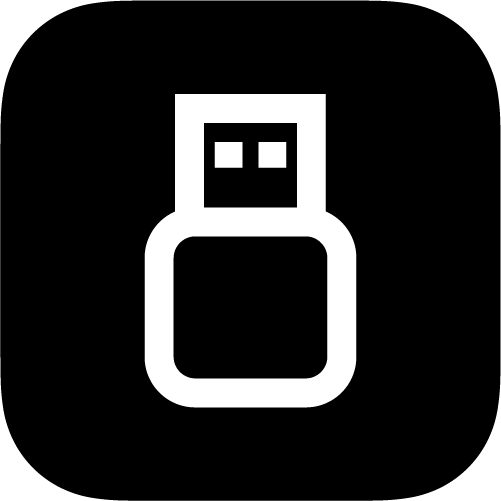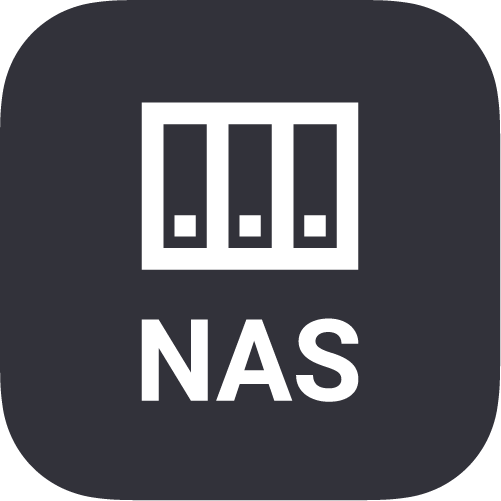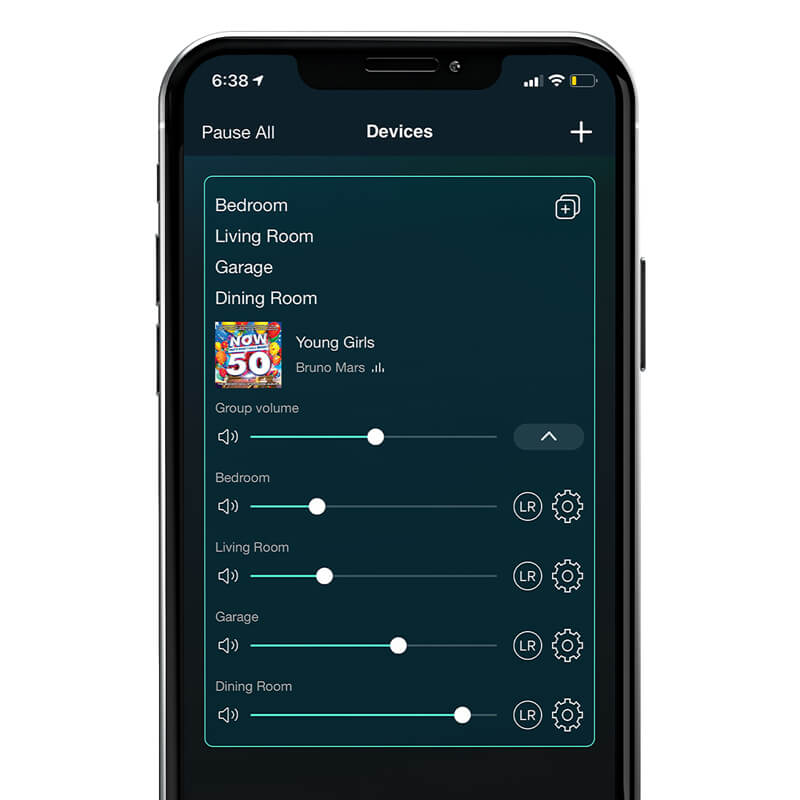 Powerful 4STREAM APP
Control all zones in one APP.
Multi-room/Multi-zone Control
Manage all music services in one APP.
Manage all audio sources in one APP.
Play local music: NAS, USB playlist, phone storage.
Custom EQ in each zones.
Rename devices.
Preset favorite playlist.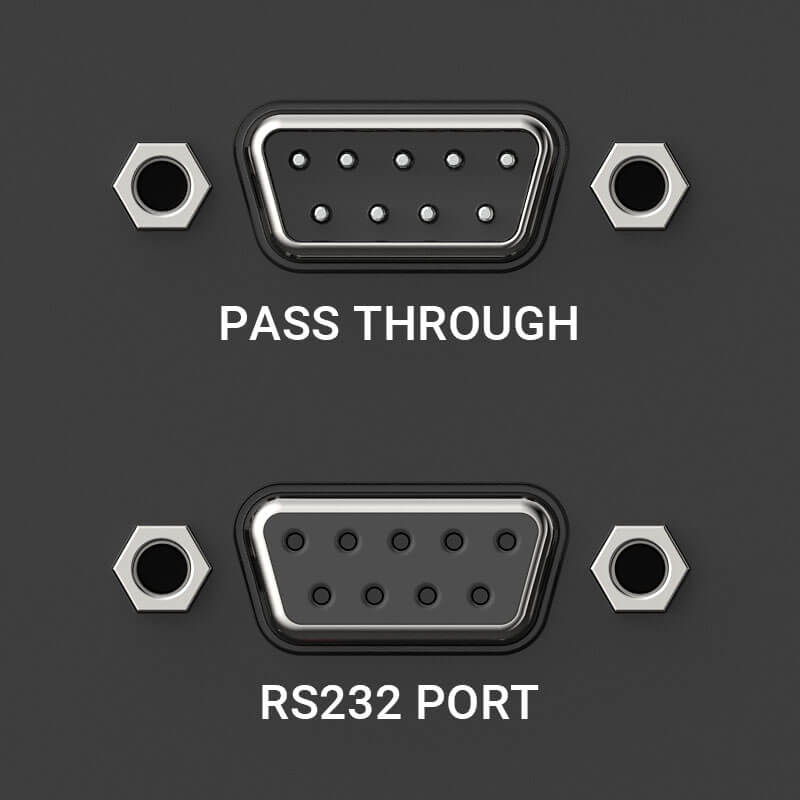 Integration with Smart Home Systems
Integration with Smart Home Systems HA400 comes with an RS232 port for connecting smart home control units to control HA400, such as Fibaro and Elan.
You can use the Pass-Through port to connect to another HA400 for group control.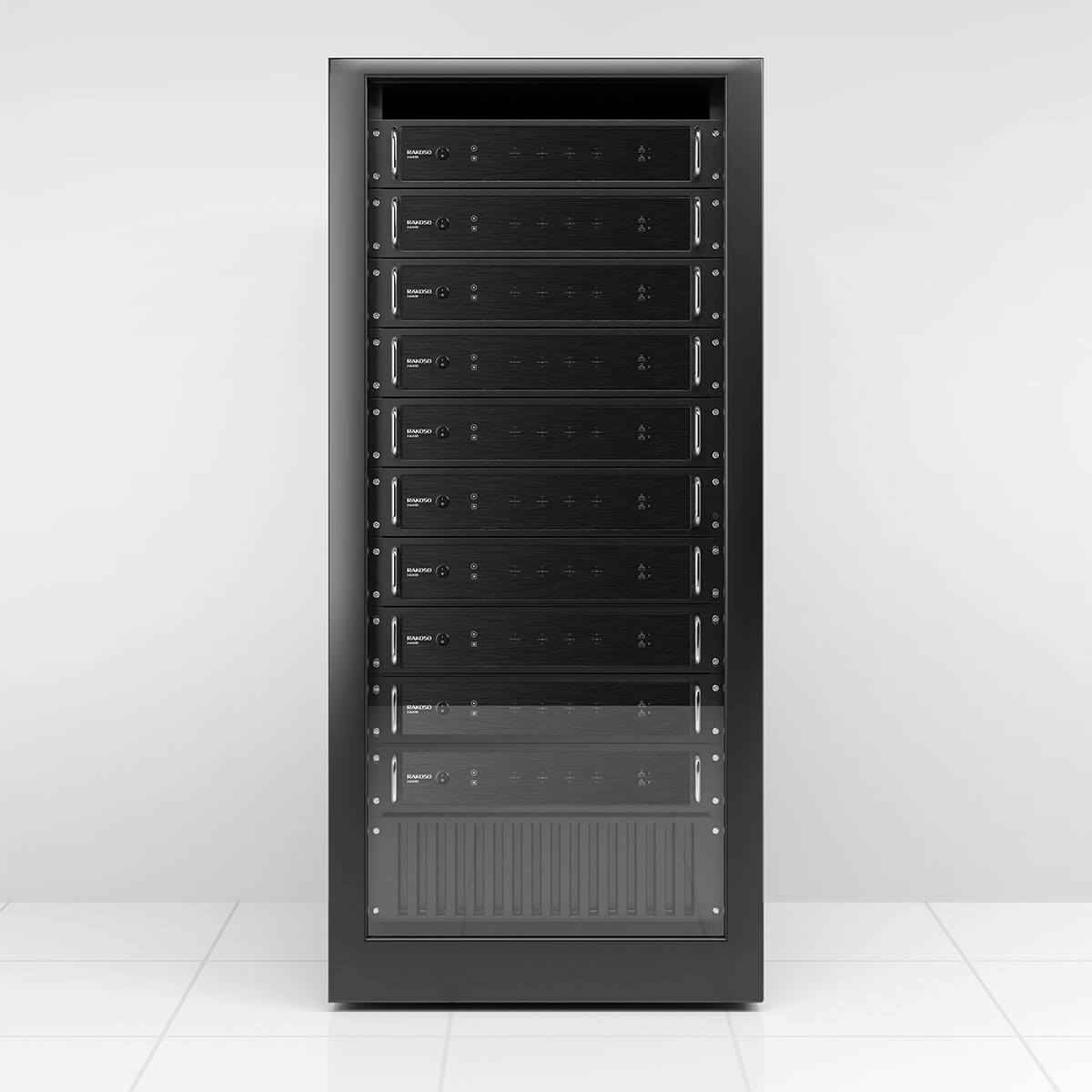 Compatible Home Installation
HA400 uses 2U size chassis and comes with an attachable rack mount, allowing you to easily place it in a 2U size rack.
Streaming Protocol
Spotify Connect, Tidal Connect, Airplay2, DLNA, UPnP, Qplay
Network
RJ45 Ethernet In
RJ45 Ethernet Out
Audio Input
4 Zone Audio I/O:
Analog
RCA(2Vrms)

Digital
Optical Input(PCM, Max 192kHz/24bit sample rate decode)

Master Audio I/O:
Analog
RCA(2Vrms)

Digital
Optical Input(PCM, Max 192kHz/24bit sample rate decode)
Coaxial Input(PCM, Max 192kHz/24bit sample rate decode)
Audio output
4 Zone Audio I/O:
Analog
Pre out(2Vrms)
Speaker Output

Digital
Coaxial Output(48kHz/16Bit)
Speaker Power
50W per channel @ 8ohms,
Bridged Amplifier mode 100W @4ohms per channel
USB Host
For USB pen drive/stick, 1000 songs limited
Music Format
FLAC/MP3/AAC/AAC+/ALAC/APE/WAV
NAS
Support NAS with DLNA support
General
Size:
2U rack size

Dimensions:
560*419*128mm

Weight:
10.5kg

Working temperature:
0~40℃
LED indicators
⚪White-WiFi & network mode:
Flashing fast-device is booting
Flashing slow- waiting for WiFi connection
Solid- WiFi is connected

🟢Green-Line in 1 (Zone Line in)
🔴Red-USB mode
🟡Yellow-Yellow for Line in 2 (Master Line in)
🟣Magenta-Master Optical in
Cyan-Master Coaxial in
This product has no reviews yet.