Up2stream Display Board SSD1306 OLED Display Module
---
We will donate $1 dollar of your every order to help the refugees in Turkey-Syria earthquake. Thank you for doing charity with us!
Shipping Fee:

Standard Shipping is $9.9.
Free Shipping Over $90 Whole Store.
Free Express Shipping Over $150 Whole Store.
Express Shipping may varies of different regions.
(Please check at the checkout)

Delivery Time:
Local Delivery From Local Warehouse - 2-7 Days
Standard Shipping - 7-25 Days
Express Shipping - 3-10 Days
Delivery time may varies of different regions
(Please check at the checkout)

Shipping From:
US warehouse support shipping to Canada & United States.
EU warehouse support shipping to Europe regions.
AU warehouse support shipping to Australia.
RU warehouse support shipping to Russia.
Asia warehouse support shipping to Global.


If you have other questions, contact us.
✔Fast & Free Shipping
✔We pay sales tax, if applicable
✔FREE & Easy 30 Days Return
✔Solid 1 Year Warranty
✔Official Website Promise
✔Online Expert Support
✔Fast & 3D Secure Payments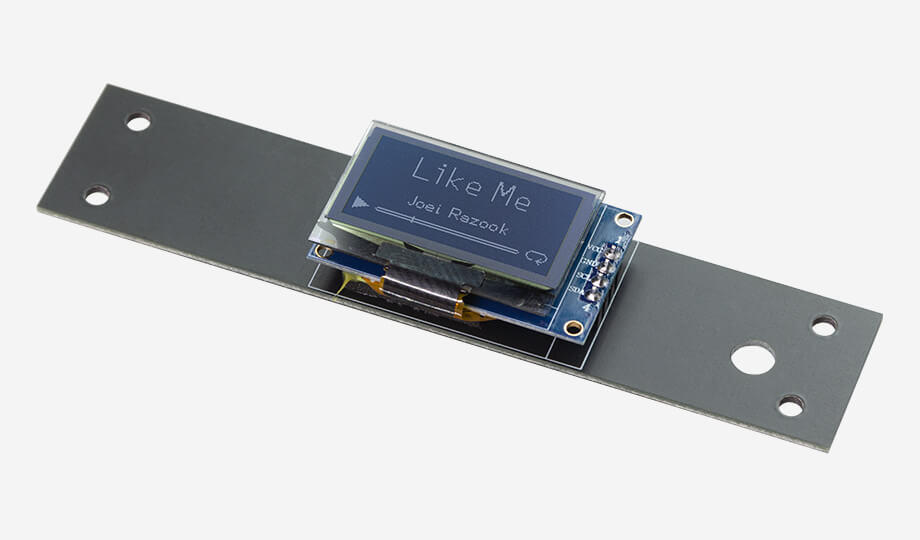 Up2stream Display Board
Up2stream Display Board is a 1.3inch(128 x 64) OLED display board with an SSD1306 driver for the Up2stream HD DAC wireless audio streaming board. A DIY monitor allows you to add display features to the Up2stream HD DAC wireless audio streaming board.
Friendly User Interface
Up2stream Display Board display the info about device status, connection status, mode, songs, volume and more.
PACKAGE INCLUDES
Up2stream Display Board, 4 Pin PH2.0 Connector Cable
This product is rated 4.8 of 5.0 stars.
It has received 10 reviews.
Up2StreamHD
Works well, nice sound, good App!
Alles sehr gut verlaufen. Ich bin mit der Lieferung und Platinen sehr zufrieden. Danke.
I think it will be good
Display well usable. Only in my configuration not possible to connect this.
That is to be found only in a Dukument, if all were already searched.
No direct indication that this works ONLY imt a spezillem board.
HD streamer project
For my older by Spotify not supported onkyo receiver TX 8050 I was looking for some streamer - this one is matching perfectly connected through optical cable with hi-res streaming from Tidal and Spotify. I m happy with it how it is, but looking for some case to put it in incl. some VU meters or graPhic eq I bought on Ebay.. I made some tests to connect it through its DAC to my marantz sleepingroom system with Q acoustics boxes and I was amazed how good is the stage and depth of the scene... Good job guys. I have got many Arilics streamers, but they are not so good due downgrading the signal to 44.1 16bit, and anyway I connect them through external IIS DAC with discrete opamps, it was not so good.. I ll buy more these HD streamers. Thank you guys. Filip
Display works great as advertised. Adds comfortability to use the system with remote controller.
Gut lesbar, etwas klein,
Der kleine Monotor macht die Arbeit gut. Gut lesbar, Anschluss einfach, etwas klein, aber geht