Wireless Multi-room stereo amplifier for speakers
A50 is a wireless digital integrated Stereo Amplifier for speakers. You can stream your audio wirelessly to your speakers by Wifi, Bluetooth 5.0, Airplay, DLNA & UPnP. It is the simplest way to enjoy music wirelessly.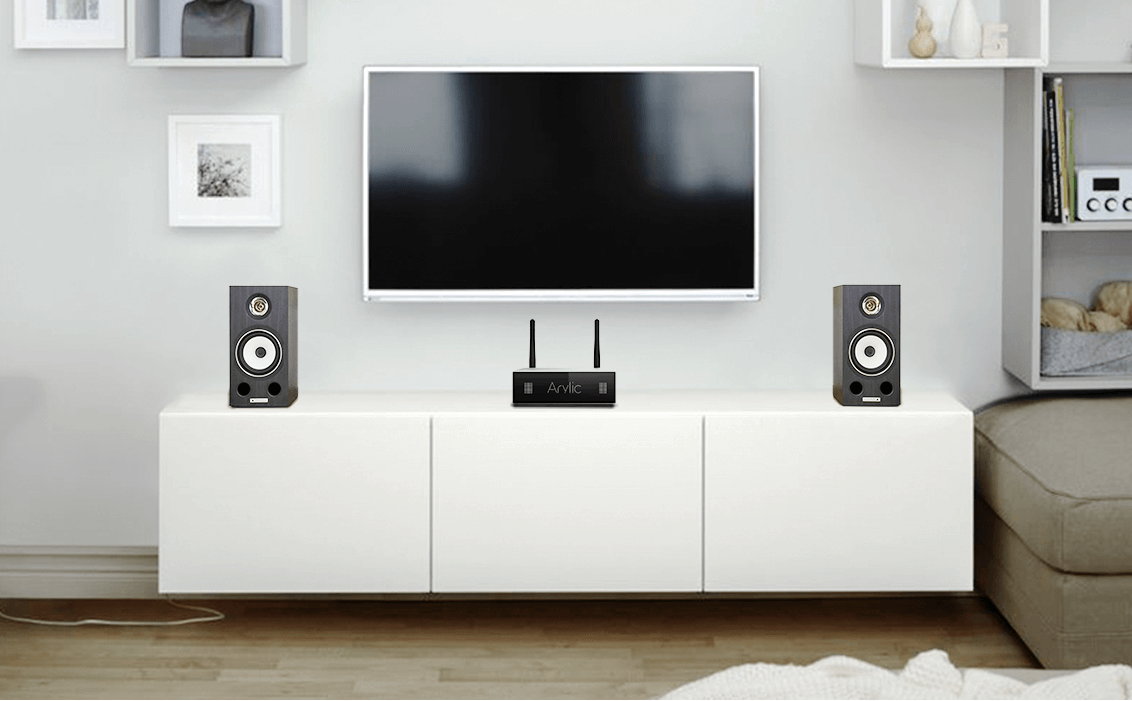 Top Seller
A50
---
Build Up your Whole House Audio
Stream More Stable

Wifi Streaming is more stable than Bluetooth without audio compression, latency. Give you better experience with music streaming.

Brilliant Sound

A50 Amplifier equipped with 2.0 stereo pair system and STA326 DAC. Which allows you to experience theater like audio at home.

EQ Control

Customize your favorite audio effect with our Free iOS & Android APP.
Build up your Whole House Audio

50W*2 Dual stereo channel and multiroom features, with only a phone you can control your whole house audio and enjoy Hi-Res Music in every corner.
All Music you like

Huge music resources supported like Spotify, Pandora, Amazon Music, Tidal, Deezer, Qobuz, Internet Radio, iheart Radio, Napster etc. Other than online music, you also can play local music by NAS, USB storage where you have collected your favorite song for years.

Wireless Connectivity

a

Streaming your audio all the way by Wifi, Bluetooth 5.0, DLNA, UPnP, Airplay, Spotify Connect.

Streaming your Music Everywhere

No matter where you are in your house, you can always take out your phone to play a song for youryou or your family. Like play a Bedtime Story for your Children, a love song for your wife, easy and wirelessly.

Free iOS & Android App

Our App called "4stream" that is compatible to your iOS & Android system. All the features can be simply controlled by App. And you also can receive the notification for our regular online firmware update automatically in our App.
Specification
Wireless network
IEEE802.11 b/g/n 2.4G
LAN
Single 10/100M RJ45
Bluetooth
5.0
USB Host
Play USB music
Frequency Response
20Hz to 20kHz
Power Input
24V/4.16A
Audio Input
USB 2.0, Analog RCA
Audio Preout
Analog RCA
Speaker Power
24V 8ohm 35W *2
24V 4ohm 55W *2
Speaker Impedance
4-8 ohms
Music Format
MP3/AAC/AAC+/ALAC/APE/WAV/FLAC
Decoding
Up to 24bit/192kHz
Dimensions
120x113x37mm
Package Included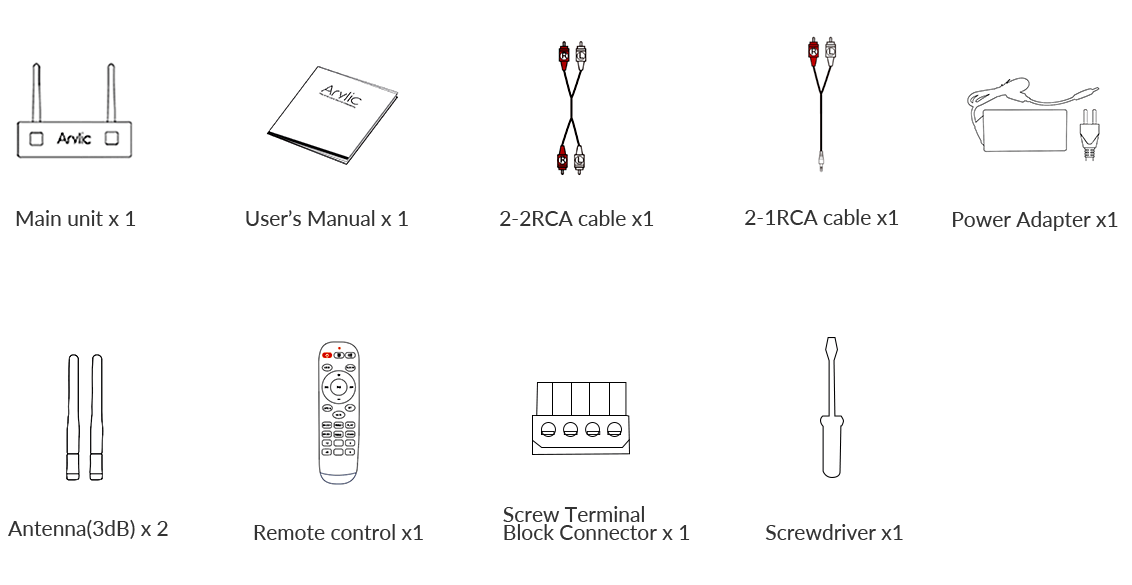 True Customer Feedback
George from US

"Great integrated amplifier for size and price. I currently have in my office next to my desk and worktable. Am currently using it with an old iphone 7 to Edifier speakers to produce a great sound. I also have used it with old Realistic passive speakers with good results."

ReagansDad from US

"I extensively researched all the streaming amps. I ended up getting seven of these for a complete home streaming audio experience. I am not an audiophile. But I like all kinds of music. Myself, my wife, and my kids couldn't be happier with these. They were extremely easy to setup. "

Ted from US

"I purchased the A50 stereo amplifier from Amazon on September 13th 2019 because of its combination of WiFi, Bluetooth AND Airplay connectivity. After 8 months of use, I am still very impressed with the Arylic A50 and would recommend it to anyone who wants the convenience of all the services, quality of music output and the small size it takes up."
Want to get a 30 to 50% discount on this item?
Why Not! Just write a review and let us know after your purchase.

To Know More here.