DESCRIPTION
SPEC
Q & A
REVIEWS
2.1 Channel 50W X2 + 100W Subwoofer Amplifier Board
The Up2stream Amp 2.1 is a specialized wireless subwoofer amplifier module designed for DIY users and subwoofer lovers. In addition to the undistorted sound quality and a powerful subwoofer output, you also get the most advanced wireless technology. With wifi, Bluetooth 5.0, Airplay, Spotify Connect, also DLNA and UPnP protocols for wireless control. It's worth mentioning that the sound quality via wifi streaming is without any compression and no distance limitation as long as your wifi signal is strong enough, which upgrades your home audio system to be more usable and enjoyable to listen to.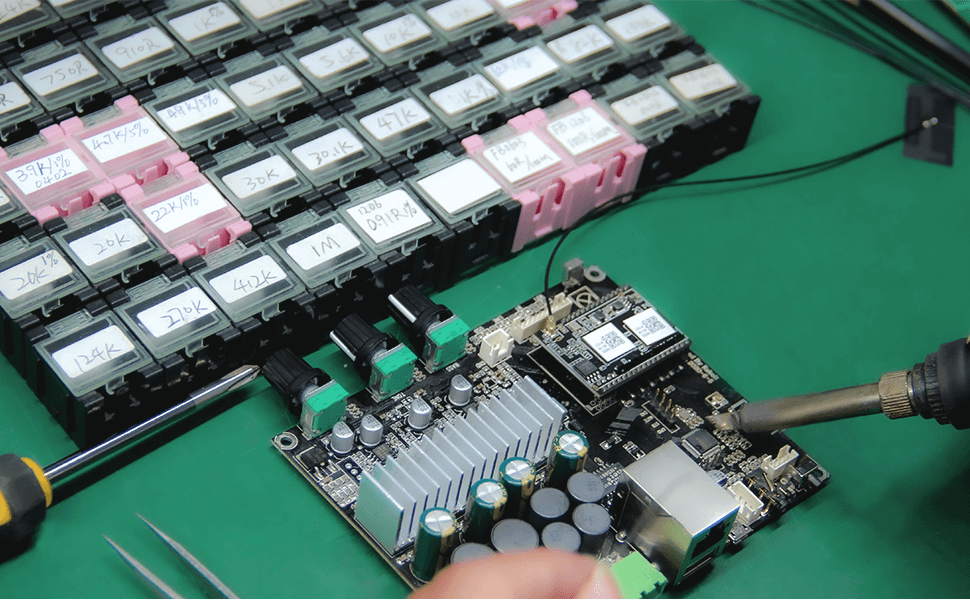 A Subwoofer Amp Board You Should Have
Up2stream Amp 2.1
---
Why our Subwoofer Amp board?
Rotary Knob Control

Besides adjusting the volume in real-time, you can also change your Treble and Bass while listening to your music through the corresponding knob. Just press and hold the button, it's easy! 

Powered Subwoofer-Party Essentials

Up2stream Amp 2.1 equipped with 50W*2 stereo pair + 100W high-powered subwoofer. The sound output is immaculate and stunning, definitely enough to keep you partying at home all day long. Let's make some noise!

First Wifi 2.1 amplifier board

It is hard to find a 2.1 channel amp module with wifi streaming on the market at this price ratio. Our concept is leading the DIY Audio industry; it also means you're a pioneer in experiencing the latest technology of DIY Audio.
Precisely EQ Adjustment

When it comes to audio products, especially subwoofers, players are very interested in EQ control. Up2stream Amp 2.1 can adjust Treble and Bass via remote control, app, and knobs, but the best way is to use our ACPWorkbench tuning tool, which adjusts EQ precisely. If you are someone who likes to customize your audio effect or enjoys musical variety, this is a feature you will love!
All Music you like

Huge music resources supported like Spotify, Pandora, Amazon Music, Tidal, Deezer, Qobuz, Internet Radio, iheart Radio, Napster etc. Except online music, you also can play local music by NAS, USB storage where you have collected your favorite song for years.

Wireless Connectivity

Streaming your audio all the way by Wifi, Bluetooth 5.0, DLNA, UpPnP, Airplay, Spotify Connect.

Streaming your Music Everywhere

No matter where you are in your house, you can always take out your phone to play a song for youryou or your family. Like play a Bedtime Story for your Children, a love song for your wife, easy and wirelessly.

Free iOS & Android App

Our App called "4stream" that is compatible to your iOS & Android system. All the features can be simply controlled by App. And you also can receive the notification for our regular online firmware update automatically in our App.
Specification
Wireless network
IEEE802.11 b/g/n 2.4G
Ethernet
Single 10/100M RJ45
Bluetooth
5.0, SBS/AAC
USB Host
Play USB music
Bluetooth Distance
10M
Power Input
DC 12V - 24V
Audio Input
Analog 3.5mm/4pin connector/Micro USB
Audio output
Analog Speaker out with subwoofer out
(PIN SPACE-5.0mm)
Frequency response
20Hz to 20kHz
Volume Control
Volume Knob,Treble Knob,Bass Knob
Speaker Power
2x50W@4Ω + 100W@2Ω BTL load at 24V
2x30W@8Ω + 75W@4Ω BTL load at 24V
2x22W@8Ω + 48W@4Ω BTL load at 19V
2x15W@8Ω + 30W@4Ω m BLT load at 15V
THD
<0.03%, @1kHz/1W/24V/4Ω
Speaker Impedance
4-8ohms
Music Format
FLAC/MP3/AAC/AAC+/ALAC/APE/WAV
Decoding
Up to 24bit/192kHz
Protocols
AirPlay, DLNA, UPnP, Spotify Connect, Qplay
Dimensions
124*100*25mm
IR Remote Controller
Optional
Package Included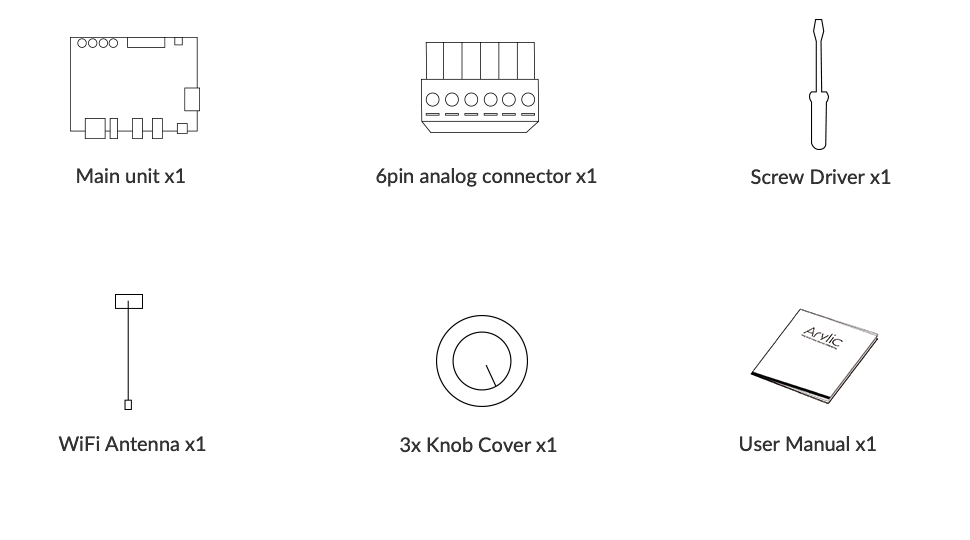 Hello, is it possible to connect two amps without having wlan? I want to build two speakers for outdoor parties.

You can use LAN

Hi, how does the board handle input switching between analogue in, blutooth and wi fi? Is there any kind of input sensing?

Our app and remote control have all the option there ,you can swtich easily .

Do you consider to provide to up2stream users the functionality of adding manually the speakers(by providing the IP address) ? In case of a routed network, the speakers search fails. Currently, the only way of controlling the playback status is via http, using a complicated URL.

Sir, we're working on it :)

peut on utiliser le arylic up2stream amp 2X50 +100 en mode 2.0 avec juste une seule paire d'enceintes et avoir toute la bande passante? Merci.

Yes, with the ACP tool, you can adjust the filters manually.

Does this support airplay 2?

No, It just support airplay1,but with our app ,you can do multirooom and multizone control ,that means you can play differet music from different source to different room ,or play same music in sync in all room ,or you can group different room into several zone, play different music in different zone .

Dear. Please , the dual and Mono out has some filters : Low pass for Mono out and Hi-pass for stereo out? If yes, what is the frequency point

Dear, the AMP2.1 board does have a high pass filter on the stereo output, and a low pass filter on mono output. the default frequency is 110Hz, and you can long press the Treble/Bass knob to adjust with 30Hz step, and ranges 50Hz to 200Hz. (Treble to increase, and Bass to decrease)

Is it possible to make the stereo output into dual mono? I'm planning to build a single channel active speaker.

Yes, we 're developing this feature right now .Hope we can have it ready within this year .

Hi, which connector do you use for the WLAN and Bluetooth antenna?

IPEX type

Hi - regarding the Up2Stream AMP2.1 - is my understanding correct in that a passive subwoofer would be okay given the AMP2.1 also has an amplifier for the subwoofer? - using an iphone, is it possible to connect to the AMP2.1 using Apple Airplay and then stream music over WiFi LAN. Or is it necessary to download and use the 4STREAM App? - can the AMP2.1 also be used without a subwoofer? Cheers, Lars

It is a 2.1 amplifier, you can drive an stereo passive speaker and an passive subwoofer.
You can use airplay or our app to stream your libarary .
For first-time setup ,you need our app ,after that, if you use just airplay ,you can use without it .
Surely ,if you don't connect a subwoofer ,it can be an 2.0 amp as well. 

Does the 2.1 Channel Upstream amp work with the IR Remote Control?

Yes, all board work with our IR remote .

If using Digital in from a NAS Library, can the music be served to other devices like the Mini V3?

Our device can recognize DLNA streaming ,for your NAS, we can not be sure, you may have to try .

Dear Support Team! What power can die 5v Output handle? And, can it be, that the + / - marking on the board is the wrong way around? Regards Christoph

It's kept for our accessory board use, which will be on sale in Sep. The mark is wrong way ,we already fixed on new batch .

hello, what is the cross over frequency for the .1 amp ? can it be adjusted in ACPWORKBENCH ? How ? regards

Long press the bass knob ,you will enter to LOW PASS filter .

Hello, is it possible to swap the 2,4GHz Wifi Module to a 5GHz one? Thanks

It only require using 2.4G for set up on first time ,after that, your phone can connect to 5G to control our device .
We will think about adding 5G on future highend model ,it will increse the cost .
btw, sonos also just have 2.4G .

Can I use an Arduino to connect to the HTTP API via the 10/100M ethernet connection to get / send parameters, while the Up2stream device still connects to the lan / internet via 2.4G wifi?

Yes, our Arduino can works like a pc system . it should work .any device send command via our ap ,our system will do .

Dear all. Why is the Android only working in portrait mode? I am using a tablet, which is permanently mounted on the wall in our living room to control all wireless devices. Unfortunately the 4stream app is quite unusable in portrait mode when the tablet is mounted in landscape orientation. Will it be able to use the app also in landscape orientation in a future version?

Currently ,not ,but will support that in future. We will also launch a tablet ,both can be used in vertical or landscape .our app will detect .

Under developing right now .

Can this be used as a USB sound card? It lists the microUSB as an audio input but there is no other mention of that feature.

Yes, it can be used in that way .we will try to check our content and update that.

What's the diference 2.1 vs Up2Stream amp V3, What´'s the chip amp of the 2.1. The input of the 2,1 amp chipset is digital?

Both TI 3116 chipset .For digital in ,we will sell an SPDIF in board soon to work with it .

What power supply is recommended for this? do you sell them?

You can use power supply from 12V - 24V.
We sell a 24V 4.16A power supply, but if you want maximum output power, you will need to use a 24V 8A power supply.
Remember, do not go over 24V or you will damage the board.