DESCRIPTION
SPEC
VIDEOS
REVIEWS
Q & A
DOWNLOAD
Make your Speaker Wirelessly
With Up2stream Mini V3 wifi audio receiver board Integrated, You can stream your audio wirelessly to your speakers by Wifi, Bluetooth 5.0, Airplay, DLNA & UPnP. It is the simplest way to enjoy music wirelessly.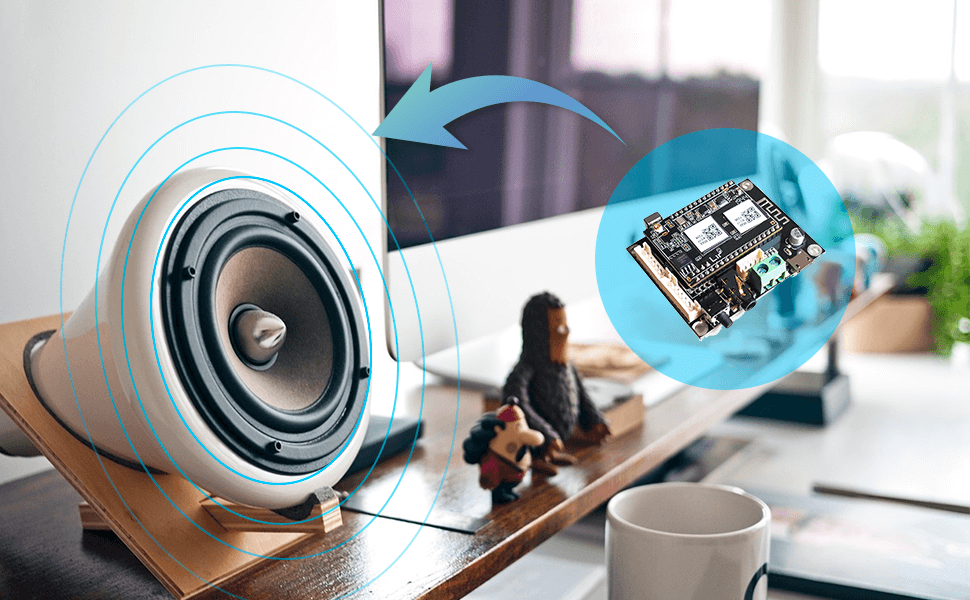 More Space, More Creativity
More Space
More Creativity
The compact design of our receiver will left you with more space for your wild & creative ideas, so you can DIY more freely and add features of your choice to make your stereo speaker more powerful.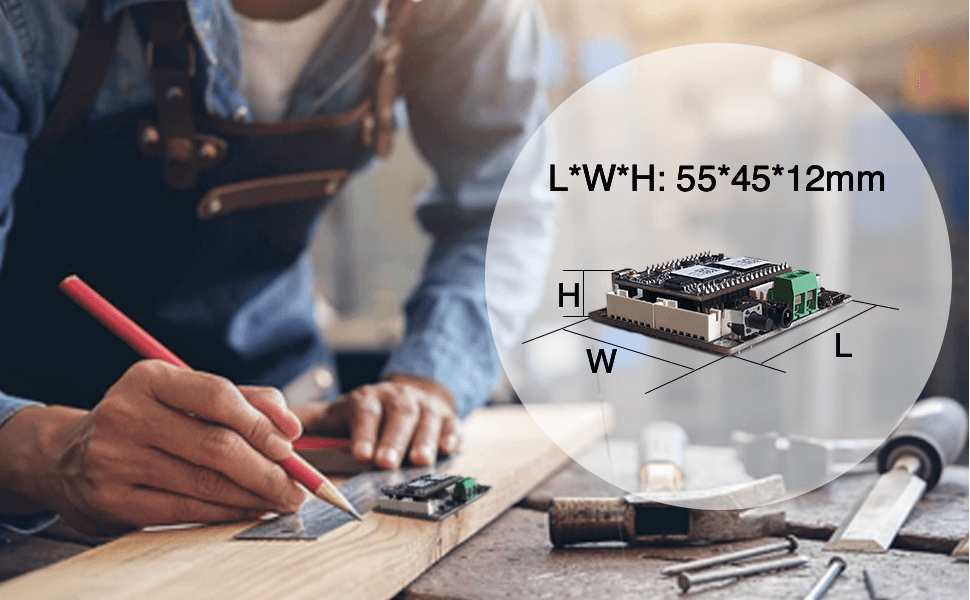 New Upgrade
Up2stream Mini V3 wifi audio receiver has a huge upgrade from the previous version. Now with Bluetooth 5.0, Pin connector for SPDIF output, ADC Key (for external button board), 2x I/O for external control, such as volume knobs. Can work as a USB DAC, able to connect to a PC and stream PC audio digitally. Now also support changing device WiFi SSID & Bluetooth name by mobile app, thanks to the upgraded CPU. Up2stream Mini V3 is the perfect wifi audio receiver for you!
Now with Bluetooth 5.0, Pin connector for SPDIF output, ADC Key, 2x I/O for external control, such as volume knobs. Also can work as a USB DAC, so you can connect it to a PC and stream PC audio digitally. Now also support changing device WiFi SSID & Bluetooth name by mobile app, thanks to the upgraded CPU.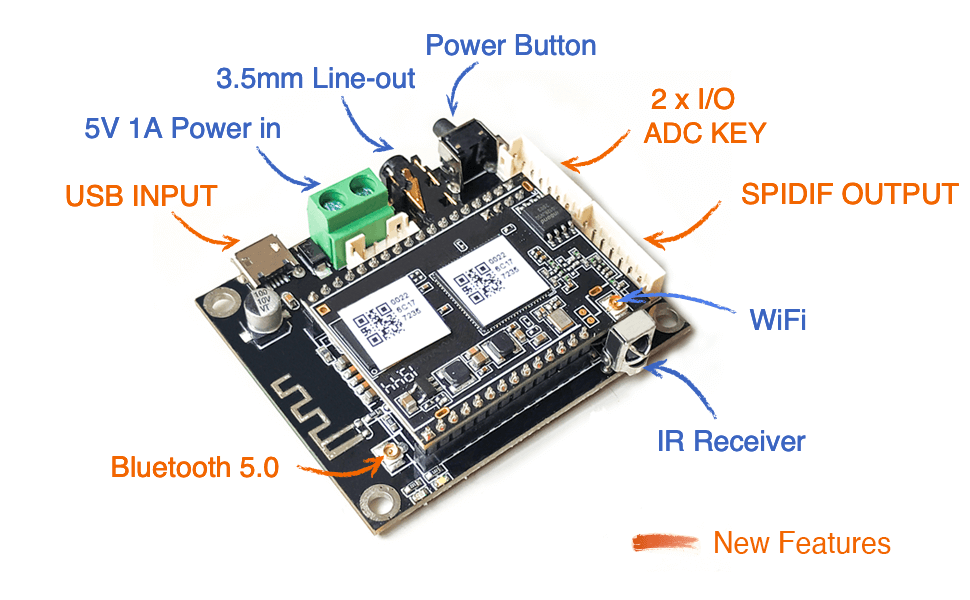 DIY Rookie Friendly
If you are a DIY rookie and don't understand complicated ports. Don't worry! On our receiver, the ports we use are common ports and simple to use, our app is user friendly as well. Using our remote control is another convenient option for your streaming music needs.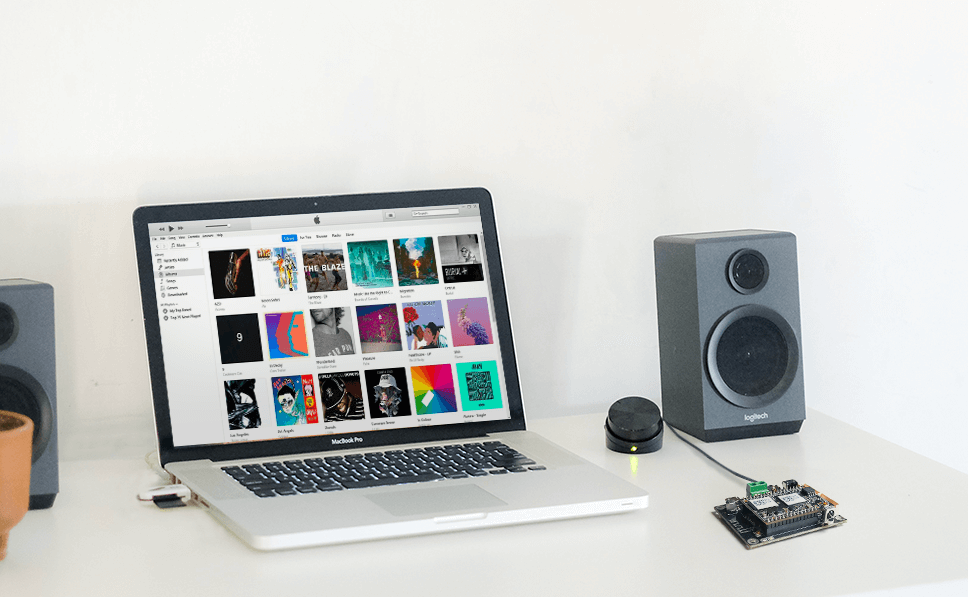 Make your Family Proud of you
DIY a unique wireless stereo speaker for your family is very meaningful. Enjoying the stereo music and spend luxury time together will makes the family bond more tight.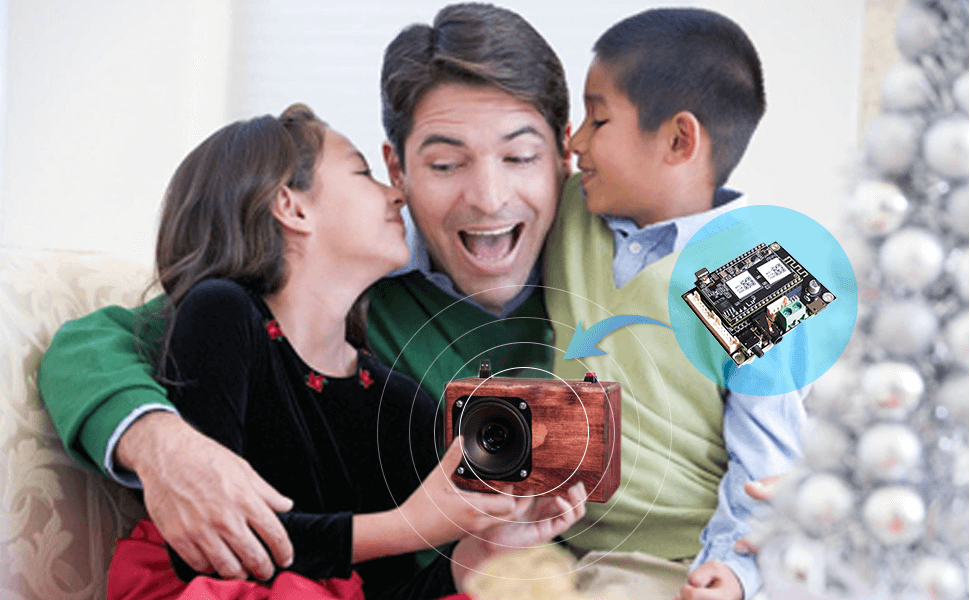 What's in the box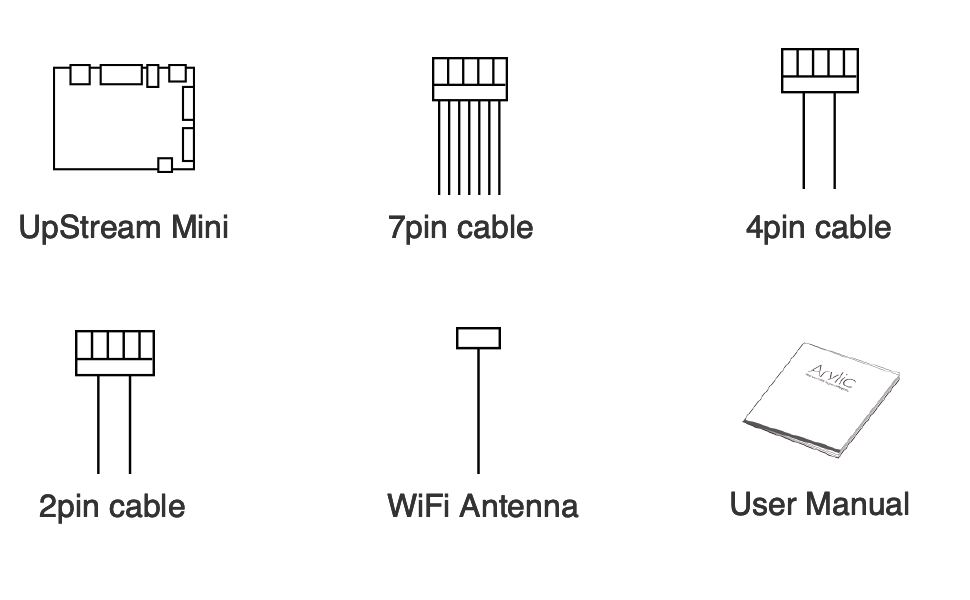 More accessories coming soon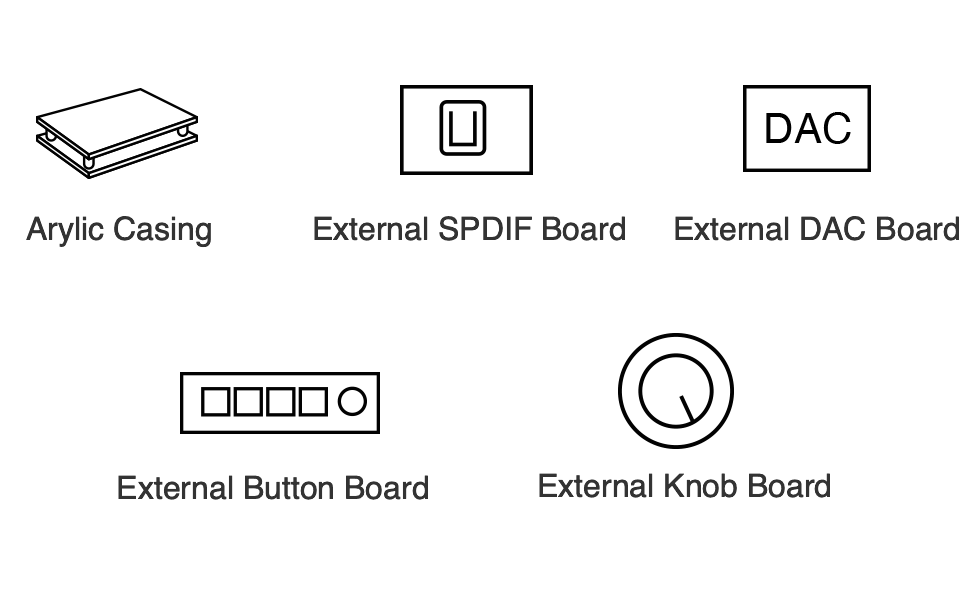 UP2STREAM Mini V3 Specifications
Connectivity
WiFi
IEEE802.11 b/g/n 2.4G
Bluetooth
5.0 SBC/AAC
Power Input
5V-1A/2 pin connector
5V-1A micro USB input
Audio Output
Analog 3.5mm/4 pin connector
Digital I2S, SPDIF(44.1KHz)
Frequency response
20Hz to 20kHz
SNR
100dB @ 0dBFS, 1KHz
THD+N
0.03% @ 0dBFS, 1KHz
Music Format
FLAC, MP3, AAC, AAC+, ALAC, APE, WAV
Decoding
Up to 24bit/192kHz
Protocol
Airplay, DLNA, Spotify Connect, Qplay, UPnP
NAS Support
NAS with DLNA support
Dimension
55 * 42 * 12mm
Accessory
5V-1A/2 pin connector
7Pin 220mm PH2.0 Cable
4Pin 220mm PH2.0 Cable
2Pin 220mm Power Cable
WiFi Antenna
User Manual

Hi, how do i connect to a dac via spdif?

yes, you can wire GND+SPDIF to your DAC board according to our board words indicate .

Would it be possible in v3 pro series to change the name in the board? so the user only see the device as the new name?

Yes, V3 can change wifi and bluetooth name by app .

Hi, are planning on support for soundcloud over WiFi?

If we can get their API, we will make it .I can only say we will try our best .

Using I2S audio output, can the volume be controlled by the remote device while streaming through WiFi?

Yes. All source can be controlled by our app and remote controller.

Is there an amp v3 version comming soon? What can we expect in the DSP? Multiband eq and time alignment?

Yes, Expect to launch in June . an very easy and powerful DSP tool will launch together .

Hi, great to finally have bluetooth available on mini v3! does it support TWS (True Wireless Stereo) or can you only acheive stereo pairing through wifi on app ? It would also be great to add a master volume control as well as independent volume controls for groups on the app. Are you working on this ?

TWS features is under developing ,once ready ,will inform all our users . Another big news we do not share much is ,there is a very power DSP audio tool realease soon ,will work with all V3 series .

Hi, is it possible to customize the name of the board? I mean when i look to the device with me phone can i change the name that I see from eg: arylic to the one that I prefer? Thanks

Our App can change the name of each device to the name you want .

Hallo I have received your news on Mini V3.0. May we have the manual? Difference from 2.0? What do you mean with KeyBoard Board? Is it an optional? Regards. Max

There should be manual inside, if not ,pls send mail to info@arylic.com .

Keyboard board will be our accessory itmes in future .

I'm looking into setting up a DLNA server, can you recommend software that would setup well with this?

You can try using foobar2000 with their UPnP/DLNA plugin, which is a freeware and works with our products.
There is also Serviio media streaming server that will work with our products. They have a free version and a Pro version.

Can spotify play on more than one device at a time? Can you explain briefly how it is configured to support this.

For spotify to do that ,it require family account, then you can stream like that. 

It's multiroom technology builit in ,similar to SONOS technology. 

Are there plans to have native integration to support YouTube Music without using Bluetooth the same way you have support for Spotify?

Yes, it's on the plan .but maybe Q3,Q4 of this year .

If I purchase two can I use them to create a stereo pair with good synchronization? If yes how good is the synchronization?

yes, you can. You can set one as left one as the right channel very simple in our app.
Almost no latency with wifi streaming when playing the music.

Does it work with airfoil?

We just test and it can work with our system.

How can I stream music from site like https://moov.hk/intro/index.jsp ?

You can only do that via bluetooth or airplay .

if it's radio link ,you can stream via web browser with command below : 
http://deviceIP/httpapi.asp?command=setPlayerCmd:play:URL

Hi, can it play stream from Plex server?

Sir not ,our system support streaming from our android,ios app ,bluetooth ,external input source ,such as line in . You can also used ituenes or 3rd party app support DLNA and UPNP.

I like to listen to radio stations that are not in apps. I like to listen to URLs directly, such as https://80s80s.hoerradar.de/80s80s-mweb-aac-mq. Is there a way to enter these streaming radio URLs directly into the app in order to get the music stream without using Tunein or another service to find these stations?

Is it compatible with the new Airplay 2 protocol (successor of Airplay)?

our system only support airplay1 right now ,by itunes, you can still do multiroom control .for mobile device, pls use our android or ios app .
Airplay2 will add the cost 100~200+ ,we may think about add it in future highend products .

3.5mm line out also functions as line in?

no .Pls check pro ,it have line in and line out .

Do this board could also work as a squeezebox server client.

No .but we will check .we have apps integrate lot of streaming services already .
Besides that ,support airplay,dlna, upnp ,spotify connect ,bluetooth .

Can a Google Home stream to this over wifi?

Currently ,connecting google home to us via bluetooth ,you can make it work .

Hi, i recently purchased two Up2Stream Pro modules, and they are working wonderful up to about 45 feet inside the house with lot of obstructions. Due to the very long size of my house, i am not able to get the range at the last point. So i want to use an Up2Stream mini (v2) as an intermediate receiver-transmitter in between the existing two Up2Stream Pro modules. Also Is it possible to use these two differently types of modules with same 4stream app. Or is there any other way i can do it.

Our system is similar to SONOS, all device is connecting to your home router including your cellphone .so the place you control with your cellphone ,if your cellphone is connecting to router well and our device is connected with router well ,then you can control . the only issue ,if somewhere ,the wifi signal is not well there ,you just need to buy some network device ,such wireless AP to cover there well .
Then you can control well. 

One app support control all units to play music. 

Can I use it with HEOS? I have Denon axr2400 with HEOS out. will this allow remote wireless speaker from Denon HEOS?

Our system is not compatiable with HEOS wireless control ,but if you using our system as an input source to their system ,it's ok .

WILL THIS WORK WITH HUBITAT OR SMART THINGS?

We 're working on home assistant right now .

Its work with Deezer on android?

Yes, both our android&iOS intergrated deezer inside. you can use it right away .
Pls note Cobblestone is not available for this feature right now .

Can I cast youtube music through it ?

For youtube, you have to buy our models with bluetooth ,using BT to stream that .

Is there any plan on adding google cast support?

Googlecast ,google require using very expensive chipset, so we do not have plan to implement googlecast yet.
But you can control by Google home with voice through BT connection(up2stream pro have BT Mini doesn't),you can account for this video:https://youtu.be/n7uFCqxQh00

Hi, This module is good to integrate a Hifi stereo system connect to the AUX and/or connect for example to a 2.1 sound system? Thanks

yes,we support line in(3.5mm),bluetooth,lan.
And our system is 2.1stereo pair sound system.

Hi, do you have a complete documentation ? a technical documentation, for pinout, perhaps add a button. I don't see in dropbox. Thanks

pls download the manula or read the product page pictures, we have full description there. We already upload the manual to the dropbox.