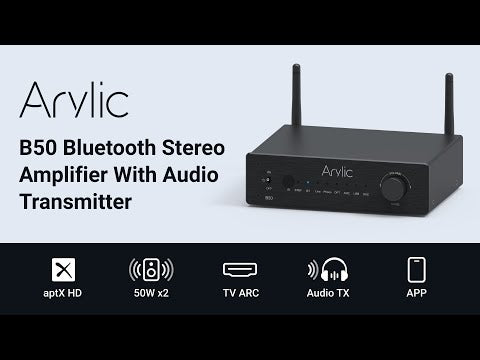 B50 Bluetooth Stereo Amplifier With Audio Transmitter
---
Support aptx HD, aptX AD, aptX, aptX LL and able to stream and receive HD music.
Transmit all source and enjoy on your headphone.
HDMI ARC

,

Phono in

, RCA in, optical in, sub out and more connectors fit your home stereo system.

Bluetooth transmitter and receiver Meet All Your Needs: Home AV, Bookshelf speaker, PC, Gaming and Hotel/Home Background music.

50W x 2 powerful Bluetooth amplifier for your passive speakers, bookshelf speakers and mobile devices.
Free iOS & Android GO Control App and Remote Controller
Tune your own sound with our tool - ACPWorkbench
We will donate $1 USD dollar of your every order to help the refugees in Turkey-Syria earthquake. Thank you for doing charity with us!
Shipping Fee:

Standard Shipping is $9.9.
Free Shipping Over $90 Whole Store.
Free Express Shipping Over $150 Whole Store.
Express Shipping may varies of different regions.
(Please check at the checkout)

Delivery Time:
Local Delivery From Local Warehouse - 2-7 Days
Standard Shipping - 7-25 Days
Express Shipping - 3-10 Days
Delivery time may varies of different regions
(Please check at the checkout)

Shipping From:
US warehouse support shipping to Canada & United States.
EU warehouse support shipping to Europe regions.
AU warehouse support shipping to Australia.
RU warehouse support shipping to Russia.
Asia warehouse support shipping to Global.


If you have other questions, contact us.
✔Fast & Free Shipping
✔We pay sales tax, if applicable
✔FREE & Easy 30 Days Return
✔Solid 1 Year Warranty
✔Official Website Promise
✔Online Expert Support
✔Fast & 3D Secure Payments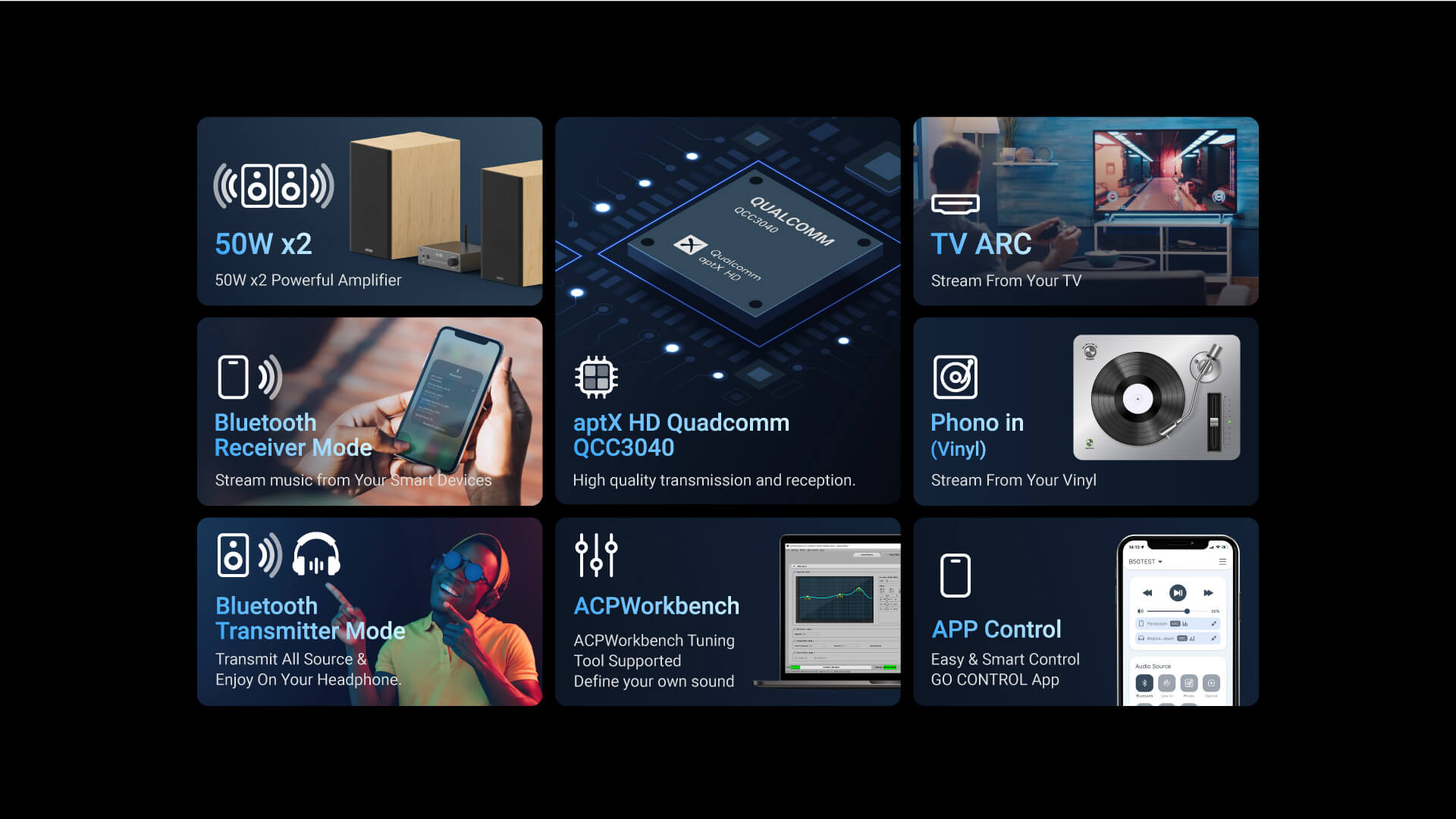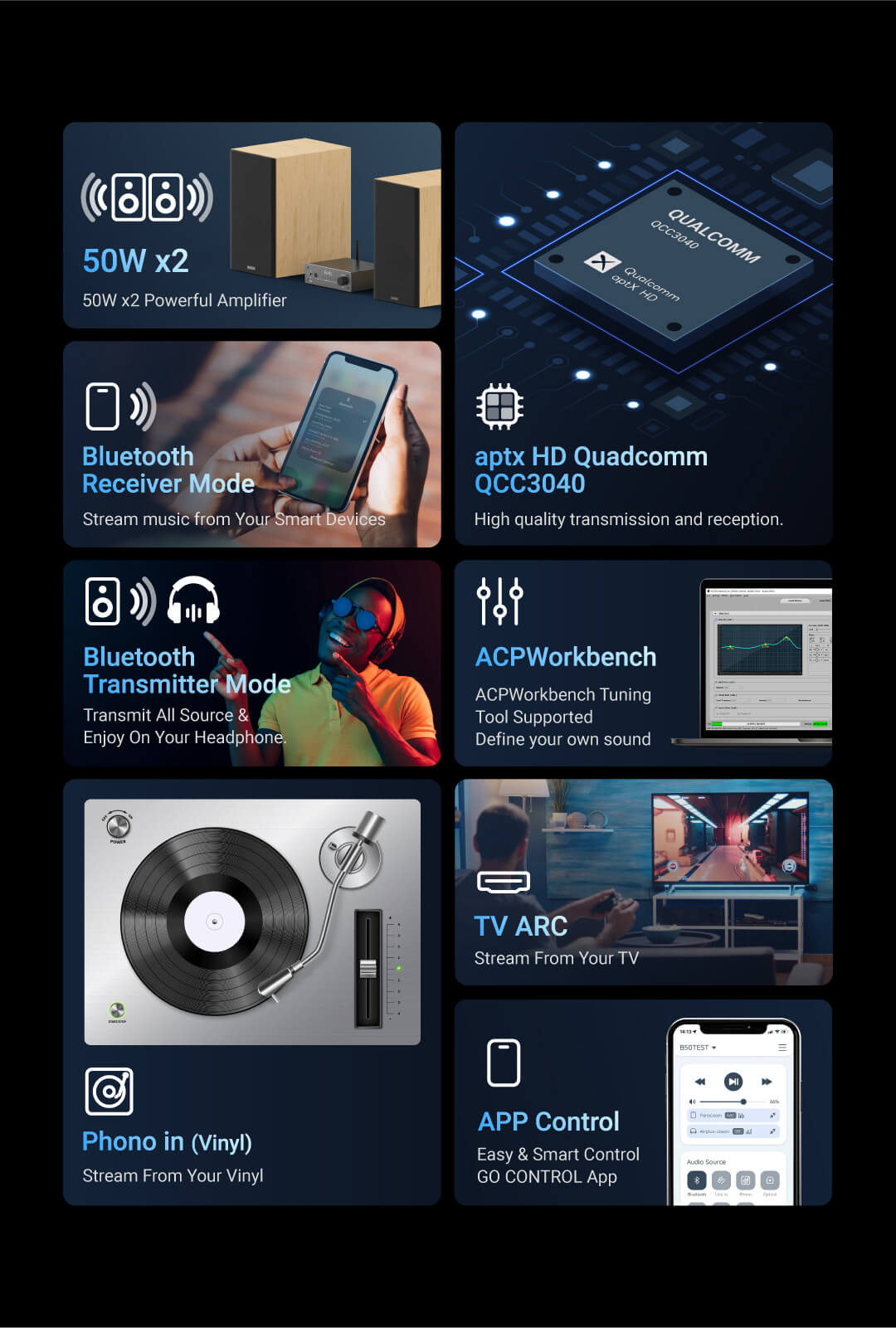 Elevate Your Audio Experience
Easily stream from your smart phone, tablet, laptop, or TV to your passive speakers with B50 Bluetooth transmitter and enjoy HD audio.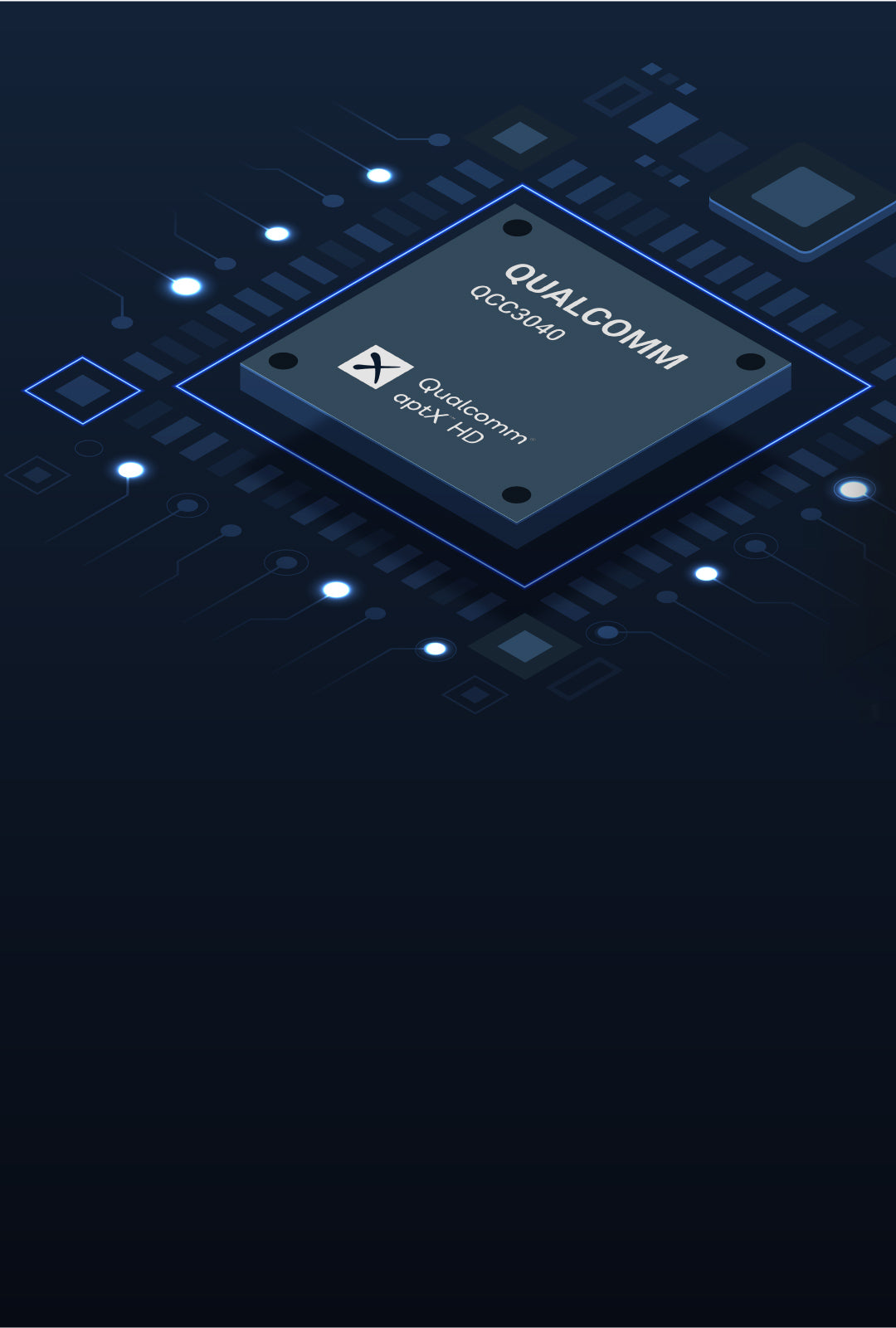 Support aptX AD, adptX HD, aptX LL, and aptX
Support aptX HD Transmission & Reception
An Bluetooth Amp Could Meet All Your Needs
B50 Bluetooth transmitter and receiver is the perfect addition to any audio system, with compatibility for TVs, vinyl players,aa AV receivers, projectors, subwoofers, USB sticks and more.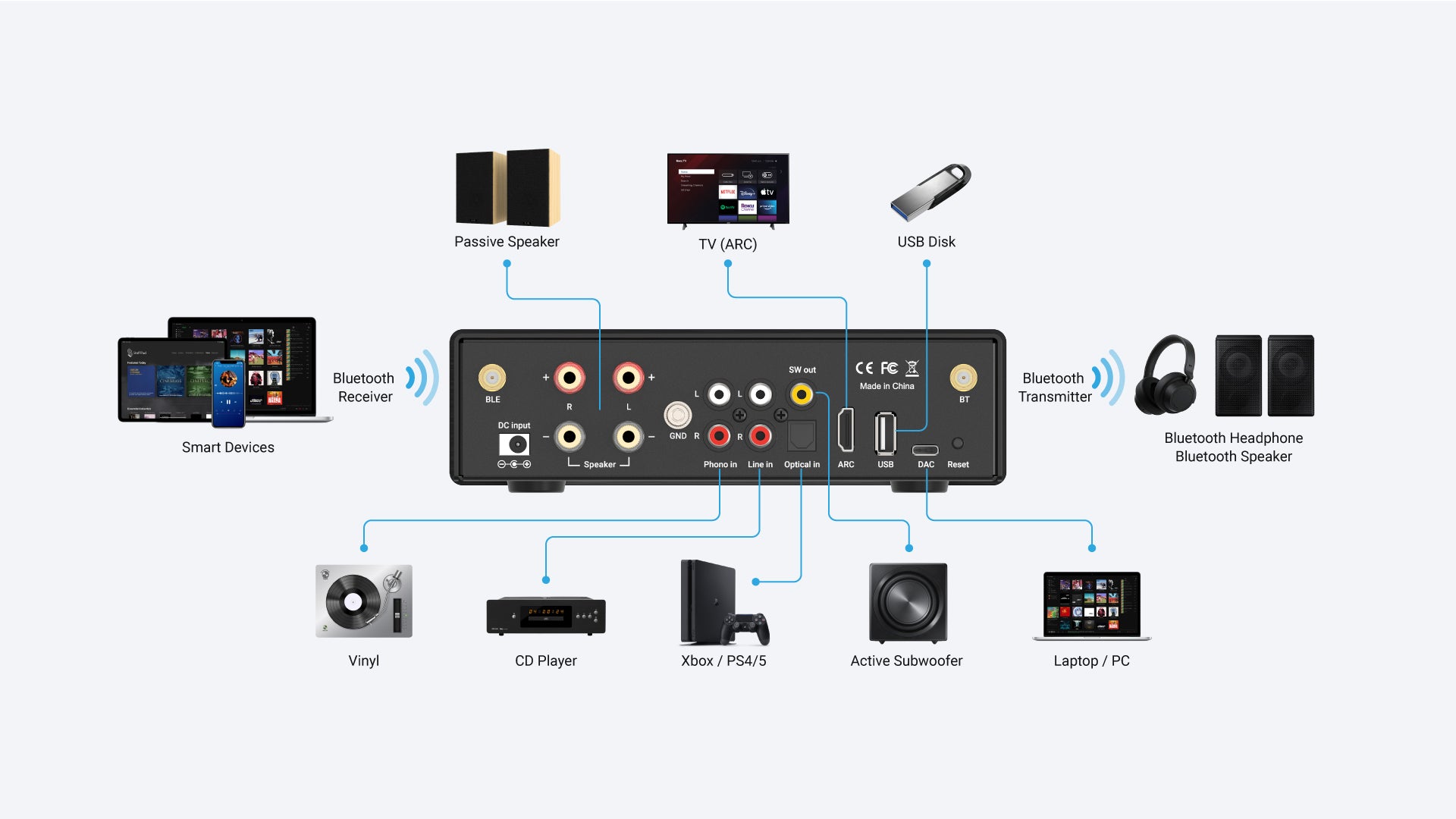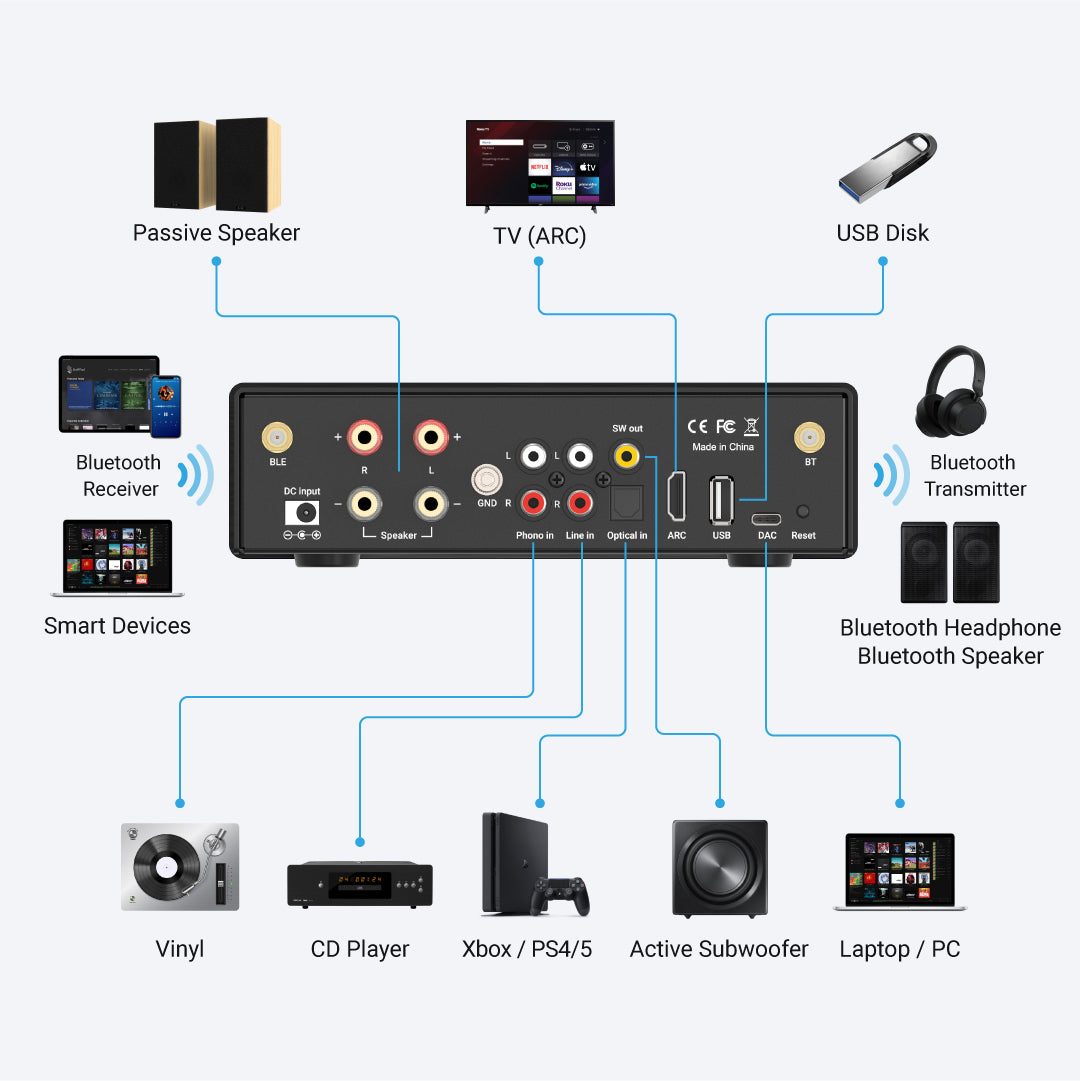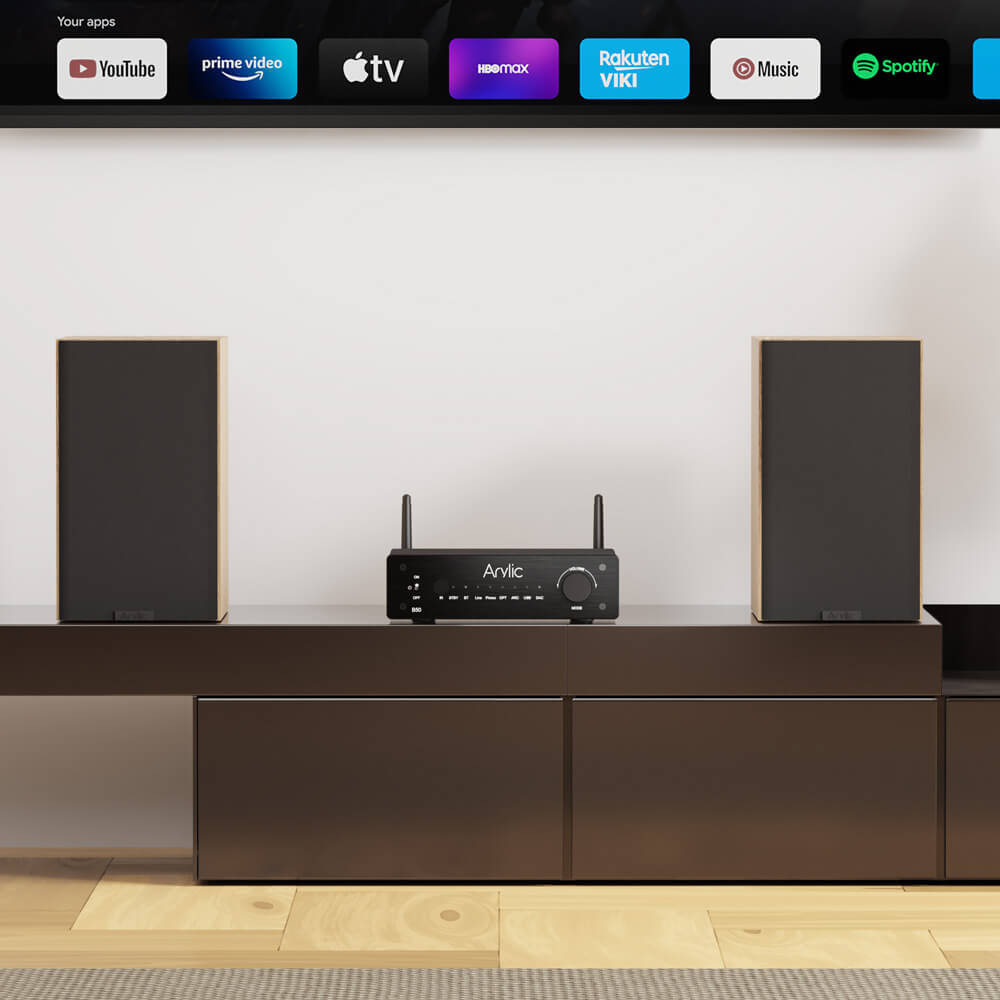 Bring Powerful Sound To Your Home
Transform the way you listen to music at home with the B50 Bluetooth Stereo Amplifier.
With 50 watts of power per channel, the B50 bluetooth transmitter is designed to provide high-quality audio to a pair of passive speakers, delivering immersive sound to your living room, kitchen, workshop, bathroom, or any other space.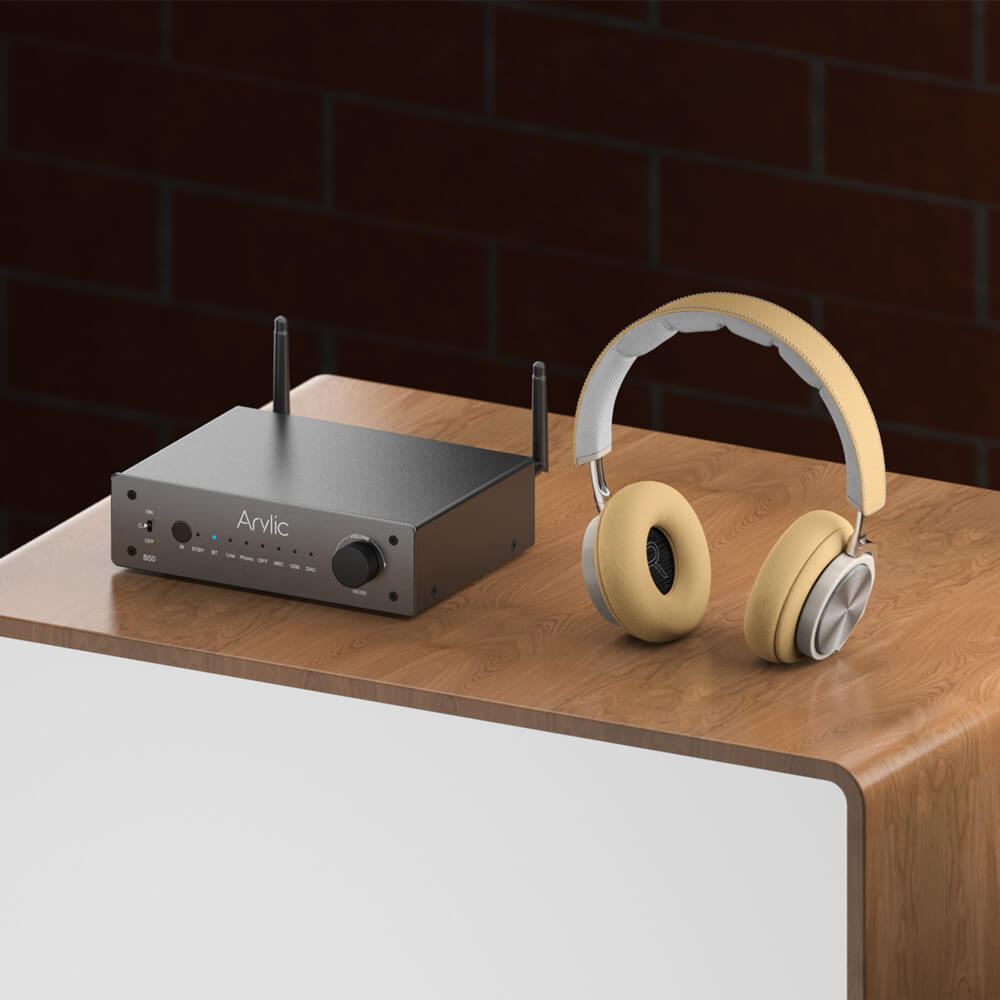 Bluetooth Transmitter Mode
Transmit All Source & Enjoy On Your Headphone.
With B50 Bluetooth transmitter, you can wirelessly connect to your Bluetooth headphones or speakers and enjoy your music, movies, and more.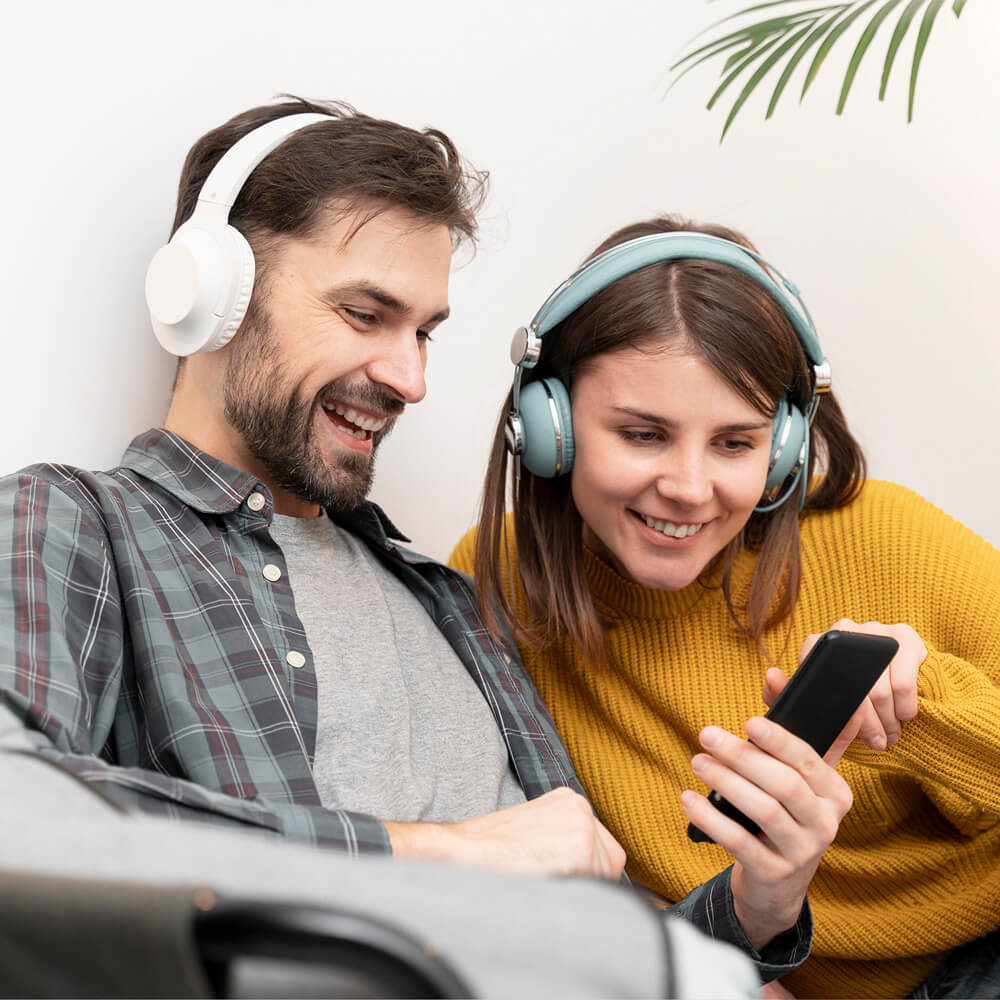 Share The Sound With B50
Dual Link For More Fun
With B50 Bluetooth transmitter, you can easily share your music with 2 Bluetooth devices at once.
Its dual link technology allows you to transmit to two devices at the same time via aptX HD, so you can enjoy the brilliant sound with your family, friends, or loved ones.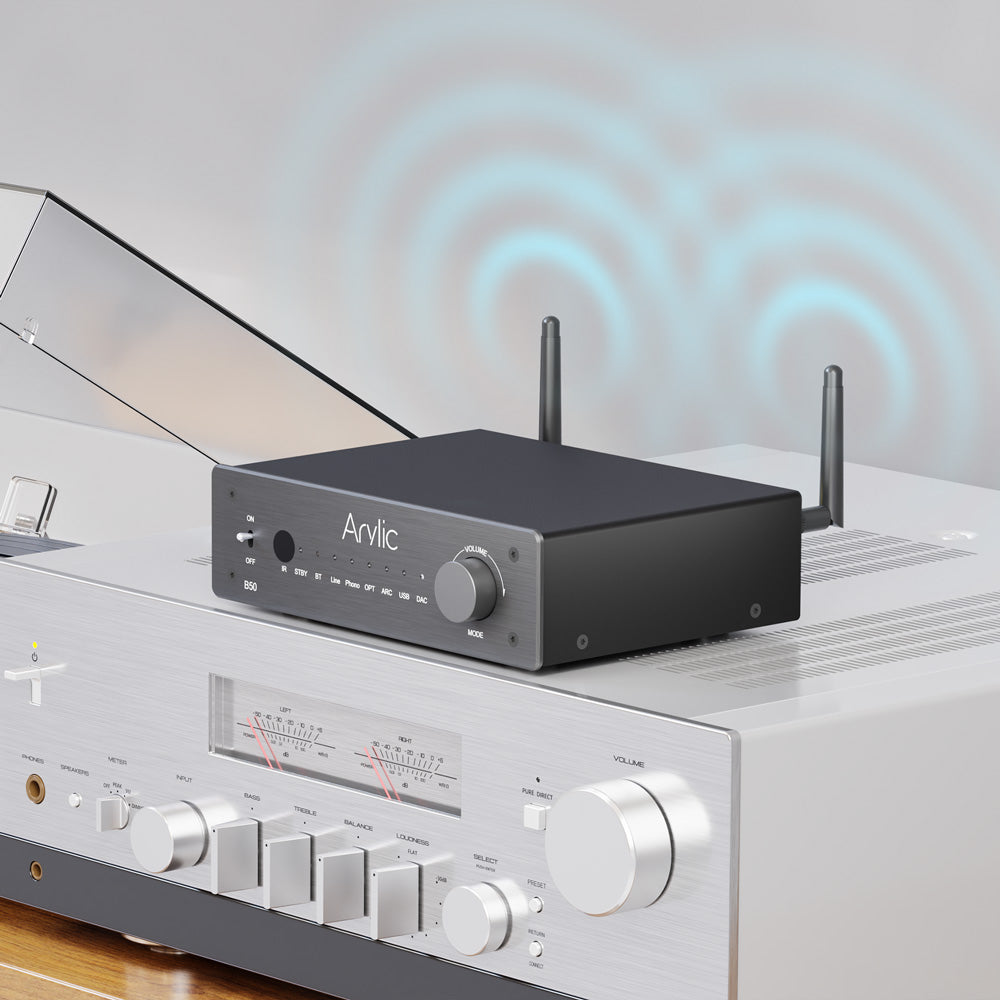 Stable & Long Distance Connection
Experience uninterrupted, high-quality audio in your home. B50 ensures that you can enjoy smooth, seamless music all day without any choppiness or cut-offs. Upgrade your listening experience with B50 Bluetooth amplifier today!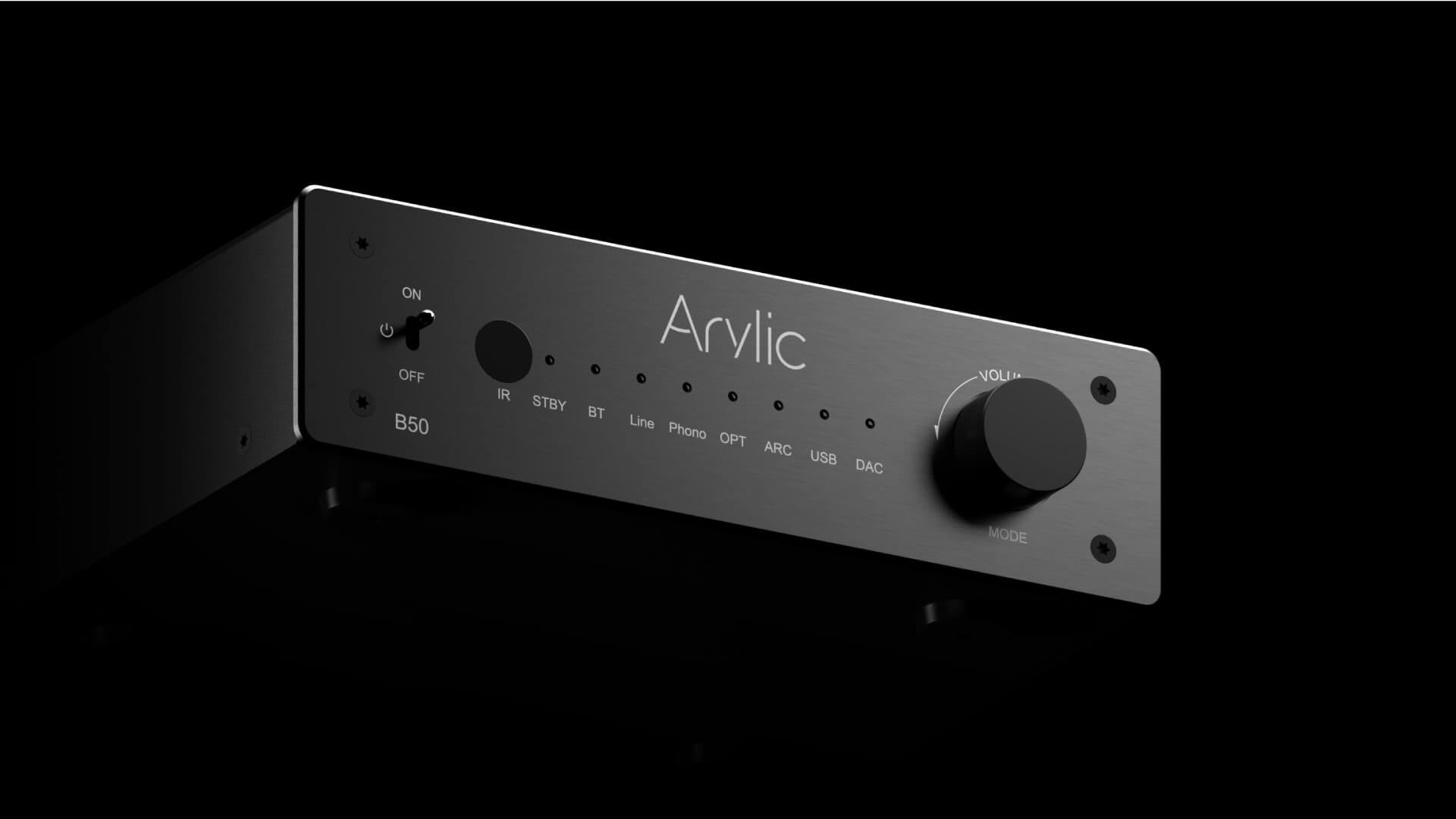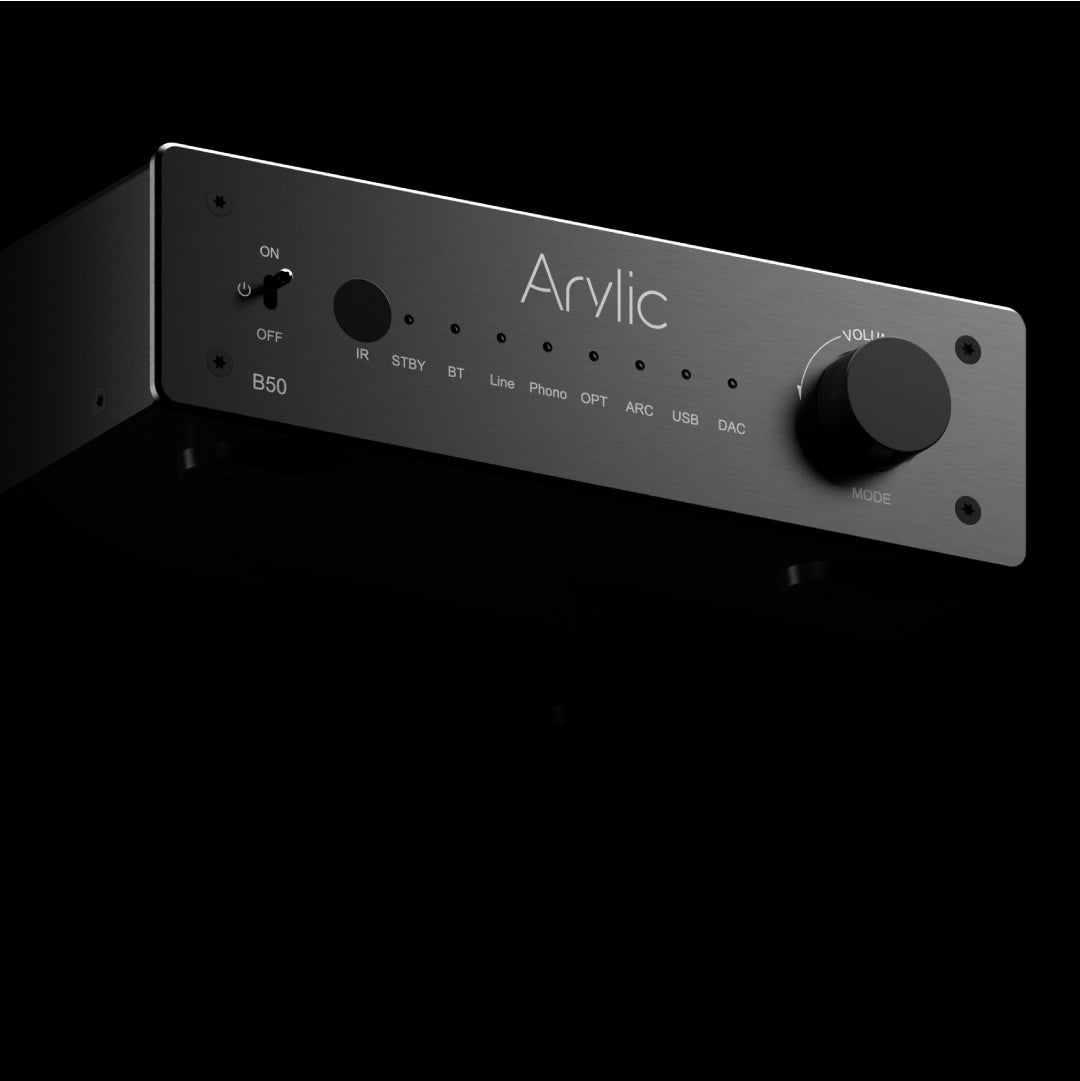 Simple Style Premium Design
The B50 Bluetooth amplifier adopts an aluminum alloy enclosure design, a finely processed sandblasting technique.It ensures good heat dissipation, corrosion resistance, strong hardness, and no deformation, prolonging the usage life of B50 bluetooth transmitter and receiver.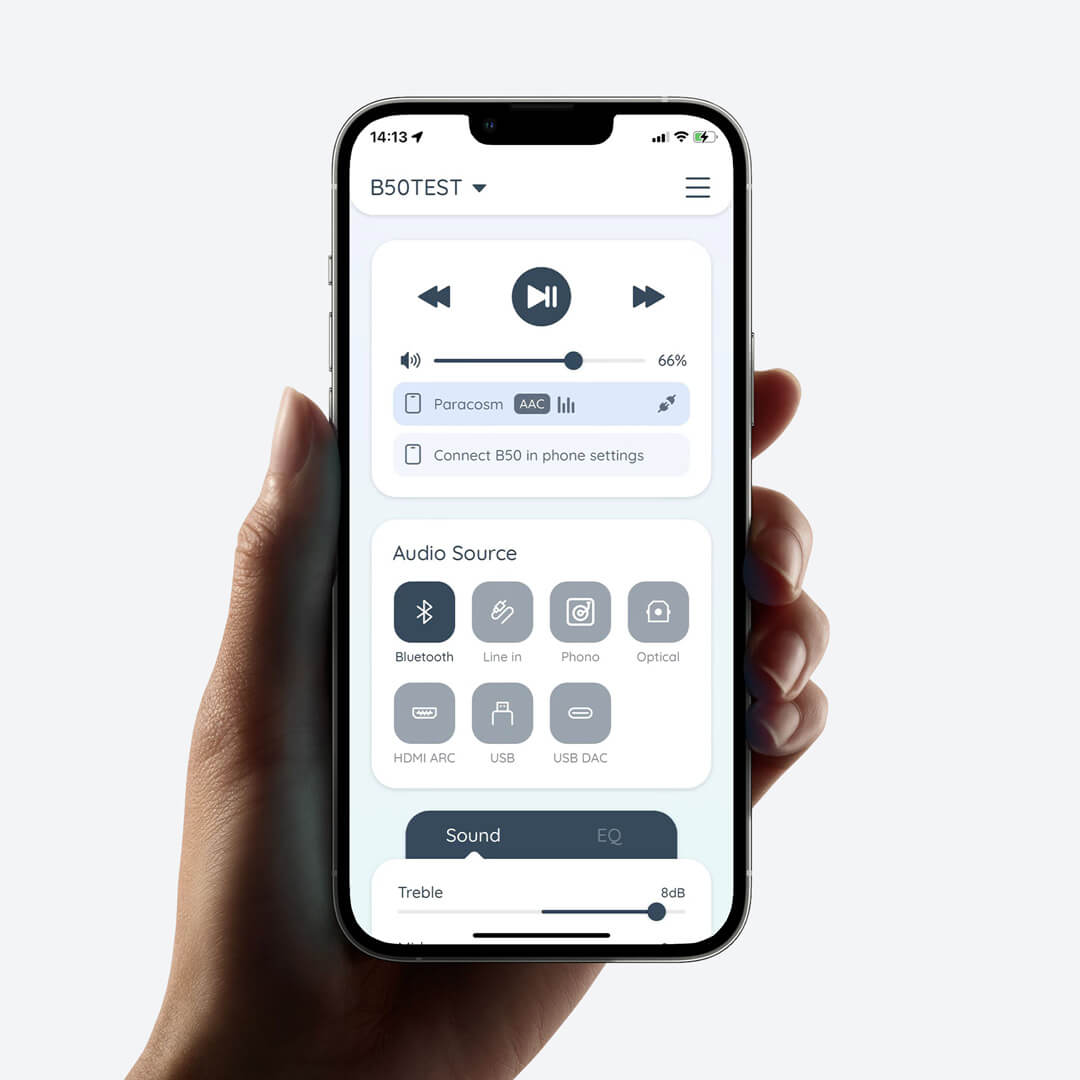 Free iOS & Android GO CONTROL App
APP Control
With user friendly playback control, EQ control, Input mode switching and simple Bluetooth connection setup. The APP is free for B50 Bluetooth amplifier.
ACPWorkbench
Tune Your Own Sound
The ACPWorkbench tuning tool allows you to customize your audio experience.
With this tool, you can adjust the frequency on each channel, adjust the left and right audio channels' balance, customize indepth EQ settings, and more.
Discover the full range of possibilities with our tuning tool and start defining your perfect sound.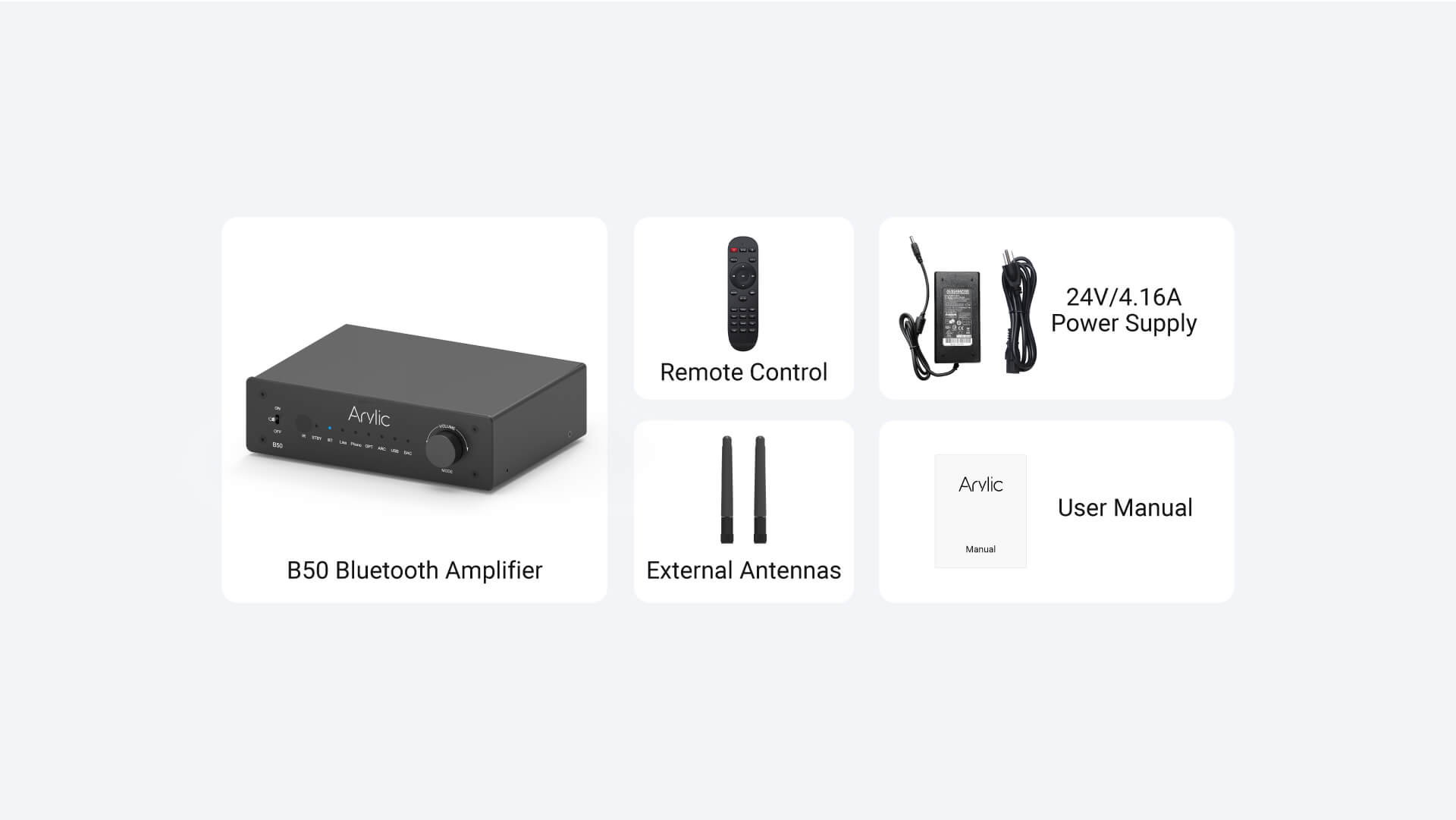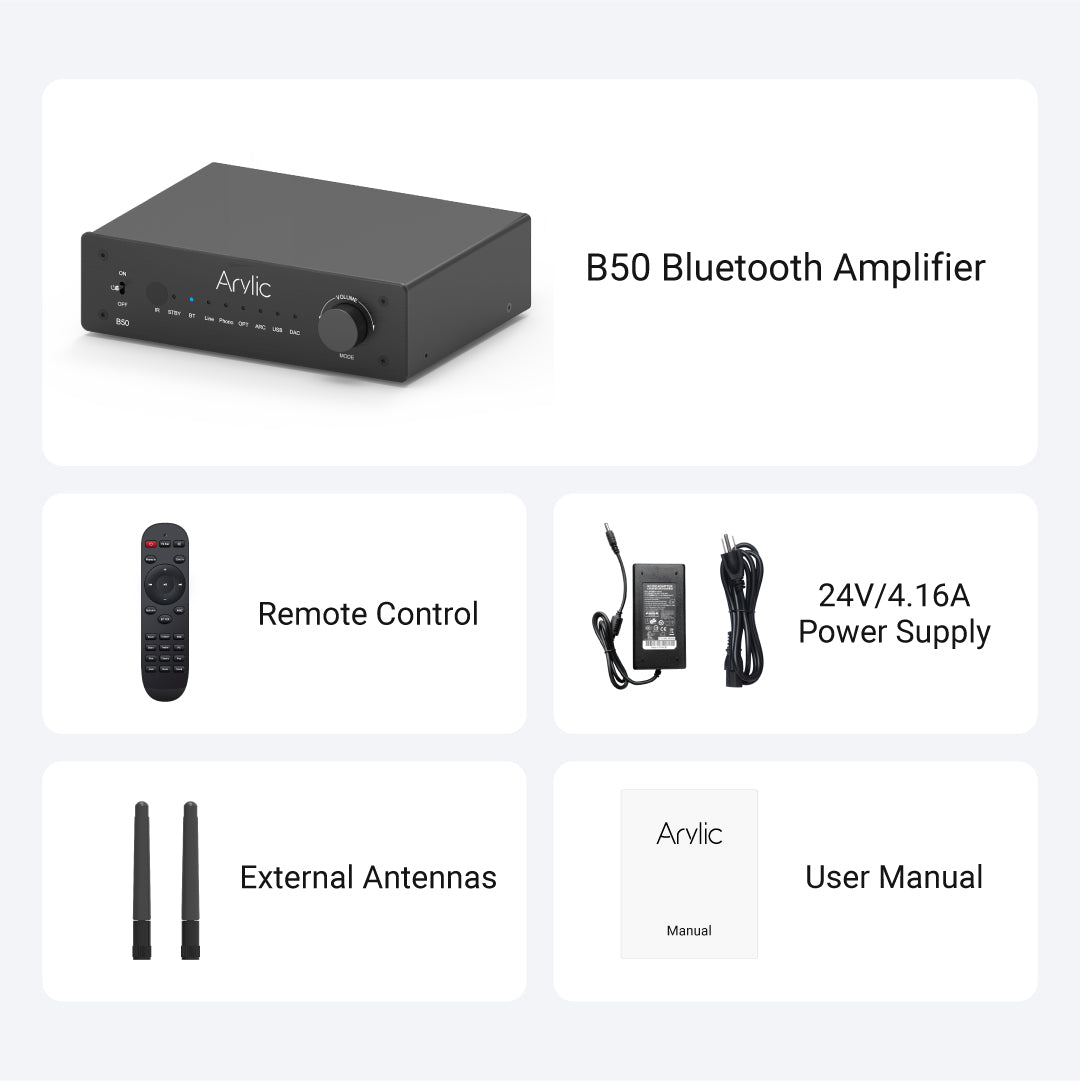 Bluetooth Transmit
2x Bluetooth TX, able to connect up to 2 Bluetoothspeaker or earbuds.
Bluetooth Receiver
2x Bluetooth RX, able to connect up to 2 Bluetoothtransmitter device
Bluetooth Codec
TX: aptX HD, aptX, aptX AD, aptX LL, AAC, SBC
RX: aptX HD, aptX, aptX AD, AAC, SBC
Power Output
24V 4ohm 50W *2
24V 8ohm 30w *2
THD + N
Line Out x 1 / 1 Vrms(3.5mm mini jack)<0.1% @ 1W 1kHz
Line in
Analog RCA, Max 2V RMS input
Phono in
Analog RCA, support MM/MC
Optical in
Max 192kHz/24bit sample rate decode
PCM encoding
USB Host
USB disk drive playback, support resume playback
Sample rate: 48kHz
Storage format: Fat16, Fat32, exFAT, up to 128GB
Support codec: mp3(data rate up to 384kbps), mp4, wma, mov, m4a, aac, flac(96kHz/24bit), ape
USB Type-C
USB DAC for PC connection, sample rate: 48kHz
Subwoofer out
Max 3V RMS output, Frequency Response: 250Hz
Compare
Which Wireless Amplifier Are Made For You ?
Not sure which one to choose? We selected our most popular wireless stereo amplifiers. Compare them and choose the best version for your needs.
Click Learn More Below To Check All Products Comparation Table.
Learn More
Wireless Capability
WiFi, AirPlay, Spotify Connect, Bluetooth 5.0
Digital Input
Optical in
HDMI ARC
USB Type - C
Audio Output Format (Up To)
FAQ
Can't find your question? Contact us with the button below.

Our customer support is available Monday to Friday: 9am-6:00pm.(HKT)
Average answer time: 24h
Contact Us
Does B50 Support CEC control?

Yes, when you connet to TV with HDMI ARC, you can sync the power on/off and volume volume control with your TV.
How far is the Bluetooth amplifier receive and transmit distance?

Both receive and transit distance is about 15m. When transmit to 2 Bluetooth devices at the same time, it is 10m from B50 Bluetooth transmitter to other Bluetooth devices.
How is the Bluetooth transmitter and receiver delay?

Yes for sure. For iTunes you can use Airplay with our S50 Pro+ wireless preamplifier.It is about 30ms, very hard to notice the difference with human ears. There is about 3-4s delay when connected to 2 Bluetooth devices.
What is the aptX HD chip inside B50 Bluetooth transmitter?
How many Bluetooth devices I can connect at once under Transmission Mode?

Up to 2 Bluetooth recevier devices can be connected at the same time.
How many Bluetooth devices I can connect at once under Receiver Mode?

Up to 2 Bluetooth transmitter devices can be connected at the same time, but only one device can stream music at a time.
How do I connect my phone to B50 Bluetooth amplifier?

Just a few steps
1. Turn on B50 Bluetooth amplifier.
2. The Bluetooth LED indicater will be flashing which indicates it is waiting for connection.
3. Open the Bluetooth connection settings on your iPhone or Android phone.
4. Choose B50 Bluetooth amplifier device to connect with.
5. The Bluetooth LED indicater will be solid which indicates the Bluetooth is connected.
Can I output audio to passive speaker by cable and Bluetooth speaker by Bluetooth transmitter feature simultaneously?

This is not available, when under the Bluetooth transmission mode, the audio only output by the Bluetooth channel.
What does B50 Bluetooth amplifier do?

B50 is a Bluetooth amplifier that can be used to increase the audio signal sent or received by any Bluetooth device. What's more, it can be used as a Bluetooth transmitter. Deliver the audio signal from your TV, Vinyl, CD player, or more home audio devices to Bluetooth earbuds, Bluetooth headphone or Bluetooth speaker.
Should you have a B50 Bluetooth amp?

B50 is a functional Bluetooth amp with rich interfaces that can boost your sound system and integrated multirple audio sources in one system. B50 also can be a Bluetooth transmitter which can transmit audio to your Bluetooth earbuds, Bluetooth headphones or Bluetooth speaker wirelessly. So if you are looking for a Bluetooth amp to upgrade your whole house audio system, B50 is a perfect choice for you.
What is a Bluetooth transmitter and receiver?

A Bluetooth transmitter is a device that allows you to stream high-quality audio from your phone or tablet to speakers or headphones. It emits a signal that you can control with your mobile device. Conversely, Bluetooth receivers can be connected to either analog or digital stereo systems, enabling you to listen to music from your phone through the speakers.

Usually, Bluetooth transmitter and receiver won't design together as a device. But B50 Bluetooth Amplifier does.
How do I connect my B50 Bluetooth transmitter?

When your want to use B50 as a Bluetooth transmitter, you need to follow the easy steps below:
1. First, once you are in one of the source input modes (Line in / Phono in /
Optical in / HDMI ARC / USB disk drive / USB DAC) press the reset button on the back or press the Bluetooth transmitter(BT TX) button on the remote controller to enable.
2. Once enabled, you will notice the Bluetooth LED will start flashing, the device will then search for nearby Bluetooth receiver device (Bluetooth Speakers, headphones) and connect to it.
3. Once connected, the Bluetooth LED will turn to solid.Then you are done.

*Some Bluetooth receiver device might need you to enter pairing mode first, some Bluetooth receiver device might need to press a connection button to establish the connection. Please refer to the device user manual or contact the seller for advice if needed.
What is a Bluetooth stereo?

A Bluetooth stereo is a type of audio system that uses Bluetooth technology to wirelessly stream music from a compatible device, such as a smartphone or tablet. It typically consists of two or more speakers that are paired together via Bluetooth to create a stereo sound experience.

For B50 Stereo amplifier, you can use it to power your bookshelf speaker or passive speaker to build advanced Bluetooth stereo system. B50 support ACPWorkbench tuning tool which allows you to tune different audio on each channel. So you can enjoy you customizable Bluetooth stereo with B50 Bluetooth stereo amplifier.

Our customer support is available Monday to Friday: 9am-6:00pm.(HKT)
Average answer time: 24h
Contact Us
This product is rated 4.6 of 5.0 stars.
It has received 54 reviews.
Arylic B50
Amp is good enough. Maby little power boost be nice, but enough was is . Maybe more powerful power brick be helpful. Only one thing - when you power up amp , buzz noise come from speakers , after is on to some input , noise is gone. Speakers are Infinity INTERMEZZO 2.6 and INTERMEZZO 1.2S sub. Turntable input still not used, i will try it whit my old unit soon. Bluetooth streaming work fine. Be useful have second line in.
B50 Bluetooth Stereo Amplifier With Audio Transmitter
Okay, slight issues with HDMI ARC
I like the device, unfortunately I have issues with HDMI ARC not alway working and a crackle when changing volume when using HDMI as a source. I don't know if the crackle is from the TV or B50 though.
Leider mit ein paar schwächen/Qualitätsmängeln
Alle Verstärker sind leider verzogen - kippeln also auf ebenen Flächen. Ich habe 6 Stück im Einsatz. Zwischen der Inbetriebnahme des ersten und weiteren gab es ein update der App -> nun können die Gerätenamen nicht mehr so lang wie vorher vergeben werden und auch der "-" Bindestrich fehlt in der Tastertur.
Wenn bereits 2-3 Geräte an sind kann man keine neuen einrichten.. hat etwas gedauert bis ich das rausgefunden habe.
Außerdem hat die Bluetoothstreaming zu Lautsprechern und Kopfhörern eine Latenz, so kann man diese nicht parallel zu den Passiven Lautsprechern eines anderen Verstärkers an der gleichen quelle laufen lassen. Für die Synchronisation mit einem TV Bild wohl auch ehr suboptimal und womöglich auch der Grund, warum dann die Verstärker Ausgänge abgeschaltet werden und nicht parallel mitlaufen können.
Mit der Leistung und Tonqualität (inkl. Einstellmöglichkeiten) bin ich aber zufrieden. Für das Geld ganz okay! Schade ist, dass der SE nicht vorher angekündigt wurde.. aufgrund der eh nicht nutzbaren Bluetooth-streaming-Funktion hätte dieser vermutlich ausgereicht. Qualitativ gibt es auch unterschiede in der Oberfläche zu meiner ersten Bestellung vor mehreren Monaten zur letzen.
Da diese in einem Serverschrank übereinander stehen sieht man das direkt.
Good amplifier with great features for the price
Arylic's components are always good quality and great value. The only negatives are... that it takes 15 seconds after turning on my Samsung TV before the sound comes out of my Polk speakers... and that the Android app does not always remember it's equalization settings. Hopefully these issues can be fixed soon with updates.
driving polk xt20
amp/bluetooth/phono in/dac/remote works like a charm. driving polk xt20 in 17m2
why do you have to register to run the android control app?