DESCRIPTION
SPEC
Q & A
REVIEWS
Simply Stream Stereo Wireless
Simply Stream your Stereo Wireless
Mini Preamp with Wireless Streaming
Mini Preamp with Wireless Streaming
With S10 mini preamp Integrated, You can stream your audio wirelessly to your speakers by Wifi, Bluetooth 5.0, Airplay, DLNA & UPnP. And no matter where you are in your house, you can always take out your phone to play a song for you or your family. Like play a Bedtime Story for your Children, a love song for your wife, easy and wirelessly.
Compact Design

Mini size smaller than your hand and simple design, these features make S10 easy to fit your home style and save space.

Hi-Res Stereo Sound

S10 Preamp support 16bit/44.1khz audio streaming and up to 24bit,192khz decoding which means you can stream with High Resolution audio wirelessly. Enjoy your high quality
Play your Whole House Audio Simultaneously

Set a S10 preamp unit to each of your home stereo device as a streamer in your house, then you can group and control all the units to sync or play the sounds serparately at the same time.
Micro USB Sound Card

S10 mini preamp is equipped Up2stream Pro V3 audio receiver board inside, so it can work as an USB DAC. You can directly connect it to a PC and stream PC audio digitally.
Easy to Use

If you are a Rookie with wireless audio system. S10 is your best choice to familiar with the wireless technology by economic way. Build up your wireless home stereo system only need 30 secs.
Stream All Music you Like
Stream your favorite online music such as Spotify, Amazon Music, Tidal, Deezer, Qobuz, Internet Radio, iheartRadio, Napster etc. Any time anywhere in your house with our 4stream App.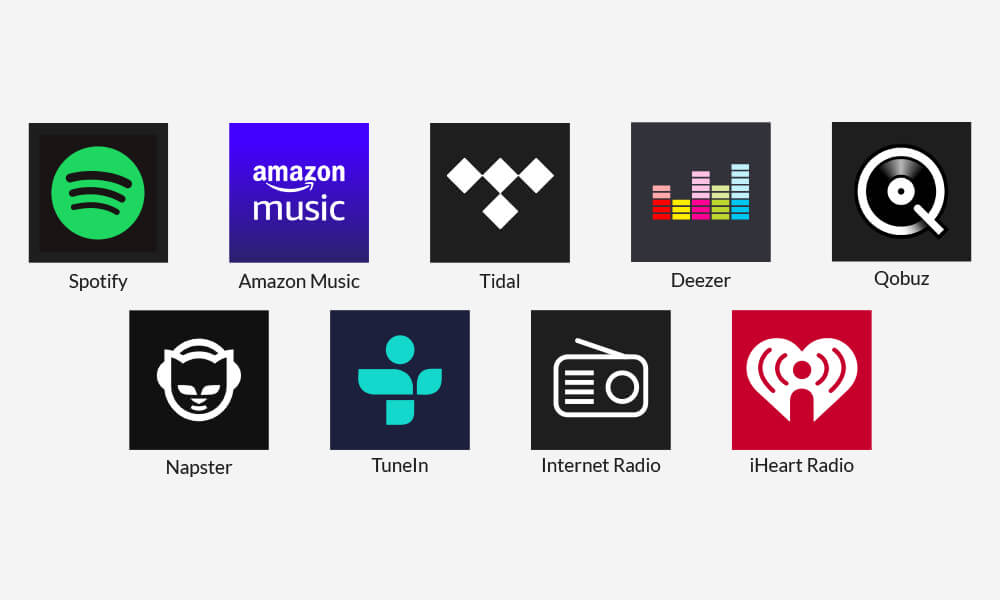 Upgrade All your Stereo into Wireless system
S10 min preamp is compatible to common stereo devices like Amplifier, Vinyl, active speaker and TV. By S10 preamp, you can streaming audio and control sounds wirelessly.
What's More
Specification
Interfaces
Network
Music Sources
Power input:
-Micro USB 5V/1A
Wireless connection:
- IEEE 802.11 b/g/n 2.4G
- Bluetooth 5.0
Online streaming services:
Spotify/Amazon Music/Tidal/Deezer
Qobuz/Internet Radio/iheartRadio
Napster, more coming in the near future
Analog audio input:
-3.5mm mini jack(1Vrms)
-Micro USB DAC
Wired connection :
- Ethernet RJ45
Local storage:
Music stored on the mobile device memory, NAS, USB pen drive
Analog audio output
-3.5mm mini jack(1Vrms)
Audio Parameters
General
USB host:
to connect USB pen drive
Music format:
FLAC/MP3/AAC/AAC+
ALAC/APE/WAV
Dimensions:
116.2*64*22.6mm
Audio decode:
24bit, 192kHz
Weight:
0.2kg
LED indicators:
to show the device status
Frequency response:
20Hz-20kHz
Working temperature:
0~40℃
Reset:
short press to reset the WiFi, long press to restore factory setting
THD+N:
0.03%
IR receiever:
for remote control Antennas for WiFi and Bluetooth
SNR:
110dB
Streaming Protocols
Bluetooth distance:
10M
AirPlay, DLNA, UPnP, Spotify connect and Qplay
Control Applications
4STREAM for iOS and Android based smart devices
iTunes for MAC and Windows PC
Foobar2000 and other compatible third-party apps

Want to get a 30 to 50% discount on this item?
Why Not! Just write a review and let us know after your purchase.

To Know More here.
About Us
Arylic is founded by groups of expert people with different skills from home audio and lifestyle new technology products. With more than 10 years of experience designing the product behind the scenes, we made the decision to make some products of our own team with our specialty, to make them good, value for money, good quality, maintain and update.
Learn more about our story>>
When you use the S10 as DAC for PC, do you connect to the micro USB port or the USB-A input. Thanks!

To use as USB DAC for PC, you connect the micro USB port on the S10.
Please make sure the USB cable you use can transfer data, since some USB cable is only use for charging power and cannot transfer data.

Your transmitter does not find my PSB headphones or my Edifier powered speakers what am I missing? Please help

the  BT  of  our transmitter is passive  mode, it can not actively find  your personal  devices

What bluetooth audio codecs does it support?

acc

Can I connect an old iPod Video 30GB on the USB port and get power and music through this port directly?

The largest usb device we support is 2GB (1000 songs) and you can use the port to power

Please tell me if this configuration is fullynpossible. Send music from my mobile phone via Bluetooth to the S10, connect it with RCA plugs to the AUX IN in my Marantz amplifier, and some times to headphones, also with Bluetooth. From previous question, only 2 GB USB drive for audio files? Seems too low capacity. Thanks in advance.

It seems to work, and we are actively promoting usb optimization and improvement

Does this unit play music in mp3 format stored in a USB stick, when I plug it directly to it?

Yes, it supports mp3 format songs, the USB stick should not be bigger than 2 GB or 1000 song

Hi, It appears the S10 has no form of digital output?

yes

Does it support Airplay 2?

we don't support airplay2 currently, but our app 4STREAM can provide with the same functions as airplay2

Is it possible to configure the S10 with ACP Worbench?

yes,it can connect to acpworkbench through  usb cable,please ensure the mode light is red

Can I connect S10 to MacBook with usb and hear Hi-Res audio files? Should I use footer2000 for playback?

yes,the usbdac can play as a sound card, but i suggest you to use DNLA software to paly to get great experience, like foobar200 or musicbee both are ok

Hello, Does the s10 support Deezer Hifi? Thanks

yes,  you could refer the diagram to know the device  https://www.arylic.com/pages/benchmark-1

Hello, do you have a Crestron Macro to Control your Player ? Thank you Lutz

No .we have IP API for integration if you know how to do it .

Hi! When I buy the S10 preamp do I need to add the separate DAC extension board for better sound? I'd like to connect the S10 to a powered speaker. Or does the DAC extension board only fit with the DIY boards?

The sound feedback so far is quite good, you can have a try .If you want better sound S50 PRO is a better option ,which is built a good DAC inside already .

S10 is based on Pro v3. So I can add the SPDIF Out Board internally, but will not have a connection to outside. Right?

Yes, better to get up2stream pro and spdif board and our protection case .

What is the version of the s10, it is already possible to use mini usb to connect a dac, and the old versions from 6 months ago?

S10 is up2stream pro v3 built in ,support usb dac .

Does this support Spotify Connect with the Spotify Free version ?

If you streaming via bluetooth ,it will work .

But if streaming via wifi ,spotify policy is to use spotify connect ,which require premium account .

Hello, is the remote included with the S10 package from amazon us ? here it seems included but over there it is stated as optional. Thanks

it included .

Does this support Spotify Connect?

Sure, it support Spotify Connect.

I want to connect a Bluetooth speaker to the S10 - how do I add a Bluetooth speaker to the devices list? How do I send the signal to bluetooth speaker in another room?

This product only support bluetooth RX, and does not support TX. So you can't connect speakers to it, we will consider this kind of requirement in future product designing. Thanks for the advice.

Does it support Amazon music HD right now ?

We still talking with amazon right now .Hoping that can be integrated on beginning of 2021

Can you change the name of the device to something like "bedroom" or "lounge"?

Yes, WiFi and Bluetooth name both can be changed the name you set .

Internet Radio (vTuner) has disappeared in 4STREAM application. I am using 4STREAM for Android on a SAMSUNG tablet and LG phone. The same thing happened on both devices. 4STREAM application was installed from Google Play. Internet Radio has disappeared from the service list, but Internet Radio radio stations previously set up are still in the preset list and are working properly. Internet Radio (vTuner) is a service for the reason I bought your product - ARYLIC S1. I kindly ask for help.

The api changed, we will fix that and update soon .Thanks for your reminder.

I have a general questions about your products. Can two of your products, one act as a wifi transmitter and another as a wifi receiver? My plan is to connect an analogue sorce i.e. line out from a cd player to the transmitter and receive this analogue sound to the reveiver so I could output this to active speakers?

Yes, you can , just using our app to play both device in Sync .then another device will get the source from first unit .To do that ,LAN is recommended .

Arylic S10 was used connected via home wifi (all in same wifi subnet) but always after Arylic restart device wifi Soundsystem_C21D has asked password for connecting to S10. Is there are way to get know this password or change it? Otherwise I need always to set factory reset for S10 to have clean S10 Sounsystem wifi without psw..

S10 will remember your passoword and stay connected with your router .

if you want to remove the password,you can go to app setting page ,which can turn off the password. 

Will it support Amazon music HD. If not, are there any future plans

Yes,talking with them right now ,but i can not commit a schedule because amazon do not give us that .

Can i connect my bluetooth headphones via the bluetooth on the S10 to listen streaming services? Thanks

you can put S10 around you and use aux out .

S10 bluetooth is receiver, not sender.

Can i stream by powerline adapter to extend wifi ?

if everything in same IP range ,it's ok .

Does Spotify Connect work with a free Spotify account or do you have to pay for premium?

Streaming via wifi all require spotify premium account ,same for all brands .

Can I attach a DAC to the USB?

no. it's for playing music in usb pen drivers .but our V3 series already built USB DAC inside .

Can you play Plex Media Server to this device? Ideally without me enable DNLA. If only DNLA, is that easy to play music.

Only DLNA, UPNP ,AIRPLAY supported ,not sure about what plex media server protocol use .

Can I use amazon music service

Only USA users can use our amazon music right now .

this can work with tune in?

Yes, it can work with tuneIn.  Our app 4stream has integrated tuneIn service.

Does it work with 220 volt?

yes.

Can I play mp3 from a usb drive?

Yes. even flac .

Can I play from my iPhone/iPad Apple Music?

Yes, we support airplay

I have ans S10 and A50, I can stream YouTube audio from MV with apple devices via Airplay, but with android devices it just doesnt work. Any thoghts?

For youtube, i would recommend you use bluetooth

I want to order the unit but wondered if it includes the 5V power supply/cable with a UK power socket?

Yes, we include the plug in the package.

Hello, I bought one Up2stream Pro V2. Is possible have the rs232 protocol to integrate in a Crestron system? Thanks Best Regards Alessandro Zucchelli

RAKOSO focus on home automation streaming solution .Future model will have that ,also IP control driver for all kinds of systems ,like Crestron ,Control4,Fibaro .....

Can I stream my computer system audio to the device?

Yes, you can use itunes or footbar with plugin streaming your music wirelessly to our device .

Is it stereo? Once it joins my Wi-Fi network will I be able to connect to a Samsung tv that supports wireless speakers?

It's stereo. after connected to your wifi network .If any app on your TV support DLNA, then you can stream to S10 or you can use your TV bluetooth ,connecting to S10 bluetooth ,then stream music .For TV program ,we recommend bluetooth ,latency is better.

Tell me about the enclosure. Is it plastic, or metal? Aluminum maybe?

It is Aluminum casing with Acrylic plate on the top .we will update pictures on Monday .
●It is extendable by expansion boards.
*5G WiFi compatiable means users could control our system when your smartphone connected to your router's 5G channel.
* About Spidif Pins, Up2stream Mini/Pro is default as Spdif out. Up2stream Amp/Mono is default as Spdif in. You can switch to Spdif In/Out by ACPWorkbench Tool. The 2 spdif pins are the same funtion, can't change seperately.
*Up2stream Amp SUB and S50 Pro+ Preamp is our coming up new products.