5 Best Stereo Amplifier Under $200 You Should Know
It's time to start looking for a stereo amplifier if you want to give your home entertainment system a little more power. 
Receivers, also referred to as stereo amplifiers, are a fantastic way to give your house speakers a little extra oomph.
However, you cannot simply connect any amplifier to any pair of speakers. It must be the correct kind of amp; it must be able to deliver clean power without adding noise or unnatural noises, and it must be powerful enough to drive the speakers. 
How much to spend, what to look for, and what sort of amplifier to buy. That is particularly true when looking for affordable solutions. 
Consequently, we've created a list of the top stereo amplifiers for under $200. 
5 Best Stereo Amplifiers Under $200
What Does A Stereo Amplifier Do?
Power Amplifiers &Integrated Amplifiers
What Are Stereo Amplifiers Generally Considered Affordable? 
5 Best Stereo Amplifiers Under $200
Arylic A50+ Wireless Stereo Amplifier $199 - Best All-In-One Streaming Amplifier
Arylic A30+ Wireless Stereo Amplifier $139 - Best Affordable WiFi Stereo Amplifier
Sony STRDH190 2-ch Home Stereo Receiver $148 - Great Sound Quality
YAMAHA R-S202BL Stereo Receiver $199 
Audioengine N22 Mini Desktop Audio Amplifier $199
Pros:
A50+ can play almost any audio source.
Simple to customize and set up.
Suitable with nearly all speakers.
Can connect numerous amplifiers for coverage in multiple rooms.
Cons:
No gain control on board.
A50+ is a 50 watts per channel WiFi amplifier with Bluetooth connection that can pair with practically any speaker. The FREE iOS & Android 4STREAM App is easy to use and requires a brief setup time. Additionally, you can connect several units to deliver audio in numerous spaces.
Regarding the design, being small, the Arylic A50+ streaming amplifier can fit virtually any place. The housing's front and back panels are black, while the body is silver-gray plastic. You can order a single unit or a 3-, 4-, or 5-pack.
The Arylic A50+ multiroom amplifier is quite nicely designed overall. It can operate in several rooms and is simple to set up. A50+ may connect practically any speaker to almost any audio source. Additionally, the app offers robust controls that much outweigh its low cost.
Pros:
an extensive range of inbound connectivity choices
wide range of direct support for commercial streaming services
reliable software package
simple but dependable Free 4STREAM app for iOS and Android
Cons:
Only output to passive speakers
A30+ is a lightweight and compact (13x8x3cm) micro stereo amplifier. It has a metal housing and an external 18V/4A power supply.
A30+ mini stereo amp provides a sizable selection of wireless audio equipment in turnkey and ready-to-use systems that I'm evaluating.
The A30+ has four main hardware audio input options for connecting to music sources: Ethernet (wired and wireless), Bluetooth, USB, and a 3.5mm single-ended cable for digital input.
A30+ only provides one option for hardware output: hooking up a pair of passive speakers. Both 4 and 8-ohm speakers are supported. There are no options for connecting to active speakers through s/pdif, BT, or preamp output.
One cannot reasonably expect top sound performances from a cute small gadget like the A30+ offering such a nicely designed and working, host of diverse input possibilities costing well under $150, and this is the case.
Put, scoring A30+ in the market for audiophile-grade devices would be unjust because that is what it is. If the A30+ is seen as a non-audiophile device, it is an excellent electronic device that enables anyone to effortlessly receive good surround sound output from a staggering variety of different conceivable sources.
Sony STRDH190 2-ch Home Stereo Receiver $148 - Great Sound Quality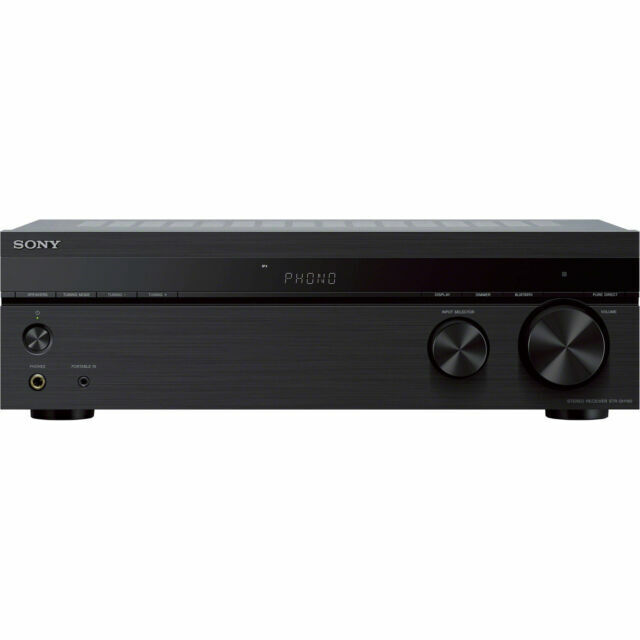 Pro:
works well with vintage stereo systems
Outstanding sound performance
It features an FM radio built-in.
Cons:
Lightweight speaker terminals
Bass freaks shouldn't use this device.
Sony STRDH190 offers the best of both worlds as one of the few devices that still supports phonos and vintage FM connections. That implies that you could theoretically switch between listening to old-school cassettes and Bluetooth-enabled podcasts on your phone.
The Sony STR-DH190 appears to be much more expensive due to its slick look. Since there aren't many features to manufacture buttons for, Sony didn't need to overcomplicate the design. Still, Sony STR-DH190 can find this similar design in many of their more expensive, feature-rich products. I lean toward thinking it's merely a design decision.
In terms of audio, the Sony STR-DH190 is a bit of a marvel considering its cost. It's difficult to find too many issues with this receiver's audio output. Even though the Sony STR-DH190 only offers a modest selection of functions and connectivity options, it excels in each.
It has a stunningly simple design, sounds fantastic, and completes the task without complication. It's a good option if you don't have a large budget or requirements beyond what this receiver can provide.
YAMAHA R-S202BL Stereo Receiver $199
Pros:
Includes an RCA output for powering active subwoofers.
Has the speaker played mode on the A/B selection
It is a stereo amplifier that conserves energy.
Cons:
It does not offer waterproof.
YAMAHA R-S202BL's set is what makes it appealing to a broad audience. The most crucial one is probably Bluetooth, so all you need to complete a simple but admirable system is a set of similarly priced and competent speakers.
Additionally, the YAMAHA R-S202BL includes two sets of speaker connections, enabling it to be utilized to power two different systems. However, these will only accept bare wire. Although you are limited to thinner cables, you can reduce production costs by forgoing the cost of terminating speaker cables with banana plugs or similar devices. Bluetooth makes life a lot simpler if your primary source is a smartphone.
The R-S202 so constitutes a real option to every other amp on our list of suggested low-cost amplifiers, in addition to expanding it.
Audioengine N22 Mini Desktop Audio Amplifier
Pros:
It is appropriate for speakers.
Includes a class AB amplifier.
The assurance of aesthetics is one of many.
Cons:
Wireless connectivity is not offered.
The N22 amplifier from Audioengine is ideal for desktop systems. It has a sleek design, a straightforward control layout, and flexible connectivity. It also functions as a headphone amplifier. All necessary accessories, including a stand, speaker wire (16 AWG), RCA and AUX cables, and a power adapter, are included with the Audioengine N22.
Since it is intended to be used on your desktop and be within reach, this device does not have a remote. The amp comes with a stand because it is meant to be vertical. It appears straightforward but rather appealing.
However, the device lacks sufficient power to drive more significant and demanding bookshelf speakers. The Audioengine N22 does not support Bluetooth. Bluetooth receivers made by Audioengine are of a decently high caliber, although they are sold separately.
What does a Stereo Amplifier Do?
A stereo amplifier's essential function is pretty straightforward: it either powers up an audio signal from a source device or the preamp (integrated amplifiers), then sends the amplified signal to the speakers.
Making an amplifier that performs its function skillfully and efficiently is more complicated. Making a stereo amplifier on a budget that delivers excellent performance while remaining priced is even more difficult.
Power Amplifiers & Integrated Amplifiers
Power amplifiers and integrated amplifiers are the two types of stereo amplifiers. After receiving the incoming audio signal from The preamp or DAC/preamp amplifies the signal which is then transferred to the power amplifier the power amplifier then transfers the amplified signal to the speakers.
Since they are essentially an amp and preamp in one package, integrated amps are a little noisier. In certain instances, there is even a DAC integrated. In addition to receiving signals from numerous audio sources (CD players, music streaming, turntables, etc.), processing those signals, and occasionally converting all digital signals to analog, they also amplify the audio signal and provide power to the speakers.
Which amp type, power amps or integrated amps, is therefore preferable? Most audiophiles will contend that using a separate amplifier, preamp, and digital audio converter (DAC) is a superior choice for improved signal processing and cleaner output.
This is generally a good point. But a well-done integrated amp will also provide a beautiful listening experience, and it will typically be less expensive than three separate units. Therefore, investing in an integrated amp is the best choice if you seek a less expensive option. What, however, constitutes an economic stereo amplifier?
What Are Stereo Amplifiers Generally Considered Affordable?
You might be wondering what is considered affordable regarding stereo amplifiers. What you ask determines the answer is the response. Some people believe that $200 is too much money to spend on an amplifier, while others say that great deals are available in the $200 range.
Many factors come into play when deciding what is affordable, such as your budget and what type of music you listen to. Understanding these factors is essential before deciding what kind of stereo amplifier you want.
And we listed more features you may need to consider before your purchase a stereo amplifier:
1. Power Outputs: The best stereo amplifiers for under $200 will have at least two power output channels, so you can hook them up to your speakers and enjoy listening to music or watching movies without distortion.
2. Multiple Inputs: You'll also want to make sure that the amp has multiple inputs so that you can connect multiple devices to it at once—such as your TV, computer, and gaming system—so they all play through your speakers at once.
3. Remote Control: If you want control over your music from afar, ensure a remote control is included with the amp!
Find Your Best Stereo Amplifier Under $200
Your audio system does not always have to be expensive, and you can pick out one from these best stereo amplifiers for under $200.
Follow your current needs, and hope this article can help you find your perfect stereo amplifier and save your money.
Please feel free to share your thoughts in the section below. How much do you now spend on your home theater?
 

 Author / Scott Oliver

I have been an experienced Home Theater installer and project manager since 1995 and have done so for more than 20 years. I retired this year and hoped to devote my knowledge to helping people build their favorite home audio systems.
---