DESCRIPTION
SPEC
Q & A
REVIEWS
Wireless Stereo Mini Amplifier

With A30 Stereo Mini Amplifier Integrated, You can stream your audio wirelessly to your speakers by Wifi, Bluetooth 5.0, Airplay, DLNA & UPnP. It is the simplest way to enjoy music wirelessly.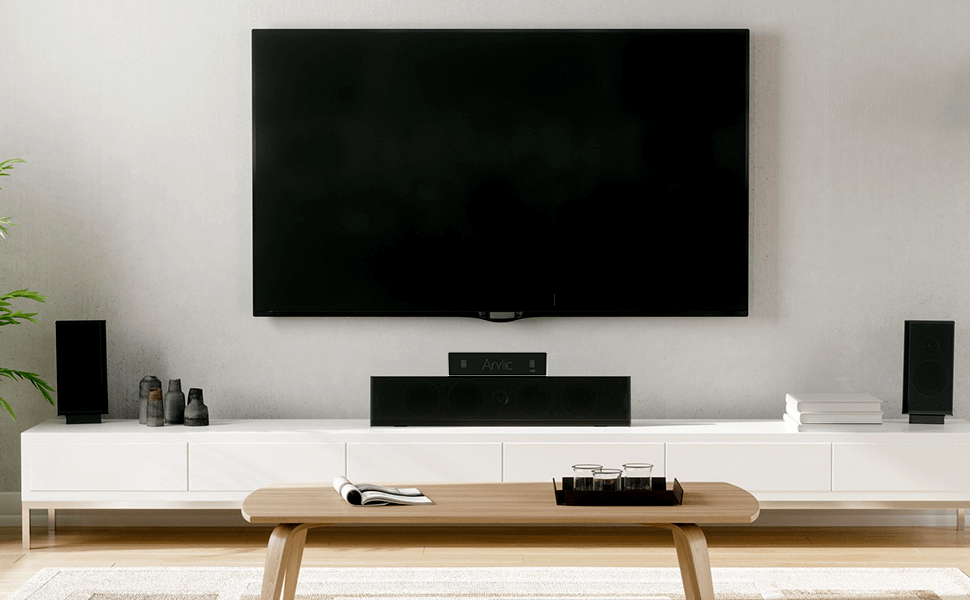 Rookie Recommend
A30
---
Your Economical Amplifier
No Distance Limitation

Wifi Streaming is more stable than Bluetooth that you can play the music everywhere in your house as long as your wifi signal is covered.

No Compression

Wifi streaming also has an advantage of streaming audio without compression, while Bluetooth streaming will compress the audio quality.

Small but Meet your needs

A30 designed with 30W*2 stereo pair which is already can meet your daily use, like play in your, bedroom, bathroom and workshop.
Upgrade Your Traditional Speakers Into Wireless Home Speakers

You don't need to walk to your speakers to click the play button and adjust the volume anymore. With Arylic A30 Amplifier integrated, just sit on your sofa and control your speakers with your mobile.
All Music you like

Huge music resources supported like Spotify, Pandora, Amazon Music, Tidal, Deezer, Qobuz, Internet Radio, iheart Radio, Napster etc. Other than online music, you also can play local music by NAS, USB storage where you have collected your favorite song for years.

Wireless Connectivity

a

Streaming your audio all the way by Wifi, Bluetooth 5.0, DLNA, UPnP, Airplay, Spotify Connect.

Streaming your Music Everywhere

No matter where you are in your house, you can always take out your phone to play a song for youryou or your family. Like play a Bedtime Story for your Children, a love song for your wife, easy and wirelessly.

Free iOS & Android App

Our App called "4stream" that is compatible to your iOS & Android system. All the features can be simply controlled by App. And you also can receive the notification for our regular online firmware update automatically in our App.
Specification
| | |
| --- | --- |
| Wireless network | IEEE802.11 b/g/n 2.4G |
| LAN | Single 10/100M RJ45 |
| Bluetooth | 5.0 |
| USB Host | Play USB music |
| Bluetooth Distance | 15M |
| Power Input | DC 15V/4A |
| Audio Input | 3.5mm Line in |
| Frequency response | 20Hz to 20kHz |
| Speaker Power | 2X30W@4Ω , 2X15W@8Ω |
| THD+N | 0.03%, @1kHz 50W+50W 24V-4Ω |
| Speaker Impedance | 4-8ohms |
| Music Format | FLAC/MP3/AAC/AAC+/ALAC/APE/WAV |
| Decoding | Up to 24bit/192kHz |
| Protocols | AirPlay, DLNA, UPnP, Spotify Connect, Qplay |
| Dimensions | 116.2mm*64mm*22.6mm(4.57*2.52*0.89in) |
| Weight | 0.2kg(0.44lb) |
Package Included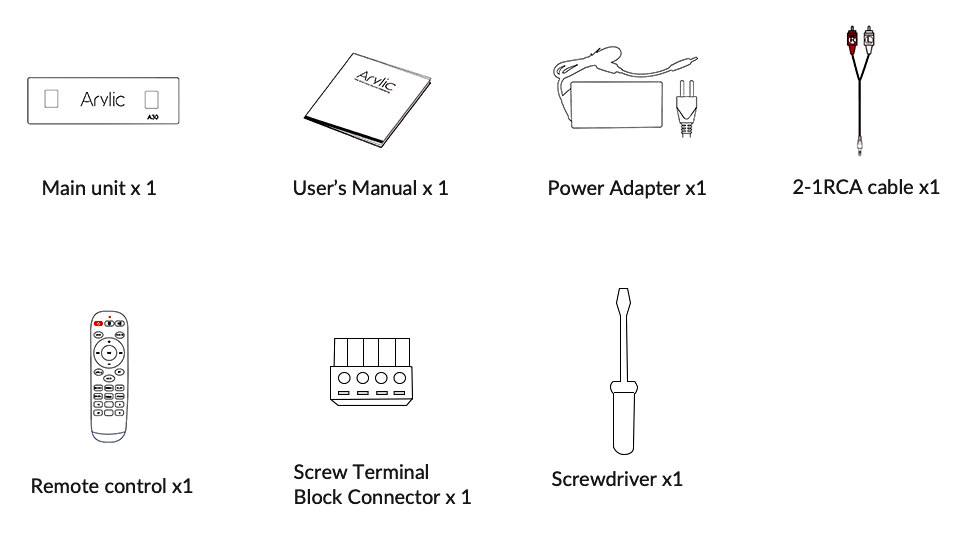 Want to get a 30 to 50% discount on this item?
Why Not! Just write a review and let us know after your purchase.

To Know More here.
Hello, Are you going to support the Airplay 2 protocol? Thank you. Regards,

we don't support airplay2 currently, but our app 4STREAM can provide with the same functions as airplay2

How can I connect to internet. Do I need lan wire or wifi?

you only need to plug the Ethernet into the lan port , or you can choose connect the device to wifi by pairing via wifi or ble

Hi. Is it possible to use A30 as a alarm clock that plays internet radio? Also does it start playing after power loss or i need to turn it on again?

Is it possible to use A30 as a alarm clock that plays internet radio?

yes ,you can select TUNE in as alarm clock music,you can setup in 4stream app -> alarm clock

Also does it start playing after power loss or i need to turn it on again?

sorry, it is no possible,

If a laptop is connected to the USB port, does the A30 amplifier act as a sound card?

A30 use amp 2.0 board inside, which will be upgraded to V3 version soon ,its micro usb support USB sound card function .

Does the A30 and A50 support pandora?

All models from us support Pandora.

For multi-room setup, can I use the A30 in one room and the A50 in another - is that possible and will the music be synced?

All models from us can group together and play music in Sync .

If I have 3 zones and 3 pair of speakers, do I need 3 of this A30.

Yes, it's a wireless stereo amplifier ,one unit for one zone or one room

What is the difference between the A30 and the A50? Have you ever seen a product similar to the A30/50 but uses only Ethernet for passive speakers? I have an application where I do not need the wireless/Bluetooth to connect to some outdoor bose/wired speakers and I have an Ethernet connection.

The main difference bewteen A30 and A50 are as below. 
- A50 is 50Wx2CH with 24V power , A30 is 30Wx2CH with 18V power .
- A50 is full digital amplifier IC from ST , A30 is analog amplifer IC from TI. 
- A50 have RCA out .


Good day. Tell me, the total number of online services (Pandora, Spotify, Deezer, Tidal, Qobuz, iHeartRadio, TuneIn, Napster ...) in the A30 model is the same as in the A50 / S50 or less ??

all software features is same on A50 and A30 .just smaller power output than A50.
●It is extendable by expansion boards.
*5G WiFi compatiable means users could control our system when your smartphone connected to your router's 5G channel.
* About Spidif Pins, Up2stream Mini/Pro is default as Spdif out. Up2stream Amp/Mono is default as Spdif in. You can switch to Spdif In/Out by ACPWorkbench Tool. The 2 spdif pins are the same funtion, can't change seperately.
*Up2stream Amp SUB and S50 Pro+ Preamp is our coming up new products.