DESCRIPTION
SPEC
Q & A
REVIEWS
Wireless your Vintage Hifi-system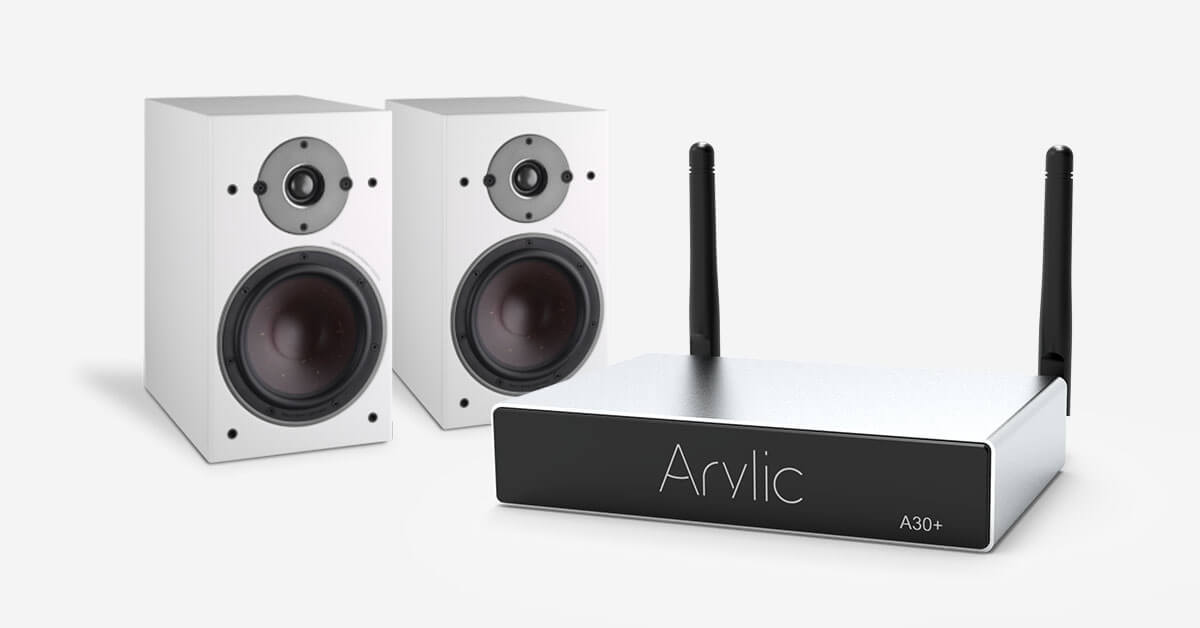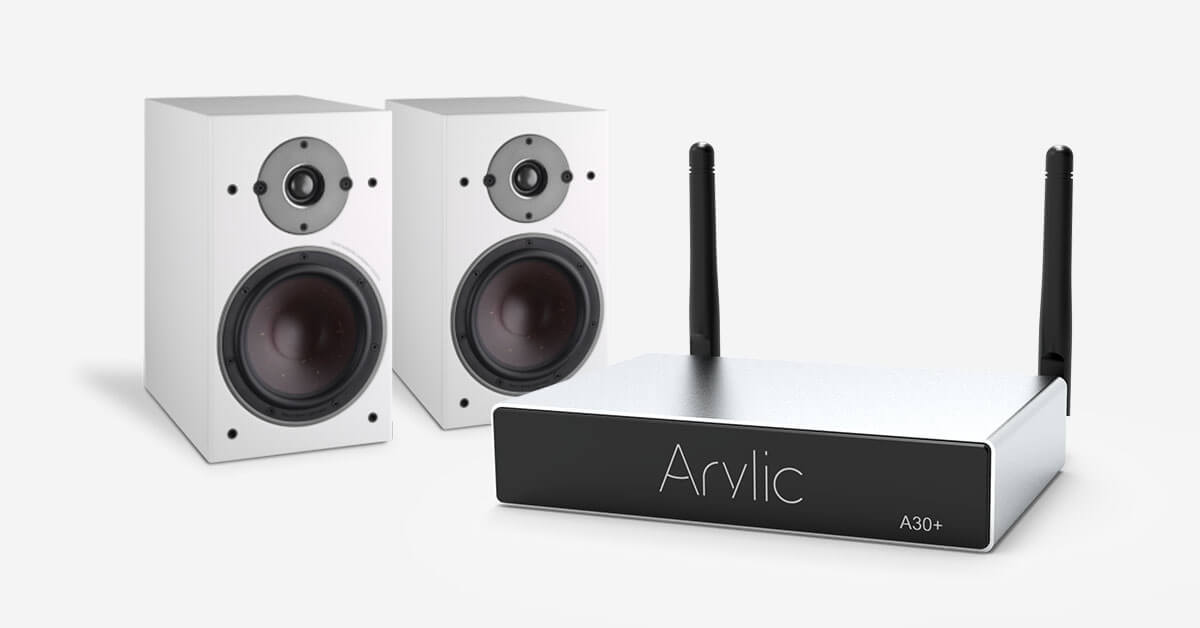 Wireless your Vintage Hifi-system
Upgrade Your Home Stereo Wirelessly
Upgrade Your Home Stereo Wirelessly
A30 + is an amplifier with wireless streaming capability of WiFi, Airplay, Bluetooth 5.0 and Spotify Connect. By connecting to your home stereo system, you can stream online music, online radio, audiobook or other audio source wirelessly.
Small but Meet your needs

The compact design of A30 + won't take up too much space in your home. Even with the mini size , A30+ can meet your daily usage, like play in your bedroom, bathroom and workshop. It is designed to output 35W*2 to your stereo speakers.

Stream your Favorite Tune

No matter you like pop, jazz or electronic music with heavy bass, A30+ amplifier support our DSP tuning tool ACPWorkbench which allows you to setup different EQ for left and right channel and other audio effect features.
Wireless Multiroom Control

Just by sliding, you can easily control your whole house stereos with our 4stream App. Control all your units to sync the same audio or play different audio sources at the same time.
Compatible to your Home Stereos

A30+ amplifier is capable to connect to commonly used stereos in your house. Like celing speakers, bookshelf speakers, in-wall speakers and on-wall speakers.
Friendly User Experience

Simple setup with BLE WiFi cofiguration that only takes 30 secs to finish the first time network connection. Able to control by App or remote, even wireless audio rookie can setup without a problem.

More Stable and Reliable

Compare to the old A30, A30+ add wifi and bluetooth external antennas that improves the signal range and strengh.
Stream All Music you Like
Huge music resources supported like Spotify, Amazon Music, Tidal, Deezer, Qobuz, Internet Radio, iheart Radio, Napster etc. Other than online music, you also can play local music by NAS, USB storage where you have collected your favorite song for years.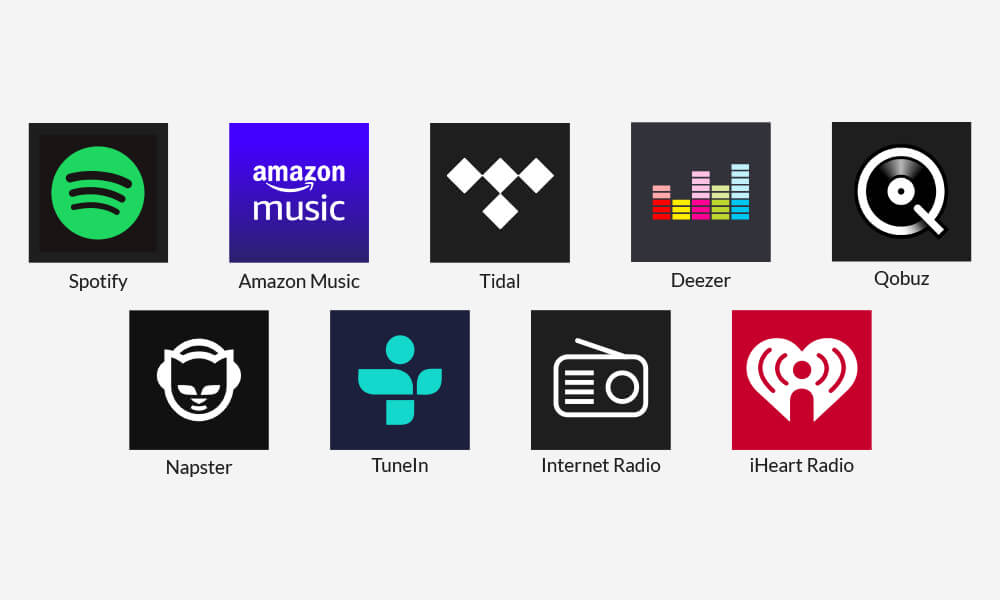 What's More
Package
Specification
Interfaces
Network
Music Sources
DC input:
-12V-18V
Wireless connection:
- IEEE 802.11 b/g/n 2.4G
- Bluetooth 5.0
SBS/AAC
Online streaming services:
Spotify/Amazon Music/Tidal/Deezer
Qobuz/Internet Radio/iheartRadio
Napster, more coming in the near future
Analog audio input:
- 3.5mm mini jack(1Vrms)
- Micro USB
Wired connection :
- Ethernet RJ45
Local storage:
Music stored on the mobile device memory, NAS USB pen drive
AACudio output
- Speaker out (Pin space 5.0mm)
Audio Parameters
General
Ethernet RJ45:
for wired LAN cable to connect internet
Music format:
FLAC/MP3/AAC/AAC+
ALAC/APE/WAV
Dimensions
131.8mm*85.5mm*27mm (5.18in*3.37in*1.06in)
LED indicators:
to show the device status
Audio decode:
24bit, 192kHz
Weight:
0.35kg(0.77lb)
Power/Reset Button:
short press to turn on/off, long press to reset WiFi settings/terminate Bluetooth connection
Frequency response:
20Hz-20kHz
Working temperature:
0~40℃
IR receiever:
for remote control
THD+N:
0.03% @1kHz
Speaker Power
Wireless antenna:
for WiFi & Bluetooth connection
Speaker Impedance:
4-8Ω
2x35W@4Ω load at 18V
2x18W@8Ω load at 18V
Streaming Protocols
SNR:
91dB
AirPlay/DLNA/UPnp
Spotify connect/Qplay
Bluetooth distance: 10M
Control Applications
4STREAM for iOS and Android based smart devices
iTunes for MAC and Windows PC
Foobar2000 and other compatible third-party apps
Want to get a 30 to 50% discount on this item?
Why Not! Just write a review and let us know after your purchase.

To Know More here.
About Us
Arylic is founded by groups of expert people with different skills from home audio and lifestyle new technology products. With more than 10 years of experience designing the product behind the scenes, we made the decision to make some products of our own team with our specialty, to make them good, value for money, good quality, maintain and update.
Learn more about our story>>
I want to know if bose speaker DS 16F compitable with Amplifier A30+? And if compitable can i install 4 speakers ( 2 in left and 2 in right )

Yes, you can use this speaker to connect to A30+.
If you want to connect 4 speakers, you should connect them in parallel, so each side will have an impedance of 4ohm.

Is it necessary to use the App to control the device or is there an open protocol via Ethernet which can be used to control the device via own scripts?

yes, you can get a http API documents through our customer service colleague, or you can make use of TCP protocol

Hello, Are you going to support the Airplay 2 protocol? Thank you. Regards,

we don't support airplay2 currently, but our app 4STREAM can provide with the same functions as airplay2

How can I connect to internet. Do I need lan wire or wifi?

you only need to plug the Ethernet into the lan port , or you can choose connect the device to wifi by pairing via wifi or ble

Hi. Is it possible to use A30 as a alarm clock that plays internet radio? Also does it start playing after power loss or i need to turn it on again?

Is it possible to use A30 as a alarm clock that plays internet radio?

yes ,you can select TUNE in as alarm clock music,you can setup in 4stream app -> alarm clock

Also does it start playing after power loss or i need to turn it on again?

sorry, it is no possible,

If a laptop is connected to the USB port, does the A30 amplifier act as a sound card?

A30 use amp 2.0 board inside, which will be upgraded to V3 version soon ,its micro usb support USB sound card function .

Does the A30 and A50 support pandora?

All models from us support Pandora.

For multi-room setup, can I use the A30 in one room and the A50 in another - is that possible and will the music be synced?

All models from us can group together and play music in Sync .

If I have 3 zones and 3 pair of speakers, do I need 3 of this A30.

Yes, it's a wireless stereo amplifier ,one unit for one zone or one room

What is the difference between the A30 and the A50? Have you ever seen a product similar to the A30/50 but uses only Ethernet for passive speakers? I have an application where I do not need the wireless/Bluetooth to connect to some outdoor bose/wired speakers and I have an Ethernet connection.

The main difference bewteen A30 and A50 are as below. 
- A50 is 50Wx2CH with 24V power , A30 is 30Wx2CH with 18V power .
- A50 is full digital amplifier IC from ST , A30 is analog amplifer IC from TI. 
- A50 have RCA out .


Good day. Tell me, the total number of online services (Pandora, Spotify, Deezer, Tidal, Qobuz, iHeartRadio, TuneIn, Napster ...) in the A30 model is the same as in the A50 / S50 or less ??

all software features is same on A50 and A30 .just smaller power output than A50.
●It is extendable by expansion boards.
*5G WiFi compatiable means users could control our system when your smartphone connected to your router's 5G channel.
* About Spidif Pins, Up2stream Mini/Pro is default as Spdif out. Up2stream Amp/Mono is default as Spdif in. You can switch to Spdif In/Out by ACPWorkbench Tool. The 2 spdif pins are the same funtion, can't change seperately.
*Up2stream Amp SUB and S50 Pro+ Preamp is our coming up new products.