DESCRIPTION
SPEC
Q & A
REVIEWS
Upgrade Speakers into Wireless System with Wifi Stereo Receiver
TV sound, online music, gaming audio. All sounds of your home entertainment can be streamed wirelessly by Up2stream Pro V3 wifi stereo receiver. Compatible with your latest control device constant use phone, PC, and Tablet. Meet your needs and give you different music enjoyment.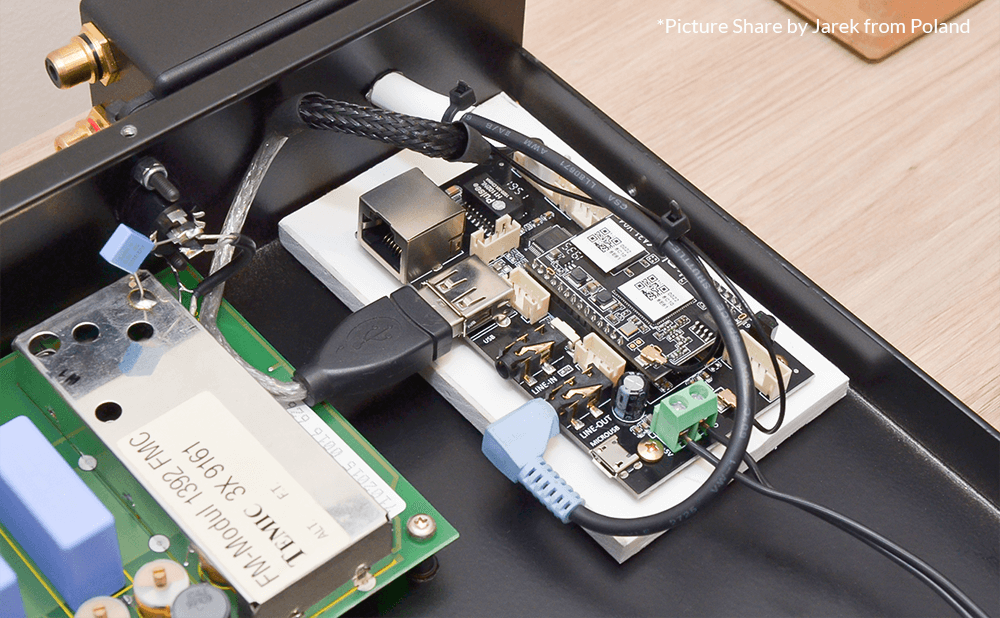 DIY your Wifi Speakers
---
Micro USB Sound Card

Up2stream V3 Series can work as an USB DAC, you can directly connect it to a PC and stream PC audio digitally.

More Extension

SPDIF out, ADC KEY for buttons use, 2 I/O for extension, such as volume knobs. Give you more creativity with DIY projects.

Customize your Favorites

You can use our ACPWorkbench to customize the different frequency and equalizer settings for your favorite music.
DIY Wifi Multi zone Control

By adding multiple Up2stream Pro to your speakers in multiple rooms, you can hook up all units to form a multiroom audio system. You can play the same music to all the rooms at the same time in sync. This can let your guess enjoy the booming music all over your house when you host a house party.
Upgrade All your Stereo into Wireless system

By adding an Up2stream Pro V3 wifi stereo receiver to your stereo devices, like audio amplifiers, vinyl, active speakers, or CD players. Then you can stream audio and control sounds easily and wirelessly.

All Music you Like

Huge music resources supported like Spotify, Amazon Music(US Only), Tidal, Deezer, Qobuz, Internet Radio, iheartRadio, Napster etc. Other than online music, you also can play local music by NAS, USB storage where you have collected your favorite song for years.

Wireless Connectivity

Streaming your audio all the way by Wifi, Bluetooth 5.0, DLNA, UPnP, Airplay, Spotify Connect.

Free iOS & Android App

Our App is called "4stream" and is compatible with your iOS & Android system. All the features can be simply controlled by the App. And you also can receive the notification for our regular online firmware update automatically in our App.
Difference with Up2stream Mini V3 & Up2stream Pro V3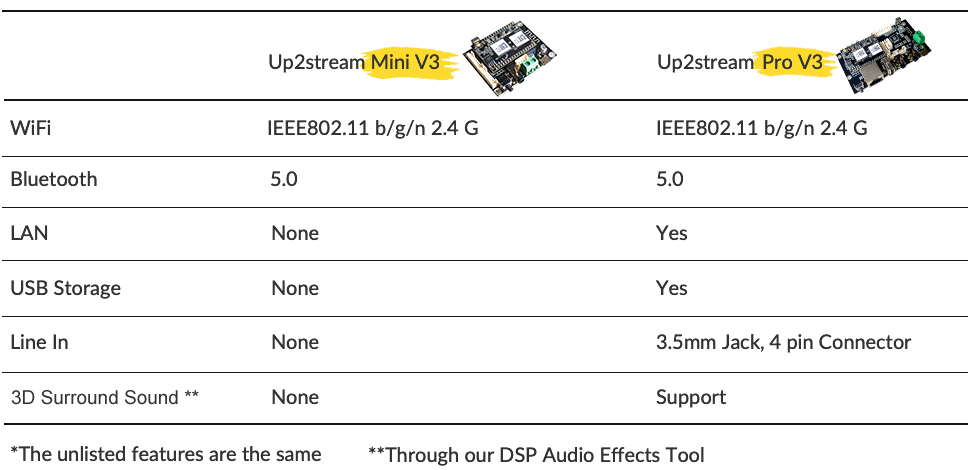 Specification
Interfaces
Network
Music Sources
Power input:
-5V1A 2 Pin Connector
-Micro USB 5V/1A
Wireless connection:
- IEEE 802.11 b/g/n 2.4G
- Bluetooth 5.0 SBC/AAC
Online streaming services:
Spotify/Amazon Music/Tidal/Deezer
Qobuz/Internet Radio/iheartRadio
Napster, more coming in the near future
Audio input:
-Micro USB DAC
Wired connection :
- Ethernet RJ45
Local storage:
Music stored on the mobile device memory, NAS, USB pen drive
Analog audio output
-3.5mm mini jack(1Vrms)
- 4 pin connector

Digital audio output:
- i2s pin connector
- SPDIF (44.1kHz) pin connector
Audio Parameters
General
LED indicators:
to show the device status
Music format:
FLAC/MP3/AAC/AAC+
ALAC/APE/WAV
Dimensions:
87.6*49.6*15mm
Power button:
short press to turn on/off, long press to reset WiFi settings/terminate Bluetooth connection
Audio decode:
24bit, 192kHz
Weight:
0.2kg
IR receiever:
for remote control
Frequency response:
20Hz-20kHz
Working temperature:
0~40℃
Wireless antenna:
for WiFi & Bluetooth connection
THD+N:
0.03%
Streaming Protocols
SNR:
91dB
AirPlay, DLNA, UPnP, Spotify connect and Qplay
Bluetooth distance:
10M
Control Applications
4STREAM for iOS and Android based smart devices
iTunes for MAC and Windows PC
Foobar2000 and other compatible third-party apps

Package Included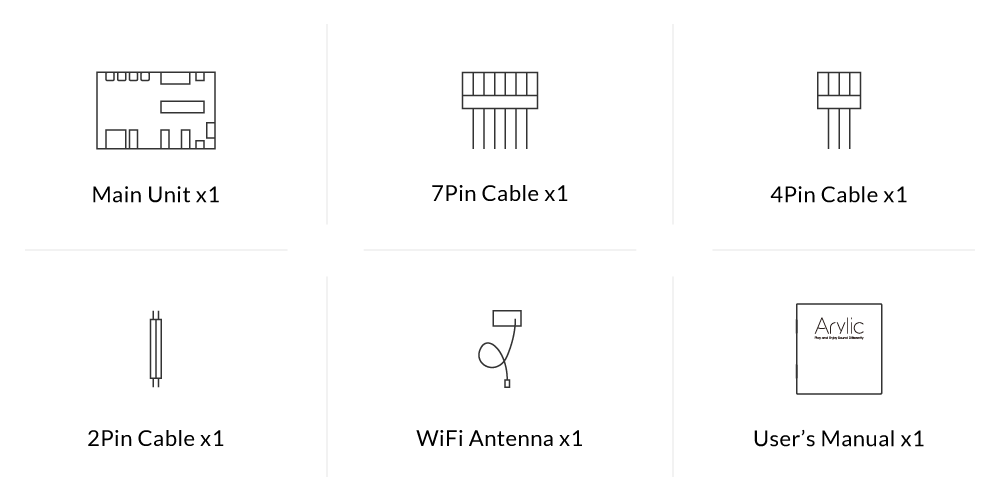 Want to get a 30 to 50% discount on this item?
Why Not! Just write a review and let us know after your purchase.

To Know More here.
About Us
Arylic is founded by groups of expert people with different skills from home audio and lifestyle new technology products. With more than 10 years of experience designing the product behind the scenes, we made the decision to make some products of our own team with our specialty, to make them good, value for money, good quality, maintain and update.
Learn more about our story>>
If I start streaming to it on Spotify via Wi-FI or via Bluetooth will it switch automatically to Wi-Fi/Bluetooth, or the input mode has to be chosen manually?

It can change to Wi-Fi mode from BT OR INPUT MODE  automatically, other situation you must switch mode manually

Hi, We have noticed during our tests of Up2steam Pro v3, Up2stream Amp 2.1 and Up2stream Amp V3 that in the ACPWorkench tool the Parametric EQs on the separate Channels are locked (not accessible) with the Up2steam Pro v3. There is only main Music EQ accessible. Can they be unlocked?

The main adjustment is in the second tab, which in theory is all unlocked, of course to make sure you get the last firmware of preamplifier

Can I Use 'SPDIF In Board' and Volume Knob Board with Up2stream Pro V3 board ?

Yes, they are not conflict

I can't activate the Spdif Out Up2stream Pro V3 with 4Stream. I connect the SpDif out with the seven pin cable but nothing happened. How could I activate the digital outputs

The spdif out is active in default, you don't need to do more operation, you can try to only connect the spdif and VCC and GND pins to exclude the cable's problem

How do I use this as a standalone Bluetooth receiver without it being on a LAN?

you can swtich all sources via app or remote controller,or button on the board .

Hi, the board is standard I2s out and coax out, i read it is possible to change direction in ACP. Is it possible to stick with I2S out but reverse Coax/optical board as input?

yes 
    you can concern about purchasing out SPDIF IN expansion board, and change the direction of SPDIF through ACPWORKBENCH,becuase the direction of SPDIF is IN in
default situation

Can it switch a relay card via GPIO to switch off an active amplifier if no sound? can I then program it via ACPWorkbench?

yes, you can select OUT option as the trigger to give signal to you active amplifer after setting in acpworkbench

I have this board and the SPDIF input add-on board, and ACP Workbench still locks out the SPDIF input when I select RX or TX. How do I get this enabled?

you need to change the set in second tag 

What is the circuit to connect an encoder for the volume control to the GPIO header? How is using this header different than using the 11 pin connector volume control pins?

because the GPIO header is reserve for diy, you can select some mode in acpworkbench  , volume knob expansion board is a one option of them ,  key pin in 11 pins connectors, you will setup the resistors  refer to the diagram

Tem algum display ou tela que possa ser usado no up2strem pro v3 ? Obrigado

We will soon be releasing a 128*64 screen, which we have already done on the s50 pro +, so stay tuned!

I am considering purchasing the pro v3 version for a boom box retrofit to add usb, sd, bluetooth, and wifi. It seems there isn't really a way to fully control this without a WiFi connection. I would like to connect this with an arduino to enable full functionality and also integrate a screen while I'm not tethered to wifi. Will the uart api be coming soon?

hello, the method of uart control is been  developing, the progress of the projects is over 60%

How can I activate the SPIDIF-IN board? I tried connecting it via the flat ribbon cable labeled "For Mini V3/Pro V3" but the Input doesn't show up in the 4Stream-App

The default setting is for spdif out .If you need to use it as spdif in ,you need to get acpbench from us and change the definition of the I/O to spdif in ,then you can use it .

I have my music all stored in a QNAP server. I'm able to access the music using their QMusic app. Does this device support QMusic or can it access the folders in my QNAP server?

We support NAS with DLNA features. you can try ,if not work , you can return to the webshop .

can I use the Up2Stream Pro RJ45 Ethernet cable to stream audio?

Sure. via wifi ,lan ,bluetooth all are ok .

Does Up2stream Pro V3 support digital output via USB? If so, what about its spec?

you can try our spdif out board ,wire to up2stream pro .

the micro usb can be worked as usb digital audio in . 

Does UP2Streem Pro work with free version of Spotify or do I need spotify premium to use UP2Streem Pro

Spotify connect wireless streaming require spotify premium acocunt ,it's their policy .
IF you want to use free account ,you can connect our system via airplay or bluetooth .

I see V3 Act as USB DAC via micro but question is - whether play on external DAC plugged via USB?

V3 can work as USB DAC, you only need connect your PC directly to our micro usb port and play music .

This source can be also playbacked in sync to other units .

Hi, how could I connect multiple boards like SPDIF IN, SPDIF OUT, DAC and volume knob all together to the same UP2Stream_Pro V3 module? Is it possible, or can I connect only one? Many thanks.

For spdif ,you can only connect one ,due to limited GPIO ,but others are ok .

Hello, is there also a "mono" up2stream-device available? I'm planning to build a multiroom system in my house. In the bathroom there is only one speaker chassis (mono). Is it possible to make a "stereomix" or mono configuration with the up2stream modules? Is a single channel module planned?

We have up2stream amp v4 planning ,which will support stereo and mono mode. You can get others firslty and mono later.

Do you have an API ready for UART management? Can I find out a list of commands for monitoring and control?

Yes, http api available in our website >>download

Hi, Can i have 5 of them playing my music (streamin from a pc) (in different places) via ethernet and control them via some inteface from my pc? There is a small cafe chain here...

would control by app a better option  ? app have more control . for pc, you can only playmusic via itunes .

How meny of UP2Streem Pro i can connect in one house I want to create 16 zone can I able to do it using this one?

Normally ,our users will buy one amp for one room to work with one pair of in-ceiling speaker.Each room need one set of that .

 

Where are the UART connections on the Upstream Pro V3 (which pins) and what are the commands, BAUD rate etc. to control the device for example with an Arduino. Is that even possible ?

Hi, we're now preparing a set of API for the UART interface. And you can get the feedback of the playing status, and also can send some controls to the board, like volume, next, prev, change source, etc. We'll still working on this, and hope to release in end of Oct. It would be a normal UART bus with 115200,8,n,1 and Arduino will be OK in sure.

I am trying to use physical buttons on Up2stream_Pro_V3. I have build a keypad using the schematic and the resistor values in the manual. The buttons Num1 and Num2 both trigger Preset 2, Button Num3 triggers Preset 4 and Num4 does not work at all. Are the resistor values in the manual correct? Are they very critical or should regular 5% resistors work?

Hi, we've made a mistake in the manual that, there's an 10K pull-up resistor on board already. So please make sure to remove it on the board you make, and also the voltage tolerance range is a bit small in the firmware. We'll extend it in the new firmware which would be released soon. For now, you may try change another resistor or wait for the new firmware :-)

In your Q&A, you indicate: >>Can de pro v3 toggle a external relay so when the board is in standby my amp and dac board are powered off and when the pro v3 turns on the relay will witch and the amp and dac have power? Yes, it can do . if you don't know the way ,pls write an email to us ,we will aks our tech to guide you .

Hi, we're now working on a firmware upgrading, and hope to release in the end of Oct. It will have a feature to set the PIN functions with tool ACPWorkbench. So you can assign a not used PIN for the output trigger. And it will output high level when have sound output, and turn to low level after 1 minuts no sound.

is there a way to use as pre amp 2.1 hpf and lpf for a sub?

We do have a ACP tool to set separated EQ on each channel (Left and Right), but we do not have a standalone output for the sub. Will consider to add this in future hardware.

Is there an API to play a saved Preset List from eg Spotify?

Can I send the Line-in signal captured by a Up2stream Pro to other Up2stream devices? Like a wireless signal transmitter.

Yes. you can do that via our app .

Can you give this a fixed IP address?

No, it currently does not support fixed IP address. To make it static, you have to bind the IP and MAC of device on router.

I am a little confused about the USB socket. It is listed as an input but some of the answers I f the Q&A section suggest it can also be used as a digital output to connect to an external dac, Is this true? If not, do you sell, or plan to sell, a product that allows you to output 192khz digital output to allow connection with a separate DAC?

USB HOST is for playing music in the storage.

Microusb can connect to PC work as a USB DAC. It can be also stream sync to other unit of our system .

Can the 2.4G Wifi/Bluetooth External Antenna be used with the Up2stream Pro V3?

Yes. We will make it more clear on website later. thanks !

Can you specify how to make use of SPDIF output ? Soldering it gives me no idea. Where is it and can you specify more ? Can't seem to find the information

We will sell SPDIF out board in Sep .You may subscribe our news letter.

It will be just plug in and use board .

Do you have an estimated date about the new modules release (like the new HI-FI DAC, the buttons and/or volume knob module, an aptx Low-Latency BT module, etc...)? Thanks.

In Sep ,we will launch a series of accessory board in Sep  .such as 
Button board,iR externder ,spdif in board ,spdif/coax out board ,ESS dac board .

How can I enter my NAS?

It is in our app >>my music>> home sharing .

Can de pro v3 toggle a external relay so when the board is in standby my amp and dac board are powered off and when the pro v3 turns on the relay will witch and the amp and dac have power?

Yes, it can do . if you don't know the way ,pls write an email to us ,we will aks our tech to guide you .

In your FAQ-Section for the UP2STREAM you promised that the V3-Version will support USB DAC. Unfortunately I cannot find an USB-Out. Will it be available by update? Regards, Reinhard

The micro USB will do the work :)

can you guys please post a picture showing the hole mounting dimensions? thanks.

The info is included on the 5 picture on the top on our website.

what would I need to turn my 2 passive speakers into a wireless system

To turn passive speakers into wireless system, you will need a amplifier.
There are many options for you to choose from, you can use our Up2stream amp 2.0, amp 2.1, A30, A50 or SA100.
If you have a normal amplifier, then you can use our Up2Stream mini or pro as a input source for the amplifier and connect your passive speakers to the amplifier output, this also makes your system into wireless system.

Would I be able to connect this Up2stream pro v3 with the lp210pa amp ?

There is line out and digital out pin on the board, that means it support analog or digital amp .It should work .

How do I make use of the SPDIF output? Would like to use an optical cable to connect to a soundbar.

make a cable with SPDIF connector ,soldier it ,it will work .

Can I stream a microphone pc directly to Up2Stream Pro?

Our up2stream V3 series has usb sound card function .it will play system sound of your pc.it will work via this way .

What is the poser consumption of this device? Does it have a standby function?

When no music playback ,it will go to power save mode, very low power consumption ,same for all our products .

Hi, How faster could be get an API request? If I sent an http request to know the volume value, how many times In one second I can send it this request? I can use the api volume control linked to a rotary encoder via Arduino without lag? Thanks

it will work instantly ,same like our app

What is about the warranty period

One year warranty .If you have any issue ,you may contact us ,we have after service center in EU ,USA and China .

Can I control it with an Arduino sending commands using UART? Id like to use the existing controls on my old Gettoblaster but obviously it has different signal voltages....

Yes, we have the interface for that .

How can I connect the I2S output to a s/pdif input on my DAC. Is there a converter chip that I can buy somewhere?

There is an SPDIF pin on V3, you need a cable with optical connector.

Where to look for the IR Remote Control Codes? Not available in WIFI_AUDIO_HTTP_API.pdf

OUr staff will send you by mail later.

Hello, Is there a possibility to control the audio (play/pause/skip/pre/volume) via the KEY, 3V3 and GND port of the Up2stream pro V2? And how would I do this best? Thanks for your answer

Yes, you can if can design a board yourself now or you can wait our accesossory board launch .Plan around July .

Is there a noticeable latency when restreaming the audio from an A/V source (like PC or TV) on 'Line-In' to other units and using LAN connection? So when looking at the screen would audio be played synchronously?

Restreaming will have latency ,for TV ,if you do not restream to other units, the latecy is not noticeable.

Most external DACs uses S/PDIF, toslink of AES/EBU. What is your recommendation to use this board with an external DAC?

We will launch high quality DAC board later. around June .

Is this product capable of being joined with a different amp board? I'm looking to run a small 2.1 bluetooth speaker.

Yes, it's designed to work with other amp board .

Usb port... can you use to store and play back songs and if so, is there a file structure that the songs have to be added to the USB and will the song list show up in your application

If you usb have music files inside already, our app can read it and play it wirelessly.

Is it possible to play a mp3 file from this amp using the API ? It would be great to use your module for voice prompts from home automation. I only found the API command to send uri to module, can I add a mp3 http/https URL from any network storage/webserver here?

No, we only support links to a music file or a m3u list with links. And you can set up a local http server to export music files.

Hi, is there the possibility to use a android phone with ir modul as remot fur the amp?

If your phone IR can learn our IR code, then you can .

What are your plans for supporting other streaming services or directly from phone which could use unlimited other sources?

Yes, we will add more in the future, but you know there are hundreds there .

For now ,you can try airplay or bluetooth ,it support streaming all we don't have .

Can I stream music from Windows Media Player or any Windows 10 APP directly to Up2Stream Pro?

Itunes ,footbar is ok .

Does Up2stream can be used to stream via UPNP ? I would use Bubbleupnp apps on android, and i wonder if it is visible to stream with ?

Yes, it support UPNP and Bubbleupnp

Can you please clarify if the Pro v2 can output digital audio stream via the USB socket.

our V3 series will support USB DAC .

Current USB hose is for playing USB music file inside. but sound is very good. 
For digital out ,on the board, we only have i2s right now .
SPDIF accessory board is under development right now .

Can this be used without WiFi,that is only using a wired Lan connection and control it with the remote ?

Remote is working with IR sensor on the front .

If connect via LAN, you still can control via our app or IR in the range. 

Can be integrated into Home Assistant? If no, are you planning to create a component?

Home assistant to work with our system is under development .Target to be ready in Q3.

Does the IIS output on the board have volume control via either the app or remote control or do you lose this feature when you use an external DAC?

Yes, our IIS volume can be controlled by our app even you use an external DAC, 
btw, our highend DAC board is under development as well.

Can this be made to output mono into a single speaker?

Our system is 2.0 stereo pair. We don't support mono.
We will develop the new model with this features in the future.

Is there an api for the serial communication UART and for the IR ?

As you have already I2S digital output, can you please enable USB-Digital output as well with the next firmware update ? Many people have already DACs which use the Xmos-chip to connect Streamer over USB.

New up2stream v3 series will have USB digital output ,Launch in May .

The usb port also works with our DSP audio effect tool ,which will be listed for sale soon .

Why does the app needs my exact location and must the GPS receiver always be on? Why do you need access to my files? Why can't i leave those permissions off and still use the app?

hi Sir, because some service have IP issue in some region ,such as Pandora only works in USA. they need info for that. 

Our app is checked by apple ,so you can feel safe to use that .

Does the bluetooth 5.0 offer TWS (true wireless stereo) ? and will you include a master volume control in 4stream for streaming to left and right speakers that are grouped?

For pair ,you can use our app to pair via network .
Up2stream V3 series bluetooth may support TWS  in the future, it's under development right now .

Is a antenna suppose to be plugged into both the main board and the module? Which one is actually receiving the signal?

The antenna connector on the main board is for Bluetooth. The connector on the module is for WiFi.

Can I use remote control of my Sony amplifier to control up2stream pro? (Skip stop pause tracks)

no .you can use our app to do those control or buy an remote controller from us .All control can be available from our app or remote .So if you buy our device, 
i think you don't need your SONY amp remote much .

Здравствуйте. Будет ли подключен сервис "Yandex music" ?

Currently ,you can only play yandex music via bluetooth or airplay .

Hello, can it decode DSD files?

Most of current streaming product with multiroom can not support DSD, our future highend products will support that .

Existe a possibilidade de se usar um Display LCD 16x2 na interface GPIO para exibir status como Nivel de Volume, Graves e Agudos e entrada selecionada?

Currently ,not ,we may have future DIY product support that .

When connecting audio in and out and not streaming to other devices, how much latency will there be? For music I can deal with latency, but I wan't to use the speaker near my PC for gaming as well.

If you switch audiosource in one unit and do not restream to other unit use ,there will be no latency from line in .

Does this unit have a USB digital output or toslink output?

No .We may design an DAC and SPDIF board with highend components ,launch around May, 2020.

Can connect a fire he tablet and use Amazon music hd?

Amazon music will be supported soon ,within Jan .2020
Currently ,you can only do via bluetooth or airplay .

Can I use either iTunes or Amazon music on my iPhone and will multi room work?

Yes, all music played in our system can be restreamed to other devices from us .

Is it possible to develop a custom UI for this board? Is there an API somewhere to be accessed?

Yes, we offer OEM/ODM services . If you checck the product page, there is download category ,you will find API there.

What setting in the app do you use to play music from a NAS or network share on your network with flac and mp3 files available?

Firstly ,we only support NAS with DLNA function .You can enter APP>>My music>>my home sharing .

How do you convert the i2s to a digital input used on another system with digital input (like receiver with digital coax in?)

Currently ,up2stream series i2s is output . We have plan to launch A50 Pro which will comes with opt in or HDMI arc in . For up2stream diy boards, we will think about add i2s in pin in the future version .

any idea it will suppot TWS/Apt-X

Using our app,you can do stereo pair ,similar to TWS ,but better audio quality and no pair distance limitation . For aptx, pls check our S50 pro ,our highend models will support aptx HD

Hello! Is there an option to add a physical digital volume adjustment? Let's say a volume knob attached to the unit and when you turn it you see the volume update on the app. Also maybe the same for playback control? I don't want to rely on the remote. Thanks!

We will launch an board for volume ,buttons things in 2020, around April .Thanks for your suggestions. ! 

What is the format of the IIS signals, 16 bits and 44.1 KHz? If so, can it be changed, for example to 16 bits and 48 KHz? Thanks,.

Hi, yes you are right. It is 16 bits and 44.1 kHz, that is the standard format and can't be changed.

Up2stream Pro WiFi&Bluetooth HiFi Audio Receiver Board : Is this device capable of transmitting an audio input (analog of digital) from a tuner over the LAN-home-network to wifi-speakers ? Thank your for answering.

If you source is analog signal ,Up2stream pro can support restream to other unit in sync from us.


How well does the synchronization of the stereo pairing work? Would it be more accurate than, to say a number, about 15 microseconds? Would it be also possible to pair 2 mainspeakers and a multisub array of 2 - 5 subwoofers?

The latency is around 20micro seconds. Most of music lovers can not tell that . For subwooers , we may have 2.1 board in the future or audio receiver board with subwoofer synchronization firmware . Both product will launch around Q1 ,2020 .

when can we expect a upstream pro model with 16x2 display, IR remote and physical button (Momentary switch) and coaxial out option. This will replace my need to build network players using the raspberry pi

we will launch a new complete model mid of Dec,2019. a highend streaming preamplifier, wifi ,aptxhd ,opt out ,coax out ,line in x2 ,remote ,usb, lan ,ESS DAC, AKM ADC ,the only thing not there is display .you can wait for that .

Hi, are you going to support AirPlay 2?

Airplay2 require add MFI chipset and certification ,from our check ,it will add the cost $100+ .we have airplay1 right now ,and on pc itunes support multiroom control ,for cellhpone, you can use our app for multiroom control .
we don't see an reason to do that right now .

Could there be an update option to enable bluetooth on every boot?

Our system will remember your playback setting last time ,that means if you use bluetooth last time ,it will be bluetooth all the time and don't require to swtich in app or by remote controller.

Hello. Can i use this product (Up2stream Pro) to drive two mono amplifers, one connected to a woofer HP and the other to a tweeter HP, both in the same closed box ? Can i access to the multiband EQ parameters in the chipsets ? If yes, how many bands can we control ? Can i route the left or the right channels to both outputs ? Is there a crossover control between the outputs ? May be i need to use the IIS output and do this in a IIS input stereo amplifer (with crossover and EQ parameters features ? Thanks a lot for your reply. Jean-Pierre

we have no interface for user to access the internal 5 bands EQ of chipset AP8064. So your last solution is the better choice, you can use Pro board as a music source, and connect the i2s output to a digital amplifier and then adjust the CF and EQ settings of amp chip to meet your requirement.

Hello, I'm planning on using a number of these on a large outdoor mesh network. What is the maximum number of units I can have...just looking to use one zone. Also do you know of anyway to stream a live microphone to use it like a wireless PA system

We have no limit on the connected numbers right now . For sync playback ,we recommend 10 . We will develop model with microphone on the future model. Thanks for your advice. 

Two questions. Can this act as an access point when in a remote (no wifi) location? If yes, can you still stream music if your phone has service? What chipset is being used for the DAC? Burr Brown? Wolfson? AKM? Other?

Our device or system have to work with Router or hotspot ,which can be without internet access. 
DAC used is not a famous one ,but still sound good and with 24bit,1982khz decoding . We will have highend complete model in the future using ESS or AKM DAC. 




How well does TWS work with these boards? (also known as multicast or stereo sync) Do they retain sync after power loss, or does that have to be redone each time they lose power? I'm building two completely separate, portable, bluetooth speakers that will receive and play synchronized audio from a bluetooth source. One board for the left channel speaker, the other board for the right channel speaker - both as completely separate units, usually placed about 3m from each other. (I already have amplifier boards, power supplies and batteries of my own.)

We do stereo pair by wifi ,but the music source can be all we supported ,such as wifi,blutooth ,airplay,spotify,dlna,line in even opt in if our unit supported. our system will remember stereo pair setting ,so if power on again ,if will do it automatically .

When you link multiple Up2Stream Pros, can you disable the wifi and bluetooth of the other devices? Also, is it possible to rename the bluetooth device? instead of having it show 'Upstream_D8B3'?

WiFi will be hidden after connected ,or disabled if using LAN  bluetooth is off ,it broadcast and work when you swtich to BT model when you swtic that inside app . In the app ,you can change the room name, bluetooth name can not be changed right now .

Hi, I want to connect my Onkyo AV receiver to wireless rear surround speakers. Can I use these devices?

IF you receiver got line in port ,then it will work .Imagine our device is a CD player,which already included thousands of CDs and you can control everything by apps !

Hi, Does the Up2Stream Pro also supports Stereo Pairing (via Wi-Fi)? Kind regards, Lode

Yes, our all products support 2.1 stereo pair system

Hi, is it support Pioneer FlareConnect™?

Currently ,it only support dlna ,airplay ,spotify connect or stream via our app .

Hi, Can this module also stream the line-input to other Up2Stream modules in a multiroom setup?

Yes , line in ,usb ,bluetooth all can restream to other up2stream unit ,all our products support that .

Hi I want to build a media streamer for hifi (I have a NAD M51 DAC and I use Spotify). The Up2stream Pro WiFi&Bluetooth HiFi Audio Receiver Board seems like a good start but I wonder if the module is sufficient to feed a good DAC for high-end audio playback? If so, what does it take in terms of other components i.e transformers, connections, etc.?

Yes, the biggest advantage for wifi streaming is fit the hifi demand . The components will make a little difference. Everybody have different definition about that. 
I recommend you buy a basic model to try ,to feel yourself.

Hello, is it possible to controle the on_off, mute and volume with a API (smart home system) ?

we have api for that ,except control on_off, for our amp model, we have auto energy saving technology ,when no music, then amp shut off .

Hello, what are the bluetooth codecs supported? SBC, APT-X, APT-X HD, LDAC?


It's middle end bluetooth 5.0 with good sound performance. 
but not CSR model ,which is not with those high-res codec .
To play high-res files, absolutely,we recommend you use our app to stream via app .which is even better than APTXHD. 
For future highend model ,we may use APTX HD chipset ,but price would be different .
old models still can group with future new models. 
●It is extendable by expansion boards.
*5G WiFi compatiable means users could control our system when your smartphone connected to your router's 5G channel.
* About Spidif Pins, Up2stream Mini/Pro is default as Spdif out. Up2stream Amp/Mono is default as Spdif in. You can switch to Spdif In/Out by ACPWorkbench Tool. The 2 spdif pins are the same funtion, can't change seperately.
*Up2stream Amp SUB and S50 Pro+ Preamp is our coming up new products.