4 Best DIY Bookshelf Speakers(Wireless) Projects For DIY Lovers
Now DIY bookshelf speakers are a hot trend. Who doesn't want a unique bookshelf speaker? And you may not want to spend a fortune on commercial speakers. 
Therefore, we will introduce some great DIY bookshelf speaker projects with wireless streaming capability that can save money and provide excellent sound quality.
In this article, we'll show you 4 of the best DIY bookshelf speaker projects that are perfect for DIY lovers. These projects range in difficulty from easy to moderate, so you're sure to find one perfect for your skill level. 
And, best of all, they're all relatively inexpensive to make. So, if you're looking for fun and budget-friendly DIY bookshelf speakers, let's read on!
Art DIY Bookshelf Speakers from
Decibelist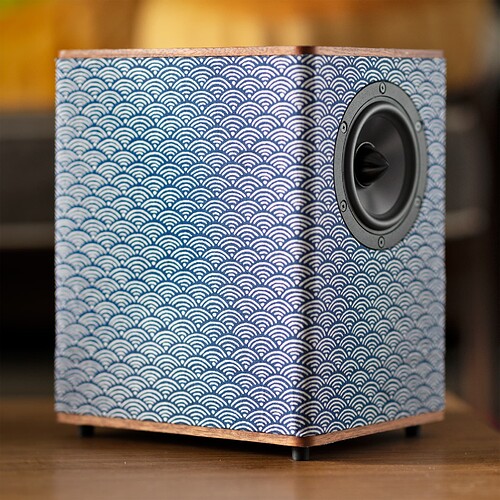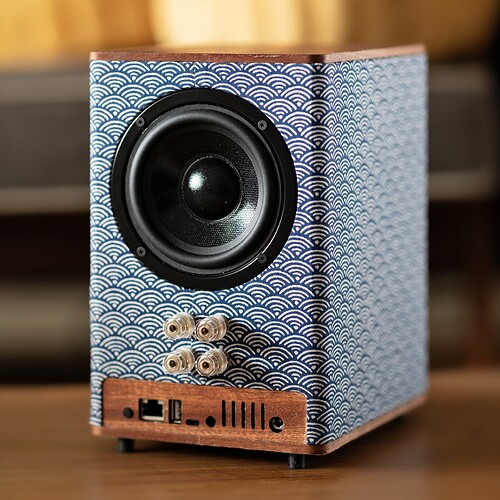 Of course, the first project had to be a bit eye-catching. Like me, you must have seen this design for the first time. 
The author calls this pair of speakers "Art Speakers," which is deserved. It looks like the Renaissance style of the 70s, like painting on the small speaker's body, a real work of art.
The upper and lower covers retain the design of the wood, and the blue wave pattern is very harmonious and stylish. You can see that the maker is very careful to set aside the Up2stream Amp V4 interface on the speaker box and even the heat sink. I like the golden banana speaker wire connector.
It is just a small part, but it enhances the overall quality. A wireless speaker with art and function is born. How satisfying it is to display it at home for visiting friends!
Although this speaker's creators are into one, not a pair of bookshelf speakers, the project is similar to bookshelf speakers and is well worth a reference.
Wooden Active Bookshelf Speaker from DIY Lady
For the second project, let's look at the work of DIY Lady. You must be familiar with DIY lady if you often browse DIY projects on YouTube. Although being a woman, the craft of making speakers is not at all inferior to other men.
The bookshelf speaker she made is also very interesting. The use of shades of wood grain and stripes to make the mirror contrast design, which is a very creative and fresh design.
The other fantastic point about this project is that DIY Lady used the Up2stream Plate Amp. 
This means you only need to reserve the space for the plate amp. After that, you must wire it up and seal it against the box. The usage of the Up2stream plate amp is very convenient and simple.
No need to set aside additional interfaces for yourself. This is undoubtedly a great blessing for all DIY lovers, saving most of the effort. DIY Lady also recorded a clear production process in detail in the video, and you can clearly understand each step.
DIY Home Stereo System From
Alexis_Brutal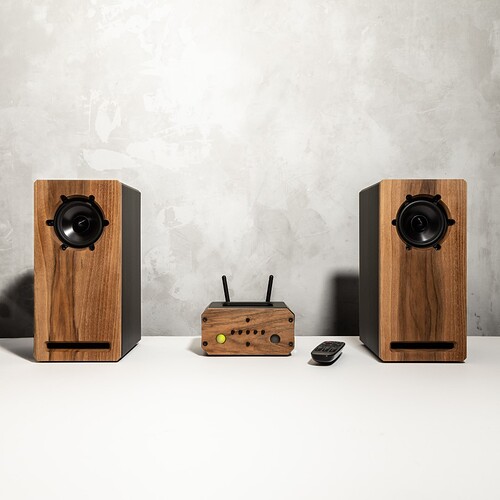 Sometimes, you don't always have to have active bookshelf speakers. Look at Alexis' work. He made the speaker into a passive speaker and isolated the amplifier unit. He adapts walnut wood on the front panel, which makes the speaker look more premium.
Amazingly, this is Alexis' first DIY speaker, but it is hard to see any rookie shadow on his project. His concept is to put WiFi, Ethernet, Bluetooth, USB inputs, mini-jack analog input, and DAC into his desktop system, which becomes an all-in-one desktop audio system with Up2stream Amp. If your needs are similar to mine, you must not miss this project!
Full-Range Bookshelf Speaker From SoundBlab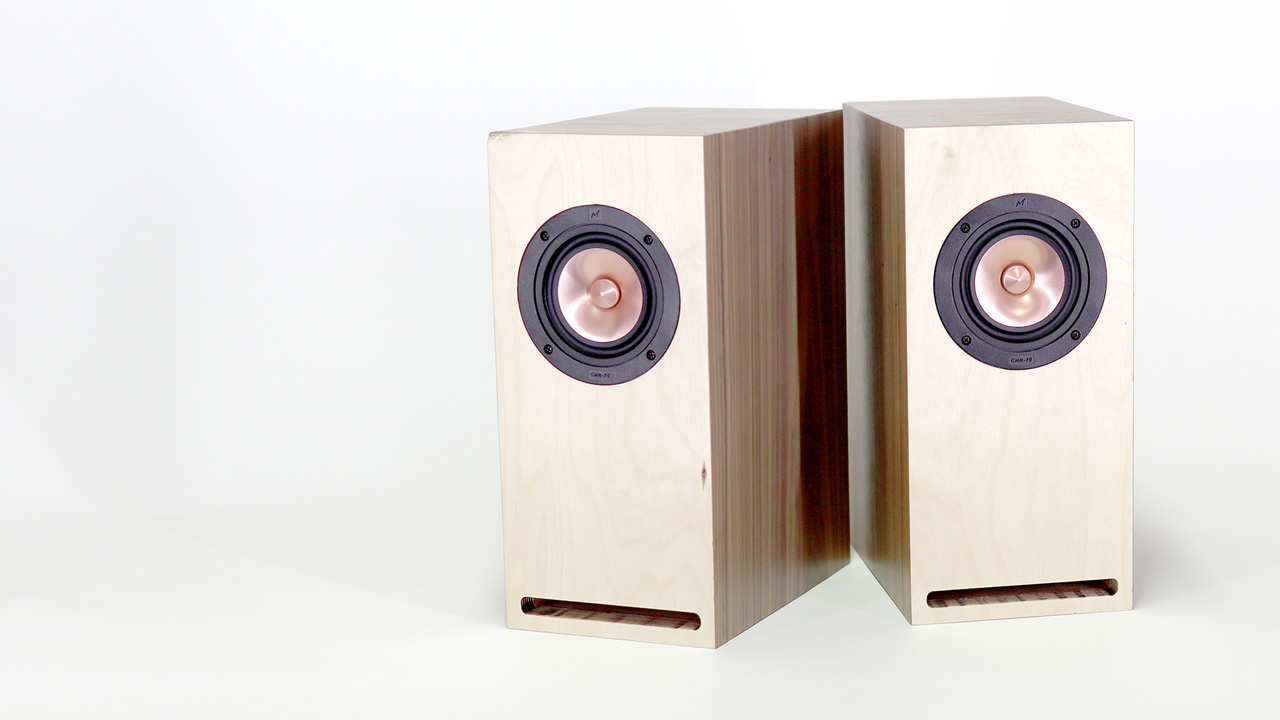 Last, let us check a masterpiece from Soundlab. Anyone who has watched his channel knows that SoundBlab's channel has released many awesome projects. This time we'll look at a full-range bookshelf speaker built with the Up2stream Plate Amp.
The design's focal point is the 4-inch full-range Mark Audio Chr 70 driver. It has a magnesium alloy cone and an impressive operating frequency response range of 40 hertz to 25 000 hertz. 
The efficiency is 85.5 decibels at 8 ohms, making it easy to use with small to medium size amplifiers, say 20 to 50 watts of power delivery. The driver basket is an injection mold itself dampening polymer.
SoundBlab states in the video that this design wants to keep it simple and something that can be used as a bookshelf speaker on speaker stands or on a desktop as a full-range monitor. 
The highlight is that Soundblab uses the DSP tools on his bookshelf speaker and shows the sound demo at the end of the video. Except for the aesthetics, the sound performance is not bad!
I believe these 4 bookshelf speaker plans can inspire and give you some new ideas. If you're interested in them, just began to, you must look forward to your new successful chapter!
 

Author/Payne Watt

My name is Payne Watt. For the past 20 years, I've been employed as a speaker builder in Toronto, Canada. I was born into a family of builders; a few years before I was born, my father founded a speaker building business.

Over the years, I've learned a lot, and now I write blogs to share what I've learned with the world. Everything from technical information to DIY build instructions will be shared. I want to provide a knowledge base for folks who want to enhance their entertainment.
---