5 Best DIY Boombox Projects(Wireless) That Inspire Your DIY Plan
Are you ready to rock out with your DIY Boombox this summer? 
Forget about those expensive, over-the-top sound systems. You can easily create your portable speaker that will provide plenty of tunes for your next beach party, cookout, or Christmas and New Year party! 
With a little ingenuity and the right materials, you can make a DIY Boombox that is not only stylish but also durable and wireless. Check out these 5 great DIY Boombox projects you can make at home. 
All In One DIY Boombox From Mundsen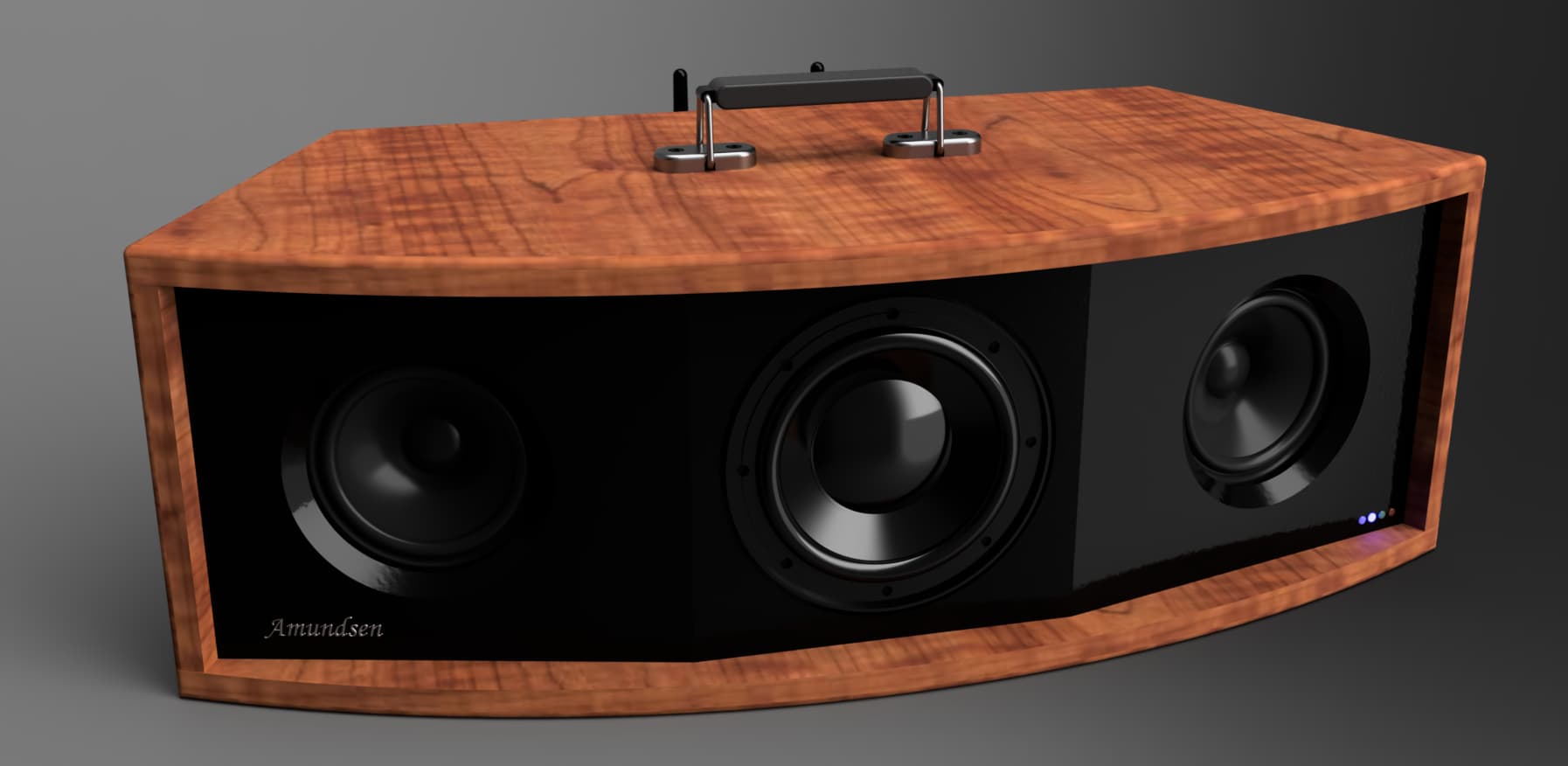 First, look at a very professional DIY boombox project from Mundsen. Mundsen's idea was that he wanted to make a DIY Boombox that focused on sound quality and design.
Looking at his 3D design, I can see that he has already achieved this point of outstanding appearance. 
Regarding sound quality, Mundsen chose to use Arylic's latest wireless DIY product: Up2stream Plate Amp 2.1. This is smart because it saves a lot of space in the speaker wiring design. It also helps you to integrate all the consoles and interfaces of the amplifier, saving a lot of design time. 
You can also have more space to play with your creativity at the top of the speaker design. However, I also saw a small bright spot on the front of the speaker. The Mundsen name logo may be seen in the speaker's lower-left corner. This small logo is undoubtedly the reason for joy for all DIYers! 
Once this speaker is made, I believe you will have a different family position!
Last, I want to say that Mundsen design sense is really good. Mundsen's idea is to design a clear appearance of the speaker but does not make me feel very bored. Although I have seen a lot of integration with wood and black materials, I am still astounded by his speaker design. I very much appreciate his work. 
👉Check More Details With Mundsen's Boombox
Hardwood Pallet DIY Boombox From Rob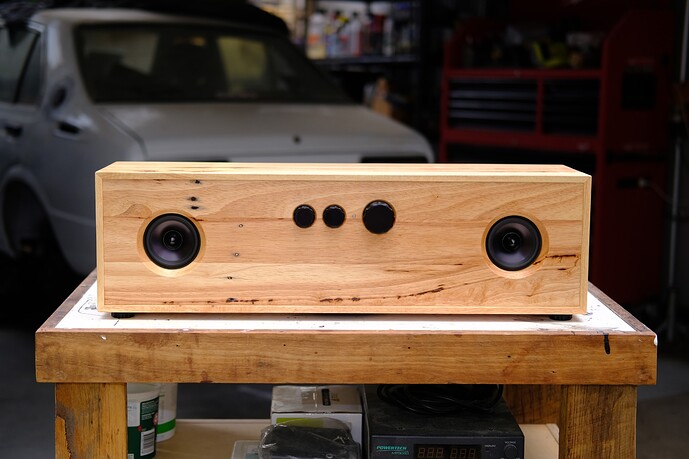 One appeal of a DIY project is that the materials used to make it can be obtained throughout life. Rob's Hardwood Pallet DIY Boombox is a great example of this trend. Rob used some old Hardwood Pallet for his DIY Boombox enclosure. 
For the amplifier, Rob used the Up2stream Amp 2.1. His idea was to have speakers with substantial volume, treble, and bass knobs.
He also connected a small ADC board to add some basic playback functions and indicators. The Up2stream Amp 2.1 was the perfect fit for his needs. Rob is also very happy with his outcome. 
He can stream music wirelessly from his phone and even directly from his Spotify app. And he also play as a bluetooth speaker. In addition to the Boombox, Rob has also customized his music. He uses the ACPWorkbench tuning tool to tune his music to his taste. 
The adaptable Up2stream Amp 2.1 wireless amplifier board is to blame for all of them. Not only are the speakers unique, but also the sound is unique! Who can't love such a unique and eco-friendly artwork?
👉Check More Details With Bob's Hardwood Pallet Boombox
DIY Portable Boombox With Vintage Style By Ethan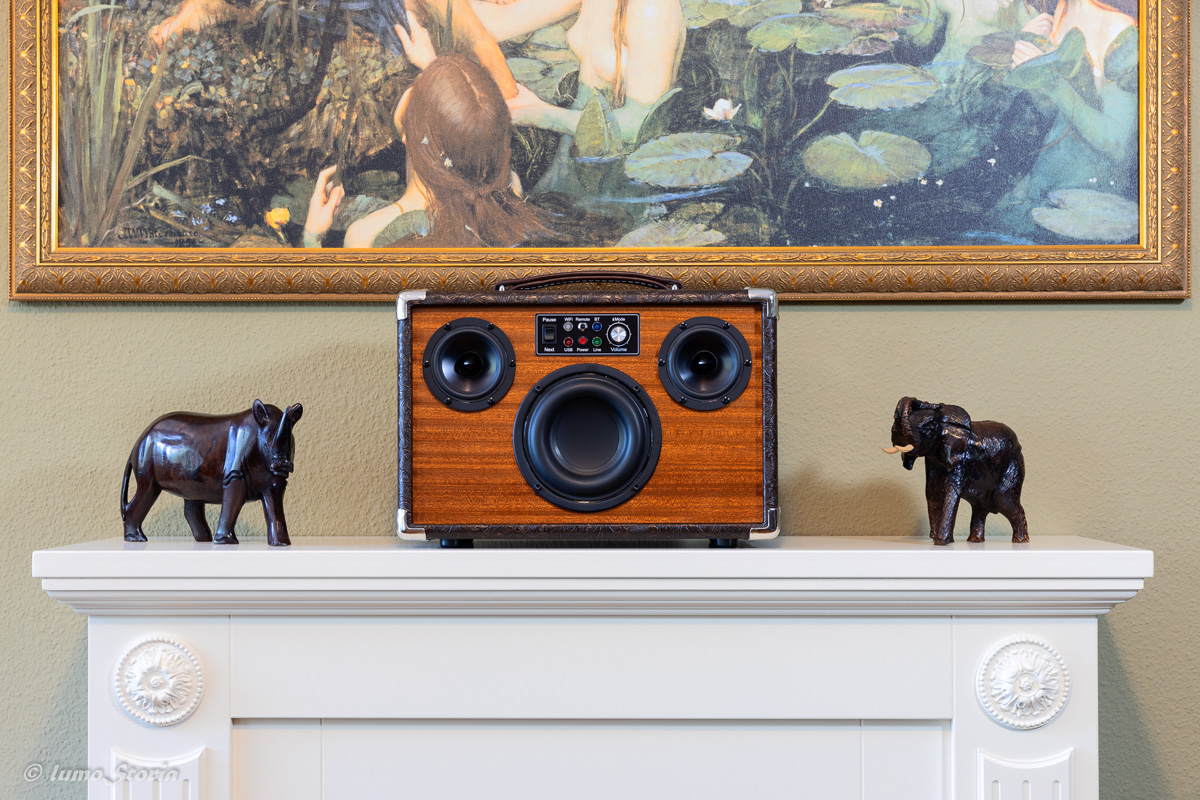 Next, look at a technically challenging project: Ethan's portable retro DIY boombox using the Up2stream Amp 2.1. Ethan's project is smaller than the previous projects we mentioned above but technically much more complex. 
This can be seen in Ethan's functional outer box. Ethan designed a full range of features for his project, including adding a battery board to make the boombox portable. 
There is also a control board and power supply distribution board. I'm sure Ethan spent a lot of time on this project, and he designed back plates for each of the interface boards.
Full of details everywhere on his boombox. I especially like the portable part; outdoor parties or camping activities are very popular. The whole beach or campground will fall under the charm of Ethan's boombox when he takes it out! 
This European retro style is also my favorite. Thanks to Ethan for bringing us very deep work, both in terms of design and technical content. If you've already tried the 1-2 DIY projects, take on Ethan's boombox with your next project!
👉Check More Details With Ethan's Portable DIY Boombox
Modern DIY Boombox From Ray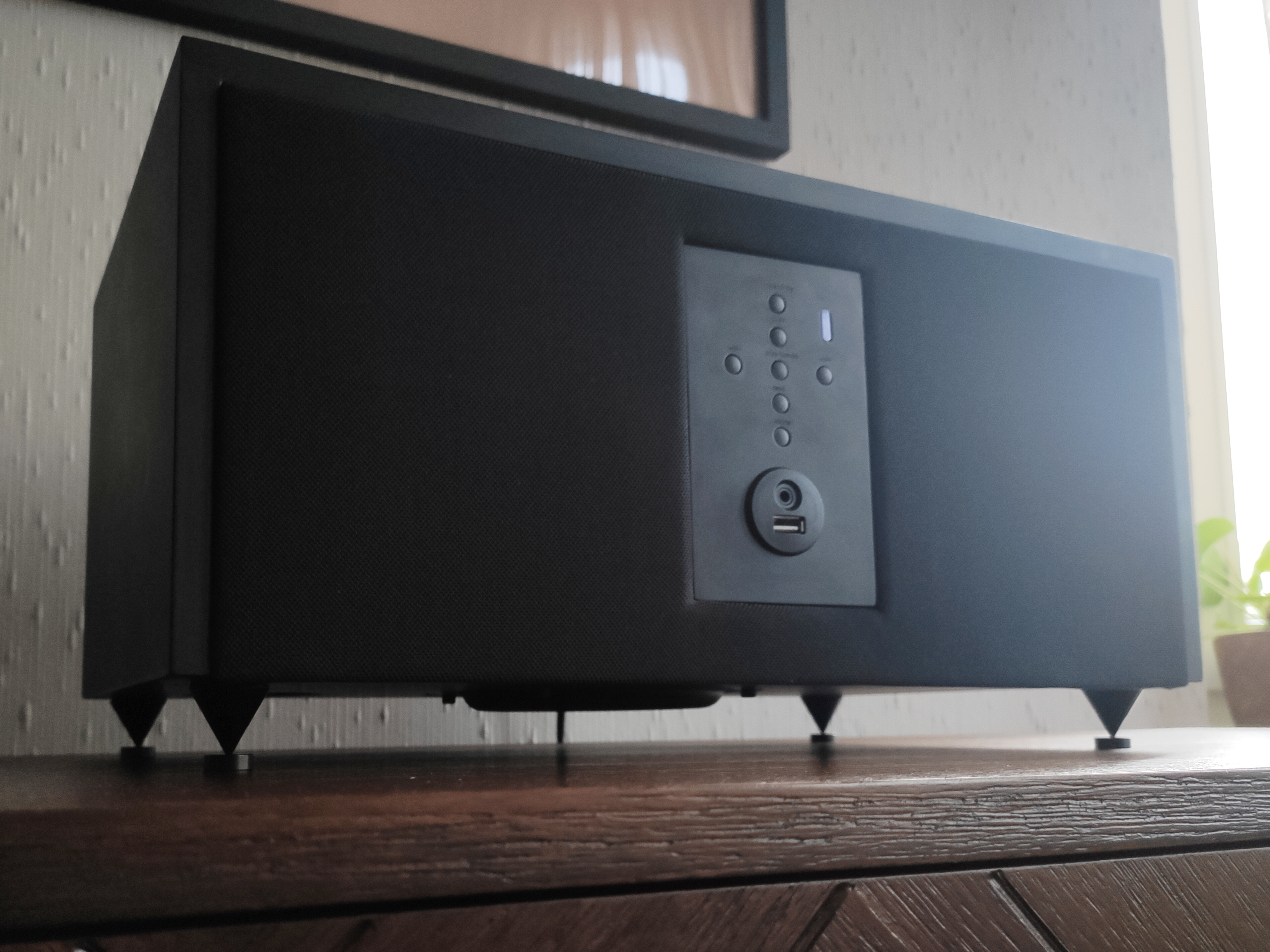 Unlike other boomboxes I introduced above, Ray's boombox has a modern look with dark matter and a central control panel on the front. I don't know if you've noticed, but like these DIY experts, they all design a panel to reserve the ports when reserving buttons or interfaces. 
This is an easier and more aesthetic way to measure and wire out the buttons than directly designing on the main body of the speaker. Ray's project used the Up2stream Amp 2.1, but he also added a Up2stream ADC-key Board as his keypad version. Although the speaker can be controlled wireless by the 4stream app, the physical button can offer quick, simple control without going through the network. Ray's project gives us another design direction. 
If your furnishings are more contemporary, Ray's Boombox is perfect, understated, and unpretentious.
👉Check More Details With Ray's Modern DIY Boombox
DIY LUNA Boombox From Na Tuan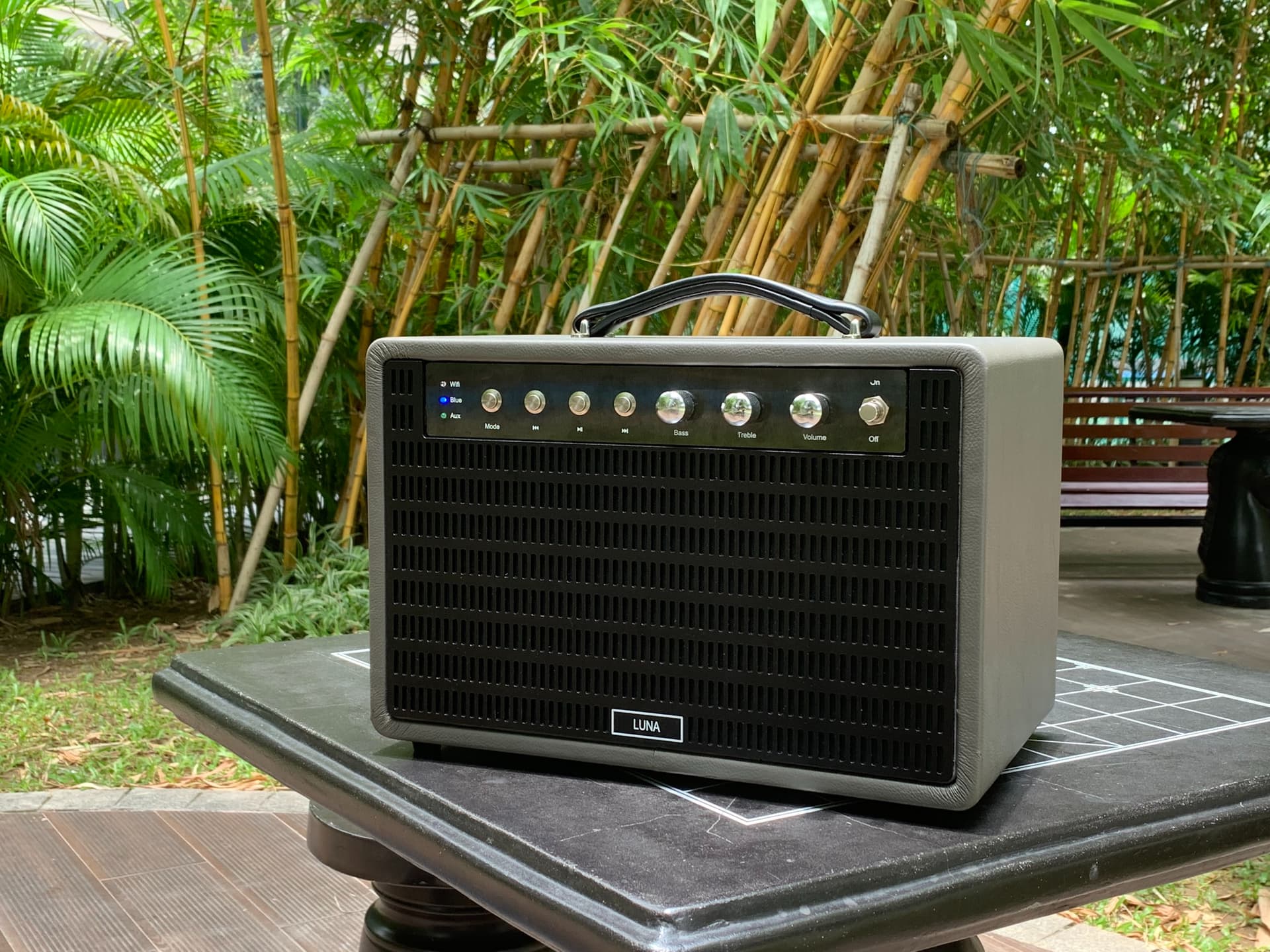 The last project was a bit of a Marshall fad a while back. Na Tuan called it the Luna 2.1 speaker. What is a Luna speaker? It's a model Na Tuan named for his project, perhaps a gift for a girl.
You can choose any name for your DIY project, as you can see! (Who wouldn't be impressed by a handmade speaker just for you?) 
Although the overall frame is similar to Marshall's, under the skillful hands of Na Tuan, it also has a unique style. Army green + black make the Luna speaker have a cool military style. The row of volume, treble and bass silver knobs are the most attractive to me. 
The metal material makes the speaker more premium. The back of the power and charging jack design block is also a small detail that I favor, adding the ambient lighting elements, which have been popular in recent years. In addition to a very friendly experience, the design makes the whole speaker look full of high sense!
👉Check More Details With NA Tuan's Modern DIY Boombox
Today we have introduced 5 different styles of wireless DIY boombox projects. Is there one that hits your heart? If you want to DIY your wireless boombox and want a simple start, then we recommend the Up2stream Plate Amp 2.1 as a good choice for you. 
Enjoy today's editor's picks, we hope. Please don't hide if you have a great project or are just trying it out。 You may freely share it and talk about it in the Arylic forum. What's your favorite project of these 5 boomboxes today? Please let me know in the comments!
 

Author/Payne Watt

My name is Payne Watt. For the past 20 years, I've been employed as a speaker builder in Toronto, Canada. I was born into a family of builders; a few years before I was born, my father founded a speaker building business.

Over the years, I've learned a lot, and now I write blogs to share what I've learned with the world. Everything from technical information to DIY build instructions will be shared. I want to provide a knowledge base for folks who want to enhance their entertainment.
---