DESCRIPTION
SPEC
Q & A
REVIEWS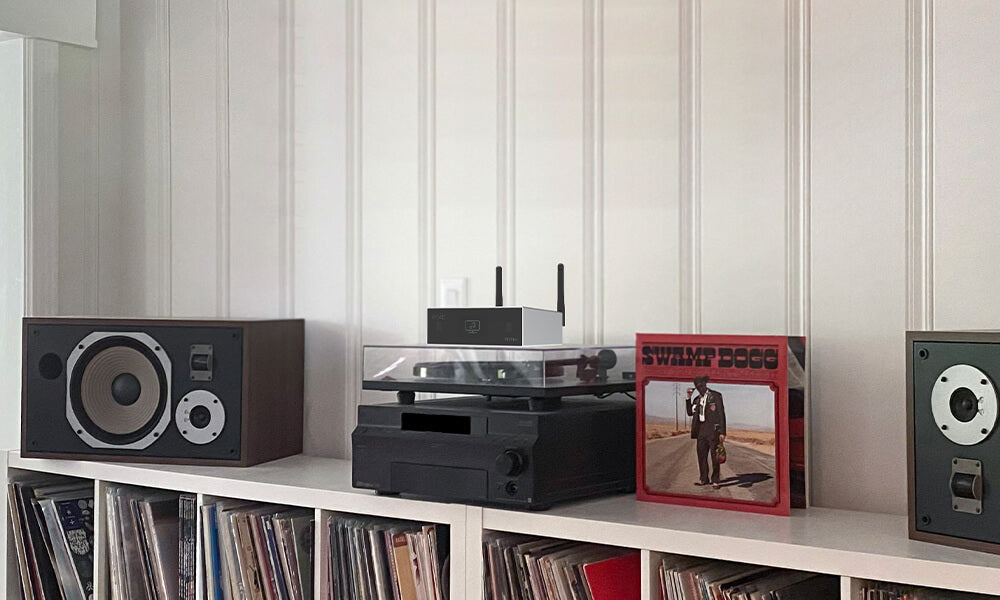 Upgrade your Home Stereo into Wireless High-End system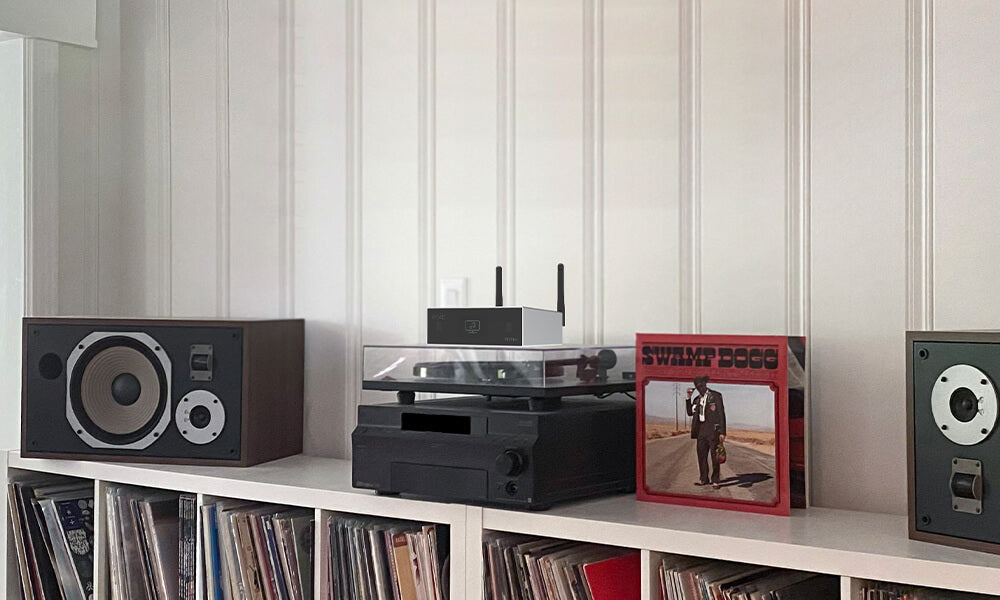 Upgrade your Home Stereo into Wireless High-End system
Add Wireless Streaming Capability to your Home Stereo
Add Wireless Streaming Capability to your Home Stereo
Add S50 Pro+ Preamplifier to your current stereo amplifiers, stereo receivers or speakers then you can stream your audio wirelessly via Wifi, Airplay and Bluetooth 5.0 Aptx HD.
Enjoy Premium Sound from Every Source

No matter you stream music over Wifi, Airplay, Bluetooth or cables, you can have lossless and high efficient processing of your audio. Thanks to S50 Pro+ equipped with the famous ESS 9023 DAC, Cirrus Logic ADC for audio performance and Aptx HD technology for advanced Bluetooth streaming.

Center Unit of Your Audio System

S50 Pro+ designed with multiple input and output interfaces, like RCA analog input/output, optical input/output, subwoofer output, coax output and a 12V trigger output. Able to connect most of your audio gears.
Control Whole House Audio in One System

You can group all Arylic units then stream different audio or sync the music to each units in 4stream App at the same time. So you can control all audio of your rooms no matter where you are in your house.
Stream All Music you Like
Stream your favorite online music such as Spotify, Amazon Music(US Only), Tidal, Deezer, Qobuz, Internet Radio, iheartRadio, Napster etc. Any time anywhere in your house with our 4stream App.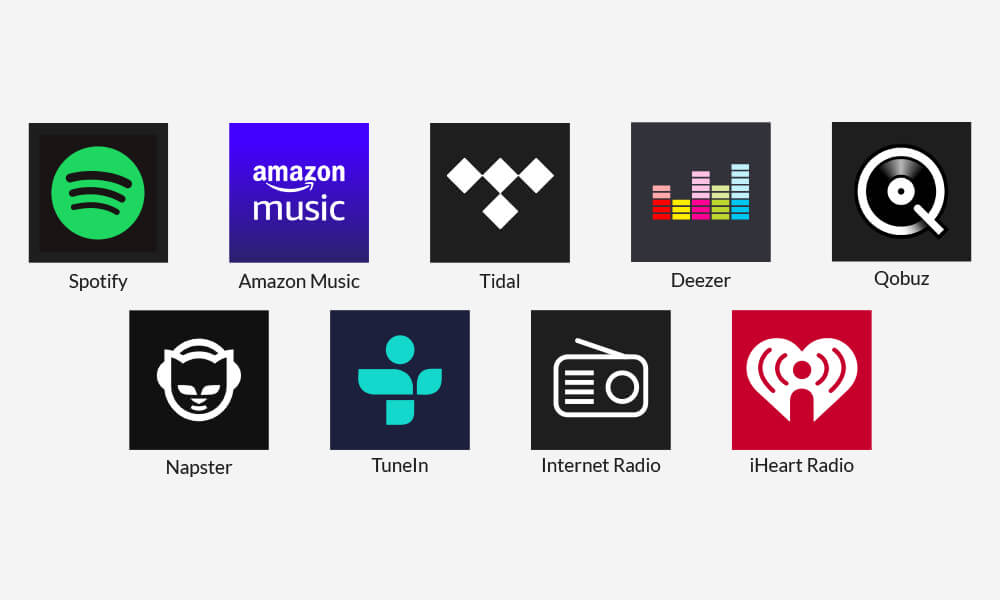 Stream to your Home Stereo
S50 Pro+ preamp can support a wide range of application due to it's multiple interfaces. You can wire your vinly, TV, CD player for audio input. Connect to your active amplifier, stereo receiver, active subwoofer or more for audio output.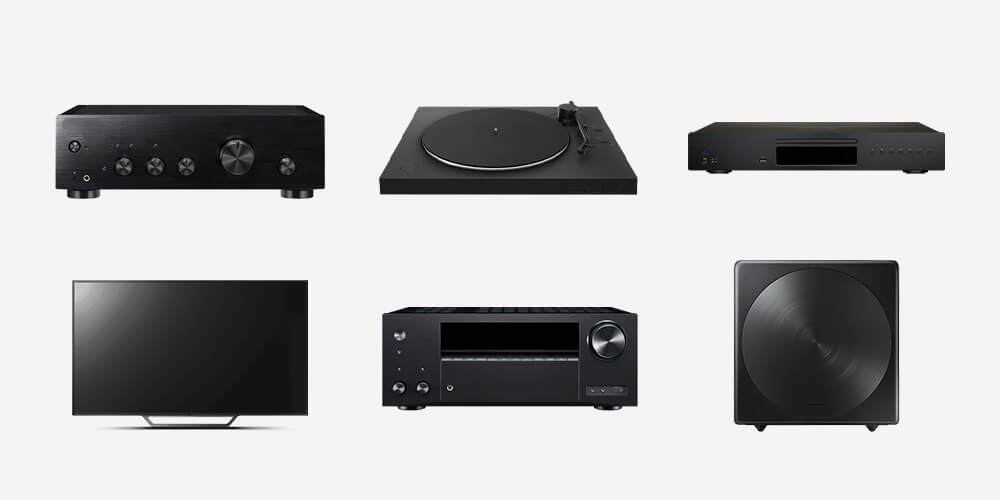 OLED Display

Now you can know the device status visually and Intuitively by the OLED Display. Get the info when changing input mode, volume, song info and more instantly.
What's More
Specification
Wireless network
IEEE802.11 b/g/n 2.4G
Ethernet
Single 10/100M RJ45
Bluetooth
5.0 Qualcomm aptX-HD
USB Host
Play music from USB pen drive(1000 songs limited)
Frequency response
20Hz to 20kHz
Digital output
Optical output, Coaxial output
Analog output
1x RCA(2Vrms), 1x Subwoofer(3.7Vrms)
Audio input
1x RCA(1.3Vrms), 1x Optical in
Power supply
12V/1A DC
Decoding
Up to 24bit/192kHz
Music Format
FLAC/MP3/AAC/AAC+
ALAC/APE/WAV
SNR
110dB
THD
0.03%
Remote
IR remote controler
LED
RED-Standby mode
Diplay Panel
Status info
Dimensions
12x11.3x3.7CM(4.72x4.45x1.46in)
Weight
0.4kg(0.88lb)
Package Included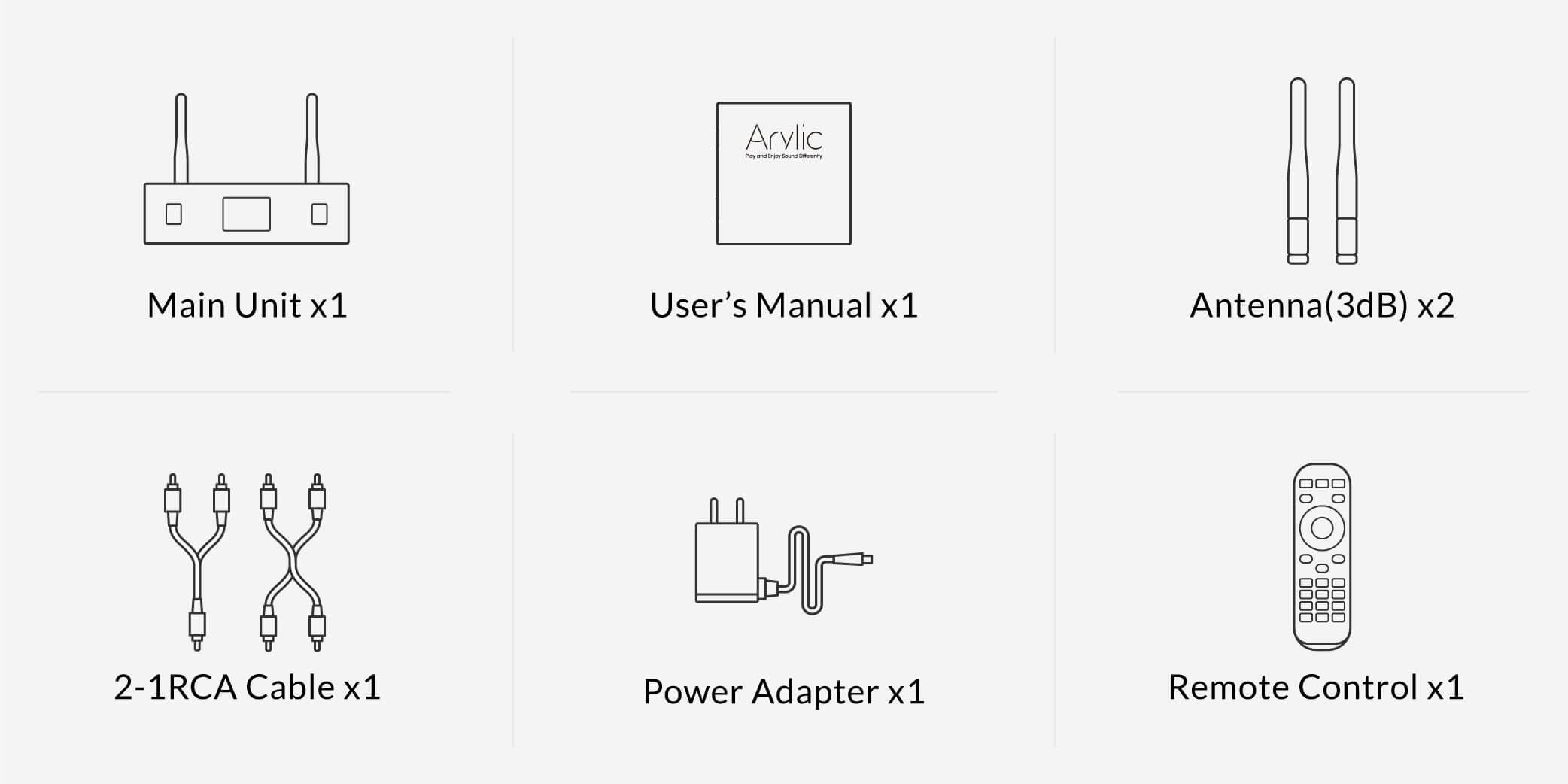 True Customer Feedback
Maurizio from It

"I've tried also Bluetooth Streaming in Aptx HD mode and...Is Fantastic..!!! In my Setup is Better also than Wi-Fi 'cause the sound is more detailed ,clear and defined with a "signature" that advantage medium-hight frequences while Wi-Fi advantage medium-low with a lot of "Punch" Thus I've to act with equalizer to reduce Bass and increase Hight.Instead in BT mode the "Flat" equalization is perfect for me.. nothing to change!"

Erik from DE

"The installation was very easy because the feedback is done through the speakers. The linking of Spotify works very well and adjusting the volume or changing songs works very fast. I would definitely recommend this.

Ryan from US

"I have this model and the smaller S10 and I would say this one is worth the extra money for sure. Sound quality is fantastic, build quality is great, design is great! "
Want to get a 30 to 50% discount on this item?
Why Not! Just write a review and let us know after your purchase.

To Know More here.
Does it support mqa?

sorry 
       we  don't support mqa currently

Is bluetooth receiver only, or can I stream Aptx HD to my bluetooth wireless headphones?

only for passive reception

What will be the latency for optical in to sync to other arylic multiroom devices?

the latency for optical depends on the wireless distance  and quality,in theory, you could not feel the latency

To explain for the multiroom mode of the device. There's 2 modes to create multiroom.

1, router mode, and the audio data will go through the router from master to slave, and this mode will be used only when both of the devices are connected with ethernet.

2, direct mode, the master device will create an access point, and the client device will connect directly to this AP of  master, so if the 2 devices are not close enough, it would be a problem. And this mode is used to support to connect as much clients to the master as possible. If going through the router in wireless, the network would be badly affected as 2.4G WIFI bandwidth is not good enough for the audio streaming.

The line output is only variabile or is fixed too? Can i set the mode fixed or variabile? Where can i download a user manual?

Amazon music hd does it works in italy? Up to 24bit/192khz? i want to play it via ethernet for maximum quality.

Amazon music is used in north America  currently , encode is up to 192/24

Does this support Spotify Connect?

Yes,sure

About the S50 Pro: When I stream Qobuz HiRes via an Ethernet cable, and connect the S50 Pro optical output to the optical input of my DAC; will it keep the HiRes signal bitperfect? Or will i have loss?

optical is digital signal, it doesn't has lose in theory

Does the S50 Pro+ support Amazon Music in Europe?

Amazon music is supported in north America  currently

The web page says this can be connected to "current stereo amplifiers, stereo receivers or speakers." Does this mean it can be connected directly to speakers without an amplifier in between? If so, what is the best way to connect it and what is the power rating?

The speaker means active speaker, otherwise you can only power the headphone in it output power, the best way is  to connect to active amplifiers, the power  lower than 12watts

We need now AptX and optical in/out in the Amp variant as new A50Pro+ please :)

Thanks for your advice ,we listen to our community a lot . It will be on the plan of 2021:)

Congratulations on the release of s50Pro+ ! Does this unit support GAPLESS playback ? If not, will gapless playback be supported by a future firmware update for this unit or will it be a totally different product, assuming there are plans to support gapless playback... ?

Sorry,We don't support currently

is it possible to use a DAC at the output of the S50 and before the amplifier? Is it better to use the optical output or the coaxial output? what are the specs for these 2 outputs?

yes, you can use an DAC by connecting digital out .
Both optical and coaxial are digital stream ,it's almost same .

CAN I PAR THIS QUAD BTS POWERED BLUE TOOTH SPEAKERS

no, it is a passive device

Is AirPlay 2 supported or only AirPlay 1? This isn't clearly mentioned on the webpage. Asking because of multi-room support in AirPlay 2.

we support airplay1 currently, but make use of our APP, it can work same  as airplay2 ,include Multiroom

Does the S50 Pro have the ability to connect to a Network Storage Device (NAS)? Thanks.

sure, we supports UPNP protocol,  please make sure the upnp component  of nas is installed

What is the function of the "Opt In" button on the remote control? Can I input optical signal to the S50?

It 's keep for some other models use ,such as SA100 .

S50 pro and A50 upgrade model will also have spdif in and sub out . Target to launch Q1,2021. 

is it possible to equalize the sound? are there filters available? Thanks

we have EQ setting in app ,only bass and treble can be adjusted .

Does it have remote IP control? List of commands or API

Yes, it 's in our download page at our website.

What type of ES or AK chip you use ? Es9218 or Ak 4497?

It's ES9023

What max bitrate does the Coax digital output support? Also, does this support dsd playback? Thank you!

The digital output will be in fixed 44.1KHz/16bits, and it does not support DSD playback.

Whether line out can be connected to powered subwoofer and optical out to my active stereo speaker at the same time

Yes ,all of them will keep output signal .

Will this work with a whole home audio matrix amplifier?

yes.

Is the RCA out fixed or variable? Can I connect the S50 to another preamp?

S50 RCA DAC output is 2V singal ,adjusting volume can control the signal , you can connect it to preamp or amp .

Q1: Can you change the names on these devices? We own a club, and need several for different rooms for each instructor to use with streaming music for their class. Bluetooth, with autoconnect at the device level, is driving us nuts with different instructors music jumping to other bluetooth receivers in the building, throwing off both classes. Need to have reliable connection by some means. Q2: Can this work through wireless connectivity, and still run their streaming from their phones on the facility wifi without needing to have them use a specific app? Some of them use health club driven music playlists they have built, and they aren't on spotify, etc.

1. yes, you can change the name via our app .
2. our system will be very reliable if stream via LAN, wifi is also better than bluetooth .
3. After setup ,you can use without app ,such as streaming via airplay or dlna or preset alarm music playlist .

Are they google home compatible to allow voice control

You can connect to our system via bluetooth ,then you can do voice control via google home .

What is the version of Bluetooth?

Yes, it's bluetooth 5.0 aptx hd

I have a arcam r-cube which I would like to be my main sound output I also have a Bose 1 with a Layen i-dock Bluetooth receiver and a Sony Bluetooth speaker. I subscribe to Apple music. Can you incorporate these into one streaming system my home is also ethernet wired with a router. many thanks

Yes, get our device and connect them via line in or opt . But each system need one of our device .

Could you help me which kind of BT5 chip does it have?

QCC3034

si può trasmettere musica da un PC via cavo usb ?

for PC, we would recommend running itunes and you can stream wireless ,and it's digital stream ,decode in our palyer ,so sound very very good .
For future up2stream V3 series ,we will also have USB output .

quale Dac utilizza il S50 pro ?

S50Pro uses ESS Sabre ESS9023 DAC, decoding up to 24-bit 192kHz ,DNR112dB,SNR 120dB+ ADC is AK5720 24bits 96Khz ,S/(N+D): 94dB, SNR: 102dB

S50Pro utilizza il DAC ESS Sabre ESS9023, decodifica fino a 24 bit 192kHz ,DNR112dB,SNR 120dB+ ADC è AK5720 24bits 96Khz ,S/(N+D): 94dB, SNR: 102dB

can I stream my music collection from Macbook Pro iTune, via Wifi or Bluetooth, to S50Pro connected to my amplifer (cambridge Audio Sonata NP30) ?

Yes, that's exactly how S50 pro designed to be used for .

Can I use this as a streamer only to connect an external DAC?

Sure, we have SPDIF output

I bot the X10, what is the max resolution for the digital output please , i.e. for SPDIF and optical ?

it is 16/48khz CD quality .

Can I start the device on a timer, that is, start the music as an alarm clock?

WE will support this feautre by online update in the future.

What is the maximum capacity of usb pen driver ? What is the maximum number of audio files on usb pen driver ?

Our USB plyback is quite weak right now ,recomend songs not more than 1000 and capacity 32GB

Can this device read DSD formats and in what quality?

no. current device pro is focus on streaming services and multiroom ,airplay or aptxhd things .we may launch audiophile products in the future.

Are you planning to release the S50 Pro with integrated amp?

Yes, it will be A50 Pro ,around end of Q1 2020

1) What are the uses of usb connection S50Pro : 1.1) HDD or SSD input (maximum capacity ?) ? 1.2) USB digital output to DAC ? 2) Does S50Pro enables 'distant browsing (UPNP/DLNA )' of music files stored in usb-HDD (see question 1) with Android Smartphone ?

1. S50 usb is used for play music from usb pen driver.  not for HDD .
2. S50 Pro support streaming from NAS with DLNA features.  control by our apps. 
For HDD and more NAS support, we will improve that in the future .currrently ,more focus on adding more streaming services .such as Pandora,amazon music, internet radio will coming soon .

what Ess Sabre Dac is?

DAC is ESS9023, decoding up to 24-bit 192kHz ,DNR112dB,SNR 120dB+ ADC is AK5720 24bits 96Khz ,S/(N+D): 94dB, SNR: 102dB

How long is the input latency between the analoge input signal? There should be somthing like buffering or similar between the zones. can i use the input signal for TV ? How about lipsync?

There is no latency from line in if using along ,for mulitroom muliple unit play in sync  ,line in will be around 2 secs latency . If using for TV audio ,line in is ok ,no lipsnc issue .
●It is extendable by expansion boards.
*5G WiFi compatiable means users could control our system when your smartphone connected to your router's 5G channel.
* About Spidif Pins, Up2stream Mini/Pro is default as Spdif out. Up2stream Amp/Mono is default as Spdif in. You can switch to Spdif In/Out by ACPWorkbench Tool. The 2 spdif pins are the same funtion, can't change seperately.
*Up2stream Amp SUB and S50 Pro+ Preamp is our coming up new products.