DESCRIPTION
SPEC
Q & A
REVIEWS
Wireless Mini Stereo Preamplifier
With S10 preamplifier Integrated, You can stream your audio wirelessly to your speakers by Wifi, Bluetooth 5.0, Airplay, DLNA & UPnP. It is the simplest way to enjoy music wirelessly.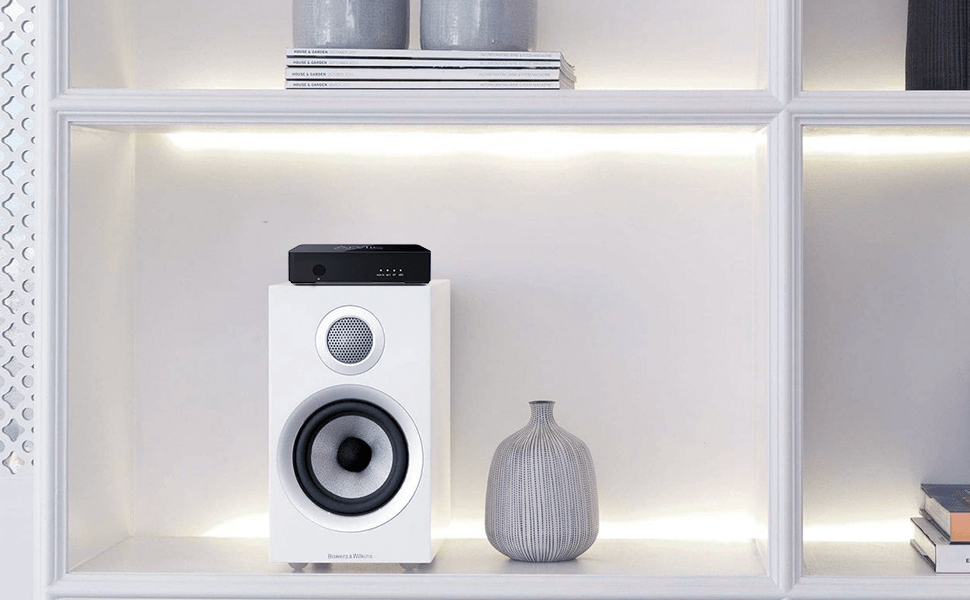 Rookie Recommend
S10
---
Your Economical Preamp
No Distance Limitation

Wifi Streaming is more stable than Bluetooth that you can play the music everywhere in your house as long as your wifi signal is covered.

No Compression

Wifi streaming also has an advantage of streaming audio without compression, while Bluetooth streaming will compress the audio quality.

Hi-Res Audio

S10 Preamp support up to 24bit,192khz decoding which means you can stream with High Resolution audio wirelessly. Enjoy your high quality
Easy to Use

If you are a Rookie with wireless audio system. S10 is your best choice to familiar with the wireless technology by economic way. Build up your wireless home stereo system only need 30 secs.
All Music you like

Huge music resources supported like Spotify, Pandora, Amazon Music, Tidal, Deezer, Qobuz, Internet Radio, iheart Radio, Napster etc. Other than online music, you also can play local music by NAS, USB storage where you have collected your favorite song for years.

Wireless Connectivity

a

Streaming your audio all the way by Wifi, Bluetooth 5.0, DLNA, UPnP, Airplay, Spotify Connect.

Streaming your Music Everywhere

No matter where you are in your house, you can always take out your phone to play a song for youryou or your family. Like play a Bedtime Story for your Children, a love song for your wife, easy and wirelessly.

Free iOS & Android App

Our App called "4stream" that is compatible to your iOS & Android system. All the features can be simply controlled by App. And you also can receive the notification for our regular online firmware update automatically in our App.
Cute Price, but Powerful Features
With the same spec, S10 is the most price competitive device you can find in the market.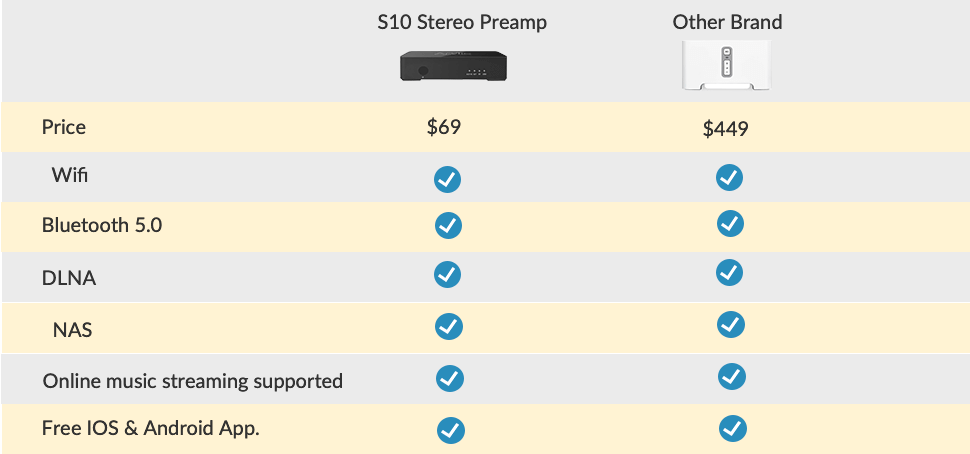 Specification
Wireless network
IEEE802.11 b/g/n 2.4G
Ethernet
RJ45 single 10/100M
Bluetooth
5.0
USB Host
2.0
Bluetooth Distance
30M
Power Input
5V-1A micro USB input
Audio Output
Analog 3.5mm mini jack
Frequency response
20Hz to 20kHz
Audio Input
Analog 3.5mm mini jack
SNR
91dB
THD
0.03%
Music Format
FLAC/MP3/AAC/AAC+/ALAC/APE/WAV
Sample Rate
Decoding Up to 24bit/192kHz
Protocols
AirPlay, DLNA, UPnP, Spotify Connect, Qplay
LED
NET: White-power on/WiFi Mode
BT: Blue-Bluetooth Mode
USB: Red-USB Mode
Aux: Green-line input Mode
Dimensions
116.2mm*64mm*22.6mm(4.57*2.52*0.89in)
Weight
0.2kg(0.44lb)
Package Included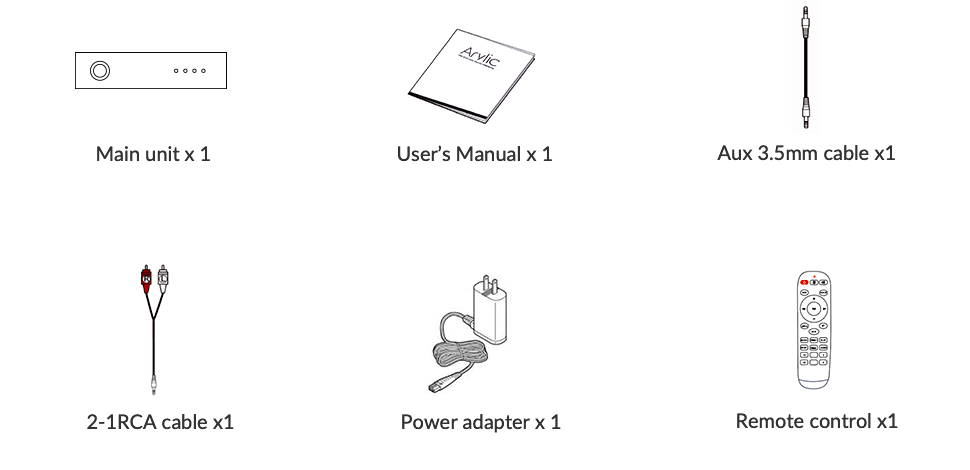 Does it support Amazon music HD right now ?

We still talking with amazon right now .Hoping that can be integrated on beginning of 2021

Can you change the name of the device to something like "bedroom" or "lounge"?

Yes, WiFi and Bluetooth name both can be changed the name you set .

Internet Radio (vTuner) has disappeared in 4STREAM application. I am using 4STREAM for Android on a SAMSUNG tablet and LG phone. The same thing happened on both devices. 4STREAM application was installed from Google Play. Internet Radio has disappeared from the service list, but Internet Radio radio stations previously set up are still in the preset list and are working properly. Internet Radio (vTuner) is a service for the reason I bought your product - ARYLIC S1. I kindly ask for help.

The api changed, we will fix that and update soon .Thanks for your reminder.

I have a general questions about your products. Can two of your products, one act as a wifi transmitter and another as a wifi receiver? My plan is to connect an analogue sorce i.e. line out from a cd player to the transmitter and receive this analogue sound to the reveiver so I could output this to active speakers?

Yes, you can , just using our app to play both device in Sync .then another device will get the source from first unit .To do that ,LAN is recommended .

Arylic S10 was used connected via home wifi (all in same wifi subnet) but always after Arylic restart device wifi Soundsystem_C21D has asked password for connecting to S10. Is there are way to get know this password or change it? Otherwise I need always to set factory reset for S10 to have clean S10 Sounsystem wifi without psw..

S10 will remember your passoword and stay connected with your router .

if you want to remove the password,you can go to app setting page ,which can turn off the password. 

Will it support Amazon music HD. If not, are there any future plans

Yes,talking with them right now ,but i can not commit a schedule because amazon do not give us that .

Can i connect my bluetooth headphones via the bluetooth on the S10 to listen streaming services? Thanks

you can put S10 around you and use aux out .

S10 bluetooth is receiver, not sender.

Can i stream by powerline adapter to extend wifi ?

if everything in same IP range ,it's ok .

Does Spotify Connect work with a free Spotify account or do you have to pay for premium?

Streaming via wifi all require spotify premium account ,same for all brands .

Can I attach a DAC to the USB?

no. it's for playing music in usb pen drivers .but our V3 series already built USB DAC inside .

Can you play Plex Media Server to this device? Ideally without me enable DNLA. If only DNLA, is that easy to play music.

Only DLNA, UPNP ,AIRPLAY supported ,not sure about what plex media server protocol use .

Can I use amazon music service

Only USA users can use our amazon music right now .

this can work with tune in?

Yes, it can work with tuneIn.  Our app 4stream has integrated tuneIn service.

Does it work with 220 volt?

yes.

Can I play mp3 from a usb drive?

Yes. even flac .

Can I play from my iPhone/iPad Apple Music?

Yes, we support airplay

I have ans S10 and A50, I can stream YouTube audio from MV with apple devices via Airplay, but with android devices it just doesnt work. Any thoghts?

For youtube, i would recommend you use bluetooth

I want to order the unit but wondered if it includes the 5V power supply/cable with a UK power socket?

Yes, we include the plug in the package.

Hello, I bought one Up2stream Pro V2. Is possible have the rs232 protocol to integrate in a Crestron system? Thanks Best Regards Alessandro Zucchelli

RAKOSO focus on home automation streaming solution .Future model will have that ,also IP control driver for all kinds of systems ,like Crestron ,Control4,Fibaro .....

Can I stream my computer system audio to the device?

Yes, you can use itunes or footbar with plugin streaming your music wirelessly to our device .

Is it stereo? Once it joins my Wi-Fi network will I be able to connect to a Samsung tv that supports wireless speakers?

It's stereo. after connected to your wifi network .If any app on your TV support DLNA, then you can stream to S10 or you can use your TV bluetooth ,connecting to S10 bluetooth ,then stream music .For TV program ,we recommend bluetooth ,latency is better.

Tell me about the enclosure. Is it plastic, or metal? Aluminum maybe?

It is Aluminum casing with Acrylic plate on the top .we will update pictures on Monday .