DESCRIPTION
SPEC
Q & A
REVIEWS
Wireless Multi-room stereo amplifier for speakers
A50 is a wireless digital integrated Stereo Amplifier for speakers. You can stream your audio wirelessly to your speakers by Wifi, Bluetooth 5.0, Airplay, DLNA & UPnP. It is the simplest way to enjoy music wirelessly.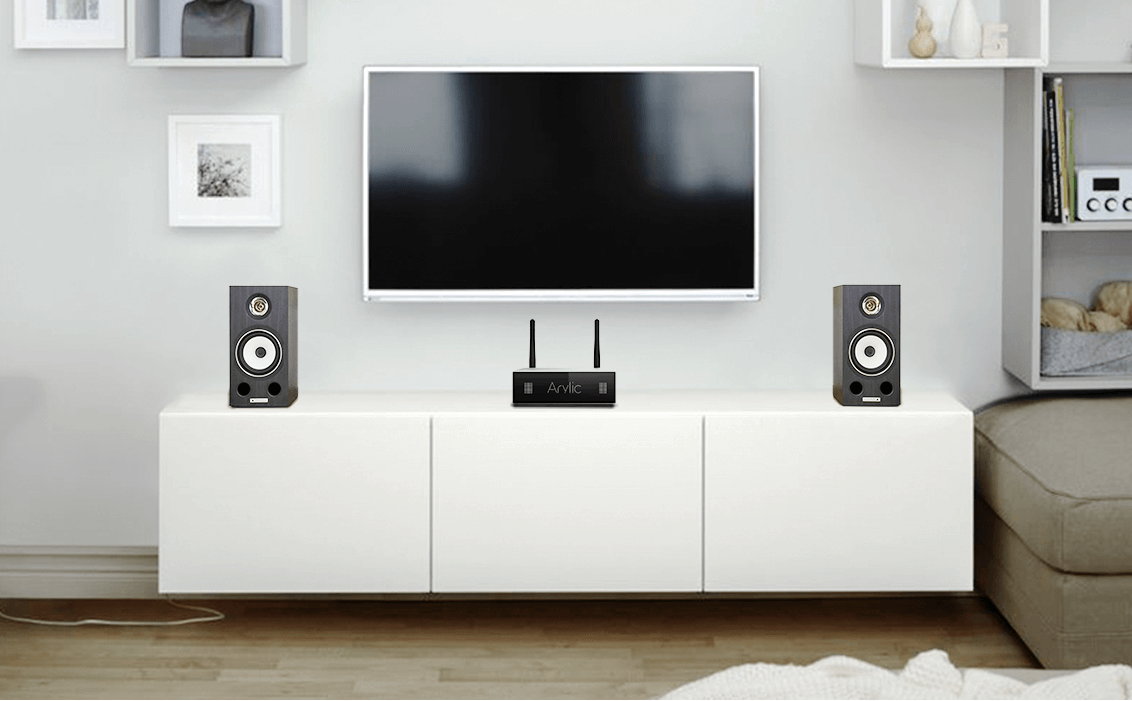 Top Seller
A50
---
Build Up your Whole House Audio
Stream More Stable

Wifi Streaming is more stable than Bluetooth without audio compression, latency. Give you better experience with music streaming.

Brilliant Sound

A50 Amplifier equipped with 2.0 stereo pair system and STA326 DAC. Which allows you to experience theater like audio at home.

EQ Control

Customize your favorite audio effect with our Free iOS & Android APP.
Build up your Whole House Audio

50W*2 Dual stereo channel and multiroom features, with only a phone you can control your whole house audio and enjoy Hi-Res Music in every corner.
All Music you like

Huge music resources supported like Spotify, Pandora, Amazon Music, Tidal, Deezer, Qobuz, Internet Radio, iheart Radio, Napster etc. Other than online music, you also can play local music by NAS, USB storage where you have collected your favorite song for years.

Wireless Connectivity

a

Streaming your audio all the way by Wifi, Bluetooth 5.0, DLNA, UPnP, Airplay, Spotify Connect.

Streaming your Music Everywhere

No matter where you are in your house, you can always take out your phone to play a song for youryou or your family. Like play a Bedtime Story for your Children, a love song for your wife, easy and wirelessly.

Free iOS & Android App

Our App called "4stream" that is compatible to your iOS & Android system. All the features can be simply controlled by App. And you also can receive the notification for our regular online firmware update automatically in our App.
Specification
Wireless network
IEEE802.11 b/g/n 2.4G
LAN
Single 10/100M RJ45
Bluetooth
5.0
USB Host
Play USB music
Frequency Response
20Hz to 20kHz
Power Input
24V/4.16A
Audio Input
USB 2.0, Analog RCA
Audio Preout
Analog RCA
Speaker Power
24V 8ohm 35W *2
24V 4ohm 55W *2
Speaker Impedance
4-8 ohms
Music Format
MP3/AAC/AAC+/ALAC/APE/WAV/FLAC
Decoding
Up to 24bit/192kHz
Dimensions
120x113x37mm
Package Included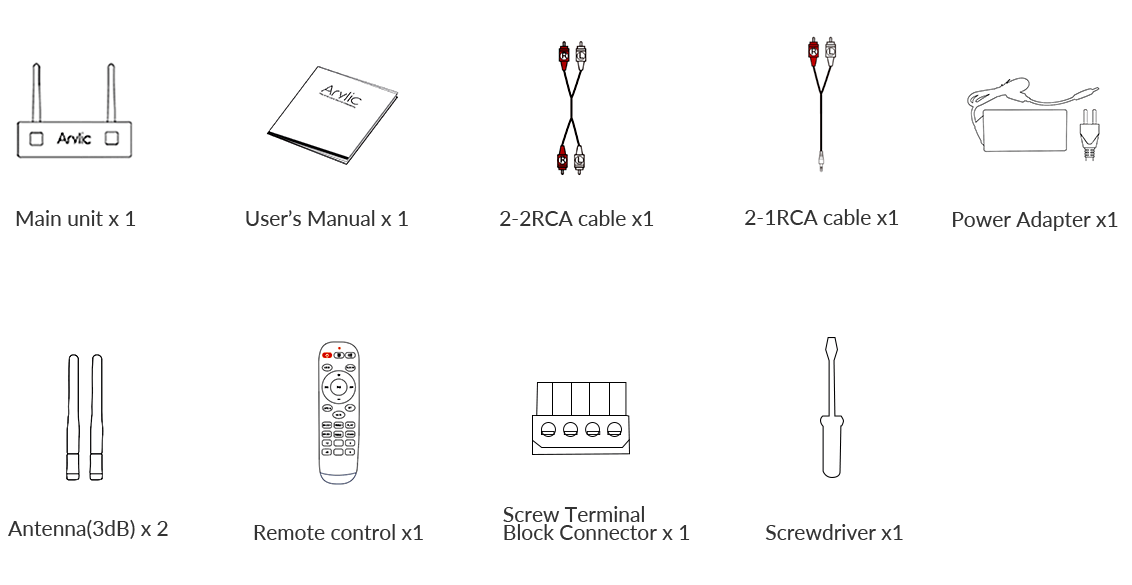 Can you use the speaker outputs and the rca preouts connected to a powered subwoofer at the same time to create a 2.1 system?

Yes, you can use in that way .

I have a house boat with 5 set of Stereo speakers and a network router. When I pull away from the dock I can still connect to the network, but it does not have internet connectivity. I know I can connect via Bluetooth and control one device, but can I still connect via the network without interent and group devices?

If there is an router there, you still can control and group,but music source would be from local ,such from your phone storage.

Is there an update on your new high-end model which was planned to launch in 2020?

Yes, spec will be higher than SONOS AMP

Is it safe to operate the A50 without speakers connected such that I can use it as a wireless interface for larger stereo system with its own amplifier.

Yes, A50 have pre-out as well to work as a streaming source .

Can the A50 be used outdoors if protected from rain, inside an enclosure?

Sure. if you could get a protection case for it .

If I have 5 of these centrally located, how do I control the power to them individually to be able to power each 'zone' on/off? Is the remote control IR/RF/BT/WiFi? Do they each have unique codes/pairing etc? Is there any auto power on with input signal and off with idle time? Thanks.

You can search some youtube video to see the details how it works .

Our system do not power off, so users can play music right away ,regrading power ,we have auto energy saving program ,once no music playback ,only keep network running ,very low power consumption .

All sources can be controlled by app remotely .

Does the unit come with the 24V DC power supply? If so what country AC plug is it?

yes, we have all types plug , will ship according to the country customer from ,or course, you can leave a note about type of plug you need when place order.

Are there any plans to upgrade the A50 to Bluetooth 5.0?

The new A50 bluetooth is Blueotooth 5.0 now .it's already available in the store.

Can I play music in three to four different rooms using one a50 and a four zone speaker selector?

How many A50 devices are required for livingroom and a bedroom to have the multiroom capability, each room will have a left snd right speaker (rooms are no more than 125 sq ft)? Can you connect a smart tv wireless to the A50? Can you play the tv in the livingroom and separate music in at the same time using one A50 device?

One room need one amp ,one amp can wire with one pair of stereo speaker .  For TV, we recommend you use SA100 ,which has OPT in ,just swtiching to opt in source when watch TV.  All your other demand is ok .For the whole network setup ,we suggest you use LAN, which is more stable .


Hello, does the A50support Bluetooth aptX? Kind regards, Ralf

No .just bluetooth 5.0 .S50 pro support aptxhd .

Can I add up to 8 devices as a multi room

hi Sir, yes ,we support even more, for play same music in sync in all room ,we recomend 10~20 depending your network infracture. if do not play in sync ,no number limits .

I have my music stored on an external, portable Hard Drive. Can this be connected directly to the A50 thru the USB Port or does this need to be connected to my computer and streamed to the A50?

Play from HDD, recommend using NAS or PC . You can stream wirelessly from your pc via itunes to our device or from NAS by our app .

how many sets of headphones/ earbuds could be used at the same time with this?

It's a receiver ,if using network for streaming ,all your phones at home installed our apps can control our device. If bluetooth ,it can only controlled by one device .

If my speakers require 100W then I can not use the AMP2.0 correct? What are my options for in ceiling speakers that require 100W?

Surely ,you can use AMP2.0. Normally ,in-ceiling speaker power stated there is peak power output . AMP2.0 can regular output 50WX2CH, peak power can go to even higher. I'm sure it will already give you a big loudness :)

is this device also Ariplay 2 combatible?

Airplay2 will add cost more than $100 ,so we don't have plan to add that now . our apps support multiroom control ,also easy to use .
for PC system ,you can use itunes to multiroom control as well.

Ciao a me serviva per trasmettere l'uscita analogica di un microfono in una stanza remota dove c'e' un'impianto di diffusione audio analogico entrambi i luoghi sono presenti la stessa wifi. qualcosa del genere ho trovato https://www.futurashop.it/filo-diffusione-audio-su-rete-ethernet-7100-ft1185m ma mi serve che usa la mia wifi grazie

We can do the function as your described ,but will be some delay for the micphone voice ,if you 're ok ,then you can use it .

Which DAC chip used for A50? If it could't specify chip, just short performance specs(eg. 32-Bit, 192kHz) would ok. And What is difference A50 and SA100 ? I know SA100 has bigger amp power and more input(optical), output(subwoofer). As for me, I prefer SA100. But, A50 is much better in terms of shape, design. Do you have further plan for SA100?

Most of our customer may hide this kind of device in the desk .
But if you like A50 ,it's a good for a try .

the DAC used inside is not a famous one ,all i can tell you is it can decoding 24bit,192khz and sound quality to CD quality .

What is the wattage of builtin amplifier (Speaker's Out) ?

50*50W 4ohm
30*30W 8ohm

Does the unit play MQA master tracks from Tidal?

No, our future high end model may support that. Plan to launch in 2020 .

Hi, is the Arylic A50 airplay 2 compatible? Regards

No,our system only support airpay 1 .
My advice is to use our 4stream app because airplay will compress sound quality,our app won't.