DESCRIPTION
SPEC
Q & A
REVIEWS
Wireless Streaming your Whole House Audio
Wireless Streaming your Whole House Audio
Enable Wireless Streaming to your Home Audio
Enable Wireless Streaming to your Home Audio
SA100 is an amplifier that enable your home stereo to stream sounds over WiFi, Airplay, Bluetooth 5.0 around your house and can be easily install on wall or ceiling. Integrated with rich interfaces, it is compatible to most of your home audio devices like audio receivers, subwoofers and TV.
Get Powerful Output to Every Speaker

Different from other amplifiers, no matter you wire SA100 to 4ohm speakers or 8 ohm speakers , both can get maximum 50W x2 powerful output at peak. Just simply switch the load option on SA100. *unplug the power before switching, or you will damage the device.

Install in Any Corner

In terms of design, SA100 is designed with four screw holes (WM 4x10mm) around the case. This allows you to easily install the amplifier anywhere in your house. Such as on a wall or in a ceiling compartment, so you can use your space wisely and enjoy streaming wirelessly.
One Device for All Purposes

SA100 have multiple input and output interfaces like RCA input for audio receivers, subwoofer out for active subwoofer, optical in for TV audio and RCA output to your powerful amplifier. SA100 not only is an audio amplifier but also is an audio streamer.
Tune your Favorite Taste

With the USB audio connector, you can connect to PC to stream the music directly and use the ACPWorkbench tuning tool(sell seperately) to tune the sound effect. You can hear the adjustment instantly and save your favorite effect settings to SA100.
Stream your Whole House Audio in One System

With our 4stream App controller, you can see all your Arylic streaming devices in the app and control all units anywhere, any time in your house. All members in your house are able to sync the music or play different audio in the same time by 4stream App.
Stream All Music you Like
Stream your favorite online music such as Spotify, Amazon Music(US Only), Tidal, Deezer, Qobuz, Internet Radio, iheartRadio, Napster etc. Any time anywhere in your house with our 4stream App.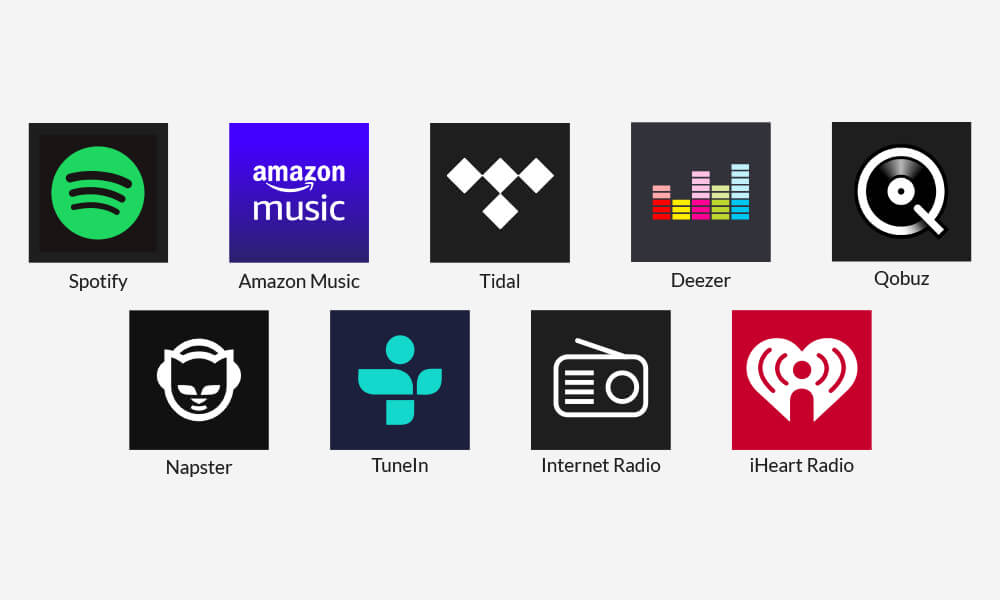 Easy Knob Control

You can have easy local control by the rotary knob on the front. Volume knob for the maximum volume adjustment and mode switch, Treble knob to tune the treble(press to reset to default treble value), Bass knob to tune the bass.(press to reset to default bass value)
What's More
Specification
Interfaces
Network
Music Sources
DC input:
-24V-6A
Wireless connection:
- IEEE 802.11 b/g/n 2.4G
- Bluetooth 5.0 SBC/AAC
Online streaming services:
Spotify/Amazon Music/Tidal/Deezer
Qobuz/Internet Radio/iheartRadio
Napster, more coming in the near future
Analog audio input:
-RCA x1 for analog input(1.2Vrms)
-Optical x1 for digital input
Wired connection :
- Ethernet RJ45
Local storage:
Music stored on the mobile device memory, NAS, USB pen drive
Analog audio output
-RCA x1 for analog output(1Vrms)
-Subwoofer output x1
-Speaker output x1 for analog output
Audio Parameters
USB host:
to connect USB pen drive(1000 songs limited)
Music format:
FLAC/MP3/AAC/AAC+
ALAC/APE/WAV
Speaker Power
Ethernet RJ45:
for wired LAN cable to connect internet
Audio decode:
24bit, 192kHz
2x50W into 4Ω BTL load at 24V
2x50W into 8Ω BTL load at 24V (Boost)
LED indicators:
to show the device status
Frequency response:
20Hz-20kHz
General
Reset:
short press to reset the WiFi, long press to restore factory setting
THD+N:
0.03% @1kHz 1W
IR receiever:
for remote control
Bluetooth distance:
10M
Dimensions:
6.25 " L x 5.75 " W x 1.6 "H(15.8x14.6x4CM)
Antennas:
for WiFi and Bluetooth
Speaker impedance:
4-8Ω
Weight:
0.6kg
Streaming Protocols
Control Applications
Working temperature:
0~40℃
AirPlay, DLNA, UPnP, Spotify connect and Qplay
4STREAM for iOS and Android based smart devices
iTunes for MAC and Windows PC
Foobar2000 and other compatible third-party apps

Package Included
Want to get a 30 to 50% discount on this item?
Why Not! Just write a review and let us know after your purchase.

To Know More here.
About Us
Arylic is founded by groups of expert people with different skills from home audio and lifestyle new technology products. With more than 10 years of experience designing the product behind the scenes, we made the decision to make some products of our own team with our specialty, to make them good, value for money, good quality, maintain and update.
Learn more about our story>>
Hi - Am i right to assume the RJ45 LAN cable can be used as a source input e.g. from my LAN & NAS? Also - i have a Linn Majik DSM integrated amp/ streamer. Can your app include and control the Linn in the multi room playback?

when the  sa100 is in the same sub network withe the NAS, you can make a access to NAS through sa100,
our app doesn't include Linn control function

Can I connect 6x9 car speakers in box enclosure's to the SA100?

What decided  the possible of connecting  is depends on the Power consumption

I have 6 ohm speakers ..can I connect SA100 to them ? If yes what should I select on ' load switch ' ? Thanks .

Switch to 8 ohms

Is the sub woofer out powered? Or is it just line out to use with a powered sub woofer?

it needs active sub  woofer

What is the power consumption in stand-by?

SA100 will go to standby when no music in playback to save energy .it will only keep on the wifi module working .so very low power consumption .

What's the maximum number of devices i can add for a MultiRoom

no Limitation ,but if play in sync ,we recommend 12 at max .

Hello, how many speaker can I connect to each SA 100 Amp? Can I connect multiple SA 100 so that they are playing the same source across multiple speakers? Can I control the volume independently or do they all get set to the same volume? Can I connect an Amazon echo to the AMP to play as a source? Are these rated for outdoor use? can they stay outside?

it's a 50WX2CH stereo amp ,so you can check your speaker spec and decide how many to wire with it .

We support similar feature likes SONOS, so yes, you can pay same source to all other units from us .
You can control volume independently or control all together. very flexiable. 
for echo ,you can only connect via line in .
for outdoor ,better to buy a protection box, then use that is ok .



●It is extendable by expansion boards.
*5G WiFi compatiable means users could control our system when your smartphone connected to your router's 5G channel.
* About Spidif Pins, Up2stream Mini/Pro is default as Spdif out. Up2stream Amp/Mono is default as Spdif in. You can switch to Spdif In/Out by ACPWorkbench Tool. The 2 spdif pins are the same funtion, can't change seperately.
*Up2stream Amp SUB and S50 Pro+ Preamp is our coming up new products.