DESCRIPTION
SPEC
Q & A
REVIEWS
Wireless Your Subwoofer
Wireless Your Subwoofer
Get Deep Bass Without Wires
Get Deep Bass Without Wires
Up2Stream AMP SUB allows you to add a wireless subwoofer to your Arylic stereo system. Group it with your stereo system and enjoy the deep bass of music.
Booming with 100W
Powerful Bass

Hear and feel the powerful 100W output booming bass with changeable low frequency range from
10Hz - 300Hz.

Position your Subwoofer Anywhere

You can place your subwoofer anywhere in your house and wirelessly stream deep bass through out the house.
Multiple Subs in One System

There is no limit on how many subwoofer you can add to the system, you can group multiple AMP SUB to your stereo device when you need powerful bass, or just use one when you listen to relaxing music. You have the control.
Upgrade your Stereo System to 2.1 Channel

Get a passive subwoofer and you can easily change your exisiting stereo system to a 2.1 channel system and enjoy the music with powerful boom bass.
DIY Subwoofer Kit

For DIY lovers, we have a metal front plate and nessary component kit for Up2Stream AMP SUB. This kit will be convenient for you to integrate AMP SUB to your current subwoofer or build one from scratch.

Wireless Connectivity

Just connect AMP SUB to your router by WiFi and you can enjoy music wirelessly.
Free iOS & Android App
Download the 4stream App for wireless control and integration.
Specification
Interfaces
Network
Music Sources
Power input:
-DC 12V - 24V DC-in
12V - 24V 2 Pin Connector
Wireless connection:
- IEEE 802.11 b/g/n 2.4G
Online streaming services:
Spotify/Amazon Music/Tidal/Deezer
Qobuz/Internet Radio/iheartRadio
Napster, more coming in the near future
Analog audio input:
- 3.5mm mini jack(1Vrms)
Local storage:
Music stored on the mobile device memory, NAS USB pen drive
Audio output
-Speaker out with subwoofer out (Pin space 5.0mm)
Audio Parameters
General
Rotary knob:
volume knob/Bass knob
Music format:
FLAC/MP3/AAC/AAC+
ALAC/APE/WAV
Dimensions
84*84*17.5mm
Weight:
0.5kg
LED indicators:
to show the device status
Frequency response:
10Hz to 300Hz
Working temperature:
0~40℃
Power/Reset Button:
short press to turn on/off, long press to reset WiFi settings/terminate Bluetooth connection
THD+N:
0.1%@100Hz/1W
Speaker Power
Speaker Impedance:
2-8ohms
100W@2Ω load at 24V
60W@4Ω load at 24V
30W@8Ω load at 24V
Wireless antenna:
for WiFi connection
Streaming Protocols
Control Applications
AirPlay/DLNA/UPnp
Spotify connect/Qplay
4STREAM for iOS and Android based smart devices
iTunes for MAC and Windows PC
Foobar2000 and other compatible third-party apps

Package Included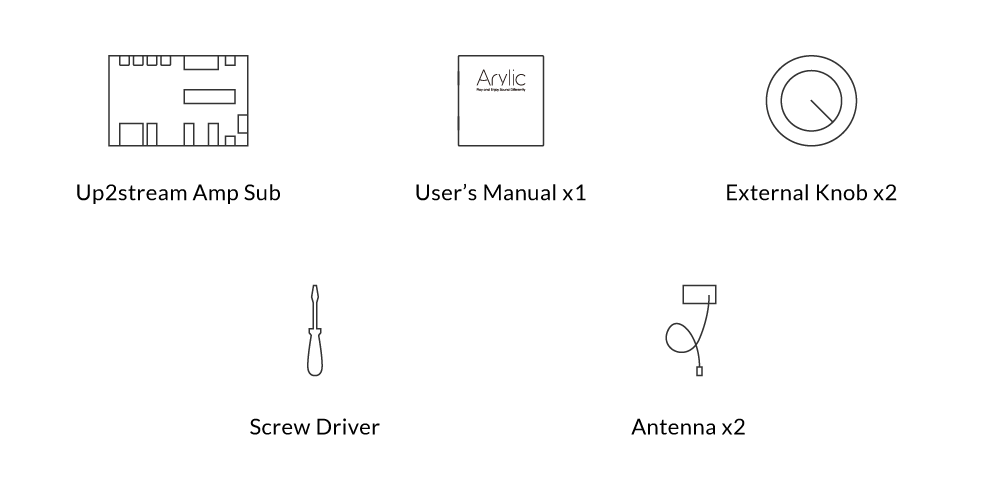 Want to get a 30 to 50% discount on this item?
Why Not! Just write a review and let us know after your purchase.

To Know More here.
About Us
Arylic is founded by groups of expert people with different skills from home audio and lifestyle new technology products. With more than 10 years of experience designing the product behind the scenes, we made the decision to make some products of our own team with our specialty, to make them good, value for money, good quality, maintain and update.
Learn more about our story>>
Is it possible to switch off the Low PAss function to use the Amp Sub as Mono Amp each for one normal speaker R & L?

yes, it is possible through our software acpworkbench to adjust the low pass function

Say you are using an up2stream AMPV4 for a stereo system. Can you use two subwoofers with one of these modules each so that you have stereo subwoofers? One subwoofer playing left channel base and the other sub playing right channel base?

Yes, you can select the different channel in different subwoofer through 4STREAM app in multiroom mode

Does this subwoofer board have an auto-standby function sensing the audio input?

Yes, it will switch to line in when detected input plugged .

So excited to see this product. I have the 2.1 amp that I'm using to power a 3-way speaker build. Happy that I can now easily add a subwoofer to this system. Your boards are amazing.

thanks for your acceptable! we will release more amazing product for our customers
●It is extendable by expansion boards.
*5G WiFi compatiable means users could control our system when your smartphone connected to your router's 5G channel.
* About Spidif Pins, Up2stream Mini/Pro is default as Spdif out. Up2stream Amp/Mono is default as Spdif in. You can switch to Spdif In/Out by ACPWorkbench Tool. The 2 spdif pins are the same funtion, can't change seperately.
*Up2stream Amp SUB and S50 Pro+ Preamp is our coming up new products.